Here at Geckoboard we obviously love dashboards. We particularly like to help businesses understand how to decide KPIs and layouts. We find this helps improve dashboards. As such, we thought it'd be good to review a content marketing reach dashboard from a fictitious technology company called Sassy SaaS. In this blog post series we'll be dissecting dashboards from various different departments at Sassy SaaS, so stay tuned. However, we'll start with the marketing reach dashboard.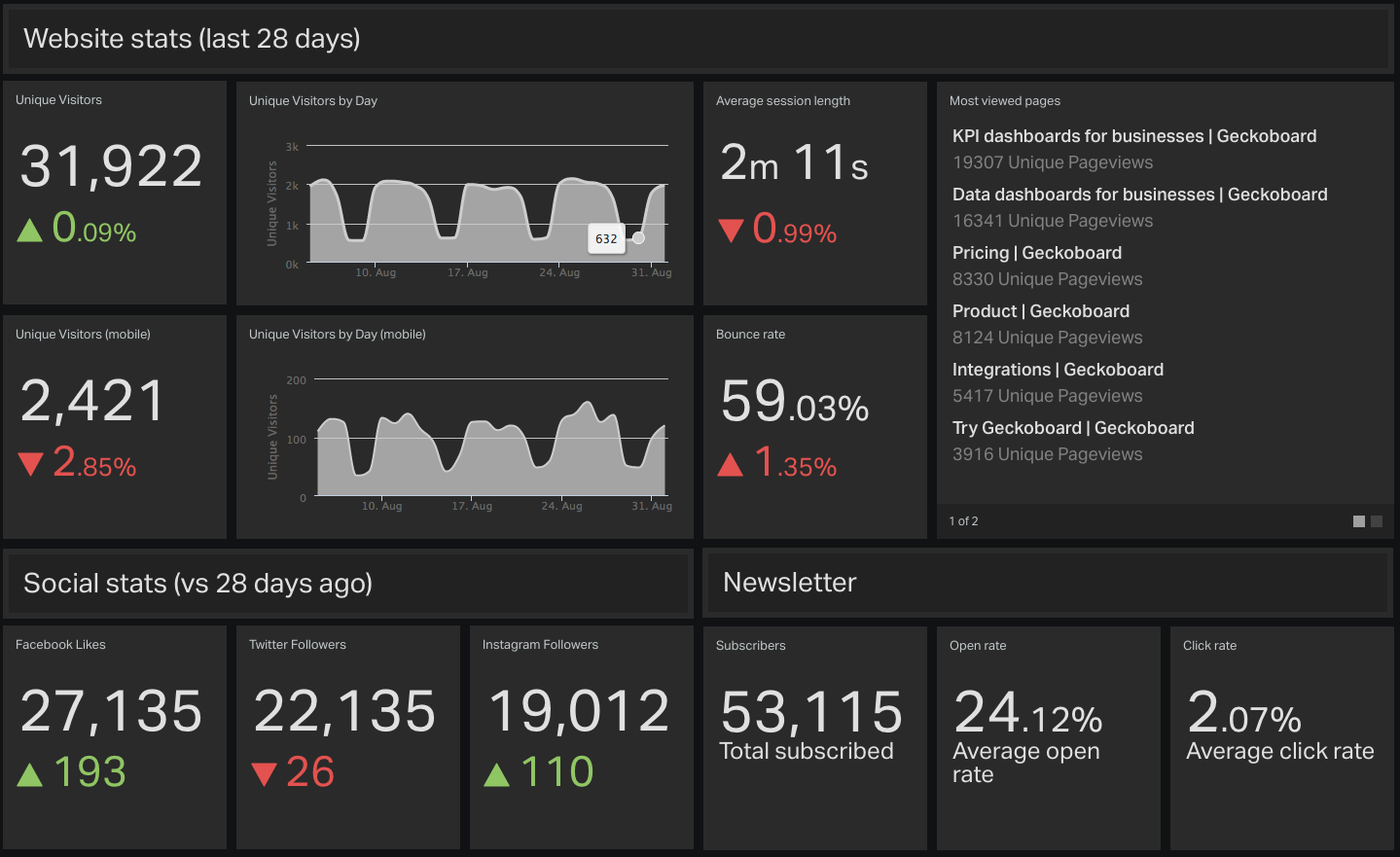 This dashboard looks at the overall reach of the website, social media efforts and mailing list based on the KPIs that are important to Sassy SaaS's content marketing strategy. The dashboard is split into three sections so the information is easier for the human brain to digest at a glance. Here's the breakdown of those three sections and why Sassy SaaS has chosen them.
Website Stats (last 28 days)##
Using Google Analytics widgets, they're displaying the last 28 days worth of activity to their site. Why? Looking at a full month is statistically inaccurate because there are different number of days in a month. However, 28 days is a nice round 4 weeks which takes into account the weekly trends to avoid figures skewing.

Unique Visitors vs Previous 28 Days - The first of the data points to highlight momentum in awareness for Sassy SaaS. This widget gives the marketing team confidence that they are making momentum month-over-month in terms of awareness and alerts them if this isn't the case.
Unique Visitors vs Previous 28 Days (Mobile Only) - The Sassy SaaS team are also trying to establish how quickly mobile is becoming an important channel and how it behaves differently to desktop. As such they've broken out mobile visitor growth to see how quickly it is growing vs overall growth.
Unique Visitors by Day - This trend line helps the Sassy SaaS marketing team understand how their visitor numbers trend on a weekly basis, and clearly most of their traffic is during the week. Also, they can see any major fluctuations from that trend line. When the marketing team see a major fluctuation they can dig into their Google Analytics data to understand what caused that spike or dip and react accordingly.
Unique Visitors by Day (Mobile Only) - This trend line enables the Sassy SaaS marketing team to assess how mobile visitors are behaving differently to desktop. They can quickly see there are greater fluctuations on mobile vs overall cross-device data.
Average Session Length - This is the first widget which helps the marketing team understand content quality. With their focus on content marketing, the Sassy SaaS marketing team want to understand if this strategy is working, and longer visit times are a good indicator that it is due to more engaging content.
Bounce Rate - Similar to above, if their content marketing strategy is working then the bounce rate should reduce as visitors jump from blog-to-blog and get more engaged with content, as opposed to reading one page and leaving.
Most Viewed Pages (Note: We had to use Geckoboard data for this as Sassy SaaS don't actually have any content) - Presenting this information as a leaderboard is not only motivational, but it's also informative in terms of the content that's working. By understanding the content and titles that are driving most views, they can then look to write similar content that delivers traffic. It also turns authoring the most popular post into a competition.
Social stats (vs 28 days ago)##
Whilst these may appear like vanity metrics, when it comes to a content marketing strategy and reach they are important metrics to track to understand audience reach. Ideally, you'd also want to track social shares on your domain to get a real sense of social traction.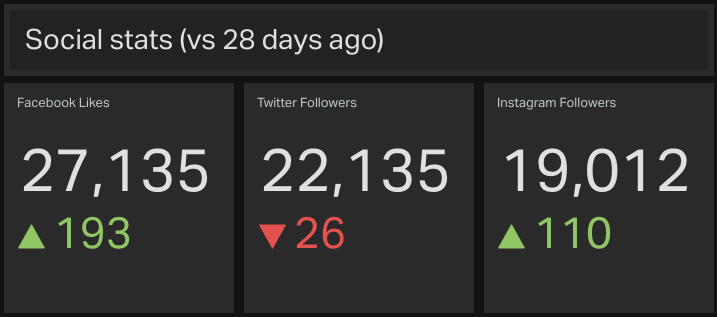 Sassy SaaS are focusing on their main three social media channels and comparing Facebook Likes, Twitter Followers and Instagram Followers with the prior 28 days. This means that if there are significant changes, the Sassy SaaS marketing team can look at what they did and either repeat or avoid it depending on whether the outcome was positive or negative.
Newsletter##
On the last section of the dashboard Sassy SaaS's marketing team are taking a look at how their newsletter is performing in terms of reach and engagement.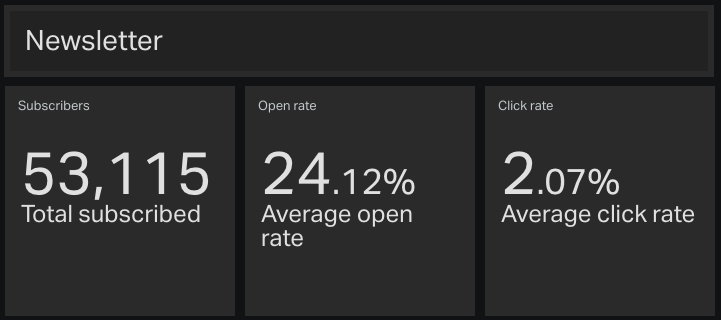 Newsletter Subscribers - A strong indicator of marketing reach. If Sassy SaaS's content marketing strategy is working then this number should continuously be going up. However, they will also want to monitor this closely when the newsletter goes out. Significant unsubscribes around this time will be an indicator that their content isn't quite right.
Open Rate - A good indicator of how engaged the Sassy SaaS audience is. Again they would hope to see this go up every time they send out a newsletter as it'd suggest their audience is becoming more and more engaged through their content marketing strategy and the feeling of community is building.
Click Rate - A strong indicator of how effective their content is. Particularly in terms of how effective their titles and intro paragraphs are, because these are what show up to entice subscribers to click in their newsletter email.
Overall this is a solid dashboard, which is easily digestible at a glance. It also only includes data points that are actionable, so no space is wasted on vanity metrics. It also ties nicely back to their strategy, which ensures the dashboard keeps the team on track. All very important points when it comes to building the perfect dashboard.