At the end of 2010, Sam Elton-Walter (known as @WebSam on Twitter) had an idea: To spread the joy of Christmas using the hugely popular Secret Santa tradition. The difference? This was all happening through Twitter. People signed up to become Secret Santas and got assigned to a Twitter handle of the person they would give a gift. Just in time for Christmas, all participants would receive a gift from their Secret Twitter Santa.
The game gained in popularity every year, and eventually, Sam was having a hard time keeping up with it. He asked if anyone was up for taking over the account, and New Zealand Post were quick to reply. They already handled all the Christmas wish lists, a Secret Santa game? That made perfect sense.
Community owned data
New Zealand Post have kept a close eye on their data for over three years now, monitoring their dashboards on big screens in their offices. When they took over the #NZsecretsanta project, a Secret Santa dashboard was soon created. Using Google Analytics, Chartbeat and a custom push widget, New Zealand Post put together their Secret Santa dashboard and shared it with their community on Twitter. Why? They deemed the project (and hence the data) to be owned by the community itself - a public dashboard was a no-brainer.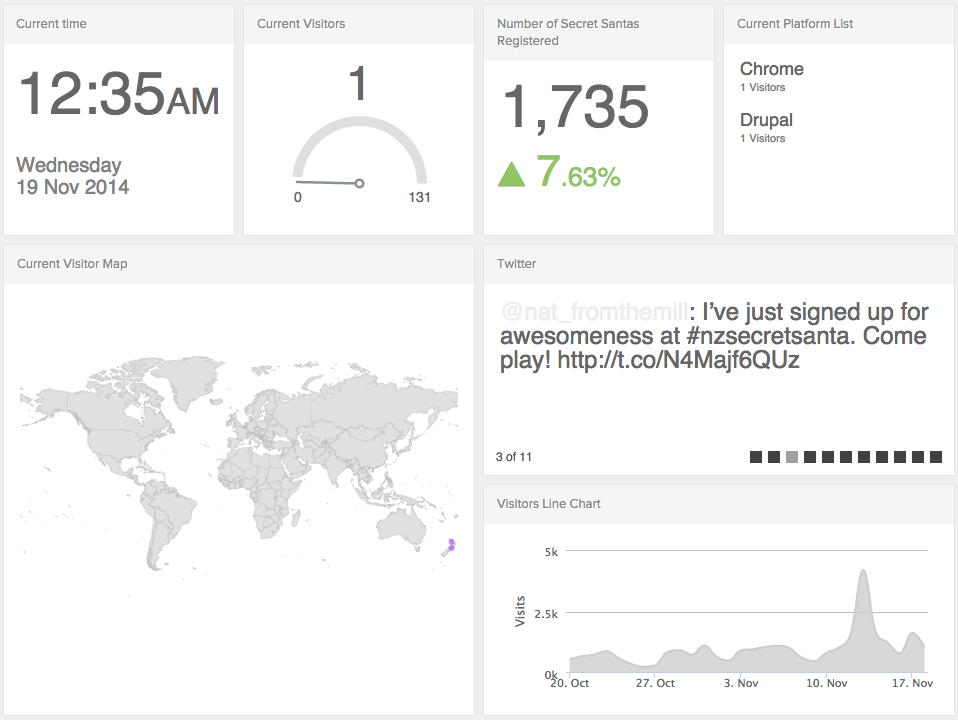 Rob Holmes, Head of Online at New Zealand Post, said the following about the public dashboard, 'We wanted to share as much information as possible with the community as we believe it's their game, not ours.' Holmes continued, 'The game started before NZ Post was involved, we simply took over facilitating it - we really see ourselves as temporary caretakers.
The community is sharing the dashboard with others on Twitter - celebrating the number of signups.'
Holmes added, 'This year we've decided to donate $1 for every person playing to the Christchurch City Mission - so reporting the number of signups via a public dashboard is a way of generating excitement and while being fully transparent in what we do.'
Do you want to play NZ Secret Santa? Sign up today to make someone's Christmas extra cheerful. And hey, don't forget to check out the dashboard and see the numbers go up as you share it with your followers.