This is the latest in our series of featured business dashboards, which highlights the interesting and different ways our customers are using Geckoboard. We hope that you will be inspired to try new ways of using your board, visualising your data and designing your dashboards.
Making better decisions
| | | |
| --- | --- | --- |
| Our latest featured business dashboard is that of Fliptop, who provide Social Intelligence, which connects email and social identities. |   | |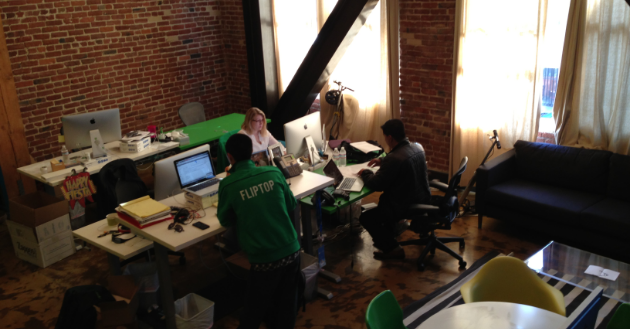 Fliptop currently has two offices, one in San Francisco and one in Taiwan. Both offices use Geckoboard to facilitate KPI monitoring and coordination between them. We spoke with Tom Lee, Director of Product Management, about how they use Geckoboard. Tom provides insights into what it means to develop a data-driven culture, use the right KPIs to improve product and service and the impact data visibility has had on Fliptop's decision making.
How did you find out about Geckoboard?
Tom:
"last year we hosted a hackathon with the engineering team in our offices, and everybody went about building projects that we thought would improve reporting and tasks we didn't have automated. One of our engineers who attended a Geckoboard meet up mentioned the product, and literally within 24 hours (solid 24 hours no sleep) we were almost close to something we could use—it was that simple. He produced something that with a few tweaks we were able to start using. He won the hackathon, and we were immediately Geckoboard converts."
What was the initial reaction of your team after the status board was placed in the office for everybody to see?
Tom:
"It didn't need any explaining. It was the graphic representation of the data, making things that people didn't understand before understand straightaway. But what it meant was that we got a lot more questions from technical members of the team about things.
The engineering team was like 'Damn Geckoboard! We cannot hide stuff anymore!' (Tom chuckles) …So at the beginning it created a bit more work, but it has helped us to improve our end product because we are better at monitoring things, and we are able to understand things throughout the company. We also had to learn not to be so reactive. Suddenly we were getting real-time data for the first time, and as soon as the team saw an arrow going down, people would react very quickly to it instead of seeing it from a trend point of view. Overall it has definitely improved the pace in which we react to information."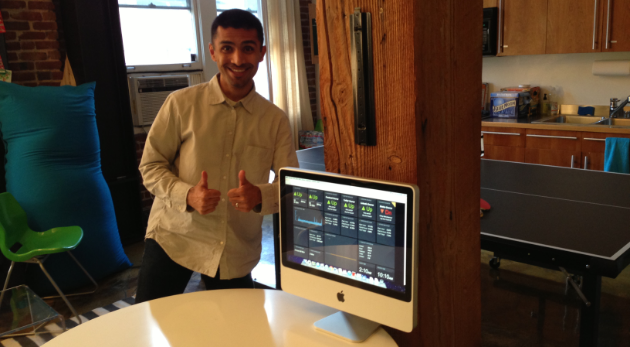 How do you think Geckoboard has helped you to improve decision-making throughout the business?
Tom:
"Geckoboard has removed the need for a certain amount of testing, because we can see results instantaneously now. For instance, when we would be A/B testing something, we would put it onto the website to see if it improves or not. While the test is going on, we can already see if the traffic spikes or dips immediately. Whereas before that data wasn't available, we had to constantly log in to get analytics or any other data we needed. Now we have this visualization in real time, and it is just easy to see. The fact that is in a different screen, and you can just glance at it is very useful; It is not another tab you keep going back to all the time.
Geckoboard has improved the speed in which we are able to roll out iterations and also has improved from a sales perspective the expectations they were able to set to customers about when we were able to do things. We designed a tile that shows how much work was in the queue for processing data. Before, they would have to go to the engineer and ask 'How long is going to take you to do this and that?'"
What would your advice be to other start-ups and large organizations that haven't started using this kind of technology to improve their decision-making?
Tom:
"I think in reality, most companies try to be data-driven, but the problem is the reporting of those numbers, stats, and KPIs or whatever they measure. It is a rather complicated and convoluted process that takes an individual's time, and therefore people tend to avoid it. People have these meetings every Monday or every Friday where they report these stats, and they are very laborious. Everybody has to spend a lot of time collecting this information.
If you can move to Geckoboard and automate the collection of information, gather the key metrics, display it so everybody can see, and make sure it doesn't require any manual intervention, then the process become quicker, simpler and it promotes discussions; it allows to make better decisions.
We used to report every Monday morning… here are the stats, and this is what is going on. Now the data is available for everyone to see, for everyone to monitor the whole time, and the work no longer becomes generating the data. The work becomes interpreting and reacting to the data".
At Geckoboard we believe in making data visible and approachable. We have a fast growing list of third-party integrations that you can use to immediately access and leverage data in your organisation. Simply put, identify your key metrics and let us do the rest. It was an absolute pleasure to talk to Tom and the Fliptop team about data-driven culture and its challenges. We would love to hear your stories, too. Let us know if you would like to be featured on this blog. Mail gareth at geckoboard dot com.
About Fliptop
Fliptop automatically keeps brand's contact data "socially fresh," enabling your business to personalize marketing, provide better support, and generate more sales. One of the coolest features of Fliptop is its Salesforce integration that allows users to quickly add social context to their contacts. This becomes extremely useful when it comes to sales and customer support. Understanding a customer's social activity and interests in real time could make a huge difference in the way the business communicates on a one-to-one basis.