This is the latest in our series of featured business dashboards, which highlights the interesting and different ways our customers are using Geckoboard. We hope that you will be inspired to try new ways of using your board, visualising your data and designing your dashboards.
On the 19th of December, we had a quick chat with Michael Klemarewski, an engineer at Mobify. Mobify is based in Vancouver, Canada and it is an open platform to adapt any website to any device: mobile, tablets and more. Mobify powers over $100 million in mobile commerce and over 75,000 developers use their products to build adaptive web experiences. Mike shared with us the dynamics of improving data communication, and how Mobify is developing several widgets to improve their feedback loop with customers and product usage.
Introducing Mike:
How did you find out about Geckoboard?
Mike: We looked at a few third party options, and Geckoboard seemed to have more freedom around what sort of data you could put in and styling a little bit, so we decided to try it out and it started working pretty well. Now we have it up on a TV in our area and we see it everyday. It is great to have instant feedback. For instance, we are tracking the number of live websites we have so that if the number starts to go down, we need to start asking why is that number going down? What can we do to change that? It is nice to have visibility so we can investigate and try to do something about it.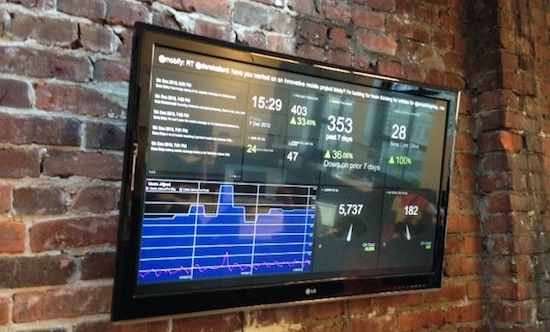 What was the initial reaction of your team after the status board was placed in the office for everybody to see?
Mike: It was pretty easy. We have weekly team meetings where previously our project manager would actually get up and present these numbers so the team was already familiar with the metrics. People are pretty happy with it because it is in a convenient spot, and it is easily viewable. Sometimes it is not nice to see numbers in red because you need to face facts and figure out what it is that you are doing right or what it is that you are doing wrong
How do you think Geckoboard has helped you to improve decision-making throughout the business?
Mike: For us data has always been available. What Geckoboard does, is that it ingrains into our minds that data is constantly visible. You keep your goals in mind more consistently.
What would your advice be to other start-ups and large organizations that haven't started using this kind of technology to improve their decision-making, or that are interested in leveraging their current efforts as a data-driven organisation?
Mike: You just want to really hammer down the metrics that you think are going to be useful. For instance, our dashboard is changing almost weekly. At first we added the metrics that we thought would be useful, but then realized those metrics weren't giving us much information, so we changed them again. I think my advice is to spend enough time identifying what numbers are useful. Understanding that it is learning process. It will constantly change.
At Geckoboard we believe in making data visible and approachable. We count with a fast growing list of third-party integrations, that you can immediately access in order to start leveraging data visibility in your organisation. Simply put, identify your key metrics and let us do the rest. It was brilliant to talk to Mike at Mobify .We would love to hear your stories, too. Let us know if you would like to be featured on this blog.
About Mobify
Mobify is an open platform to adapt any website to any device: mobile, tablets and more. Enterprises like Starbucks, Expedia, British Telecom, Bosch, Ideeli and Threadless use Mobify products to serve their customers amazing web experiences in every way they choose to connect. Mobify powers over $100-million in mobile commerce and over 75,000 developers use Mobify products to build adaptive web experience with HTML, CSS and JavaScript. Right now we have around 45 employees, and are growing.