This is Paul the founder of Geckoboard. I wanted to let you know about some big changes to Geckoboard and what it means for our thousands of Beta testers.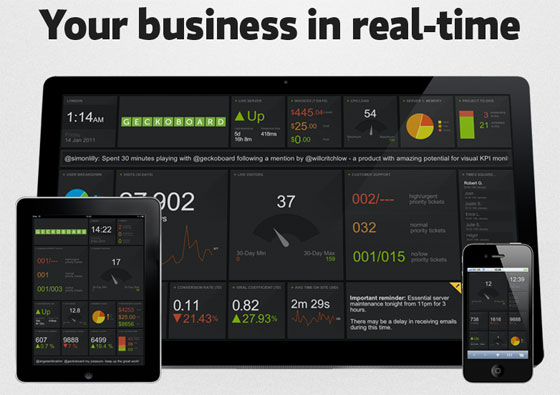 We've launched! Thank you.

I'm excited to tell you that we are out of Beta and have officially launched! We couldn't have arrived here without your help, support, feedback and suggestions. Thousands of Beta testers helped shape Geckoboard and I'm incredibly grateful to you for checking out the service.

As a Geckoboard Beta user you'll always be important. So here's a brief rundown of the changes, how they'll affect you and how we plan to say thanks for your contribution. 



Plans, pricing & discount.
We have three account types for you to choose from: Basic, Turbo and Rocket. 
You can create unlimited dashboards on all accounts, and there's no cap on the number of custom widgets available. Custom CSS is enabled on all accounts.

As a Beta user we are offering 
20% off
 the regular price of all plans for as long as you keep your account open.  This makes the monthly prices per device for you:
Geckoboard accounts are charged per device.  This means if you, as a Beta customer, want to use Geckoboard on just your laptop using the Turbo plan, you would pay $11.20 a month.  However, if you would also like to access it on a smartphone then you would pay another $11.20 a month and so on for every machine you wish to access Geckoboard on.  
What do I need to do?
For now, there is nothing you need to do.  You can log onto your account in the normal way at
here
. As an added benefit, we're giving all Beta users a 
double length free trial
 of 60 days starting right now!  During the trial period you can connect from 
unlimited devices
 on any plan and can carry on using Geckoboard as normal, for free for 60 days. You will be put on the Basic plan to start but you can upgrade at any time. 
If you would like to keep using Geckoboard after your free trial, or you want to upgrade from the Basic account type, just head over to the 'Your Plan' section of your dashboard anytime in the next 60 days, tell us which plan you would like to start using and enter your credit card details.  We will not charge your credit card until your free 60 days are over and if, by the end of the free trial you have not entered your credit card details, then we'll close your account.
If you have any questions about our launch or your account then please just drop us a line at help [at] geckoboard [dot] com or 
log a ticket
.
Thanks again,
Paul & the Geckoboard team.