With Super Bowl 50 less than two weeks away, it's time to get your game on! You've probably already thought about what snacks and drinks to buy, who to invite, and possibly even what commercials you'll see. But what about the game itself? Do you know whether the Denver Broncos or the Carolina Panthers are favored to win? Or which quarterback is winning the popularity contest?
Say hello to our Super Bowl Pre-Game Stats Dashboard. It's an easy-to-read dashboard with everything you need to know leading up to Super Bowl 50.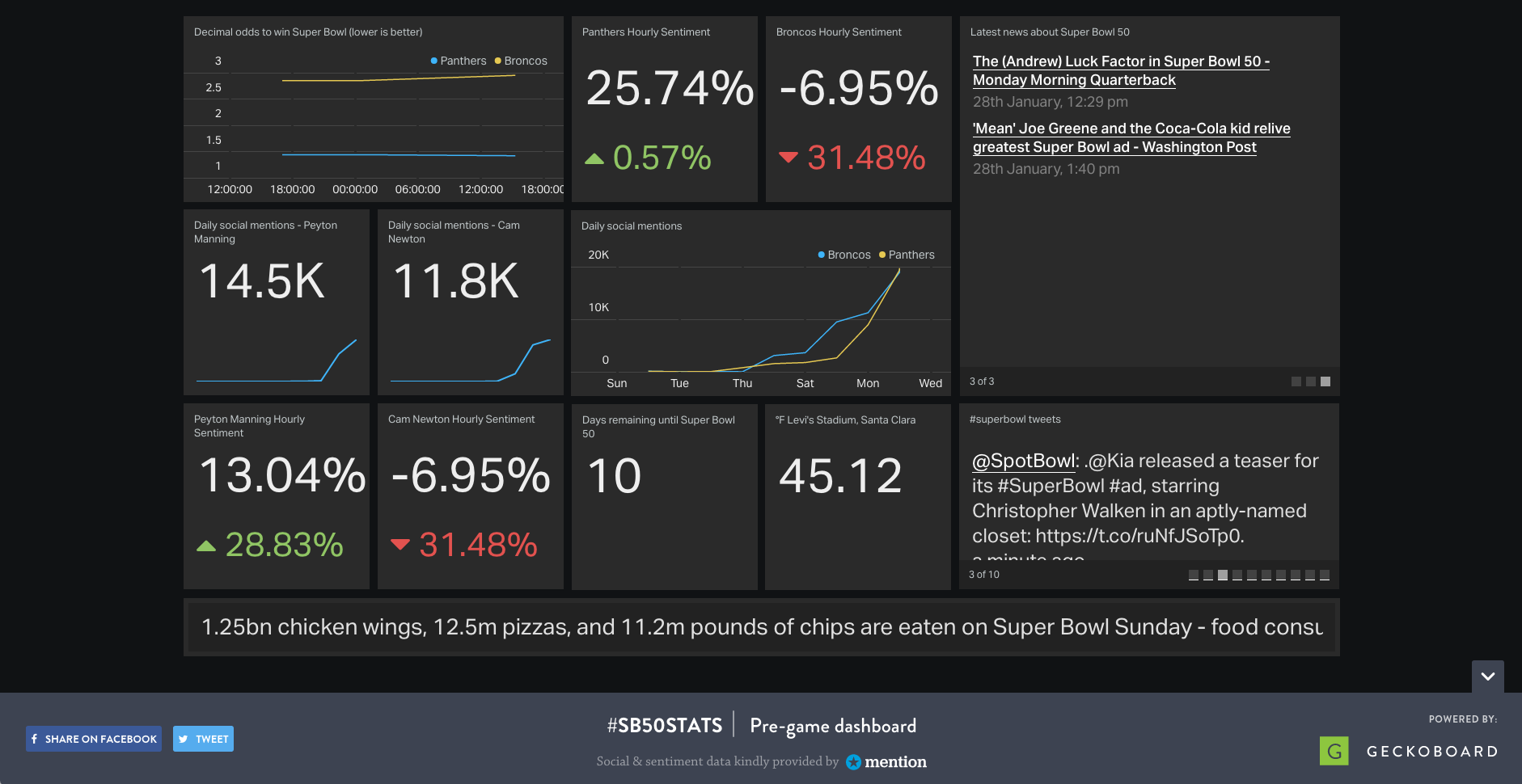 Why a Super Bowl Pregame Stats Dashboard?
1. You'll be more informed. Know essential statistics and predictions, keep up with breaking news, and watch the Super Bowl conversation unfold on Twitter - all from a single dashboard you can reference at a glance.


2. You'll have more fun. Why should all the fun be saved for game day? Spice up your office by displaying this dashboard on a TV monitor so everyone can see it. Who knows, you might get some friendly competition going! Disclaimer: not liable for trash talking.


3. You'll impress your friends on game day. Step up your game at the party using your new found knowledge of NFL and Super Bowl trivia. Now you can be the one to explain the game to the person who only came for the commercials.
Quick shout out to Mention
Before we give you the run-down on the dashboard, it's worth giving a quick shout out to Mention. All the social mention and social sentiment data you see is being pulled from their media monitoring tool. So thanks to them for giving us a hand getting this up and running!
How does the dashboard work?
Setting up your Super Bowl Pre-Game Stats dashboard is a snap.


1. Choose your display. A TV monitor mounted on the wall works best, but you can also use a desktop monitor. Whichever you choose, just make sure you can open a web browser (Chrome is preferred).


2. Click-through to this Super Bowl Stats Dashboard to open the dashboard in your web browser on the device you've chosen.


3. Begin monitoring all the statistics, predictions, and tweets as they update in real time.
What's on the Super Bowl Pregame Stats Dashboard?
This free dashboard is super easy to read and understand at a glance. Here's a quick rundown of what you'll find on it.
Live Team Odds to Win Super Bowl 50
Super Bowl Stats and Trivia
Daily Social Mentions for Quarterbacks Cam Newton (Carolina Panthers) and Peyton Manning (Denver Broncos)
Daily Social Mentions for the Broncos and the Panthers
Social Sentiment for the Broncos, Panthers and their quarterbacks
Latest Super Bowl News
Latest Super Bowl Tweets
Weather Forecast for Levi's Stadium in Santa Clara, CA on Super Bowl Sunday
Countdown to Super Bowl 50
So what are you waiting for?
Launch the free Super Bowl Pregame Stats Dashboard now and get your game on for Super Bowl 50!
Launch the Super Bowl Pre-game Dashboard
Love the dashboard? Share it with your friends and watch for our live in-game dashboard coming soon!