In the first in a series of Geckoboard customer interviews focused on KPIs, goal setting frameworks and dashboards, we speak to Michelle Jaeger (Operations) from Five Doors Network.
We'll cover how Five Doors uses the Keller Williams Four Conversations method to build a highly successful real estate team and how their dashboards give them a real-time view of their most important metrics.
Can you start by telling us about yourself and the Five Doors Network
I'm Michelle Jaeger and I run Operations at Five Doors. I'm also the Executive Assistant to the CEO, Seth Campbell, who co-founded the company in 2012. Previously Seth was a top producing Keller Williams real estate agent, and he founded the company with the goal of revolutionizing the industry.
The Five Doors Network is one of the top expansion real estate teams within the Keller Williams group and has won numerous awards in the real estate industry including; being ranked First Runner Up Inman Innovator Award in 2017, #113 of the top 500 fastest-growing, privately held companies in America by Inc. 500 and #10 team in the world by Real Trends / Wall Street Journal for all companies in 2018.
Five Doors supports real estate sales teams who value leadership, growth, and systems of production. We attract like-minded and talented individuals who believe in the value of working together to move further, faster and achieve their goals using our technology and leadership platform. We foster an organizational culture that values collaboration, strength of community, changing family trees and fulfilling our mission of building generational wealth through real estate.
In 2019, we presented a 258% percentage revenue growth from 2015 to 2018. We currently have seven locations and are launching two more.
How are you using dashboards at Five Doors?
We have Geckoboard dashboards up on TVs in each of our offices. They are used by our agents (we call them members) as part of their morning standups. The dashboards act as a measuring stick for the agents to see if they are on or off track, and this helps them prioritise their daily actions.
We're growing at an exponential rate and our dashboards ensure each location knows how they're doing against their goals.
At the HUB (headquarters) we have a company dashboard with data from all locations which our CEO uses to track overall performance.
Why did you decide to use Geckoboard for your real estate dashboards?
Our CEO said "I want a scoreboard on my TV" so I started looking for solutions. Within a week I'd found and selected Geckoboard, and within 2 weeks of that we'd deployed dashboards in all our locations.
During the process, I tried a variety of companies, including some specifically aimed at real estate, but Geckoboard was the most in line with what I was looking for. I wanted something visually simple, bold, and easy to interpret. It was really important to be able to compare our month-to-date and year-to-date data against both the previous year's data and this year's goals. Geckoboard is incredibly user friendly and using the trial period, I was able to put in our real data.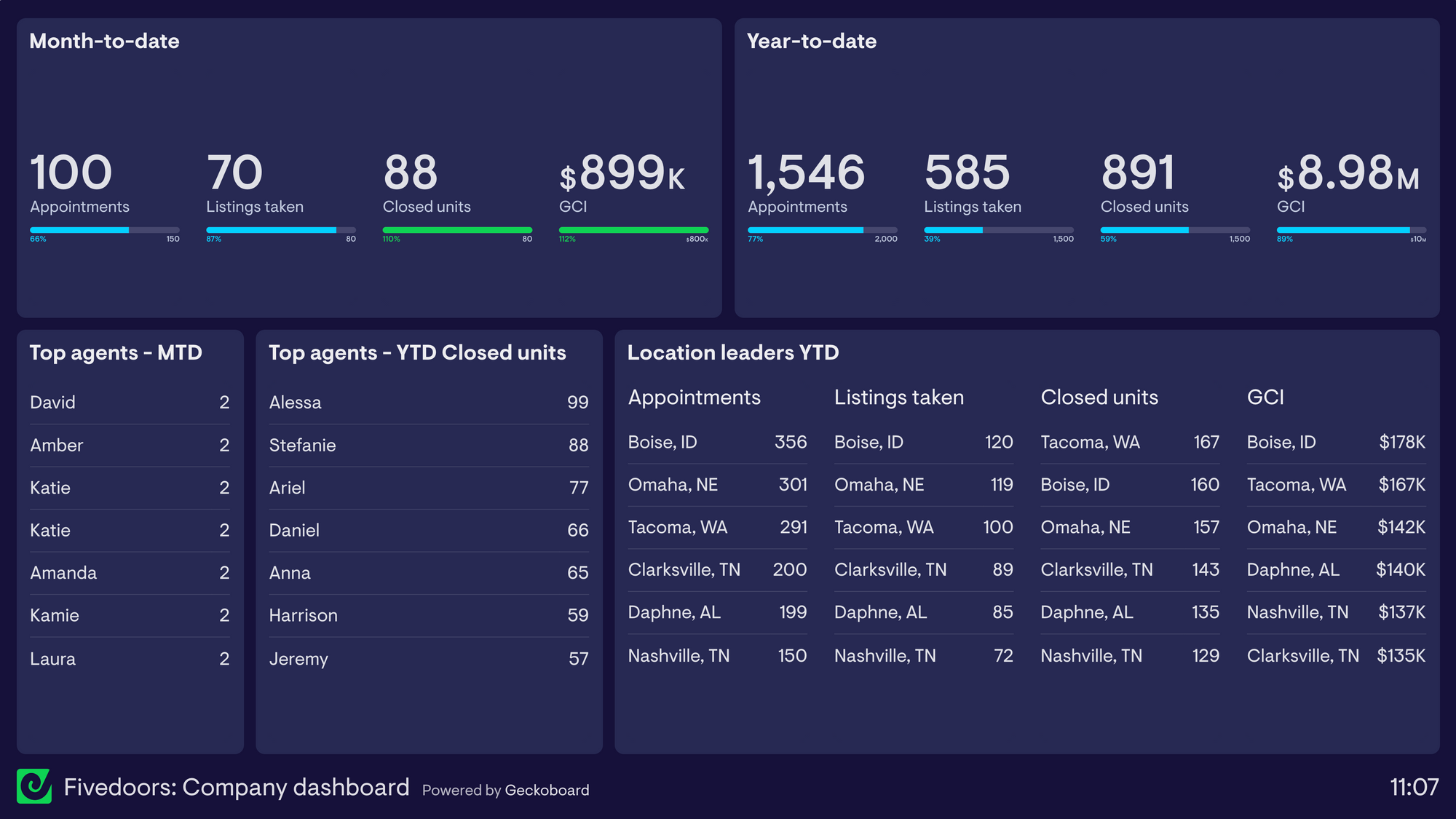 Where is the data on your dashboard coming from?
Right now most of our data comes from Google Sheets because our real estate data comes from an application that doesn't have an automatic export or import feature. Our virtual assistant, who is phenomenal, manually transfers the data into the spreadsheets at regular intervals.
How did you share this information before your dashboards?
Prior to Geckoboard, we were taking screenshots of a spreadsheet and emailing them out, but spreadsheets get really busy very quickly. By the time you start having your 'actual versus goal' versus 'this time last year' it gets messy. We were finding the more complicated the scoreboard, the less it was reviewed by leadership.
How did it go when it came to rolling your dashboards out across the business?
We tested at our HUB first and, apart from some minor edits, it fully delivered the CEOs intention. Every morning he could come into the office and see exactly where the company was. We'd be in the middle of a meeting and the company dashboard would update indicating somebody updated their local scoreboard.
Having real-time data made our CEO so happy. It enabled us to make business decisions based on live data.
Before this I'd never built a TV dashboard but once we'd proven the concept at the HUB our CEO wanted one in every location. We delivered a TV, mini computer, and a wireless keyboard and mouse to each office with instructions on how to set up the dashboard using the Send to TV feature as well as dashboard links to save as a bookmark. When the photographs of each team and their setups were sent over, our CEO was so pleased. We had increased the effectiveness of the daily huddle, and could start coaching using accurate data. It was such a win for the Ops team, I probably could have taken the next week off!
How have your dashboards changed over time?
Not much. We spent a lot of time up front making sure that we captured the most important metrics. After a few months, we added the competitive component of agent leaderboards. It allows our agents to see where they fall in comparison to both their location and in the whole company in terms of number of units closed, gamifying it a bit.
What's an example of an action you might take after looking at your dashboard?
One example is what we call 'the 15th protocol'. If on the 15th of the month we're not on track to meet that month's targets, we focus all our activities on setting appointments and taking listings, putting all other activities on hold.
Another example is if at the beginning of the month I see last month's appointments were low, that could be an indication that this month's Listings Taken will be low. This also drives conversations about how to react.
What is your most important metric?
Ultimately we care about profit, and Listings Taken is our number one KPI.
Listings Taken is a good indicator for number units closed and GCI (Gross Commission Income). Coupled with the fact that we keep each location's (including the HUB) expenses to less than 15% we are able to exponentially increase profit.
Have you discovered any meaningless metrics that are being tracked in the real estate industry?
Even though appointments are a hugely important part of the job, an agent might have 100-200 appointments a year, focusing too much on the number of appointments as a metric without checking that they convert to 'signed buyer' or 'seller agreements' is useless.
Not to say appointments are not important, they are! Each component of the Four Conversations is a different skill. With new agents, you would focus on the number of appointments set because that would indicate their ability to talk to people on the phone and convert from a conversation to an appointment. Likewise, if you wanted to increase the number of Listings Taken, you could look at either the number of appointments set or your appointment conversation rate.
One metric we have on our dashboards that isn't a prioritized focus with the agents is the number of team members in a particular location. It is a leadership statistic that indicates if they have enough people on their team to accomplish their location goals.
At one point we were tracking volume, as in the total value of all homes sold as measured by the total sales price, but because it doesn't factor in variations in commission per agent and per state, or expenses and referrals, it's not the best predictor of profit.

Do you use any models or frameworks to help you set goals?
Models, systems and tools make up our core belief system. Gary Keller who co-founded Keller Williams literally wrote the book on it. The Millionaire Real Estate Agent documents how to become a millionaire real estate agent and one of the key principles are the Four Conversations. The Four Conversations are the four key components you need to focus on to be successful in real estate: appointments, listings taken, closings, and profit. These each have associated metrics and you track these month-to-date as well as year-to-date.
Talk us through your process for setting goals
We start at a high level. We set our someday goals as a company, then determine where we need to be in five years to know we are on track for that goal. We lay out our annual goals for each of those five years again indicating we were on track. Within each location, they determine the same - someday goal, five-year goal, and this year goal. It is a genius and simple process that our CEO put together and he teaches it in his 'Purpose Filled Life' series.
If there is a gap between what the locations are going to produce and our annual profit and units goals, that gives us at the HUB our next goal of the number of new locations we need to open.
Ultimately, for a real estate agent their entire career is based on metrics. It's pretty easy to do the math to work out how many houses you need to sell to cover your living expenses or pay for a family vacation. It's not always easy to do the activities to make that money but it's very simple. And it's all math-based.
And finally, how did the Covid outbreak affect the way you work?
We have always (and will continue to) focused on the communities we serve. As real estate agents, we are the trusted resource connectors for our neighbors, communities and cities. We truly feel it's our job to step up and help in these toughest of circumstances. As such, we've run successful food drives in all of our locations to collect donations, ensuring that more students, single moms, veterans, and vulnerable families are getting the food they need during this crisis.
Across our various locations, we've witnessed varying degrees of lockdown, different client comfort levels, and varying degrees of job losses. We've had to re-learn and adapt as each state has begun to open up.
One of the things we really focused on to help reassure our clients was the market data. The number of houses that were going on the market, the number of houses that were being sold in the last 24 hours etc. By bringing this information to our clients we have been able to say "I understand Covid's affecting the country. I understand that the news is saying real estate is going to be affected, but look in our county 20 houses went on the market yesterday."
We were preparing for a market shift knowing the tendency of a shift every 8-10 years in real estate. We just thought it would be an economic shift, rather than a pandemic-influenced global shift.
Again, sharing our Geckoboard dashboards using sharing links was useful, so that all of the location leaders and agents were able to access their dashboards while quarantined. During this time, daily huddles transitioned to the video conference environment where dashboards were shared virtually.
Follow the Five Doors Network:
|Website | Facebook | Instagram | Twitter | LinkedIn | YouTube - Five Doors Network Training
Follow Michelle Jaeger: