At Geckoboard, we're committed to helping our customers create functional and useful dashboards that can help them stay on top of their business data.
A few weeks ago, we rolled out some changes that make it easier to spot what's important at-a-glance, and today we're excited to announce several improvements that will help you visualise your data better than ever before.


See your top performers on a leaderboard
First up, we've created a brand new leaderboard visualisation. This means no more having to use bar charts or lists as workarounds for showing who (or what) your top performers are.
The leaderboard is ideal for showing things like who's landed the biggest deal, who's closed the most support tickets, what's your best selling product or what your top advertising campaigns are.
Arrows help you to quickly spot risers and fallers, and the leaderboard is designed to be as space-efficient as possible.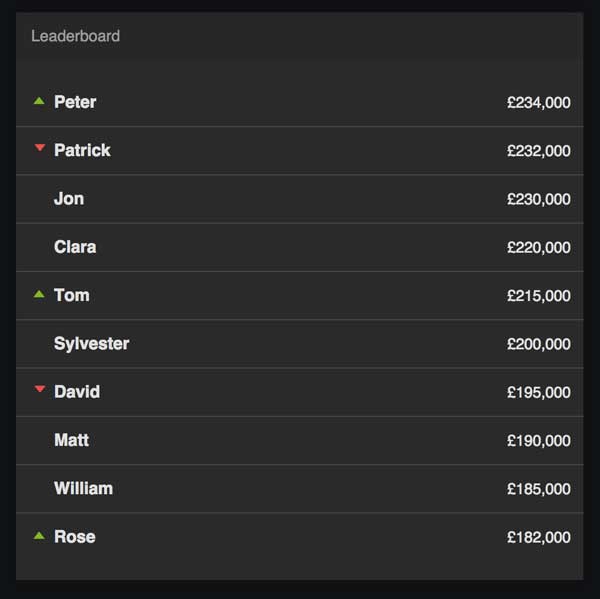 You can create your own leaderboards right away using custom widgets, and we'll be rolling them out to our own integrations in the next few weeks.
Track your progress with goals
Next up, we've added the ability to set goals to the number and Geck-o-Meter visualisations.
Setting goals and tracking your progress towards are one of the best ways of making your team more data-driven.
The new visualisation shows your current value, your goal and the percentage achieved. Once your goal is hit the colour changes from blue to green to make it stand out at a glance.
We already support goals in the bullet widget and on most line and bar charts, but this extends that capability to all the visualisations where goals make sense.
Goals can now be set for custom number widgets and Geck-o-Meters in the widget config, and we've begun the process of rolling them out to our own integrations.
A revamped Geck-o-Meter
You may have noticed we've also taken this opportunity to spruce up our Geck-o-Meter widget. We've upped the contrast to make it more legible at a distance and lengthened the needle to make it easier to read off the current value. We've also tweaked the position of the text to make it cope better with long numbers.
As part of these changes, we also took the decision to remove the ability to set a description for the min and max values. This feature was not widely used and isn't best practice.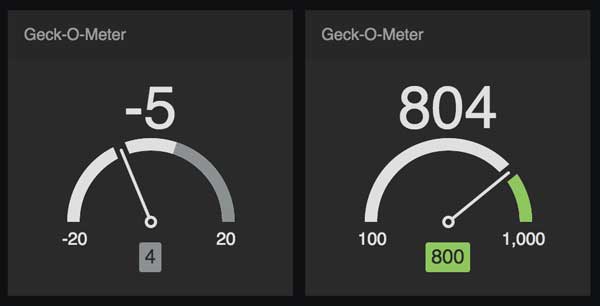 All existing Geck-o-Meters have already moved over to the new style.
That's all for now, but there are plenty more enhancements in the pipeline and we look forward to sharing them with you soon.
The Product Team