Millions of us use spreadsheets almost every single day. There's no other software tool that's quite so versatile. Google Sheets, through being cloud based and its powerful App Scripts, has further extended what's possible.
Unlike Excel though, there are relatively few resources on how to master Google Sheets. That's why we've put together this list of the best experts to follow to learn Google Sheets tips and tricks.
---
Ben Collins
Website: https://www.benlcollins.com/ | Twitter: https://twitter.com/benlcollins

Top of the list has to be Ben Collins. Ben's a Google Sheets Developer and Educator and his blog, in our opinion, is the best going. It's comprehensive, clear and practical, and covers everything from basic tips to advanced Google Sheets training courses.
Sign up to his weekly newsletter of tips and you'll receive a free copy of his book "Spice Up Your Sheet Life" - which is brilliant.
Here's a selection of some of his best articles:
Learn Google Spreadsheets YouTube Channel
YouTube: https://www.youtube.com/c/LearnGoogleSpreadsheets/
There are lots of YouTube channels that dabble with Google Sheets tutorials, but with over 100K subscribers 'Learn Google Spreadsheets' is a true authority.
Regularly updated, and with well over 100 videos, it's packed with in depth walkthroughs. GSheets diehards will have to forgive the occasional post on Excel though!  
The content ranges from relatively simple, but not necessarily well-known, functions like SWITCH through to black belt level Google Sheeting. A recent post shows how to use Google Colab and Python to do fuzzy matching in your Google Sheet.

David Krevitt from Coding Is For Losers
Website: https://codingisforlosers.com/tutorials/ | Twitter: https://twitter.com/dkrevitt
In one post David describes himself as "Potentially the #1 user of Google Sheets in the world". Now you may dispute that, but you have to respect a fellow Google Sheets fan!
Coding is for Losers help Marketers automate their data pipelines, and they are experts in Google Data Studio and Sheets. While they don't have loads of articles yet, their introduction to Google Sheets' Query Function is probably the best. (If you've not discovered the power of the Query function, prepare to have your mind blown).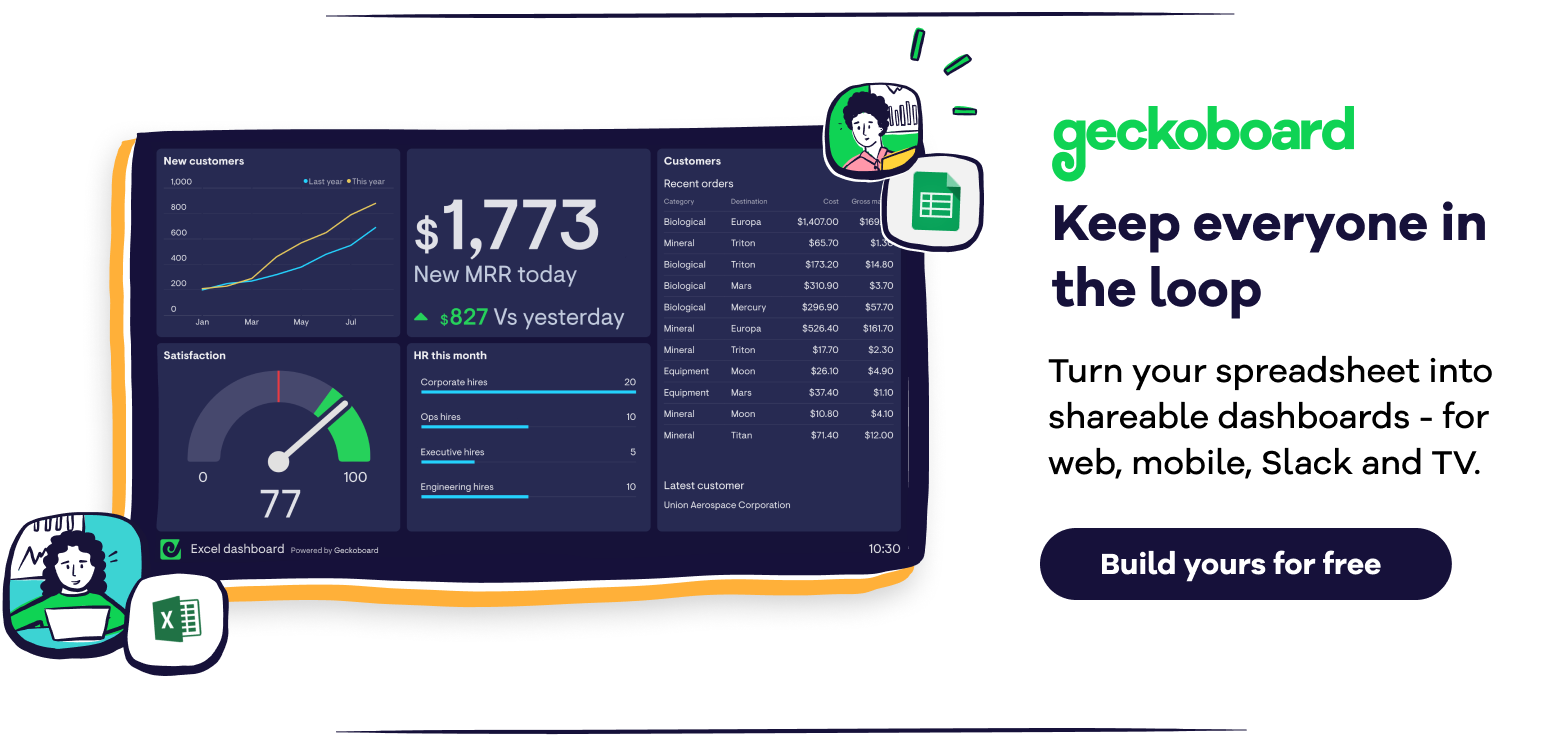 Eikart
Website: https://eikhart.com/blog/
Eikhart is an SEO-automation expert, based in the Netherlands. The tips he provides are a little more niche, primarily focusing on the problems he's needed to solve as an SEO expert, and they mostly involve Google Apps scripting.
His post on how to get Sheets to check links for 404s is incredibly useful for marketing teams,  or anyone who needs to audit content (we used it extensively at Geckoboard on a recent content migration):  
Info Inspired
Website: https://infoinspired.com/ | Twitter: https://twitter.com/prashanth_kv
Prashanth is a self described "Spreadsheet lover and product expert in Google Sheets". He runs Info Inspired, a blog jam packed with Sheets advice, and he's truly prolific!
Info Inspired has in depth walkthroughs for almost all of Google Sheets' functions. If you use Google Sheets for financial calculations or forecasting Info Inspired is definitely the place to go.  
---
While we can't claim to be in the same league as those on our list at Geckoboard we've a number of articles that have proven popular over the years including:
---
We hope you've found this list useful. If you think we've missed someone let us know on Twitter.