If you manage a Contact Center and work fully remote or hybrid, then you will have already learned that the typical setup of an in-person Contact Center just won't cut it anymore.
The biggest challenge facing most remote teams is communication, you don't have everyone in the same room or even on the same time zone. When it comes to managing, motivating and monitoring a distributed Customer Support team, adopting a remote-first approach to communication is crucial.
So how do you get it right?
We spoke to three Customer Support leaders who manage fully remote teams. These are their 6 tips and tricks for making remote working a success.
Focus on asynchronous conversations
If you're managing a distributed remote support team who work different hours, it's not really an option to spin your chair for a chat or send a quick message over Slack. So how do you have great communication?
This is where asynchronous conversations come in. 'Asynchronous conversations' just means conversations that don't happen in real-time. For example, a conversation where someone starts then there is a lag in time before the responder comes back.
As you know, during a working day in Customer Support a lot happens! Imagine you're a teammate who logs on in the later part of the day compared to your coworkers based in places ahead in time. You could sign in, find an overwhelming amount of messages and feel unsure where to start or how to prioritize your time.
Luis Hernandez, VP of Customer Success at Geckoboard recommends having one channel for the "important stuff". This saves anyone logging on the trouble of navigating their way through a ton of messages or emails. In one place, summarize the most important information anyone starting their day will need to know.
Luis' advice for this channel:
Keep it private – so that other teams aren't tempted to chip in and create unnecessary noise
Encourage the team to find answers to their queries within the team – the private channel will mean agents are unable to invite external teams in to answer questions, this helps to build the whole team's knowledge
Use tools like Klaus to deliver feedback. This way of working will ensure that rather than receiving a bunch of messages, the agent will only receive feedback when they start their shift.
Documentation is absolutely crucial for remote teams. If you're reliant on asynchronous conversations and agents being able to find knowledge within the team to answer questions, then documenting work helps save everyone time. With knowledge comes power, agents who are empowered with access to knowledge are able to make decisions and take action, regardless of who is online.
Finally, overcommunicating with a remote team is key. Though conversations may often be asynchronous, it's really important to make sure they have information available, know where to look for it and can easily find help when they need it.
Just make sure, when you're overcommunicating, that you're doing it in a way that suits a remote team and/or one with time differences.
Assign local Team Leads
Consider setting up a structure that allows for Team Leads who have time zones in common with the agents they'll be managing.
Give them the responsibility of making sure that the knowledge and information filters down to all team members.
They are able to have the (still important) synchronous conversations because they're on time zones that are more appropriate. This gives agents plenty of opportunity to ask questions and work on their personal development with the consistency of a local Team Lead.
Having these one-to-one conversations also saves the Manager having the same conversation multiple times to make sure important updates are shared or development goals are being met.
Empower the whole team with access to real-time data
While asynchronous conversations can help get everyone caught up, they can't help with the more immediate situations arising for a remote team
In a world where you aren't all in one room, an agent focused on their work could be none the wiser to the overall situation unfolding with your queue and therefore is unable to adjust to help solve the problem.
"I needed to see if there was a situation happening and how I could put out those fires at a glance. Because everyone's already on calls and chats, it's hard for them to stop and report something over. I know by looking at a live queue that something is happening, and I can troubleshoot and resolve right away. That's why we downloaded Geckoboard." Tina Baljian - Associate Director Customer Support Technology at Hay House
Providing access to real-time data is the most obvious way to make sure everyone is on top of their day.
You might think that dashboards are just for Contact Center TVs, we're here to tell you that they're not!
With a tool like Geckoboard, you can not only create real-time dashboards for TV, but you can also share dashboards via a link, on mobile devices, in Slack or emails, and even embed a dashboard into other tools your team uses on a regular basis such as Notion or Confluence.
With a real-time dashboard, you're able to share a true state of the workload at any time.
By including things like Agent Status on your dashboard your team will know at a glance, who's available. Your agents will be able to easily spot spikes in ticket volume and take initiative to respond to the situation appropriately.
For remote Support Managers, a real-time dashboard allows you to more efficiently organize workflows by sharing an oversight of all queues, groups, ticket types, tags and more.
"Giving people that visibility of how we are performing as a team, I think is essential to allowing people to understand what difference they can make, what role they can play, what part they can play, to try and take our performance across any one of our KPIs to the next level." Oliver Jackson - Head of Customer Happiness at Mailbird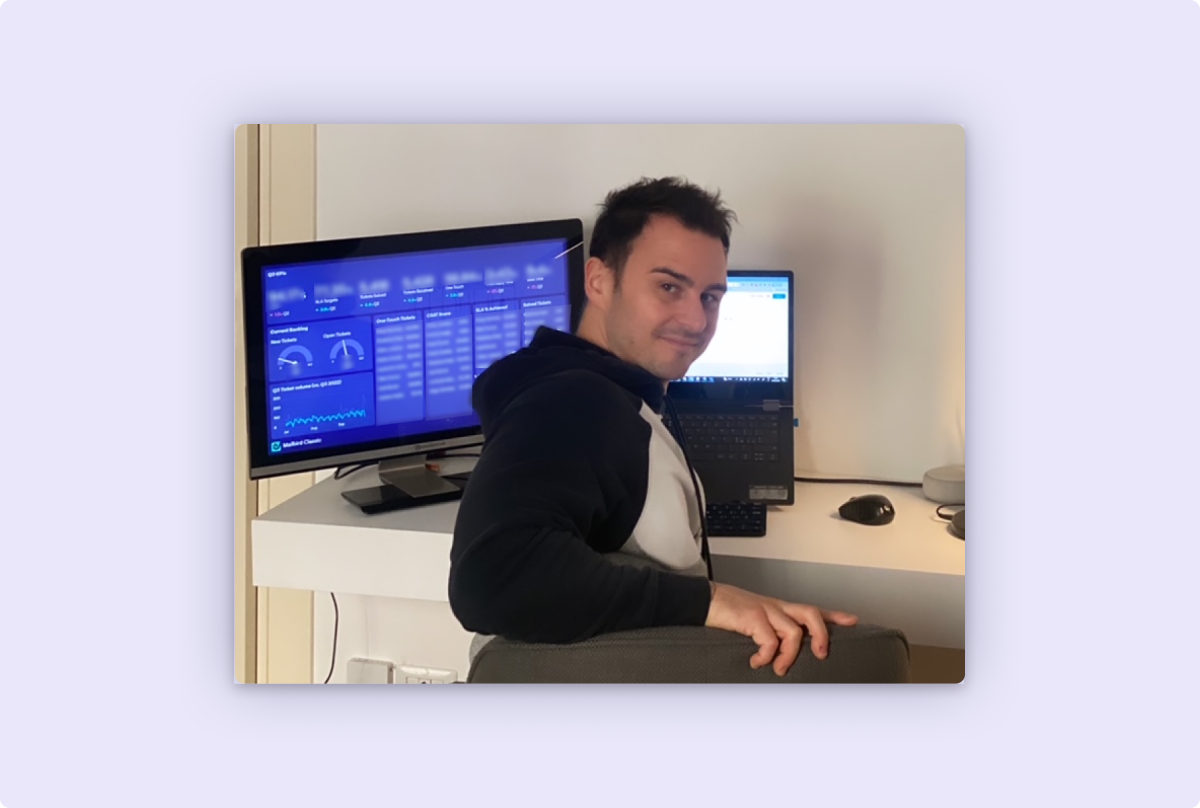 Important to celebrate
It's really important to make a team of remote agents feel valued so celebrating their successes is a great way to do this.
Always recognise the hard work of your agents and build a supportive culture that encourages everyone to do their best work.
"We have a kudos channel and this is something that we used to do in the office. I used to have a kudos wall where I would give kudos post-its to each rep and whoever got to the five would get a prize. This was something we had to start doing remotely to keep the morale and the culture very positive in the team, which is very hard to do when you're working remotely. We mirrored this in Geckoboard by creating a Kudos wall." Tina Baljian - Associate Director Customer Support Technology at Hay House
By giving visibility to your real-time data with a dashboard you're able to give open access to team performance and create an opportunity for your team to celebrate both individual and team successes prompted by hard evidence.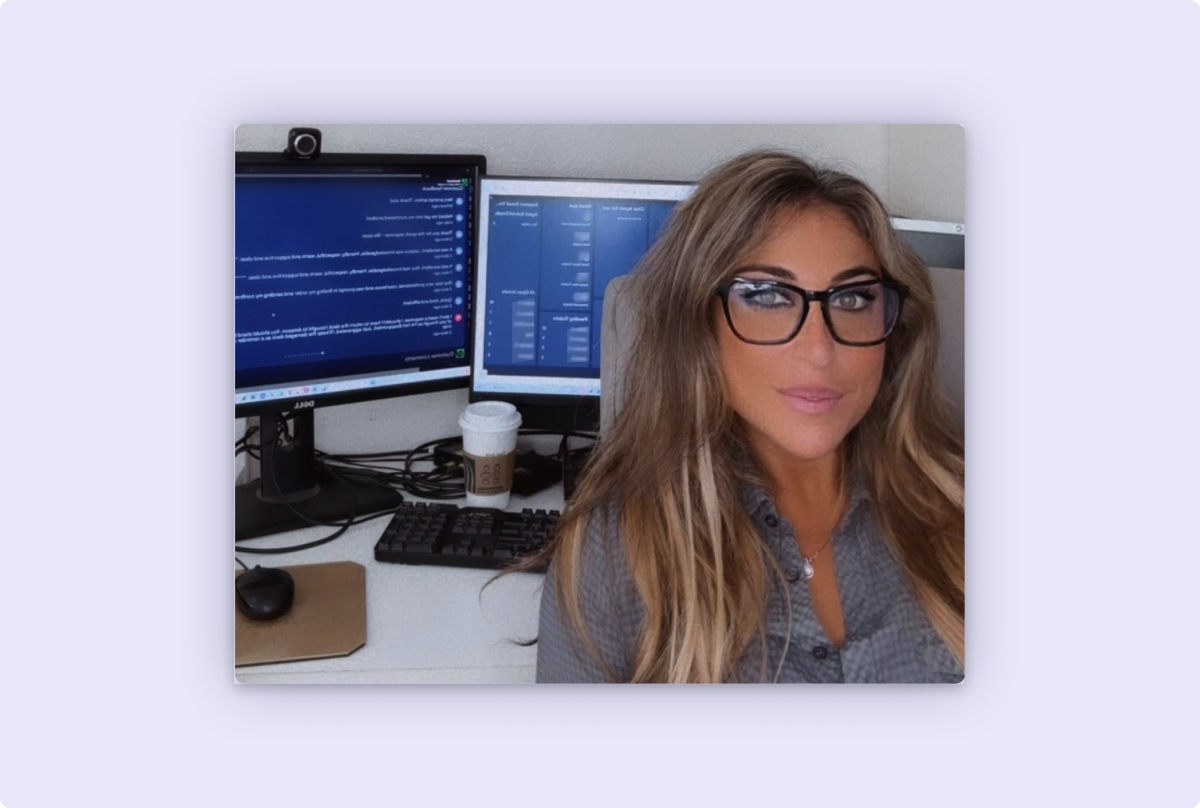 Don't treat contractors like second class citizens
Often when you're employing team members from other countries, they'll technically be contractors due to local employment laws.
But just because they're considered a contractor legally, doesn't mean they should be treated any differently to the rest of the business. Give them access to the same benefits and opportunities as anyone working locally – you'll be more likely to attract and retain a better team.
This includes working with outsourced customer support teams – make them feel welcome and a part of the organization and they'll naturally perform better.
Have some fun
Set up channels to socialize and allow the team to have the general kind of chit chat that they'd have if they were working together offline.
Hang out together socially – Luis Hernandez (VP of Customer Success at Geckoboard) organizes an online event for his team every couple of months. We're talking escape rooms and Airbnb online experiences. It's about making sure there are opportunities for everyone to spend time together socially and bond, just like there would be if they were together in an office.
—
Want to see how real-time data dashboards might inspire your remote Customer Support team? Try Geckoboard for free!