Do any of us ever truly master a tool?
We may try, but with how quickly tech companies push out changes, it's difficult to fully master a piece of software.
Zendesk is a good example of this. Zendesk releases new features and content regularly, so if you want your support team to get the highest possible return on your Zendesk investment, it's critical to stay up to date on Zendesk's feature releases.
This also means that if you've been using the same configurations and features in your Zendesk account for several years, you're probably overdue for a refresh.
Thankfully, there are heaps of resources (both free and paid) that you can use to level up your Zendesk knowledge.
Whether you're on the hunt for Zendesk training resources because you're brand new to the tool or you're an experienced user whose team needs some additional agent training, we've done our best to round up some of the best and most cost-effective Zendesk training options available today.
In this article, we'll cover:
Best online Zendesk training for new agents
Zendesk's training platform
Zendesk provides a wealth of training videos and options through its online training platform.
Here, you'll find everything from formal Zendesk Certification courses to basic introductory courses that you could incorporate into your new hire on-boarding for new customer service agents.
Zendesk certification is a great way to increase your knowledge as a support leader. Completing the certification program is also a wonderful career development opportunity for ambitious employees on your support team.
Udemy
With the job market getting more competitive every day, many companies are now offering their employees access to tools like Udemy for ongoing training and professional development.
Even if your company doesn't offer paid licenses for Udemy, most of their Zendesk courses are less than $20.
Udemy has tons of learning tracks that can be used to help onboard new agents by teaching basic Zendesk functionality and sharing foundational knowledge. Udemy also has courses that are helpful for learning some of the more advanced features in Zendesk.
Best training for Zendesk Explore
Zendesk Explore is a good example of where Zendesk's training is helpful. Explore is relatively complex and is still undergoing regular tweaks and updates. While Explore can be a convenient tool for building out reporting, it also comes with a steep learning curve.
Zendesk offers a paid Certification program for Explore. While the exam is $350, the Zendesk Explore courses you'd study to take the test are available for free.
Consider alternatives to Zendesk Explore?
If your team is struggling to use Zendesk Explore, then you may be looking for training resources.  But there is a potentially quicker and more efficient solution available – Geckoboard.
Geckoboard is a dashboard builder that makes it easier than ever to investigate and share share Zendesk data.
Thousands of Support leaders use Zendesk to build and share real-time Zendesk dashboards – massively reducing the need for most of their team members to learn to use Zendesk Explore.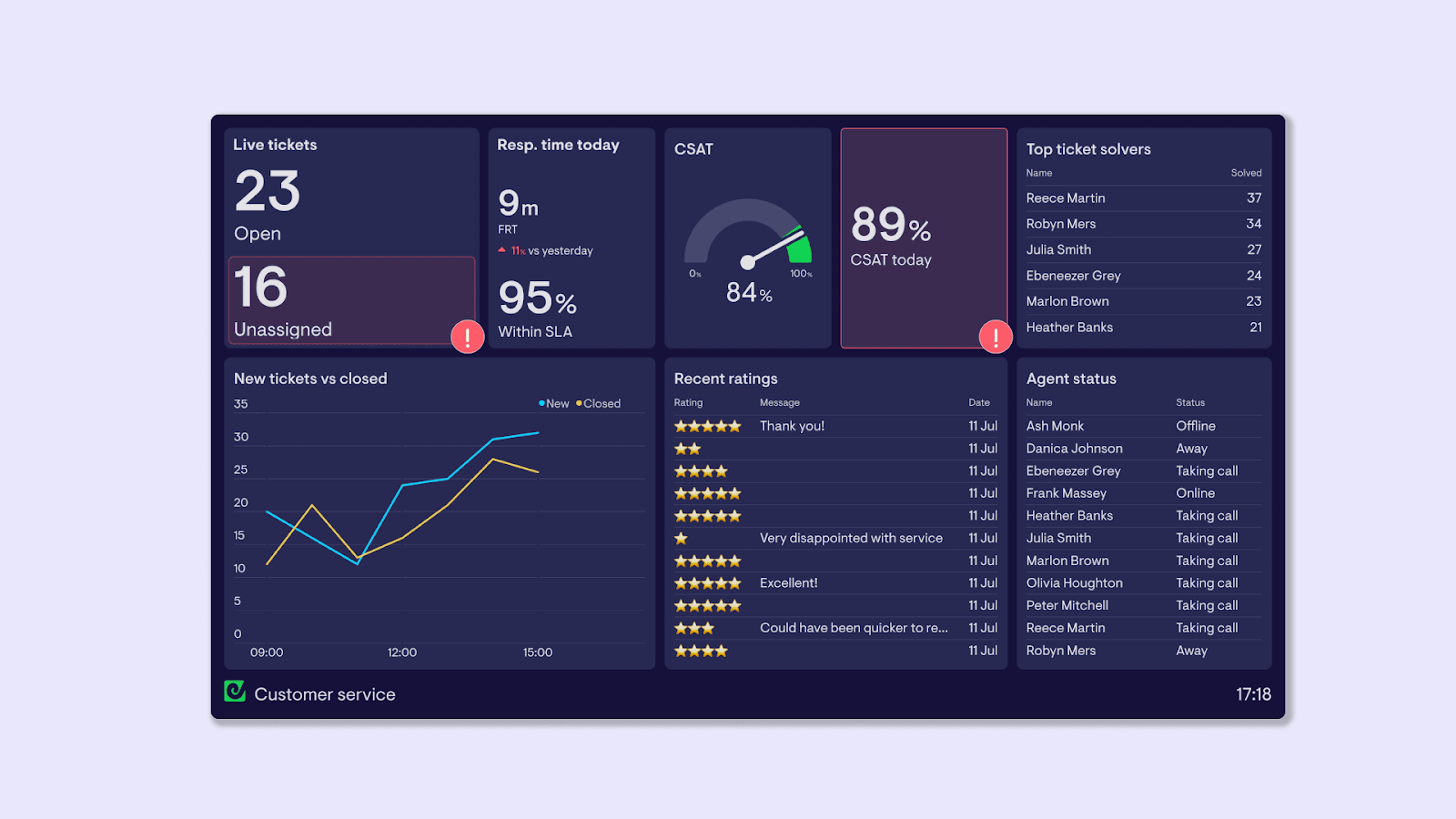 Best Zendesk YouTube series  
YouTube might not be your first thought when considering Zendesk training, but it can be helpful when looking for insights from real Zendesk superusers. Dedicated Zendesk YouTube channels—like the ones below—pull back the curtain to teach you the ins and outs of leveraging Zendesk to build a great customer experience.
The DominicCX YouTube Channel
Zendesk has some of their own training and introductory videos hosted on Youtube, but one of our favorite channels to recommend is ROCA (by DominicCX).
Dominic's channel covers everything, including:
Configuring Zendesk's chat solution
Creating reports and dashboards in Zendesk Explore
How to create Zendesk ticket forms
Publishing best practices for Zendesk Guide
Setting up a new Zendesk instance
If you're new to Zendesk and looking for recommendations on what kind of metrics you should report on, he also has a great video where he outlines his recommendations—including best practices for different industries and channels!
If you like Dominic's content he's also compiled a lot of his expertise into a free ebook about optimizing Zendesk. It's another great Zendesk training resource, available for free download on his website.
SweetHawk's YouTube Channel
Another great source of Zendesk-focused Youtube content is Sweethawk's channel.
SweetHawk creates Zendesk apps, and their Youtube channel includes a series of videos outlining best practices for their quality assurance, NPS/CSAT surveys, and SLA enforcement apps. They also have a number of videos on Zendesk functionality—things like field conditions, webhooks, triggers, and more.
Best online Zendesk communities
Online community forums can be helpful when you have specific issues or questions that you want to bounce off of fellow Zendesk users.
If you're currently in "where do I even start?" mode, you can connect with other CX professionals who've been through the same process. Being active in communities can teach you a lot—it's often the best way to learn from folks who are on the front lines of CX.  
Support Driven
If you're reading this article and you're not already a member of the Support Driven Slack community, sign up now.
Support Driven is a community for customer Support professionals to network, share ideas, and grow together.
The Support Driven Slack helps members connect and collaborate on one-off questions and issues, and the biannual conferences help bring everyone together to learn from one another and check out the latest industry trends.
For your Zendesk-specific needs, there is an entire channel dedicated to folks asking questions about Zendesk. Questions include things like:
How to measure specific metrics within Zendesk Explore
How to configure a trigger or automation in Zendesk to perform a certain action
Crowdsourcing answers on why you're experiencing particular issues within Zendesk
Below are some real-life, recent examples!
While a Zendesk-focused Slack channel isn't a structured training program, it's a fantastic place to get real-time help from peers. You'll get tons of help and learnings from other community members, plus members of the Zendesk support team and a bunch of Zendesk consultants that also chime in.
Best Zendesk-Approved Training Providers
If you're looking for a more personalized approach to Zendesk training, a consultant might be your best bet. We've combed through Zendesk's approved partners and identified a few that stand out.
Zendesk partners are companies that Zendesk verifies for consulting services across projects like training your team, new Zendesk implementations, and custom app/integration development.
Premium Plus
Premium Plus was Zendesk's Global Partner of the Year in 2022, so if you're ready to invest in resources outside of your team to improve your Zendesk utilization, their team is a good place to start.
They offer Zendesk training in various locations and languages, starting at around $200.
They also offer guidance on other platforms your Support team might be using, like Aircall and Klaus. You can check out their full list of Zendesk preferred partners on their website.
Route 101
Zendesk's EMEA Partner of the Year for the past three years, Route 101 offer a range of courses that are led by experienced Zendesk implementation consultants, so you know you'll be learning from field-tested experts.
Courses cover Zendesk Support, Messaging, and Zendesk Explore training, as well as bespoke advanced Zendesk training to meet your specific requirements, with training taking place online, or in-person at their Bristol, UK office.
Have a browse of Route 101's Zendesk training packages here.
Adelante
Another Zendesk premier partner worth exploring is Adelante. They have awesome reviews on both their implementation and consulting services, and offer options that will suit a support organization that is completely new to Zendesk or more robust teams who are looking to add customizations  to support their business.
Adelante also offers to share their expertise with your team through their training services, but you'll need to reach out for a free consultation to receive a quote.
729 Solutions
729 Solutions, Zendesk's Americas Partner of the Year, offers two training services: a one-on-one training for Zendesk administrators as well as a group training aimed at Zendesk agents.
Their pricing isn't publicly available, but you can contact them for a quote on training costs.
If you have a team big enough to take on managing your Zendesk instance, but need a jump start from some experts who can show you the ropes, the team at 729 Solutions is a great option!
Roca
In addition to having a helpful Youtube channel, DominicCX also runs ROCA, a Zendesk implementation and training partner. They offer a free Zendesk training program alongside their custom services to set up or optimize your Zendesk implementation.
One thing that sets ROCA apart from other partners is the breadth of Zendesk products that they support.
Their implementation services cover Zendesk Support, Guide, Chat, Sell, Explore, Messaging, Talk, Sunshine and Sell. This well-rounded Zendesk expertise also makes them valuable training partners, as you're highly unlikely to encounter Zendesk challenges they've never encountered.
Best general resources for learning Zendesk
The Zendesk Help Center
If there's anything every support team knows all-too-well, it's that help centers often get overlooked by users trying to learn a platform.
Don't make this mistake with Zendesk!
While no help center is perfect, Zendesk's is pretty comprehensive. It offers guides to nearly every configuration option you can think of, from basic feature explanations to recipes for building your own triggers.
Zendesk training resources are just one way to level up your customer experience
If your support team is using Zendesk, you'll undoubtedly need Zendesk training help at various points. The wealth of training resources above—delivered in various formats and price points—should give you a solid foundation of Zendesk knowledge and expertise.
Zendesk is a powerful but complex customer support tool. While it can be useful out of the box, it often requires significant customization and a somewhat steep learning curve. There's nowhere that this truer than with Zendesk Explore.
If you're looking to quickly get more valuable insights out of our Zendesk instance and into your team's hands, the fastest path to achieve that isn't through spending significant time in Zendesk training sessions. It's to use a tool like Geckoboard, which lets you create real-time support KPI dashboards in mere minutes.
Start your 14-day free trial of Geckboard today.