Your customer service framework is like the instructions manual for building some flat-pack furniture. Without directions, you're guessing how your new desk goes together. Likewise, your support team will improvise how best to respond to incoming customer queries if they don't have a guiding framework – which can lead to long delays and inconsistent customer experiences.

A framework is useful for clarifying how, when, and why you provide the type of service you do. It maps out:
Your customer service vision
The channels you use to communicate with customers
How teams outside of support can help customers
Key metrics to measure the success of your customer support
Your customer service framework should be an internal document that team members can refer to to understand the why that shapes your customer service strategy. You may want to write out your framework in a document or map it out visually to show the priorities, channels, and tools for your support team.

We asked customer service leaders from Lob, Tortuga Backpacks, CoScreen, and CashAnalytics to share their top tips for building their strategy. These expert insights will help you create a framework that guides support team members and demonstrates the strategic value of customer service.
Lay out your company's vision for your customer service
The first step for building your customer service framework is to set out your company's vision for the service you provide. CashAnalytics Co-Founder and COO Martin Gillespie advises companies to use their customers' objectives as the starting point for setting out their strategy:
"Understand what value a customer wishes to obtain from using [your] software,"says Gillespie. "Working backwards from that point, you can deliver a plan to achieve that objective."
For other companies, like Tortuga, a good first step might be aligning customer service with their company values.

"Start with your company's vision and values," says Lauren Tennant, Concierge at Tortuga. "Use that information to answer questions about what you're trying to achieve and how you want to use it to help people."

Once you've identified the top priority for your service, you've got a foundation for the rest of your strategy.
"If you are in it to build relationships rather than processing support requests as fast as possible, who you hire, what targets you set, and what tooling you need will be very different," says CoScreen Co-Founder and CPO Max Andaker.
When starting to create your customer service framework, consider how your company values align with customers' objectives. Use that to guide the overall vision for your strategy.
Get other departments involved in customer service
Support may be a single department, but at the end of the day, helping customers is a team sport. To create a truly helpful brand experience, make sure your customer service framework addresses how to get other departments involved in customer support.
"Creating impactful relationships in cross-functional departments is key," says Lob's Customer Experience Manager Corina Parisca. "Explain how [your colleagues'] expertise can help make a difference in the eyes of the customer."
When building out your customer service framework, identify key areas of expertise that different colleagues or teams can bring to the table. For example, an engineer will know your product inside out, so they will be able to get to the bottom of a tricky, technical problem much faster than your standard support rep.

As well as working with different teams, aim to get senior leaders involved as much as possible to foster a customer-centric mindset for the whole company. At early-stage companies, your leadership team may be directly involved in creating your customer service strategy. In Tortuga's case, its first framework was created by its CEO:

"As a startup, the first several years consisted of the two co-founders doing everything [for customer service] themselves," says Tennant. "When additional team members came into play, the strategy was discussed, agreed upon, and used to make decisions from there."

While later-stage companies are unlikely to have their customer service strategy set by the CEO, it's useful to keep the senior leadership team engaged and informed about the work you're doing. Keeping leadership involved by sharing support data with them will help raise the profile of your support team.

Geckoboard's 2021 Customer Support Experience Report found that 74% of respondents share regular updates on support team performance with the senior executive team. Read the full report to learn how and when to share support insights with your leadership team.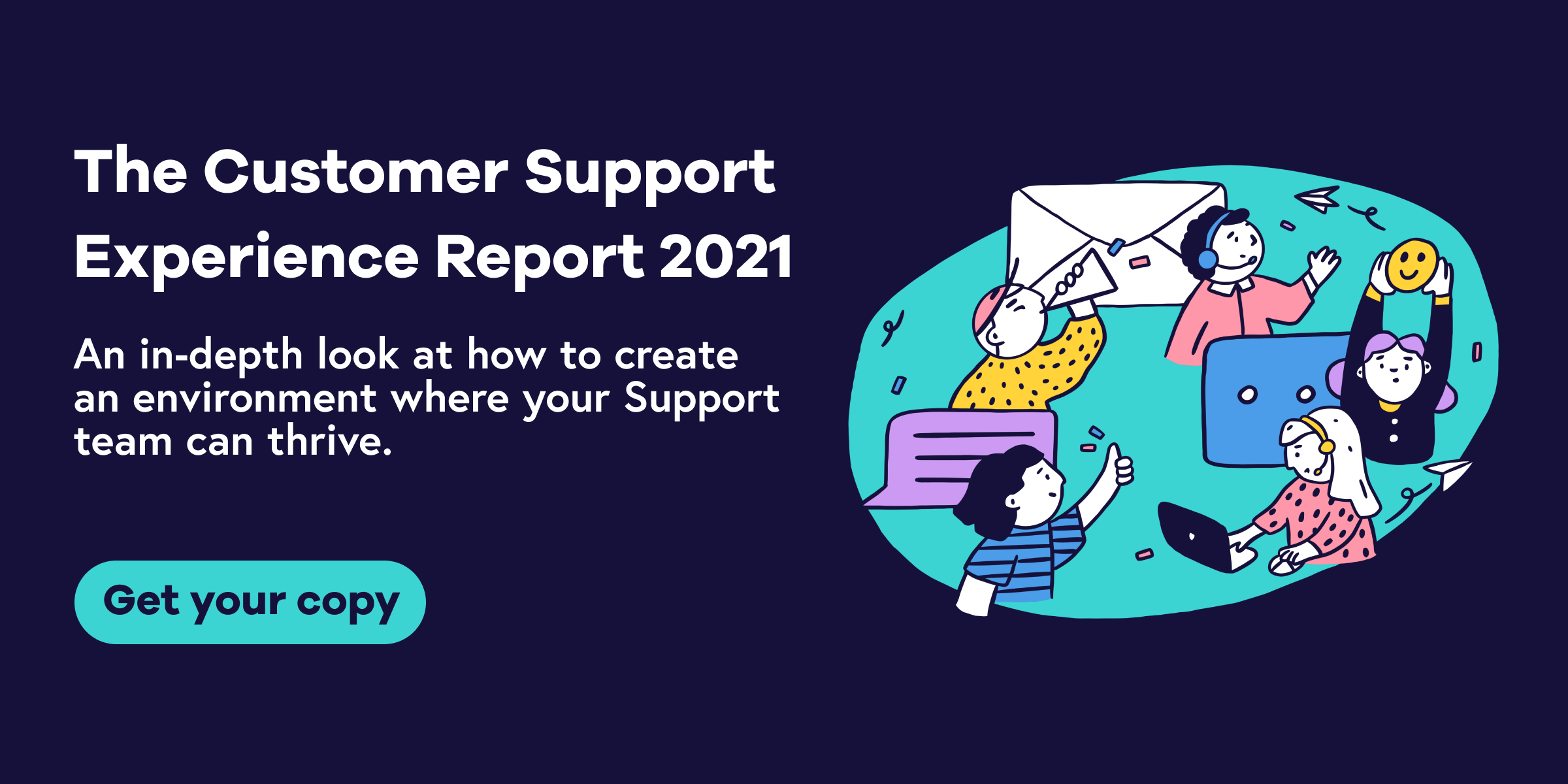 Choose the channels you want to master
The channels you use to communicate with users will depend on three things: your customers, your team, and your industry. Focus on providing service on the channels that are most used in your industry and will provide the best experience for your customers rather than rolling out new channels at every opportunity.

CashAnalytics chooses its customer service channels by focusing on the customer experience.
"Our ultimate goal is to make it as easy as possible for our customers to engage with us to achieve a high-quality service," says Gillespie. "To do that, we map our channel strategy to what is natural, straightforward, and most importantly preferred from our customers' perspective."
Tortuga chooses to focus on one primary communication channel: email.

"This decision stemmed heavily from one of our values: to live and work on your own terms," says Tennant. "We consider the most effective way to solve customer issues, keeping in mind our customer service strategy – for us, that is still email."

Andaker agrees that your main focus should be on providing the best experience for your customers.
"The channel should be readily available where they might be when needing help," says Andaker. "Exactly what this looks like will depend on the business – for a SaaS product, a form or chat work well."
Respondents to our Customer Support Experience Report collectively cover nine different communication channels. But we recommend being much more selective.
"The biggest takeaway is to be really good at the channels that you choose," says Parisca. "Be really good at a couple, and roll out more in a pragmatic way if you must."
Consider providing great customer service across just a couple of channels initially and then scaling up and adding new channels once you see the demand is there.
Focus on metrics that align with your customer service vision
For your framework to be sustainable, you need metrics that will help you gauge your brand's overall customer service. Choose key performance indicators (KPIs) that will keep your team focused on the customer's happiness.

Gillespie recommends looking at your customer's goals and working out which metrics are best aligned with those objectives.
"First and foremost, we consider the goals and objectives that our customers are aiming to achieve through the use of our product," says Gillespie. "An overarching metric that provides a good perspective on that is Net Promoter Score (NPS)."
Lob's metrics focus on putting customers at the heart of the company strategy. Parisca advised tracking metrics that tell a story of the customer experience.

"Choose metrics that will build a story around how your customers are being serviced, with the target of getting you closer to how you want to be able to support them," says Parisca. "When you think about building metrics in this way, you are reminding yourself that customers are an important part of your overall company's strategy."

There are lots of customer service KPIs you could track, but we're focusing on the three metrics that Geckoboard's 2021 Report identified as the most-used metrics by customer support teams.
Customer Satisfaction (CSAT) helps you measure customer happiness. You track it by asking customers to complete a short survey after a conversation or interaction with your brand.
First response time (FRT) tracks the time it takes your customer service team to respond after a customer submits a ticket. This metric is especially helpful when you're trying to speed up your support team's service.
Net Promoter Score (NPS) measures how happy your customers are with your brand by sending a survey asking how likely they are to recommend your product or service to a friend. Marketing teams often use NPS as a measure of word-of-mouth growth, but it's also a useful metric for customer service teams to track. CashAnalytics found that NPS was the best metric to track how well their customers achieve their goals with their product.
Focus on KPIs that align with your customer service vision to demonstrate the strategic value of your support team. You'll likely track additional metrics to measure your support team's workload and performance, so a customer service dashboard can help provide visibility into real-time performance and progress toward long-term goals.
Document your customer service framework and build on it over time
Don't feel like you need to come up with a complete customer service framework all at once. Treat your framework as a living document that you're constantly adjusting. Consider setting aside time each quarter to check on your framework and determine if it needs changes to better align with your company's goals and customers.