CharlieHR is a two-year-old London-based startup that created a free platform to help small businesses manage everything related to human resources. They are 18 people strong, used by a few thousand companies all over the world, and successfully just launched a paid version of their software.
Tom Carrington Smith, Co-Founder and CPO, talks about what it's been like scaling and growing as a business, how they use the Objectives & Key Results framework (OKRs) and their radical approach to organisational structure.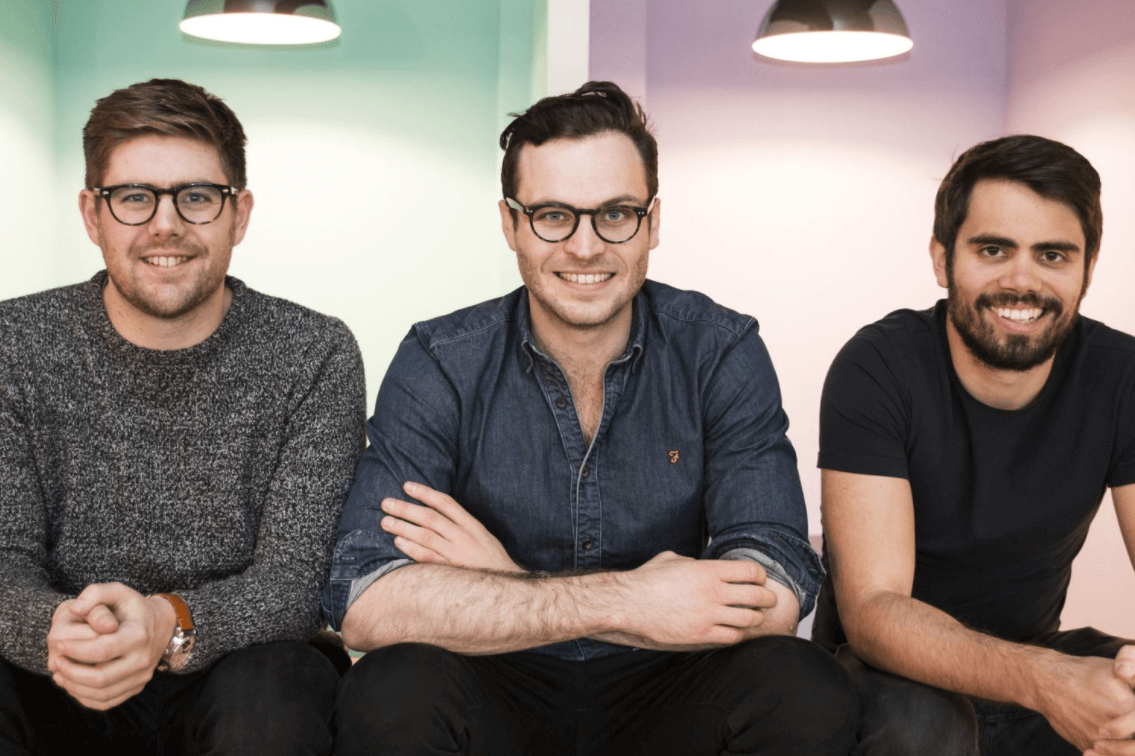 CharlieHR founders (from left): Tom Carrington Smith, Rob O'Donovan and Ben Gateley.
Tom, you work in cross-functional teams at CharlieHR. How did that come about?
I remember when we were one big team, around 14-15 people. Already then you could start seeing the cracks appear where people were making tradeoffs in their own objectives to help other people's objectives.
We've got some really talented people here, some have been here since the very beginning. As we were growing and hiring more senior roles in product and engineering, I started getting feedback that they felt like they no longer had real input into the decisions around the features they were building.
This was the result of being one big team where everyone was working on the same thing and the majority didn't have any real control or ownership over their work. I began thinking, if you could build a big company that feels like a small startup, you'd get things done a lot faster and everyone would have fun.
What research did you do to get inspiration and an understanding of how to work cross-functionally?
I read The Everything Store: Jeff Bezos and the Age of Amazon by Brad Stone. He says, if you can't feed your team with two pizzas, the team is too big!
Patagonia is a fascinating company that work in cross-functional teams. I read Let My People Go Surfing: The Education of a Reluctant Businessman by the founder, Yvon Chouinard. It's interesting because they're a clothing brand, not a software company, and they give real ownership and autonomy to people through cross-functional teams.
Supercell, the Finnish games company, is another one that's structurally interesting. They have very small teams that each look after a game and almost run it like a mini company. This seemed like a really inspirational way of motivating people in their work.
I'm also obsessed with how TransferWise and Spotify run their teams. I can get super geeky about researching something that really interests me – I even wrote a Medium post about it!
How did all those inspiring stories translate into reality at CharlieHR? How do you implement cross-functional teams?
My breakthrough moment was on a call with Jeff McClelland, People Experience Team Lead at TransferWise. He asked me how confident I felt about building a company of 500 people.
I laughed, "No idea. I'm clueless!"
"Can you build a team of five people that are really high-performing and high-functioning?" Jeff replied.
"We've already done that - so yes," I answered.
"Great. Just build 100 teams of five and you've got a 500-person company," he advised and basically hung up the phone.
The company is now split into three teams. Every team has a product manager, a lead engineer, a product designer plus a few other roles that fit into it. It means each team has everything they need to do whatever they want to achieve their key results.
Each person knows everything that's going on across the team. Everyone's aware of the key metrics because there's only one, or a primary and a secondary metric. We have one big company objective for 90 days, then each team has their own objective and key results.
This way of working has enabled us to move so much faster. Our aim is to scale the company by building many of these really effective teams of five to eight people who can take total ownership of what they're building. There will be no VP of Engineering or VP of Product telling everyone what to do.
How do you set goals and objectives?
One of our board members is a massive fan of the Objectives and Key Results framework and said to us ages ago, "You might not need OKRs just yet, but you should be thinking about it."
We're quite process driven for a startup at our stage, so we rolled out OKRs when we were just over a dozen people, which is very early. We figured we might as well mess it up a load of times before having to roll it out to lots more people and that's worked well. Now our OKRs are really, really useful.
What was it like starting out with OKRs?
If I'm really honest, the first three cycles – one cycle is 90 days – were pretty shit, because we didn't know what we were doing. It wasn't until the third cycle we did OKRs properly. We got outside help from some very experienced people – one of them being our investor Toby Moore, founder of Space Ape and now venture partner at Entrepreneur First. It was also in the third cycle we introduced cross-functional teams and things started to come together.
You said you messed up OKRs several times before you got it right. What did you learn?
Now in our fifth cycle, the biggest learning so far has been the importance of the planning, the wording, and the thinking behind OKRs before you go into them. It's easy to say, "We need to drive new signups so our key result is going to be number of signups every month or week." That's a crap objective and crappy key results.
About three weeks before the end of an OKR cycle, the senior team here start talking about what the main objective will be for the next cycle. Then we share it with the company to get feedback – this is really important. Then we go away and set the objective and what we think the rough objective for each team could be. We then share that with everyone. Working this way means you get input from everyone inside the company while still getting the focus from a strategic level.
We have a two-week break between OKR cycles during which we match up people into teams based on what skills are needed for the upcoming work and the type of work people would like to focus on. The teams then come up with their own Key Results, which really motivates them to believe in and want to achieve them.
The important thing we rolled out last OKR cycle is being able to measure your KRs (Key Results) on day one of the cycle. We used to spend far too long in-cycle trying to work out how to measure stuff. Now you must have the baseline metrics for your KRs up on our TV dashboard by the last Friday of the two-week gap.
Ben, our Chief Operating Officer, is the person who did all the reading and spent time writing all the documents and rolling out OKRs. It's useful to have him maintain the rigor of our planning sessions.
We still don't have it all figured out, but I think understanding how crucial that planning section is was a big breakthrough for us because it means you have real buy-in from everyone to fully believe in their Key Results and their Objective. Without that it doesn't work.
How does everyone share their progress?
When we started working in cross-functional teams, people began expressing the need for a central point for all our information – a central source of truth, a compass if you will – so one of our engineers used Geckoboard to build a TV dashboard for our office wall.
We've always had a place for our key metrics, but it was more like a bunch of spreadsheets that Rob, my co-founder, looked after. When we split into the three cross-functional teams, it meant we were doing way more stuff as a company. That highlighted how much harder it was for everyone to understand what was going on across the company because there was no umbrella view of everything.
It was again around that 14-15-people mark when we started bringing in proper processes around things like product discovery, backlogs, and running agile properly rather than in a hacky startup way. Along with those processes, we also started measuring metrics properly and eventually displaying them prominently to keep them front of mind for everyone.
We now have a main dashboard for all three teams, which shows our company objectives through to the teams' individual Key Results. It means that anyone can walk past the TV and see live metrics on how their own team as well as the other two teams are doing.
You can't underestimate the importance of those mental nudges of seeing live metrics as you pass by on your way to eat lunch or grab a coffee.
What do you think makes a good dashboard?
I'd take a step back and ask, "What makes a good metric?" This is something we've talked about a lot internally.
As I mentioned, one of the really important things at the start of an OKR cycle is to know what to measure. As we put together the dashboard, we need to ask ourselves, "Do these metrics genuinely help show if we're going to hit our Objective or not?"
A great dashboard shows metrics people believe in – valuable metrics showing a true score of how we're doing against our goals. Of course, the challenge is how you get people to that point, because if people don't believe in the metrics on the dashboard, they just won't look at it.
How have you helped your team understand the difference between a good metric and a bad metric?
The beauty of having cross-functional teams is having a great mix of different thinking. For example, you have a growth marketing person sitting alongside an engineer and a designer.
Their varied perspectives means, for example, a marketing person can come up with a metric but the engineer might say, "Scientifically, that doesn't make sense". Equally, an engineer can go really, really deep to measure something and a marketing-minded person might say, "Hang on, if we just stop here, we've got enough".
You can easily end up in ruts when two or three people with the same approach go away and try to come up with a metric.
How do you make sure everyone within the company stays informed?
We're trying to build a culture where people communicate regularly. One of the challenges you have in cross-functional teams is people being interested in what other teams are doing, and rightly so.
Rather than teams feeling like they have to do big presentations of what and how they're doing, we encourage people to ask each other. The dashboard triggers a lot of those questions and sparks great conversations.
Communication across teams is really important, especially as you grow. Tools like dashboards, whole company huddles, and OKR check-ins have all helped us create a natural, uninterrupted flow of information.