Reducing churn is a significant concern for businesses. Gartner reports that customer retention is a top challenge for 34% of technology product marketers.

But the key to increasing retention is more than offering discounts or addressing problems after they arise. It's about building a replicable customer success strategy that team members can use in current and future customer interactions.

We talked to some companies in our network to find out how they approach customer success and improve retention. Based on their advice, we identified four key steps for building a customer success strategy, starting with onboarding and lasting the full length of your customer relationship.
1. Send onboarding emails
Connecting with customers regularly is a key element of a good customer success strategy. One way to increase the number of touch points with new customers is by sending a series of introductory emails spaced out over the course of the onboarding journey. Regular emails keep your company top of mind with new clients and show them that keeping in touch is a priority for you.

The customer success team at Voximplant, a cloud-based communications company, makes a point of connecting with every customer regularly and offering useful materials and product information.

"We contact our customers on a regular basis, discussing new cases, as well as informing about new platform features," says Anatoliy Simakov, head of customer success at Voximplant. "As for the new clients, we briefly touch on the platform's capabilities and share specific videos and articles."

Onboarding emails are especially important if you offer a free trial. They are an opportunity to share training resources, new feature updates, or other product information that can help the recipient quickly see value from your product, and hopefully inspire them to upsell. For example, in Geckoboard's onboarding emails, we offer links to example dashboards and video demos to help new customers learn how to set up their first dashboard.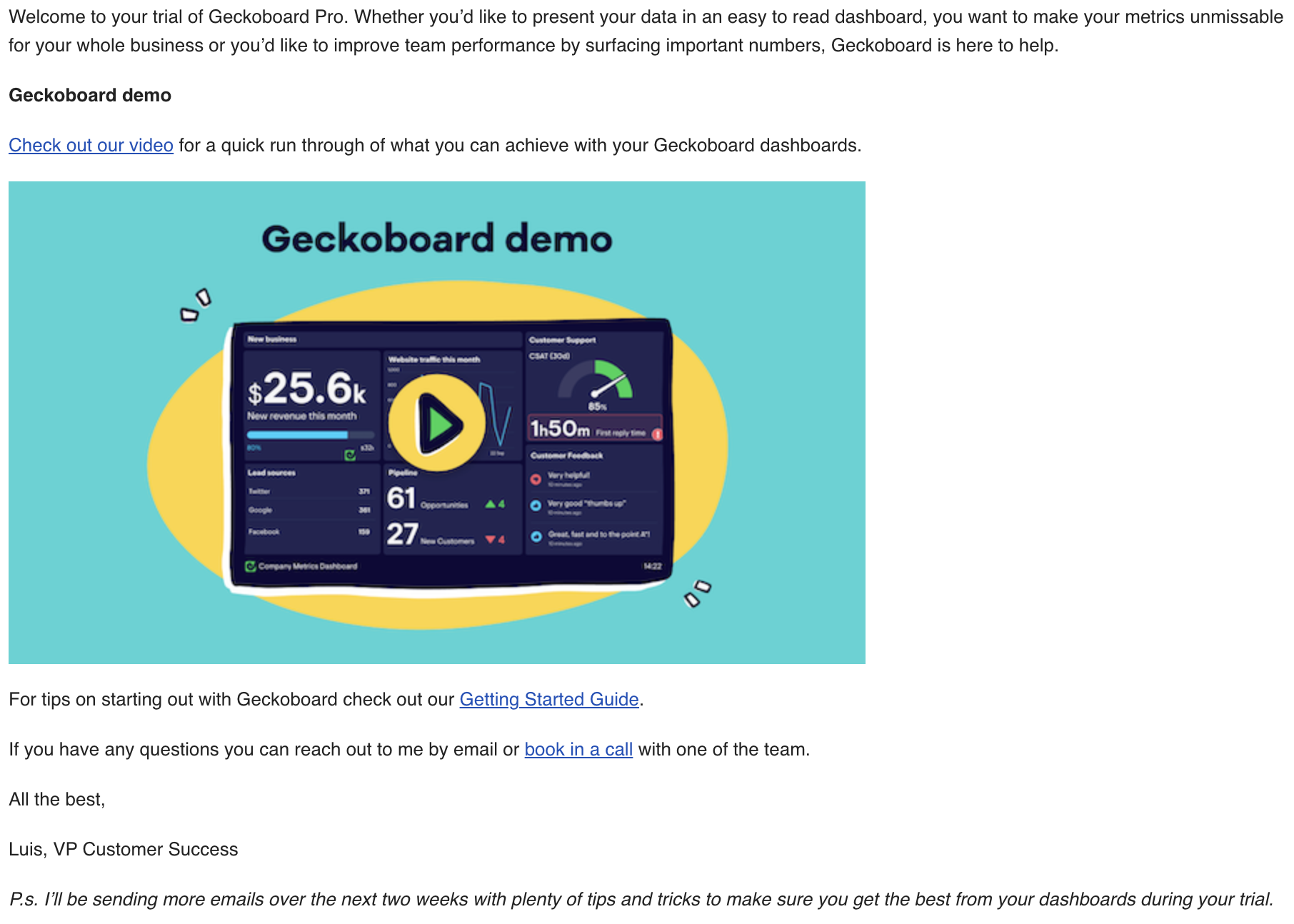 "The onboarding comms we have in place deliver guides on setting up dashboards, key functionality, case studies, [and] useful content," says Sam Gane, customer marketing manager at Geckoboard.

Gane points out that these emails are also an opportunity to provide the customer with a phone number or another method of contacting your company. After all, she says, "sometimes users just need to speak to someone."
2. Offer personalized strategies for each customer
A study from Gartner found that, when offered an opportunity to switch, 82% of clients would stay with a business following an interaction the customer felt added value to the relationship. Value-add interactions included validating purchasing decisions and helping the client reach a specific goal by highlighting relevant product features.

Encourage value-add interactions by developing personalized plans for each customer. In the initial onboarding stage, talk with the customer to understand specific pain points. Then, illustrate how your product solves their problems, and send relevant training and support materials to help them use the product on their own.

Negotiatus, a purchasing platform, shows customers exactly how its product can solve their problems.

"A good answer from a new Negotiatus customer might be, 'My company is buying pens that are similar or identical, from multiple vendors at various price points.'" explains Mike Mitchell, senior customer success manager at Negotiatus. "We then show the customer how Negotiatus' centralized product catalog can instantly surface those products so that they can remove the items they want to stop purchasing."

By directly addressing pain points, you can help your customer develop a strategy for using your product in a way that immediately demonstrates how it can benefit them.
3. Schedule regular check-ins
Accenture found that, among people who abandoned a business relationship, 33% did so because they felt there was not enough personalization. Phone or video calls help make the relationship more personal by connecting one-on-one with customers.

As Cathal O'Shea, customer success team lead at ContactMonkey, puts it: "Always, always have a phone call. Phone calls elicit information and insight often missed with electronic communications."

Schedule monthly or biweekly calls to get a sense of how the customer feels. Discuss any problems they have encountered with using the product. Surfacing these issues early on, even before they may seem like concerns, can help prevent them from snowballing. Regular meetings can also help you keep track of your customers' changing needs so you can show them relevant features or aspects of your product they may not be aware of.

Between check-ins, make sure your client knows they can reach out to you with questions, concerns, or feedback.

"If a customer feels that they can bring a problem to you, and that you'll take the time to understand its roots and collaborate on a solution," Mitchell says, "they'll consider you more of a partner and less of a product, which will make retention more likely."
4. Identify and display key retention metrics
Another vital step in building a customer success strategy is to identify metrics that will let you know if your onboarding and other retention initiatives are working. Defining success metrics for your company will help you keep a constant eye on customer health and address potential problems as soon as they arise.

Common retention metrics include:
The exact metrics you choose will depend on your product, company stage, and business model. The customer success team at Striim, a data integration platform, tracks CSAT. They then conduct interviews and use direct feedback to add context to each CSAT. On the other hand, the data automation platform Census prioritizes product activity coefficient above more traditional retention metrics.

Once you've identified the best metrics for your customer success strategy, keep them top of mind for your team by adding them to your customer success dashboard.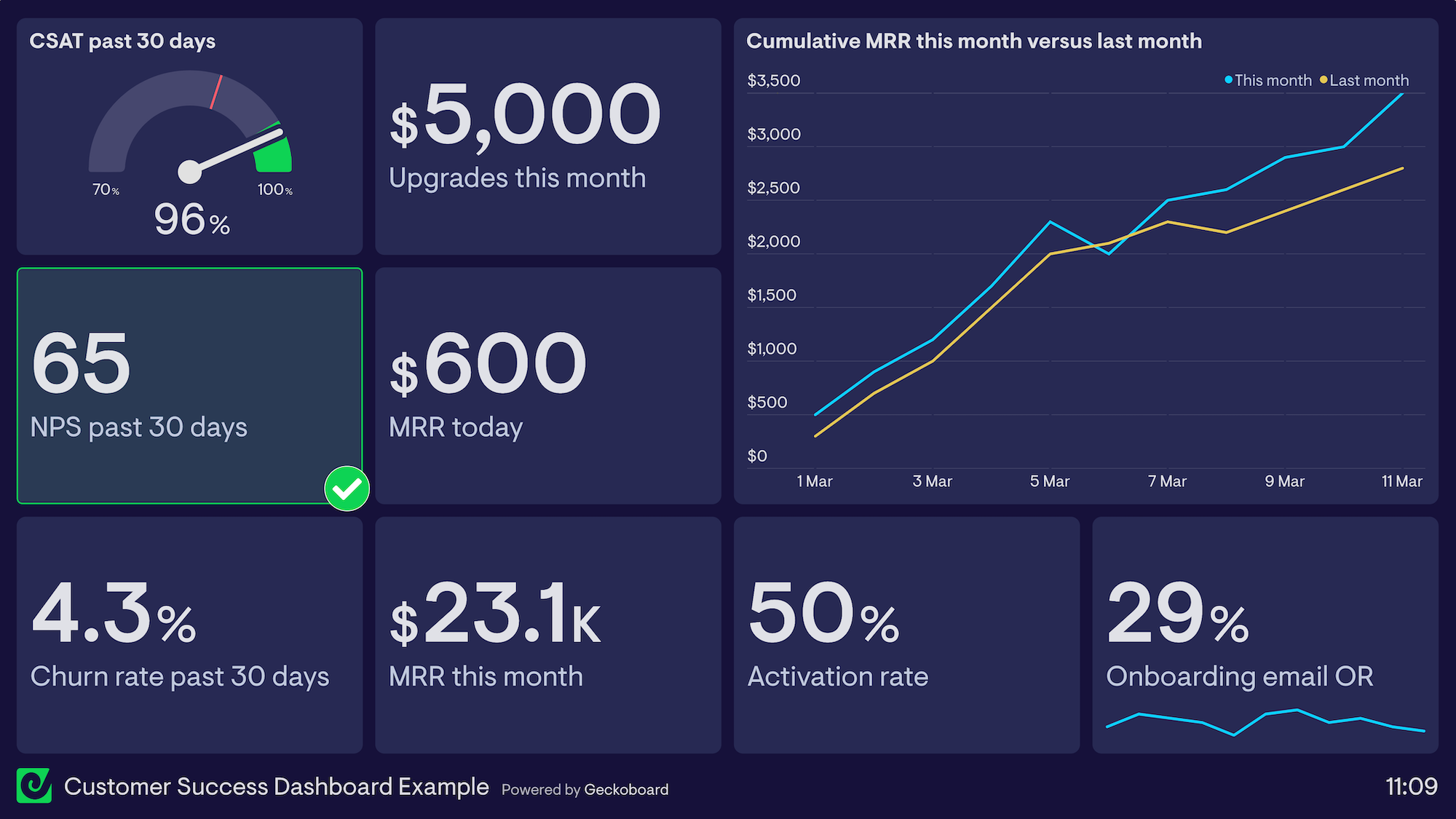 Display your dashboard in an office or in Slack, or share via links so your team can keep an eye on key metrics all the time, even when working remotely.
Implement your customer success strategy company-wide
Ultimately, the key to a successful customer success strategy is ensuring that your whole company, not just the customer success team, understands the plan and its role in reducing churn.

"You need to build a company-wide system of listening to and responding to customers," says Mark Deaton, COO at Vyond. "Build processes, metrics, and, most importantly, a culture of listening and acting on customer feedback. If you do, your investment in customer success will be rewarded with higher retention rates, happier customers, and a fatter bottom line."

Encourage and facilitate open communication between customer-facing and internal teams. That way, product and development teams can take client feedback into account when developing features, and marketing and sales teams can use feedback when developing new campaigns. Your customer success team can let clients know about new updates and features that are relevant to them.