This is the third part in our mini-series of stories from unsung heroes on the front lines of customer support management, who share what has helped them succeed in their role.

Hero: Jodi Miller
Years in CS: 15
Current job title: Global Director of Customer Support
Company: PayByPhone, is a 150-people parking app with 3 million monthly active users, processing more than $325 million in payments annually. HQ is in Vancouver with satellite offices in the UK and France.
Team size: 1 director. 2 managers. 11 agents. Outsourced tier one team is based in Prague, with tier two teams in Vancouver, Paris and London.
Service hours: 24/7 phone (Tier 1), Mon-Sat (Tier 2).
Tickets per month: 12,000.
Channels: Phone, email, Facebook, Twitter, Google PlayStore, Apple App Store.
How do you get a customer support team distributed across two continents and several countries to collaborate and work efficiently?
How do you get the rest of the company to see that the customer support team, gatekeepers of customer feedback, is invaluable in informing overall user experience and product development?
How do you do all that when you've got 12,000 tickets to resolve every month and only 10 agents to do it?
These were some of the tough questions Jodi Miller was faced with when she arrived at PayByPhone in October 2016 to oversee global operations at the tier two support teams in Vancouver, London and Paris and their outsourced tier one team in Prague.
Why is no one talking to each other?
It didn't take long for Jodi to realize that the various support teams knew the other teams existed but had zero interactions or collaboration. Each team reported to their own leader but there was nobody to unify all the teams and team leads.
It was important to Jodi that the different teams came together, despite the geographical distances. They were all supporting the same product and the same service, so they needed to have a unified understanding of how the product works and a consistent approach and messaging in order to educate customers across regions on changes and updates to the service.
Jodi set the wheels into motion to unite her teams.
"I told the team: 'Okay, we're gonna burn everything to the ground, and then we're gonna build it back up again. Then we're gonna put this nice, shiny dashboard on top of everything so we can project out to the company exactly what it is you do.'"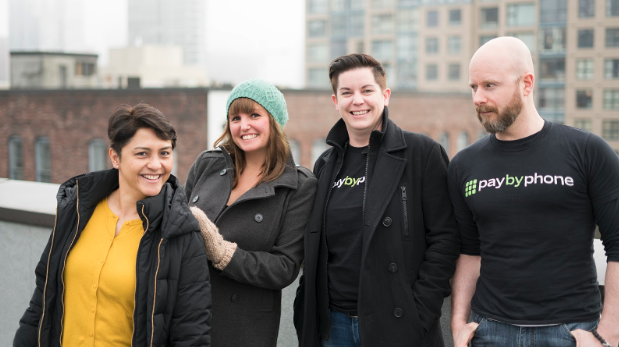 Jodi (second from right) with her North America customer success team.
Tooling up
All teams were just using Outlook to address customer queries so it was a painfully slow process of one email in, one email out. Even worse, there was no tracking in place whatsoever so Jodi had no way of accurately quantifying the volume or quality of the work.
Jodi introduced Zendesk to facilitate smarter collaboration among her team members and to allow her to start collecting useful data on their performance. She soon followed this with a dashboard from Geckoboard since she wanted an easy and accessible way for her and her team to regularly keep an eye on the metrics and (re)act accordingly.
Putting the T in team
To make it easier for the agents to get to know each other, Jodi introduced Slack so the regional teams could start bonding by chatting and by sharing their knowledge. She set up support channels for each region and invited all the agents so they would have insight into the day-to-day issues each team was encountering. This, along with the real-time visibility offered by Zendesk and Geckoboard, allowed the different regions to help each other out if they noticed that one team was tackling a very high volume of tickets. This in turn boosted the team spirit.
"Thanks to Slack, our outsourced tier one call center in Prague has an open line of communication with all the tier two support teams in the different countries, which is really important because Prague is usually the first to hear if something goes wrong."
By leaning more on each other, the agents were also better able to work through tricky technical issues and sometimes prevent having to escalate them to the dev team, which would have left the customer hanging for longer, affecting response and resolve SLAs and, ultimately, customer satisfaction.
Jodi finally also added Confluence – a tool that's used to create, share and collaborate information – to their stack so they could start documenting all this new knowledge.
Dashboards unite
The dashboards Jodi had set up to start measuring performance had an additional outcome she hadn't expected. Not only could the teams feel more united from seeing what everyone else was doing and how they were all contributing to customer support worldwide, but it became a motivational tool that also created friendly competition between agents and challenged them.
![PayByPhone Dashboard for GB](/content/images/PayByPhone Dashboard for GB.png)
Mighty metrics
Since the support teams had never been measured on anything before, Jodi started with some basic KPIs like First Response Time and Full Resolve Time. Those evolved and became more challenging. Then CSAT was introduced and agents were for the first time getting active customer feedback on their service. Jodi set the initial target at 65% because of the sheer volume that her teams deal with – PayByPhone is unique in that it only has 150 employees worldwide but 3 million monthly active users and so end up handling 12,000 tickets per month across only 10 agents.
Today, with the teams united and collaborating well, the global CSAT score has shot up to 80%. Showing the agents that number on the dashboard acts as positive reinforcement, a way of reflecting back to the team how their improvements are improving the customers' experience.
Coaching
Jodi has always been committed to ongoing coaching of all her agents and ensures she gets regular one-on-one time with each person on top of seeing them in the weekly team meetings.
This is a chance to talk about individual goals but has also been a mentoring opportunity for Jodi where she can share tips on how to read and handle difficult situations – a skill that only comes from experience.
"I've spent a lot of time with them, teaching them how to remove their personal emotions and their knee jerk reactions to angry customers. It's really helped them respond with empathy and patience so they aren't only able to help fix the problem but also go the extra mile to prevent it from happening again, which makes for very satisfied customers."
In addition to the mentoring, Jodi provides every agent with a weekly report and a monthly scorecard. They can also track their own KPIs in real-time using Good Data, Zendesk's reporting tool. She has never restricted access to any of this information because the majority of her agents say that they find it incredibly useful and self-motivating.
Customer Support: It's not all about tickets
Like most customer success professionals, Jodi was aware of the fact that, as a department, customer service can get overlooked, and she felt compelled to showcase to the rest of the company how incredibly hard her team was working every single day in order to keep customers happy.
Her dashboards provide a means for her department to be transparent and accountable, not only to themselves but to other people in the organization, and shows day-to-day the value they are bringing to the business – it's like internal PR for customer support!
With Customer Support being perceived as a force to be reckoned with, Jodi sat down with the Director of Product and positioned her team as a pseudo QA/UI testing arm of the design process – these are after all the people who deal with feedback all day long and can easily identify gaps in PayByPhone's technology.
"Customer Support is woven into the various stages of our product development process, not just at the last gate, because we're in the trenches every day and our feedback is valuable."
By integrating Customer Support into UI testing, the product teams have been forced to let go of any assumptions early on and release updates that are truly centered around customer feedback.
This has been a huge motivator for the customer support agents, who get incredible job satisfaction because their knowledge and everyday experiences are directly contributing to improvements to the products and, ultimately, to the overall success of the company.
Learn more about how to boost customer service and keep your team happy by making your most important metrics visible to everyone.