At the start of 2023, Sycous' Support agents had no access to live Zendesk data. Data Analyst, Michael Brooke would spend an hour each day creating reports for the Support Manager, and the agents would only see what was happening at monthly meetings — well past the point where they could affect what was happening. With a spare TV lying around the office, they decided to try a real-time dashboard. Spoiler alert: it was a huge success!
Time spent reporting in Zendesk dropped instantly

The initial idea for a TV dashboard wasn't something Michael or the team had given too much thought. They just knew they wanted to put some key call metrics up on a spare screen they had lying around. When Michael found Geckoboard, he was very pleased to find that the dashboard could also take some work off his plate.

We work with large energy suppliers so we have a lot of regulations to meet when it comes to Customer Support. I was spending an hour every day pulling reports from various different places in Zendesk into an Excel spreadsheet to share with our clients. When I realized Geckoboard could automatically pull all of that data into a dashboard and send a scheduled snapshot at the end of each day I was so happy!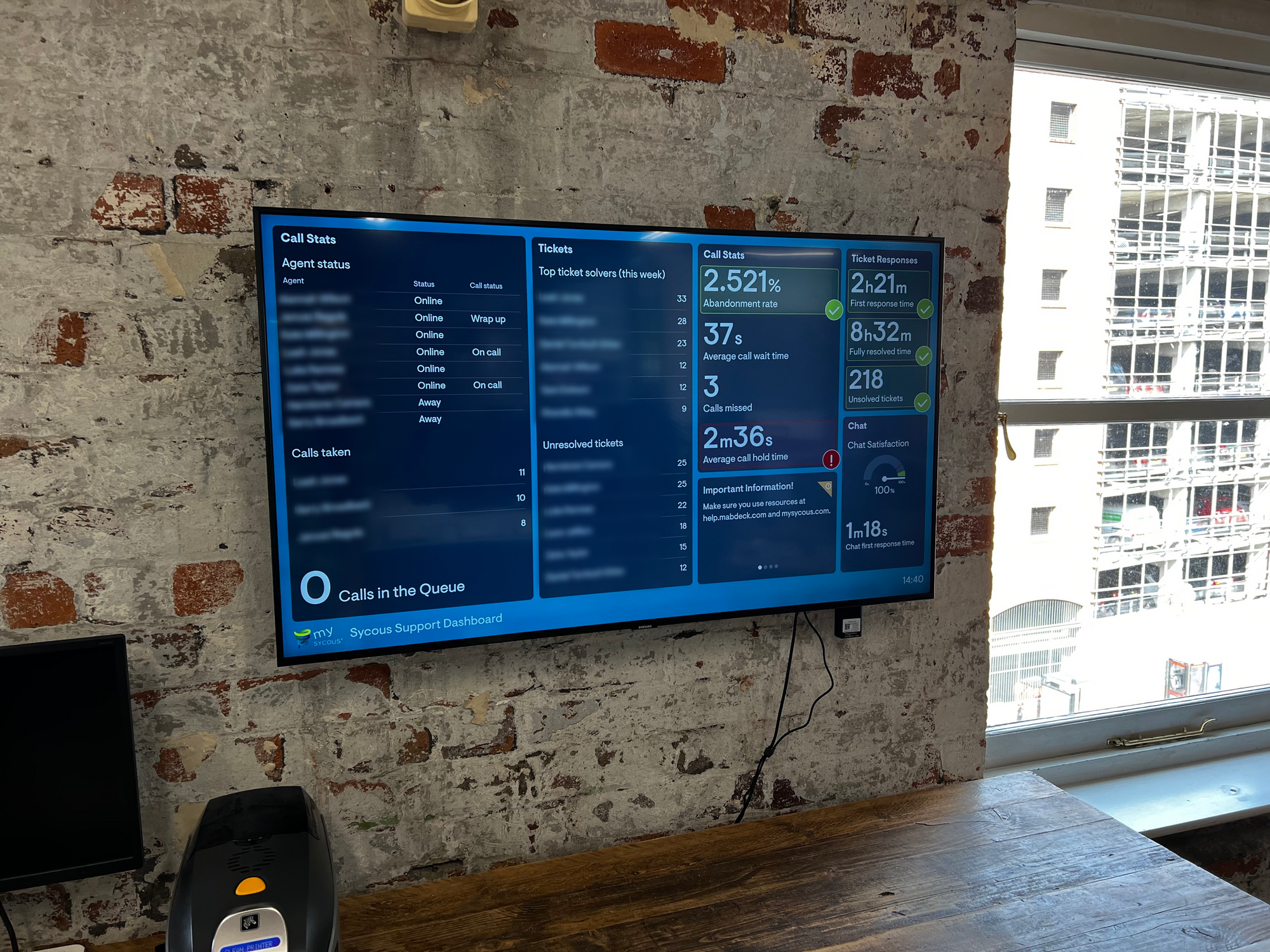 Improving agent performance across the board

Previously, data was only available to agents in monthly meetings, which was frustrating because they couldn't affect what happened in the past. This all changed when their metrics were made visible on a real-time dashboard. Key metrics, like the number of 'Dropped Calls' each day have reduced by 97%, from double digits to perhaps 2 or 3, on a bad day. Making the Call Queue visible to agents has meant they're able to react quicker and deliver better customer service as a result.

Now we have a lot less missed calls and a much lower hold time just because you can see the calls there in front of you.

The team is also using the dashboard as a source of friendly competition. Whoever solves the most tickets by the end of the week gets to leave the office an hour early. It's a great way of engaging agents with the task at hand, as well as building a fun team culture.

We all go to the pub at the end of the week so that means they get to go to the pub an hour earlier. On a Friday, we do have quite a bit of banter going around the team!

All these changes have happened within a couple months of launching Geckoboard. The impact has spread throughout the team, with increased agent performance, and a reduction in time spent reporting in Zendesk. Other departments are now looking to Support as an example of best practice. After the success they've seen in Support, there are plans to roll out Geckoboard in a number of other teams.

---
Michael Brooke has been working at Sycous as a Data Analyst for 12 months. Sycous are a UK-based metering and billing company for energy supply working with clients in the UK and Middle East.