For those who use it, the power of Salesforce is obvious. Since its first release in 1999, Salesforce has evolved to become far more than simple sales automation software. Today it's a platform that's used by hundreds of thousands of users every day to organize, automate and analyze almost every possible aspect of their businesses, from customer acquisition through to customer support and community building.
It's a remarkable ecosystem, and many businesses rely on Salesforce entirely for powering their business processes.
However, for all of its power, communicating the valuable data that's locked inside Salesforce reports has been challenging. Getting useful, actionable numbers in front of your team usually involves issuing costly Salesforce licenses to everybody or sending a daily report that reaches employees' inboxes once a day at best, and which can often get lost among a deluge of emails.
That's why businesses across the world use Geckoboard to turn Salesforce data into engaging live TV dashboards that get your team rallying around their KPIs like nothing else.
Here's what some of our users have had to say about the integration:
Geckoboard's Salesforce integration is exactly what I was looking for. The ability to work with existing reports we've created in Salesforce made using Geckoboard seamless and dare I say it, FUN!
— John Sela, CMO, Appsee

Super slick and it just plain works.
— Robert Reeves, CTO, Datical

Check out the intro video below to see it in action:
How does it work?
Build dashboards directly from your existing Salesforce reports: You probably already have useful reports inside of Salesforce. Now you can connect your Salesforce account to Geckoboard and your existing reports (with their associated groupings, filters and custom objects) will be available to select from as you build your dashboard. No technical resource or extra training is required – getting your KPIs in front of your team on a TV is much faster, and fits into your existing Salesforce workflow.
NB: Access to the Salesforce API is required, so you may need to check which plan you're on. Only summary and matrix reports can be used on your dashboard.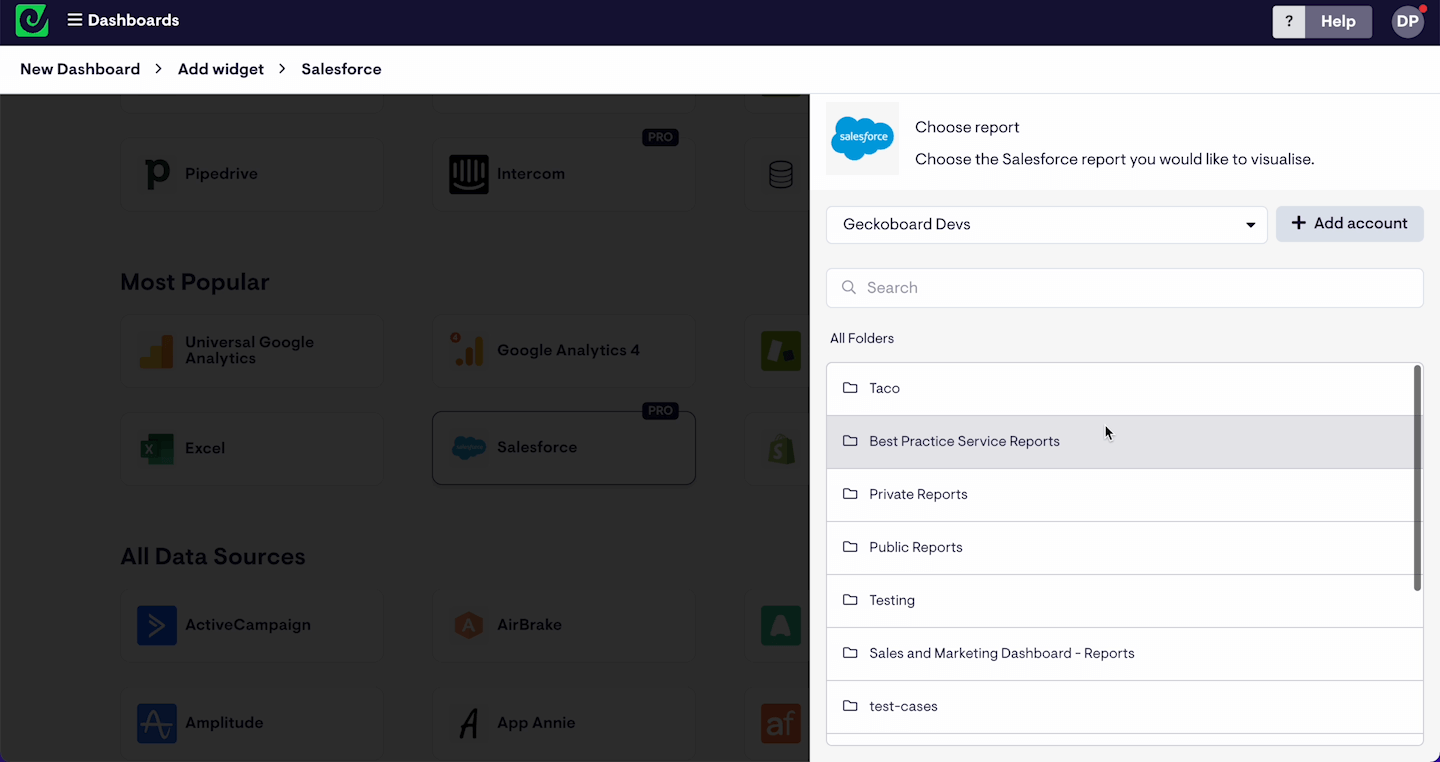 Live numbers with no fuss: No more waiting around until the end of the day, week, month(!) or constantly hitting refresh to see your KPI data from Salesforce. Geckoboards refresh automatically to show changes to your data as soon as they update in Salesforce itself. You and your team can now react quicker to changes in key metrics to exploit opportunities and take corrective action when issues arise.
We've also now added the ability to control the refresh rate of your Salesforce widgets, so you can ensure your dashboard is displaying fresh data throughout the day while staying within your Salesforce account's API limits.


Streamlined widget building interface: It's possible to see exactly how your data will look before adding it to a dashboard with a live widget preview that updates in real time as you configure it. Experiment with different visualizations and dimensions in your data before putting it in front of your team. This eliminates going back and forth when building your widgets and ensures your data is presented in the most effective way possible as quickly as possible.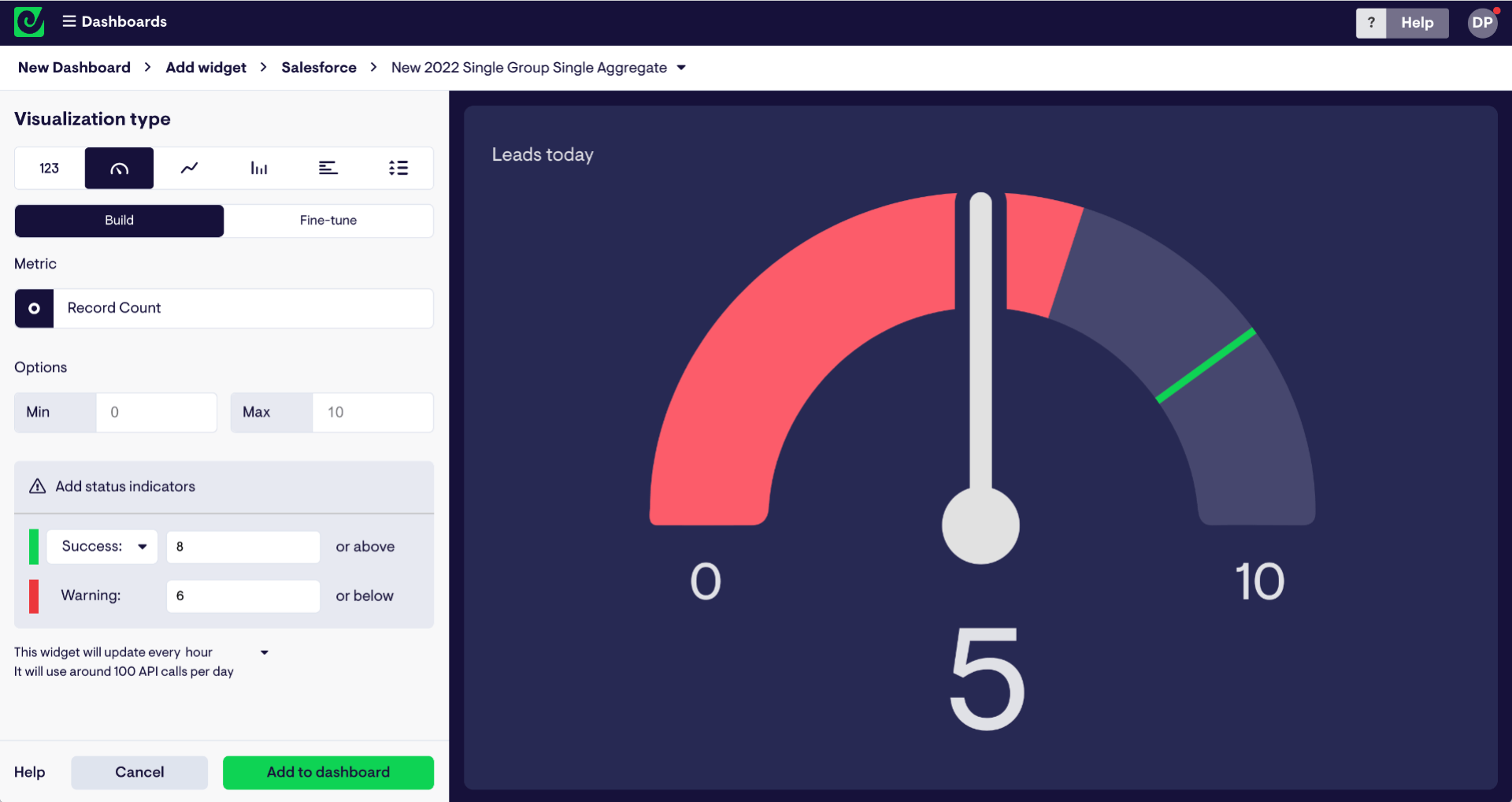 Glanceable data visualizations: Dashboards are supposed to be able to be understood in a glance. Anybody should be able to interpret the current status of a KPI in seconds without having to think or interpret what they see. Our new Salesforce integration strips back complexity and excessive colors to remove cognitive barriers and let you present your most important Salesforce data in an array of visualizations, including Column, Bar, Number, Multi-line, Gauge, and Leaderboard. These visualizations remove any confusion or ambiguity when it comes to your numbers, ensuring that anyone who sees your TV dashboard can digest the data in seconds and take action quickly based on what they see.
Communicate progress against goals: Have a particular sales target or conversion rate you're looking to achieve? Easily add crystal clear goals to your widgets so everyone on your team understands where things stand and constantly works towards achieving their targets. This ultimately ensures everyone focuses their work around tasks that can achieve overall company objectives, and everyone understands what's expected of them and the team as a whole.
Previously, communicating Salesforce data involved creating a daily report or distributing Salesforce licenses to everyone on your team, whether they used Salesforce on a daily basis or not. Like Geckoboard's other Geckoboard's other 80+ integrations, the dashboards you build with our Salesforce integration are optimized for TV display, so that everybody in your office can see Salesforce data and act on it whether they have a Salesforce license or not. And that goes for other departments in your organization who can make use of your Salesforce data too. Add a Salesforce dashboard to a Sharing Loop to rotate through several dashboards on one TV to ensure everyone can benefit from the powerful data sitting within your Salesforce account.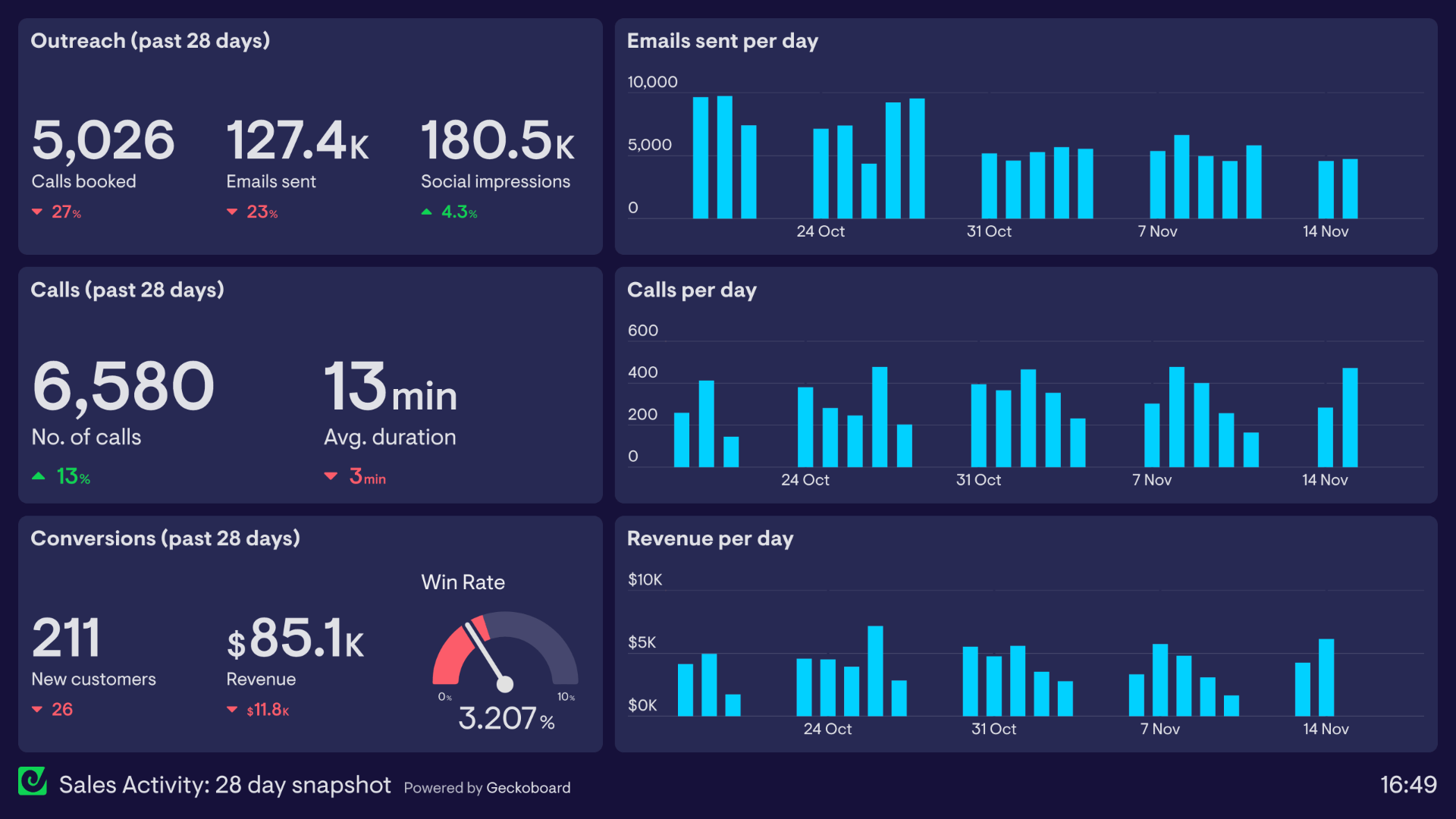 Check out more Salesforce dashboard examples
Don't have a Geckoboard account yet but want to unlock Salesforce data for your team?
We believe good things happen when people are able to access, understand and actually use data in their day-to-day work.
Try Geckoboard today to begin building and sharing live TV dashboards. These dashboards enable you to showcase key business metrics that otherwise would be difficult or impossible to access without time, additional training or extra software licenses. Our free 14-day trial doesn't require any payment details upfront and lets you build unlimited dashboards using all of the features, including:
Pre-built integrations with 80+ services that make connecting to your sales, marketing, customer support, web analytics and other data easy without any technical knowledge.
An easy drag-and-drop interface that lets you assemble and amend dashboards that are unique to your business and office layout.
Get your Geckoboard account paired with a TV using simple, affordable hardware, and remotely manage which dashboards are shown
A TV-first design which means your finished dashboard will be glanceable and look great when displayed on a TV in your workspace.
Build Sharing Loops that cycle through several dashboards, so you can display dashboards for different projects or departments on one screen without compromising on glanceability.
Genuine, passionate support from our Customer Success team who can help with everything from connecting your data through to advising you how to get your dashboard up on a screen.