Mo Elsopki, Head of Customer Experience at PeopleSafe tells us how their live Customer Operations dashboard builds friendly competition among agents as well as deflecting 'internal tickets' from other departments to help them stay focused on providing great support.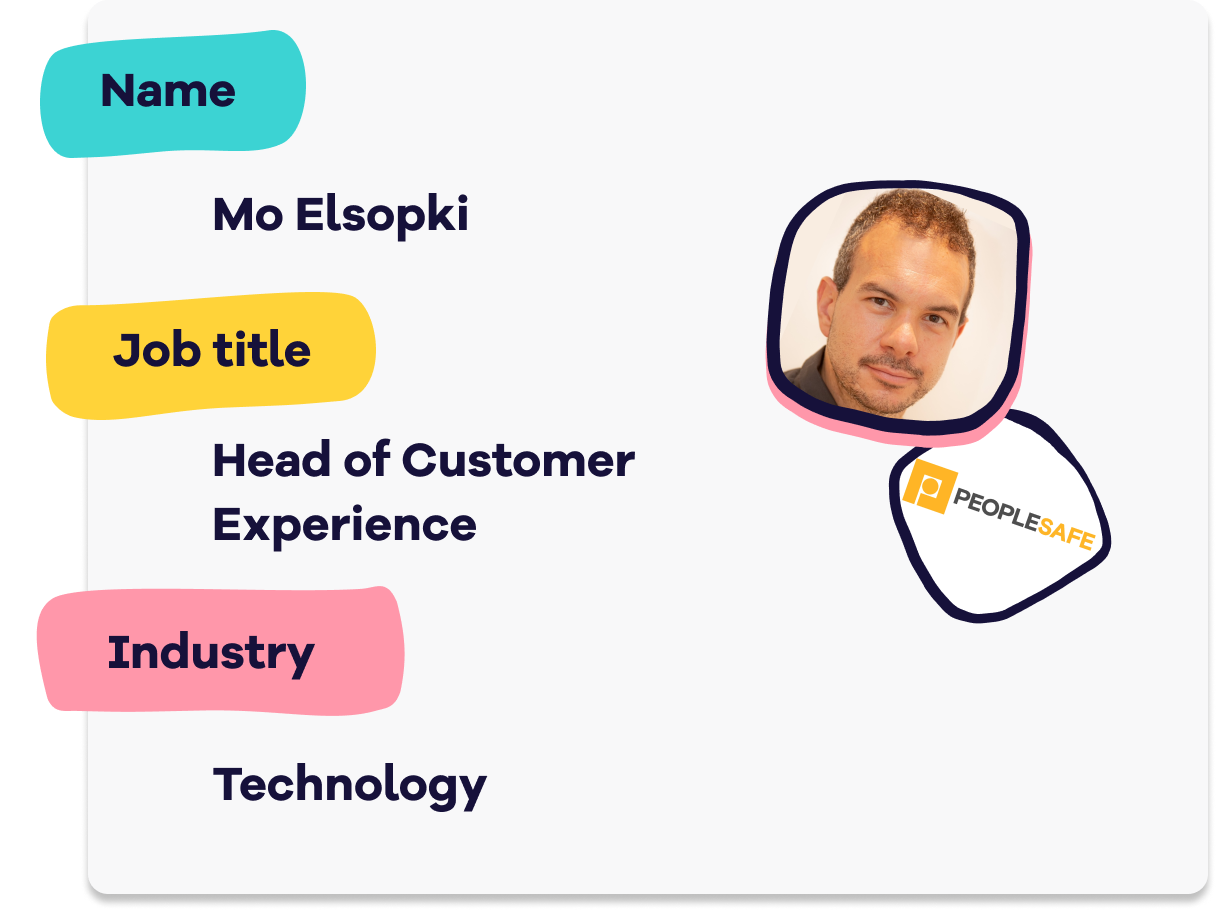 Hi Mo, can you tell us a little about your role and the company you work for?

I'm Mo Elsopki, Head of Customer Experience at PeopleSafe. PeopleSafe is an employee protection company, we provide alarms for people who work alone, at home and in various workforces across a range of sectors. We're based in Surrey, UK - the business is 120 people strong and I work with around 35 across our Customer Operations teams.

What caused you to look for a dashboard solution like Geckoboard?
I came to this role from a call center background, and so I was used to running a large team with dashboards everywhere. When I started with PeopleSafe, we were a much smaller team and, as we grew, the need for a dashboard became more and more apparent.

I started looking for a dashboard solution to visualize the data we had available in Zendesk. I noticed Geckoboard is one of the most recommended dashboard solutions on the Zendesk marketplace; I saw the great reviews, and liked the look and feel of the platform. Geckoboard is an easy bolt-on to our tech stack and it's not expensive, so subscribing wasn't a hard decision for us to make.

What set Geckoboard apart for us is that it doesn't just work with Zendesk but with a variety of other platforms too. Our Sales team uses Salesforce to create orders so we're now able to have a Sales dashboard displaying our live order fulfillment performance data that they'd otherwise need to ask us to share.

Tell us about your dashboard
We have our dashboard up on a 65 inch screen within the Customer Operations department in our office. It shares live metrics from Zendesk Support, Call and Chat, which cover what's happening today (including ticket volumes, First Reply Time, First Contact Resolution); an overview of our queues; CSAT score for the week; and leaderboards for agent performance (tickets, calls answered).

The dashboard is used by the whole Customer Operations team to stay on top of our daily workload. Our Supervisors and Call Center manager have the dashboard open on their screens with a sharing link and the rest of the agents view the dashboard via the TV. The TV helps to share an overview of our workload with other departments.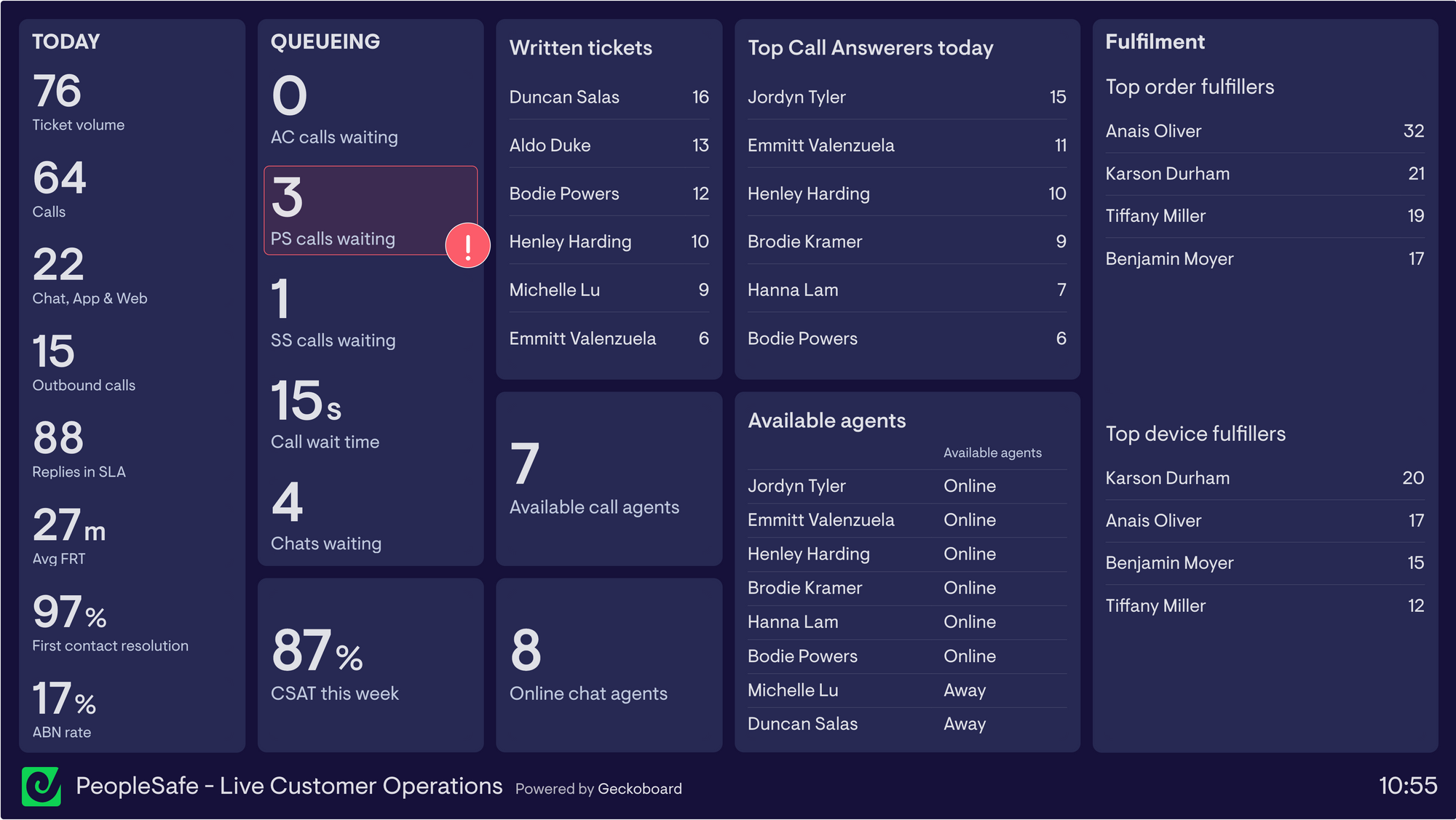 How does your dashboard benefit your team?
In the Support team, we have a culture where the visibility of metrics brings healthy competition and banter between teams. The dashboard is a great incentive for our teams, we use it throughout the day to motivate agents with competitions around top call answerer or top ticket resolver. It also reduces the amount of time our Supervisors spend talking through this data with individuals as it's readily available on the TV screen for all to see.

Deflecting customer tickets (enabling them to self-solve) has been a big focus for us, and the dashboard does that to an extent within the company. If other departments want to know what our CSAT score is or how many staff we have online, they're able to quickly and easily see that information. The dashboard is deflecting internal, verbal tickets in that sense, which has been a great time saver, allowing our team to focus entirely on providing great customer service.

Any final comments?
I like the new Interactive View feature, it's really useful to be able to drill down into metrics to find out what's going on behind the scenes. For example, when we're alerted to a drop in our CSAT score I can now jump in and find out what's happening right from our dashboard without having to do any digging around in Zendesk. I spend a lot of time pulling data from Zendesk Explore into Google Data Studio to find answers to this sort of situation. Interactive View saves me time and gives the Supervisors and Call Center Manager direct access to this information with a few clicks.

Geckoboard gets a thumbs up from us!