Customer support staffing is like a never-ending game of Jenga.

If you've got a team of customer support reps who are all aligned on how best to help your customers and have experience doing just that, you've got an excellent foundation for resolving customer queries. But if you take out just a few of those reps – if they leave, get promoted, or are out sick for an extended period – then your support provision suddenly looks much less stable. And then you need to bring in new reps to shore things up again.

To provide fast, effective support for your customers (and an enjoyable work environment for your support team), you need to be able to recognize when it's time to hire more support staff. This will help you plan out future hires and keep up with your hiring needs.
Signs that it's time to hire more customer support representatives
Our Customer Support Experience Report found the biggest challenges facing support teams were two sides of the same coin: high workloads and being understaffed. Hiring more support reps can help with both. We've identified three signs that it's time to hire more customer support reps.
1. When customer satisfaction drops
Your support metrics can be an early indicator that you need more staff to keep up with what your customers need. Track support and ticket-related metrics to see what's the leading cause of customer dissatisfaction. Some example metrics to look at include:
Monitoring these metrics closely – for example with a customer service dashboard to give you easy visibility – will help you keep an eye on customer satisfaction levels and take action if your team's slipping in a particular area. While other things could cause changes in customer satisfaction, like product issues or service outages, tracking customer happiness over time can help you identify when you need to add more reps to your support team.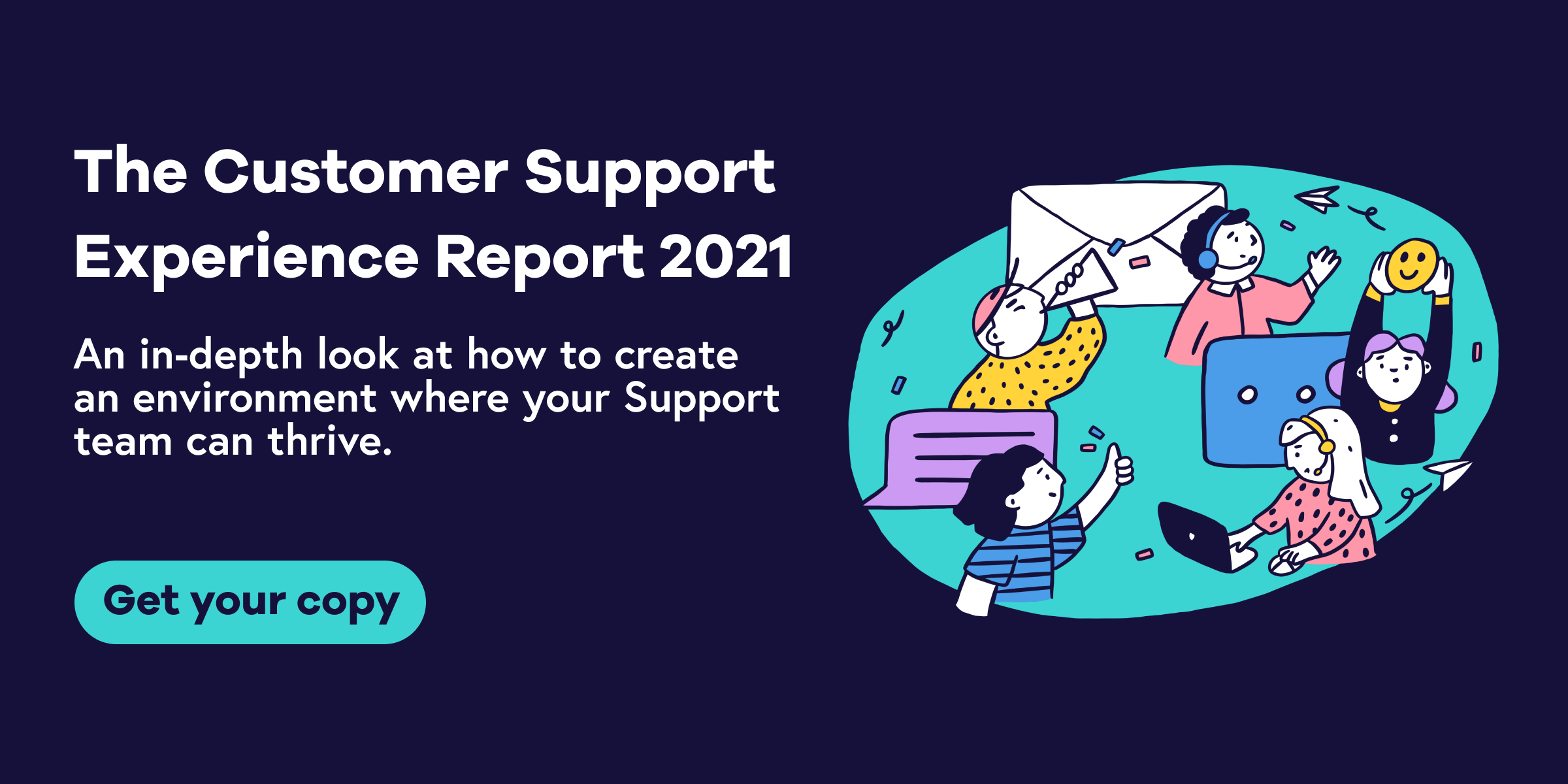 2. When your support team is battling ever-growing workloads
A 2021 study by Zendesk found "[support] tickets remain at a 20% higher baseline than before the pandemic," so it's unsurprising that 36% of respondents to our Customer Support Experience Report felt team workloads were the biggest challenge for their support team.

With more tickets coming in, your backlog can quickly grow. For your support reps, that can become demoralizing: They feel like they're always playing catch-up and never have the satisfaction of clearing their ticket queue. And at the same time, your customers face longer wait times, which causes more frustration that unfortunately gets taken out on your poor reps.

Tracking changes in your ticket backlog compared with your team's capacity can help you understand whether team workloads are manageable or not and work out when it's time to hire a new customer support rep:
Track conversations per teammate to see how many customer interactions each of your support reps have each day or week
Multiply that by the number of agents you have to work out your support team's capacity
Then compare that figure with your daily or weekly ticket volume to see how many tickets your team is trying to handle. If ticket volume exceeds the amount your reps can respond to each week, you'll see your ticket backlog grow
If your ticket volume exceeds your support team's capacity, then you definitely need to bring on new reps. But it's not always that clear-cut.

You may also see a growing ticket backlog when your total ticket volume is lower than your team's capacity. This may mean that you need to hire more reps (because your team won't operate at 100% efficiency all the time!), but it could point to other problems:
A seasonal ticket increase caused by events like Black Friday for ecommerce companies, or a temporary increase caused by a one-time product update
An increase in complex support queries that take longer to resolve. For example, if your company has updated its pricing strategy and moved customers onto a new plan, your reps may need to spend more time than normal providing guidance and advice to help customers understand their new billing arrangements
More escalated support queries that take up more time from multiple team members. Every time a call gets escalated to a senior rep or a manager, it takes up more time than a standard ticket because reps need to give their teammates the necessary context to help them handle the support query when they pick it up
Some reps lack training in certain areas, so they are unnecessarily redirecting routine questions to other teammates
Growing workloads are a strong indicator that it's time to hire more customer support reps. But if you see a growing ticket backlog, you should check that it's not caused by other issues that may be easier to resolve, such as changing your onboarding process or offering reps additional training on new product features.
3. When you're experiencing high staff turnover
High staff turnover is a clear sign that you need to hire more support reps. Every time a customer support rep leaves, it reduces your support capacity not just while you find and hire a replacement but also during their training and onboarding process. So backfilling roles where employees have left or moved into other positions must be an essential part of your hiring plan.

When team members leave, it increases workloads for your remaining representatives. As one respondent to our Customer Support Experience Report put it: "At the moment, there is a lot of churn from the support team, and so the pressures on the rest of the team are growing." This can compound problems for your support team as workloads grow and support teams shrink.

To ease the impact on your current team, you need to shift from a reactive to a proactive hiring mindset. Calculate your average monthly or quarterly turnover rate to predict how many roles you'll need to backfill. You can use your historical staff turnover data to build out a predictive staffing model that takes into account:
The number of reps you need to support your current customer base
The number of reps you expect to lose from your team in the next quarter or year
How many reps you'll need to hire to replace them
And how many additional reps you'll need to hire to increase your support capacity in line with predicted customer growth
These calculations will help you plan your hiring roadmap ahead of time and reduce the strain on your remaining support reps as and when current reps leave.
Next steps: invest in training to retain customer support representatives
Our Customer Support Experience Report dug into some of the biggest opportunities facing support teams in 2021. The report takes an in-depth look at how to create an environment where your support team can thrive and feel appreciated, and it shares some concrete examples that support leaders use to invest in their teams and improve team retention. Get your copy to learn from 50 support leaders and their key takeaways for the industry.

With customer service often perceived as a high-turnover department, one of the biggest opportunities we identified is improving staff retention. Once you've found the right new additions to your support team, you want to keep them long term. Providing training and progression opportunities improves employee retention, so your new support reps can grow and progress within the company.