Salesforce and Slack are two of the most popular and widely used tools for sales teams today.
Salesforce covers the "external" – it's your one-stop shop for managing the sales pipeline, and working with both prospective and existing customers.
Whereas Slack covers the "internal" – it's your company's collaboration hub, helping turn your sales team into a lean, mean, selling machine.
It's not surprising that many Salesforce and Slack users think about connecting these two apps - integrating their "internal" tool and their "external" tool to create a single, universal system.
Well, it's certainly an idea that occurred to Salesforce, who acquired Slack for a whopping $27.7 billion in August 2021. This was the largest acquisition in Salesforce's history, and was seen as a way to bolster their presence in the enterprise software market.
So in 2023, two years on, we're asking: what are the best ways for users to integrate Salesforce and Slack?
How do you integrate Salesforce and Slack?
Really, it depends what you mean by "integrate".
Many Sales Directors talk about integrating Slack and Salesforce, but often, they are actually talking about achieving very different things.
Today, we're going to explore three different outcomes you might be looking for, and the best ways to achieve them.
Outcome one: "I want to achieve a seamless way of working between Slack and Salesforce".
Solution: Salesforce for Slack integration
Outcome two: "I just want to set up notifications and alerts in Slack, for when something changes in Salesforce"
Solution: Zapier
Outcome three: "I want to visualize Salesforce KPIs. dashboards and reports in Slack, in the easiest way possible."
Solution: Geckoboard.
Option one: Salesforce for Slack
The Salesforce for Slack app promises a seamless working experience between Slack and Salesforce.
Users are able to access many Salesforce features directly from their Slack workspace. They can search for contacts and instances, and access Salesforce records in Slack. Likewise, when working in Salesforce, it's easy to share records with team members in Slack.
The integration enables you to send messages two ways between Salesforce Chatter and Slack channels. Plus, you can set up Slack notifications which keep your team updated as deals progress.
The downsides of Salesforce for Slack...
For many users, the Salesforce for Slack integration represents sales team nirvana. However, there are some drawbacks, which have been well documented on the app's review page, among other places.
These include:
Setup: The setup process can be long and convoluted. This isn't ideal for Sales Managers who are not necessarily Salesforce admin specialists.
Bugs: Many users have reported that the connection between the two systems can easily break, requiring admins to investigate and re-setup up their connections.
Access levels: It's worth bearing in mind that people without access to Salesforce won't receive the full experience, and won't be able to follow the audit trails. Slack accounts tends to be granted to everyone in the company, whereas Salesforce accounts are often limited to team members who regularly use the product. This presents something of a stumbling block for Slack users who simply want to see what everyone else is seeing – such as their monthly sales KPIs.
Hard to uninstall: If you decide the integration isn't for you, many users have reported that the app is difficult to uninstall.
No doubt, Salesforce will continue to improve their integration with Slack. Especially when you consider how much money and resource they have already invested in acquiring the platform.
But for now, many sales leads will want to explore a lighter-touch solution. Particularly if their integration needs aren't so far-reaching.
Option two: Zapier
If you want to integrate two tools – whatever those tools are – it's likely someone will suggest Zapier. Zapier is an automation tool that works across over 5,000 different apps.
And if you simply want to set up notifications and alerts in Slack, based on your Salesforce activity, then we'd definitely recommend Zapier.
Zapier will allow you to set up Slack channel notifications and alerts for a range of different situations: when a new opportunity is created, when a new lead is created, when opportunities have closed.
The list is pretty extensive.
Downsides of Zapier
The downside is less of an issue with Zapier, and more of an issue with the concept of notifications themselves.
Notifications and alerts are great if you need your team to take action quickly when something has changed. But they are less helpful when you need your team to become more aware of their KPIs and metrics more generally. For example, when you need them to take accountability for team performance, overall.
Instant notifications don't help to prompt (and answer) strategic questions like:
"How far away are we from our monthly target?"
"How many deals have we closed this week?"
"How am I performing compared to my colleagues?"
For this, you will need regular reporting, not alerts.
Option 3: Geckoboard
It's possible that you don't want to connect every aspect of Salesforce and Slack.
It might be – like many Sales Directors - you are simply looking to take one of the most important features of Salesforce (its sales data) and give your KPIs and reports more visibility within the team, by automatically posting them to your Slack channels in a visually impactful way.
The easiest and simplest way to do this is by using Geckoboard.
With Geckoboard, you can create live KPI dashboards using your Salesforce data. It takes between 15-30 minutes to create an attractive dashboard, which you can then automatically schedule to be sent to your Slack channels.
It's as simple as that.
Plus, because Geckoboard integrates with over 80 different data sources, it's possible to visualize KPIs from the other tools you use, side by side with your Salesforce data. Whether that's Google Analytics, Zendesk, spreadsheets or databases.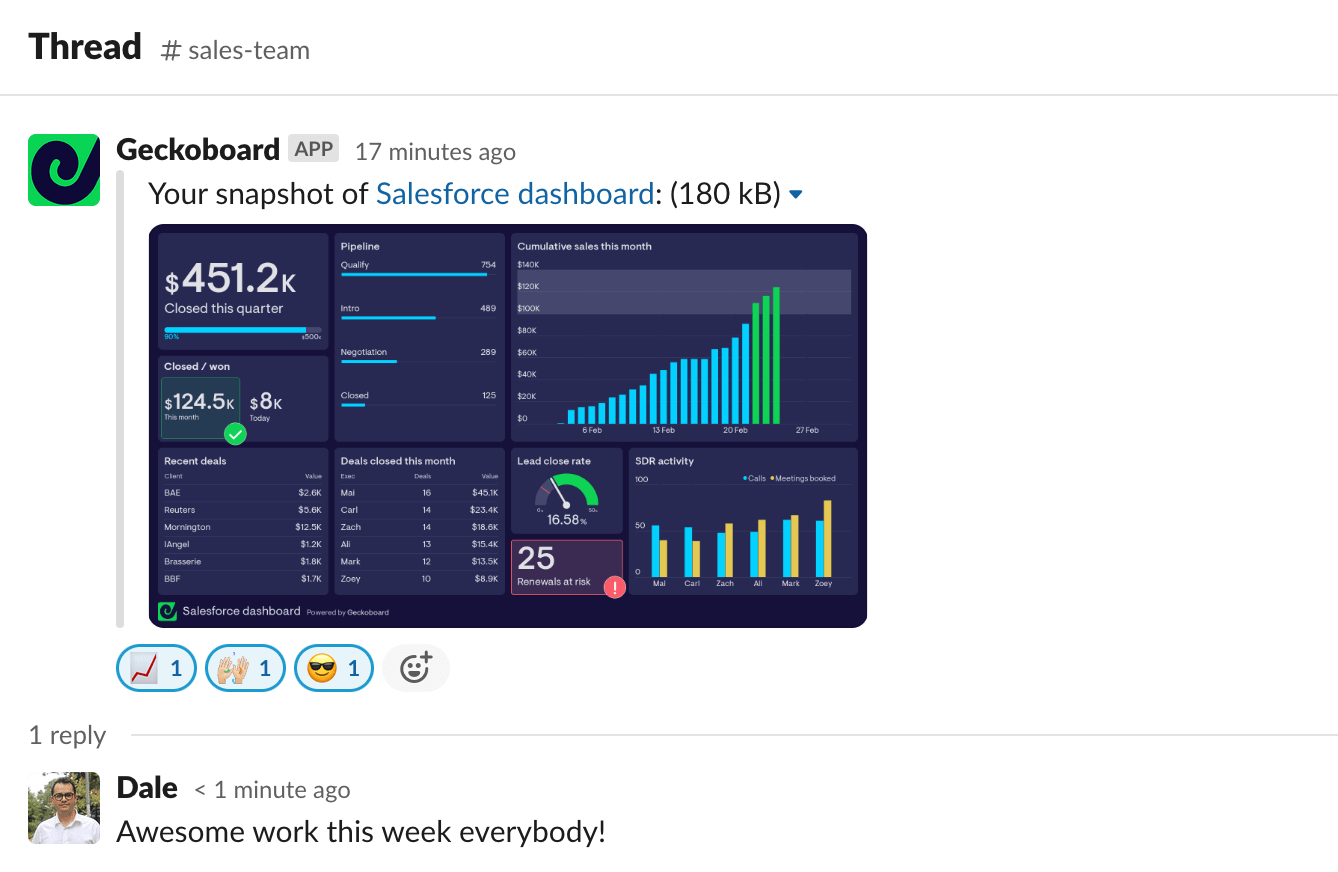 How to create a Salesforce dashboard for Slack

Step 1: Signup to Geckoboard and connect your Salesforce account
Start your free trial with Geckoboard (no credit card details required). Then, begin building your first dashboard by selecting the Salesforce data source.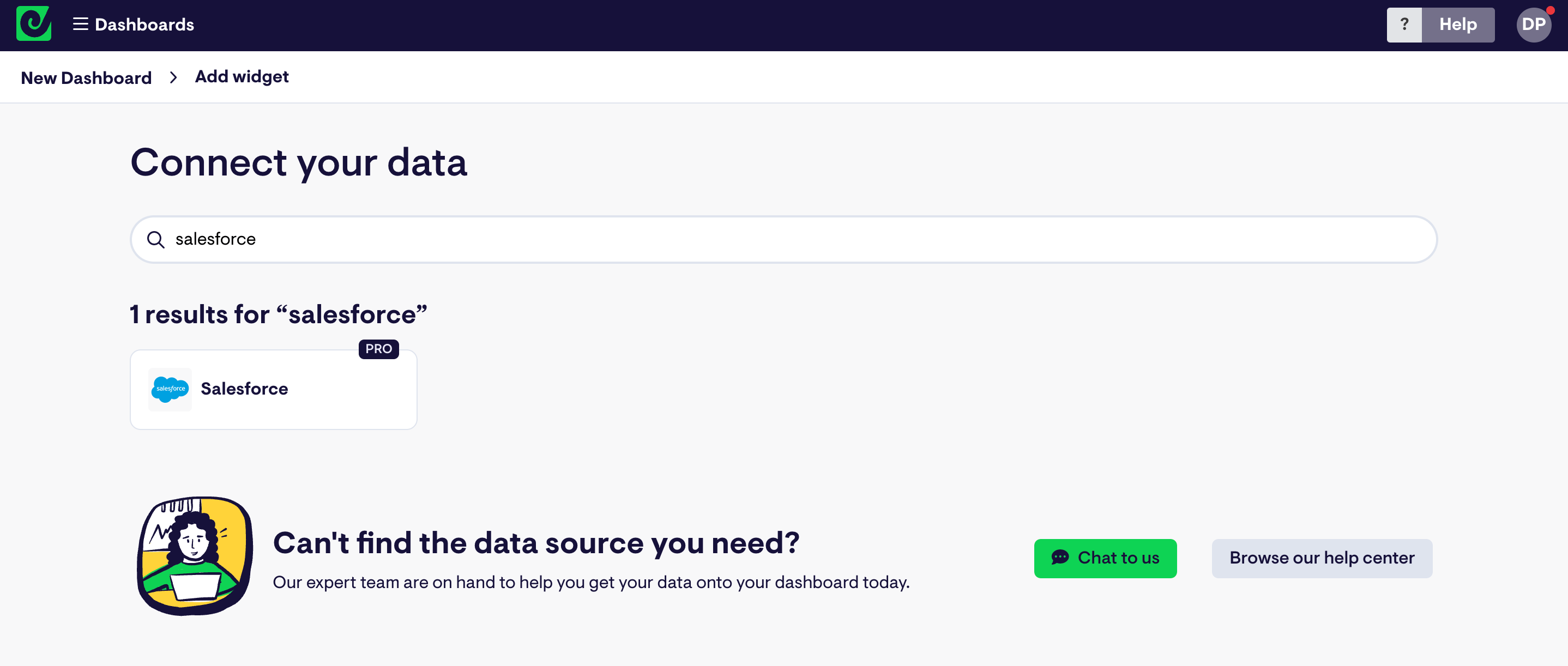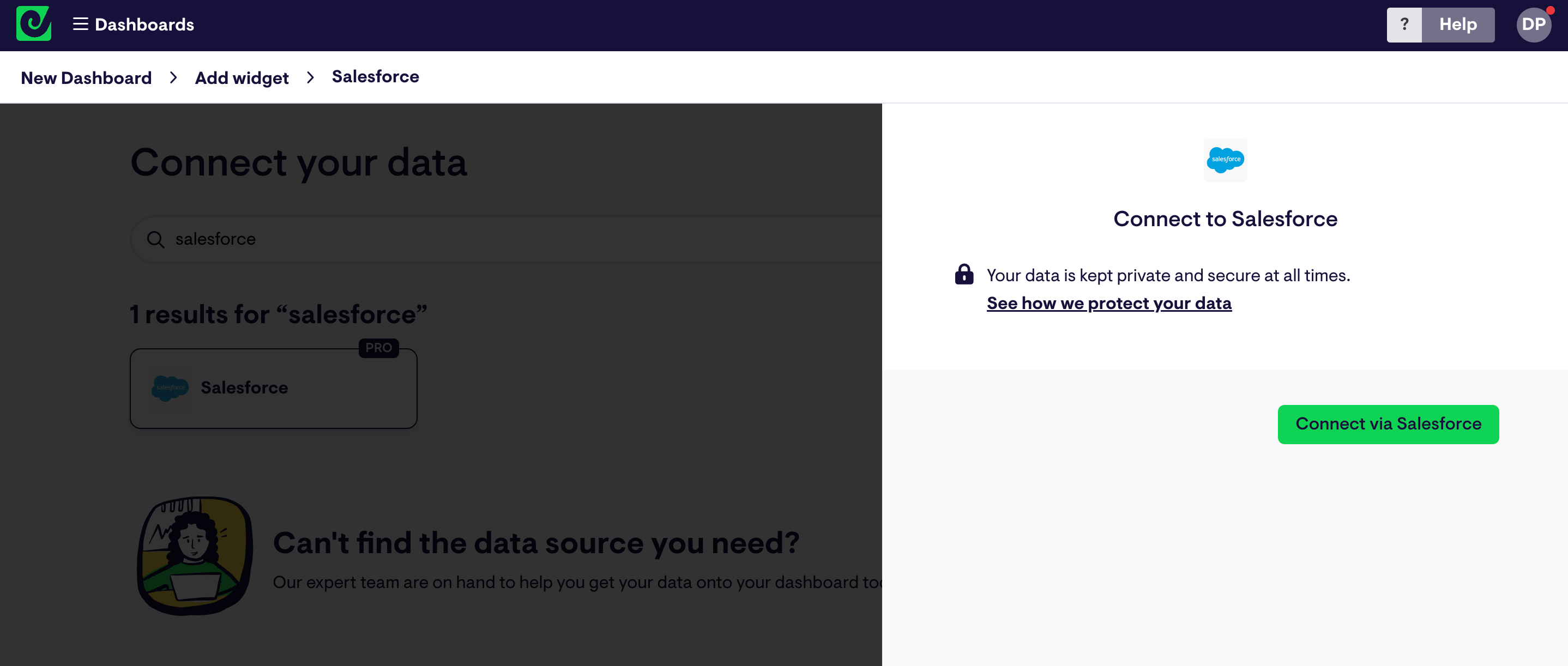 If you're not yet ready to connect your Salesforce data yet, you can try building some Geckoboard dashboards using dummy data in a Google Sheets spreadsheet, instead.
Step 2: Build a widget using Salesforce data
Next, select the Salesforce report that you'd like to pull metrics from. Once you've selected a report, you can start to build your first widget. A widget is just a name for a data visualization, which you will include on your dashboard. You can choose a number, a gauge, a line chart, a column chart, a bar chart, or a leaderboard.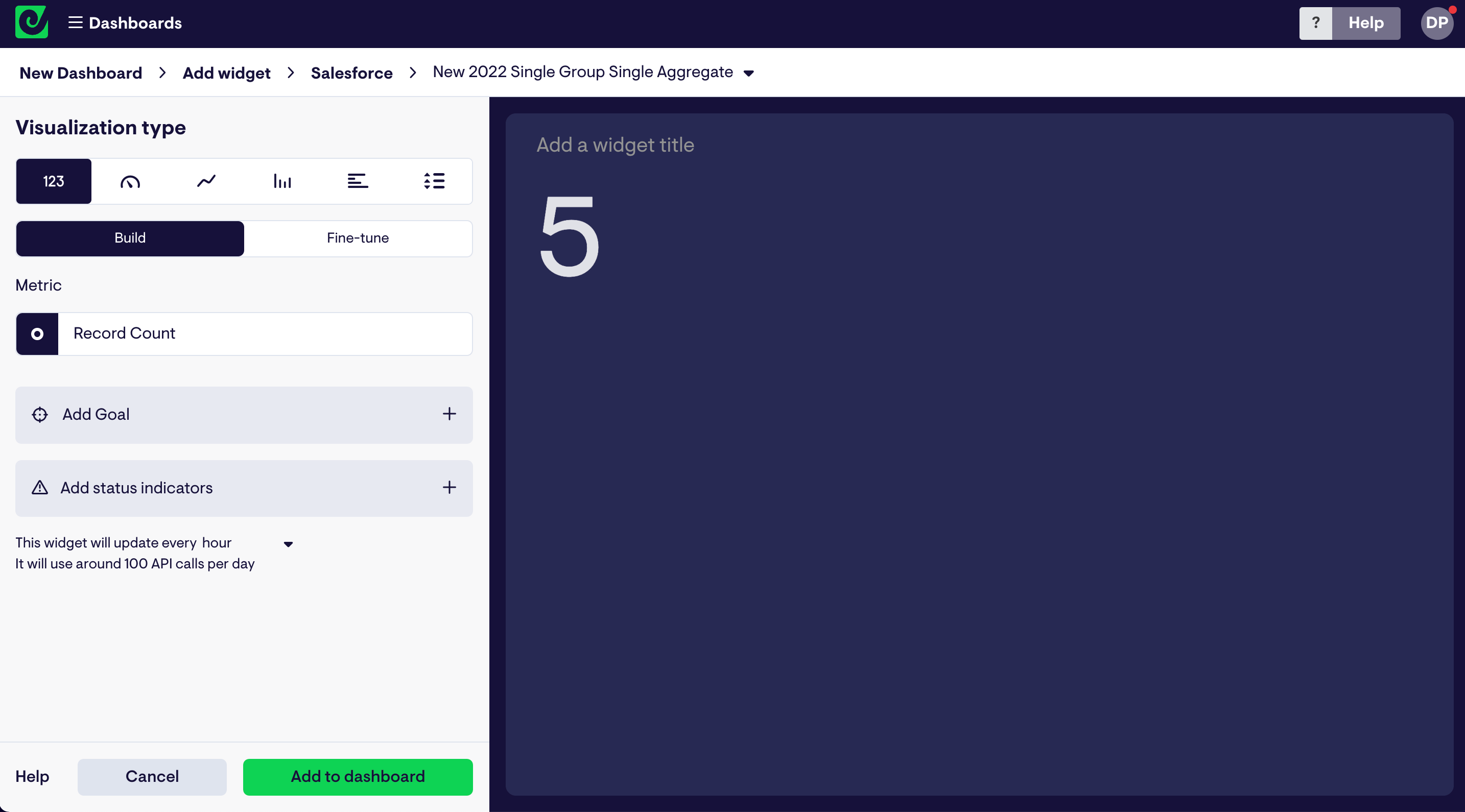 You can also add further visual context to your widget. You might add a goal which you are trying to hit, or a status indicator – this will display as red or green depending on the upper and lower limits you set.
Step 3: Complete your dashboard by including more widgets
Add more widgets to build up your dashboard, visualizing your most important data in a way that makes sense to your team. Complete the picture by including metrics from other data sources like Google Analytics, in-house databases, Spreadsheets or Zendesk.
For more info, check out our 12-step guide to designing the perfect dashboard.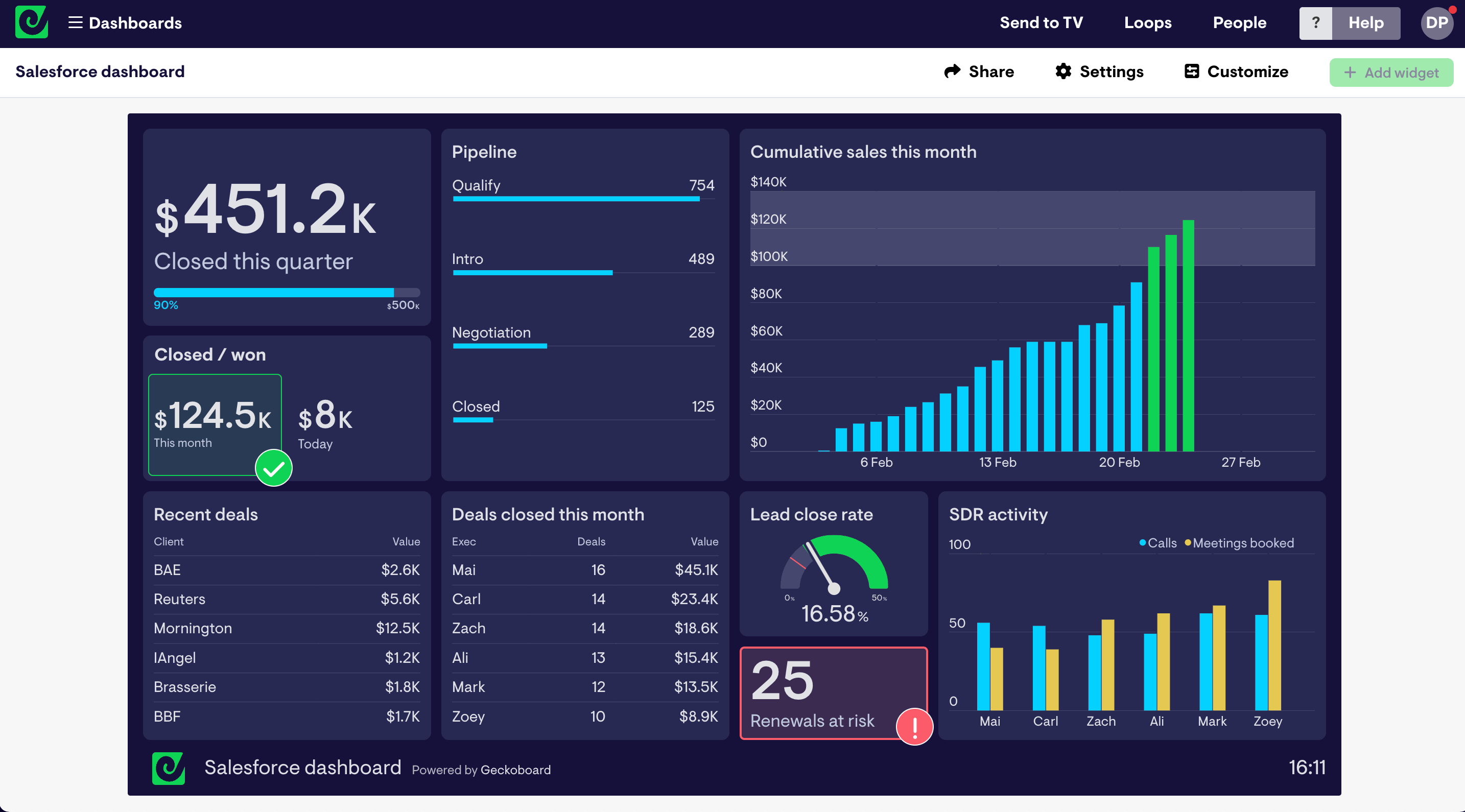 Step 4: connect Slack and set up regular snapshots
Now you've built your sales dashboard, you can schedule regular snapshots to be sent to your team's Slack channels. Just select "Share" followed by "Slack", and choose the time and days that your dashboard will receive maximum visibility.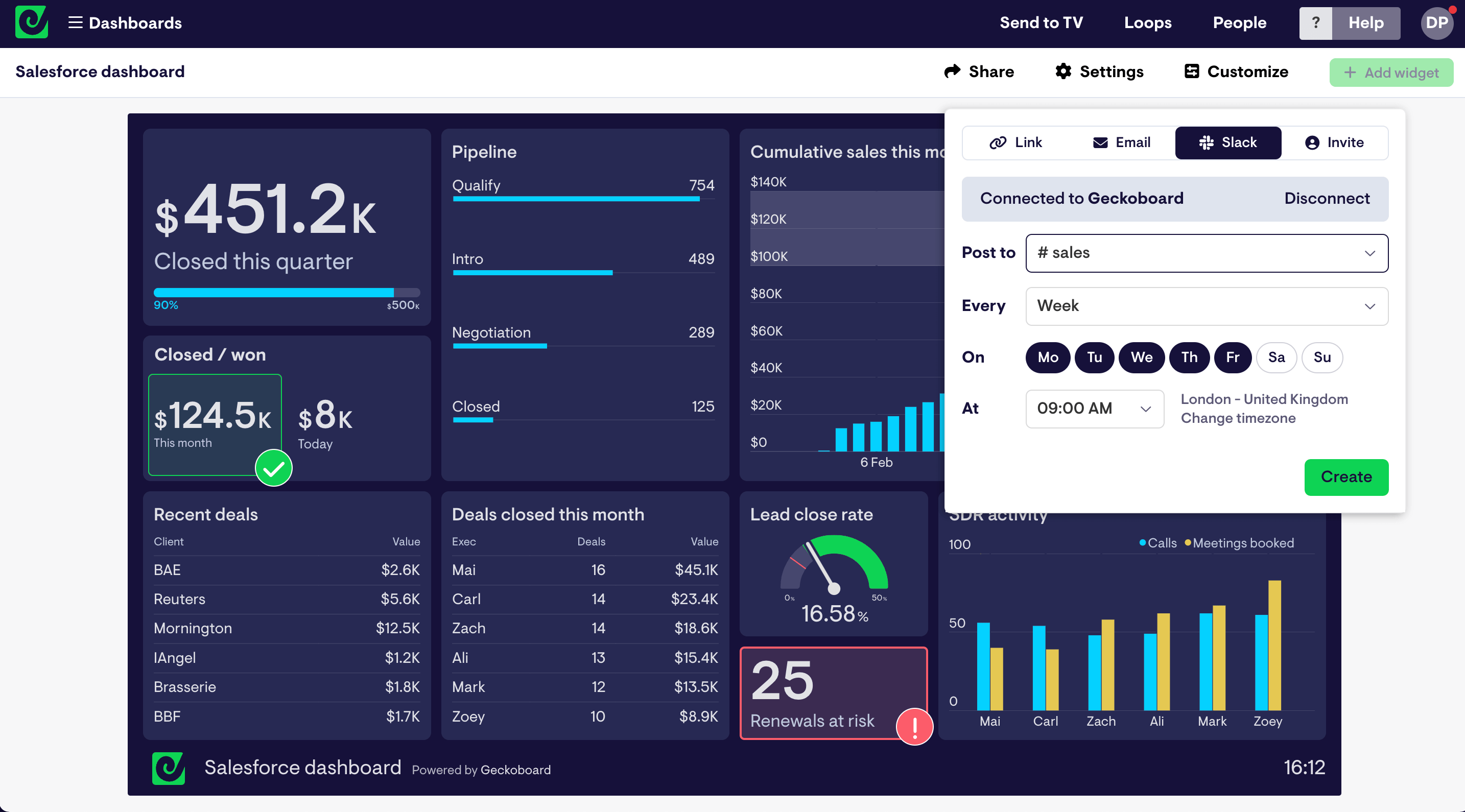 For further inspiration, check out more Salesforce dashboard examples here.