Customer support is demanding work: You're on the front line handling queries, issues, and complaints all day.

To motivate and retain support agents, companies need to acknowledge their work. Customer service recognition is when the customer service team's hard work is seen, understood, and valued by the whole organization.

According to Geckoboard's 2021 Customer Support Experience Report, "72% of respondents have done work to boost the support team's recognition within their organization." But many support teams still don't feel valued. 42% of respondents said they don't feel their team's work is consistently recognized outside of the support department.

The good news is customer service leaders can do a lot to improve customer service recognition with strategic, deliberate, and thoughtful communication with the broader organization. Sharing information about your team's achievements and performance makes it easier for other department members will be more likely to believe in and support the work your team does.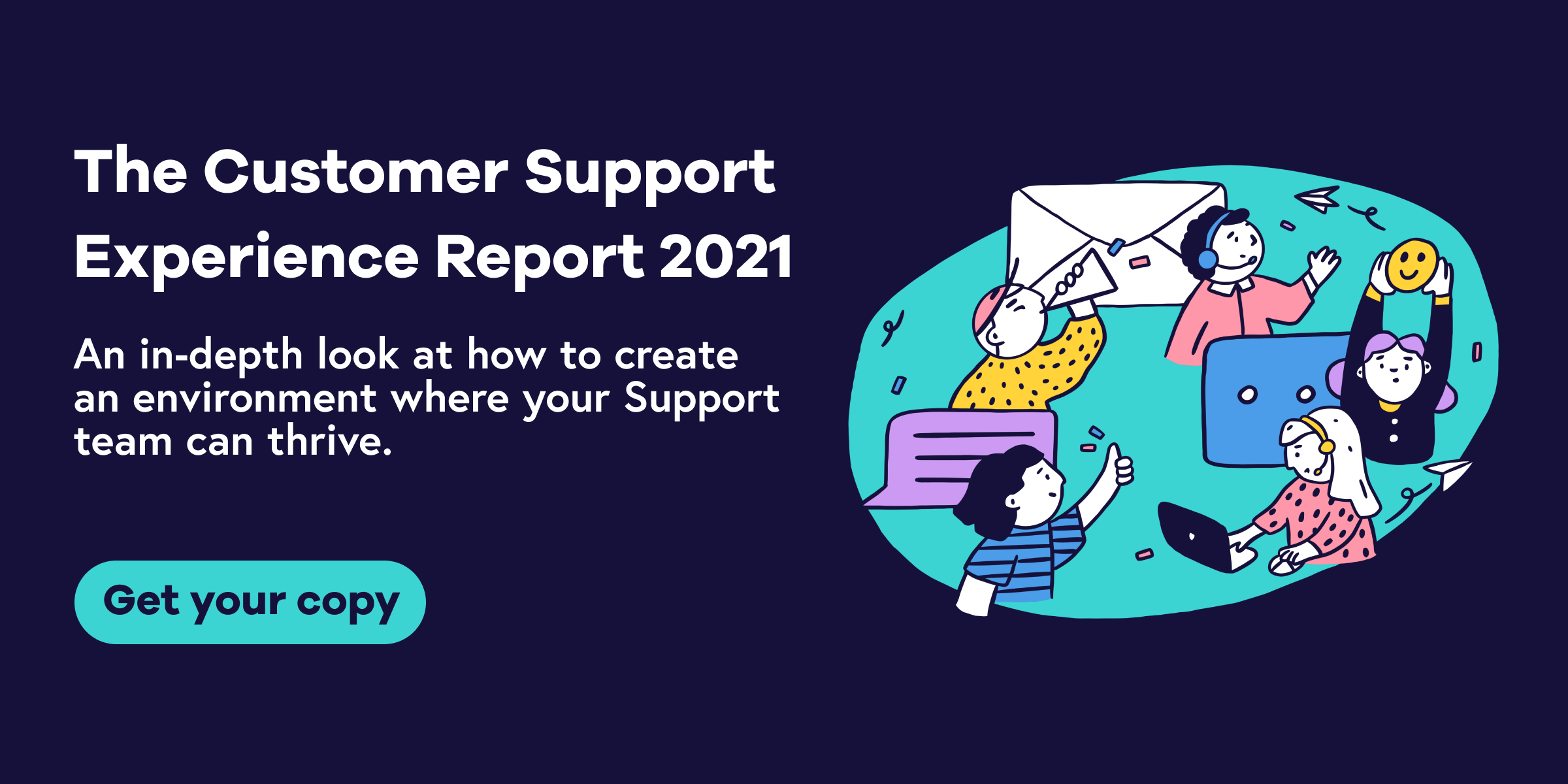 1. Share team wins to increase customer service recognition
One of the simplest ways to improve customer service recognition is to simply talk about your team's work more. Show the value your customer service team provides by regularly and frequently sharing their wins.

One of our survey respondents, Felix Starzer, Head of Customer Care at Staffbase, has implemented several initiatives to raise the profile of his customer service team.
"I'm publishing a monthly stakeholders letter with a video to increase visibility of the team, and starting with small recognitions, like a #good-news channel where we can freely share small achievements (which happen quite often in support)," said Starzer.
You could give praise in meetings, send email updates, or share quick wins in company Slack channels to increase customer service recognition and improve team culture. You can even encourage team members to share their own wins or to celebrate their colleagues' achievements. If a support agent has a really positive call with a customer or receives great feedback after a support interaction, their fellow team members can share those wins throughout the company.

Small wins happen frequently for customer service teams, and while they may seem normal for you and your team, sharing them with the wider organization shines a spotlight on the hard work that otherwise goes unseen.

2. Create feedback loops with other departments
Your customer service team is closest to your customers, so they're a valuable source of insights for other departments. Set up processes for support agents to share customer knowledge across the company, and you'll likely raise the profile of your team.
Helena Pilih, former User Happiness Lead at Big Health, saw the benefits of sharing her support team's insights with other departments.
"Nailing the product/support feedback loop raised the profile of the support team," said Pilih. "People from other teams like marketing now seek feedback from support because we have established ourselves as a good source of feedback and as the group who knows customers the best."
You want to position your support team as the internal "voice of the customer." To do this, you need to build closer relationships with other departments and create formalized opportunities where your team can share customer insights:
Have a customer service team member attend product roadmapping meetings
Create a customer feedback document where your support team can add product- or service-related insights: Your product and engineering teams can refer to this resource when planning and prioritizing product updates
Run informal "voice of the customer" lunch-and-learn sessions for anyone in the company to attend
Set up a #customer-feedback channel on Slack where support team members can share customers' product-related insights with the wider organization
3. Share customer service updates with leadership to improve recognition at all levels of the business
Getting buy-in and support from company leadership is one of the most important factors for improving customer service recognition. Why? Because, ultimately, leadership teams dictate company culture. If senior-level employees don't value the support team, it's unlikely that the rest of the organization will either. A lack of buy-in from leadership also means they likely won't implement initiatives that the support team proposes.

Our 2021 Customer Support Experience Report found that "74% of respondents share regular updates on support team performance with the senior executive team," with the majority of respondents sharing updates with leadership at least monthly, if not more frequently.

Keep in mind that you'll want to share different information with the leadership team than with other departments. Identify what your leadership team's objectives are, and then work out how your support team contributes to those goals. Reporting on customer retention and revenue churn — and tying a dollar value to your team's hard work — will be more relevant to your leadership team than conventional customer support metrics such as Customer Satisfaction Score or Average Resolution Time.

4. Find clear ways to present and visualize customer service performance data
If your company has a very analytical or data-driven culture, describing positive customer interactions likely won't have the same impact as concrete numbers. You'll have more luck increasing customer service recognition by translating your team's successes in a format your organization will pay attention to.

There are several different ways to share performance data with the broader organization:
Customer service dashboards that give at-a-glance insights into your customer service team's performance
Monthly or quarterly presentations given at company all-hands meetings
Regular "numbers" updates shared by customer service leaders in Slack or over email — much like marketing leaders might share marketing qualified lead (MQL) numbers, cost per lead, and percentage of MQLs becoming sales qualified leads (SQLs), or sales leaders might share sales pipeline and deals won
Even if your organization responds well to anecdotal success stories, mixing qualitative feedback with quantitative performance data will boost your customer service team's reputation. Using key performance indicator (KPI) dashboards and reports to share quantitative performance data with the organization makes the often invisible work of customer service teams immediately visible — and means you can share performance data as frequently as you want.

Improve customer service recognition to become a customer-centric company
One of the biggest challenges that customer service teams face is little to no recognition from their organization. But if your company wants to put its customers first, then it needs to proactively work at closing the gap between customers and the rest of the organization. CS are the team closest to your customers, so you need to do all you can to champion them and their experiences.

Download the 2021 Customer Support Experience Report for more actionable insights to help you overcome the most common challenges facing customer service teams.