At Geckoboard, we work with many Zendesk customers around the world. One of the great things about Zendesk is that it offers a variety of pricing plans to suit different budgets and levels of usage.
A key consideration when budgeting for a Zendesk Suite plan is allocating the number of agent seats (paid user licenses) for team members you add to your account.
You can choose to start with a few seats and then increase your seat count as your team grows. And, if you ever need to reduce your seat count, you can do so at any time. This flexibility is great for organizations that are constantly growing and changing.
If you're responsible for managing seats in your Zendesk account, it's a good idea to monitor your agent seat count to make sure you have seats available when you need them, and to make sure you don't go over budget on your Zendesk plan.
In this article, we'll show you several ways to manage your seats better in Zendesk so that you can balance value for money with the access and permissions your team will need.
We'll also show you how you can use KPI dashboards to widen the visibility of your Zendesk data – perfect for members of your team who don't otherwise need a Zendesk seat.
Understanding roles and seat counts in Zendesk
Most team member roles count against the available agent seats, including admins and the account owner, with the exception of light agents, and view-only contributor roles.
When you factor in other Zendesk products, you may find that granting these users permissions in other Zendesk products can increase your seat usage. For example, a light agent doesn't take up a Support seat, but a light agent with Explore admin permission requires a Support seat.
So what team member roles for each Zendesk product count against the available agent seats?
Check how many seats you're using
In Zendesk's Admin Center, you can use the Team members page to check how many counted seats you've purchased and how many you've allocated. This count provides you with advance warning when you're about to run out of licenses and need to buy more.
If you find you're using more seats than expected, check the roles you've set for light agents and contributors.
Make use of light agents and contributors
Light agents have limited permissions but can stay informed about tickets and, when needed, provide subject matter expertise and advice by adding private comments to tickets. With light agents, you can easily and affordably add team members from different teams across the business to help you collaborate and get your entire company closer to your customers. The number of Light agents you can add to your account ranges from 50 to 5000 depending on your Zendesk account type, and aren't controlled by the number of agent seats you have purchased.
You can also configure some of the permissions for light agents, including options for ticket access for light agents, and, if you're on Suite Professional or above, you can additionally configure access to reports.
Contributors, on the other hand, can provide limited support by viewing and adding private comments to tickets in their groups.
Add agents on-the-fly for greater flexibility
For eligible sales-assisted accounts and self-service accounts, Zendesk allows you to add more agents than your subscription allows by instantly buying agent seats when you add an agent profile.
If you're an admin who isn't the account owner or a billing admin, you'll see a Request agent seats button instead of a Buy seats button.
When you're buying more seats, make sure you enter only the number of additional seats you want to add, not the total number of seats you need in your account.
Match roles and access with those who need them
While it can be tempting to give everyone on your team agent-level access to Zendesk, it's important to consider who will use those permissions in practice. For example, if you have a dedicated customer support team, it makes sense to give them all agent access to Zendesk. On the other hand, if you have a smaller cross-disciplinary team, it might be better to assign agent roles to those responsible for tickets and interacting with customers.

Communicate Zendesk metrics via a live KPI dashboard
Dashboard tools like Geckoboard connect to your Zendesk account and visualize live data. This creates the opportunity to communicate Zendesk metrics with people in your organization who would benefit from seeing these metrics, but do not otherwise need a seat.
This might include senior management or members of the wider organization who don't work in a Customer Support role. In fact, many CS teams find that visualizing their KPIs with Geckoboard helps to raise the profile of CS work in the business, more generally.
Geckoboard is also popular for CS teams who want to visualize their live Zendesk metrics either via a TV dashboard, or a live browser-based dashboard.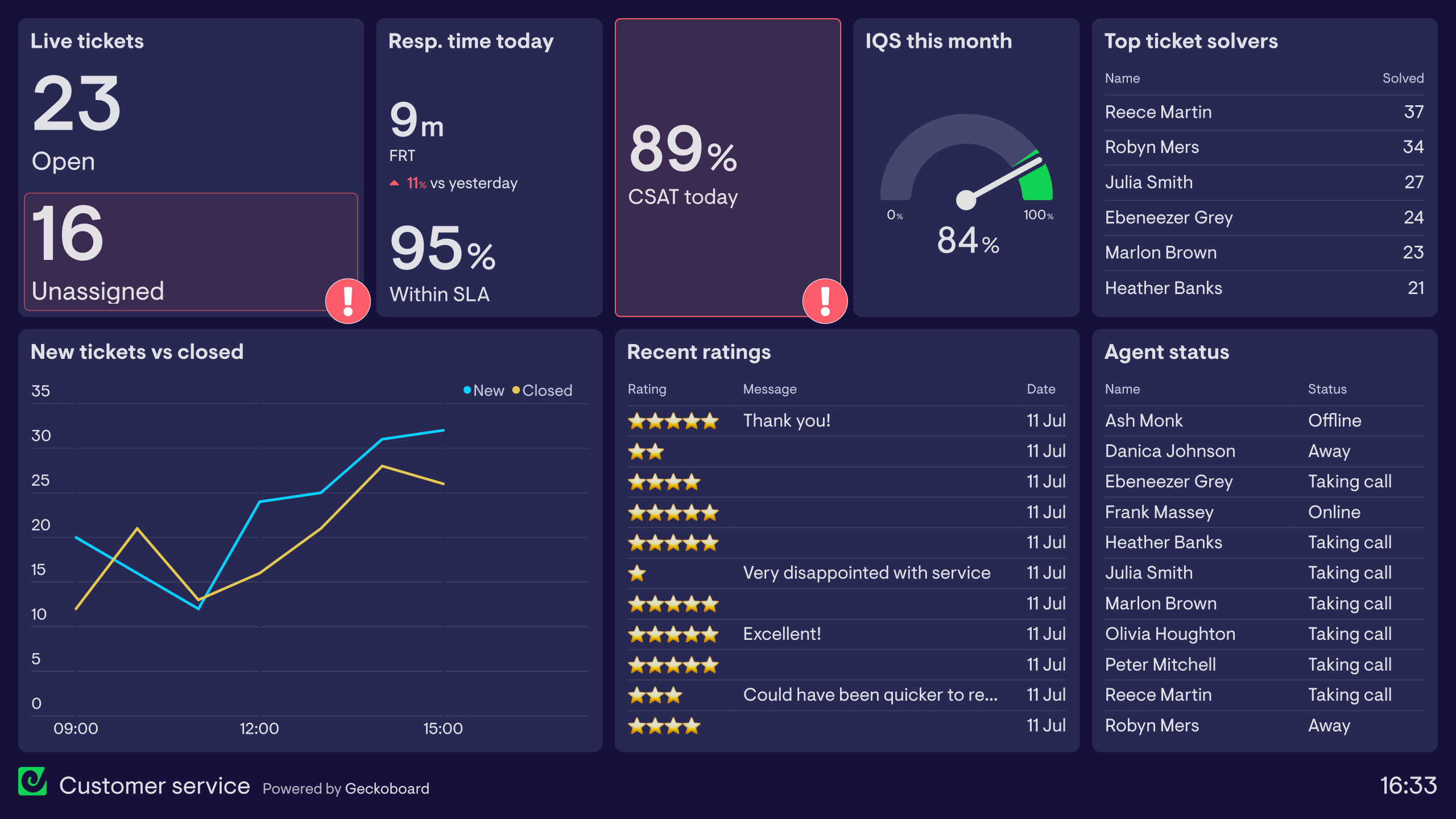 Downgrade a departing agent's role before suspending their account
When an agent leaves your support team, you'll want to maintain the information of the tickets they have handled in the past. For this reason, you should avoid deleting an agent when they leave. Instead, reassign all their tickets, then downgrade the agent's account first.
This will make sure you free up a seat for another agent to use. It's important to note that downgrading the agent doesn't affect your agent seat count. This can only be changed by changing your subscription.
The final step is to suspend the departing agent's account. This will prevent them from signing in to their account as an agent going forward.