If you spend a lot of time reporting in Zendesk, or using Zendesk Explore, then you will have noticed the platform doesn't always show you the most up-to-date metrics. That's because Zendesk Explore doesn't include an auto-refresh feature for its analytics views and reports.
In this article, we'll explain how you can solve this problem, with live dashboards that auto refresh.
Plus, we'll also show how you can access the most up-to-date Zendesk metrics possible, with dashboards that refresh your data at least 6x faster than the reports you will find in Zendesk Explore.
Why are real-time Zendesk metrics important for CX?  
Great Support Managers know that staying on top of their KPIs is an important part of delivering  high quality CX. That's because you need to be aware when important metrics like FRT and CSAT suddenly change. You also need to be able to move agents around, across different support channels, depending on where the demand is right now.
Can you automatically refresh Zendesk Explore reports?
Unfortunately, if you want to access your most up-to-date metrics in Zendesk Explore, then you need to refresh the page, manually.
Not only is that annoying, it's also not exactly fool proof.
Why? Because the data refresh rate (or refresh interval) for customizable reports in Zendesk Explore is only once an hour for the more premium plans, and only once a day for more basic plans.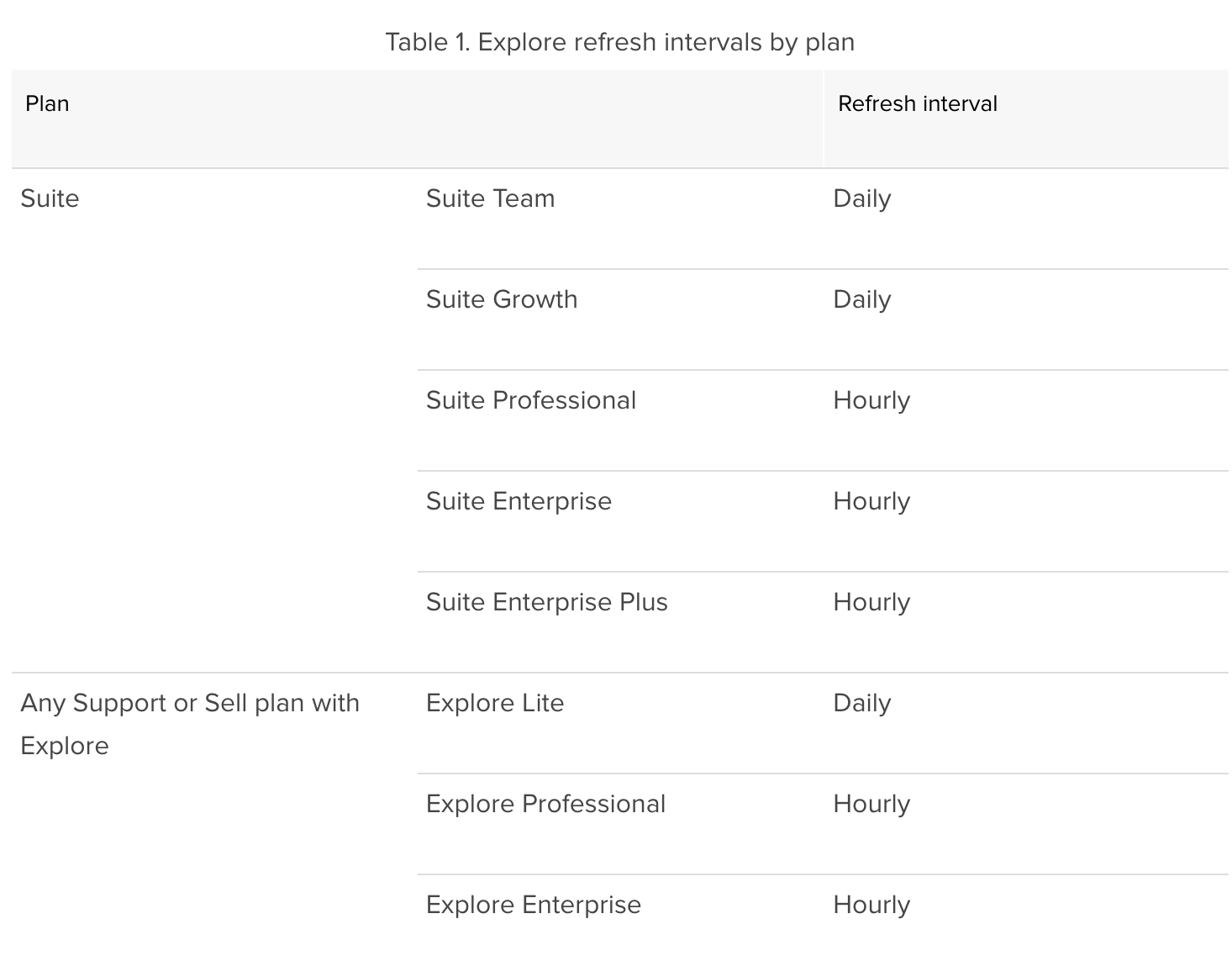 That means you need to refresh your report at exactly the right time if you want to see your most up-to-date metrics. Otherwise you might have just missed the hourly refresh interval.
Moreover, it's not possible to know exactly when your data will be refreshed, so the only option is to constantly refresh the report until you see the data update.
How to get Zendesk dashboards that automatically refresh
Receiving access to real-time Zendesk metrics, which refresh automatically, is one of the many reasons why thousands of Zendesk users also use Geckoboard.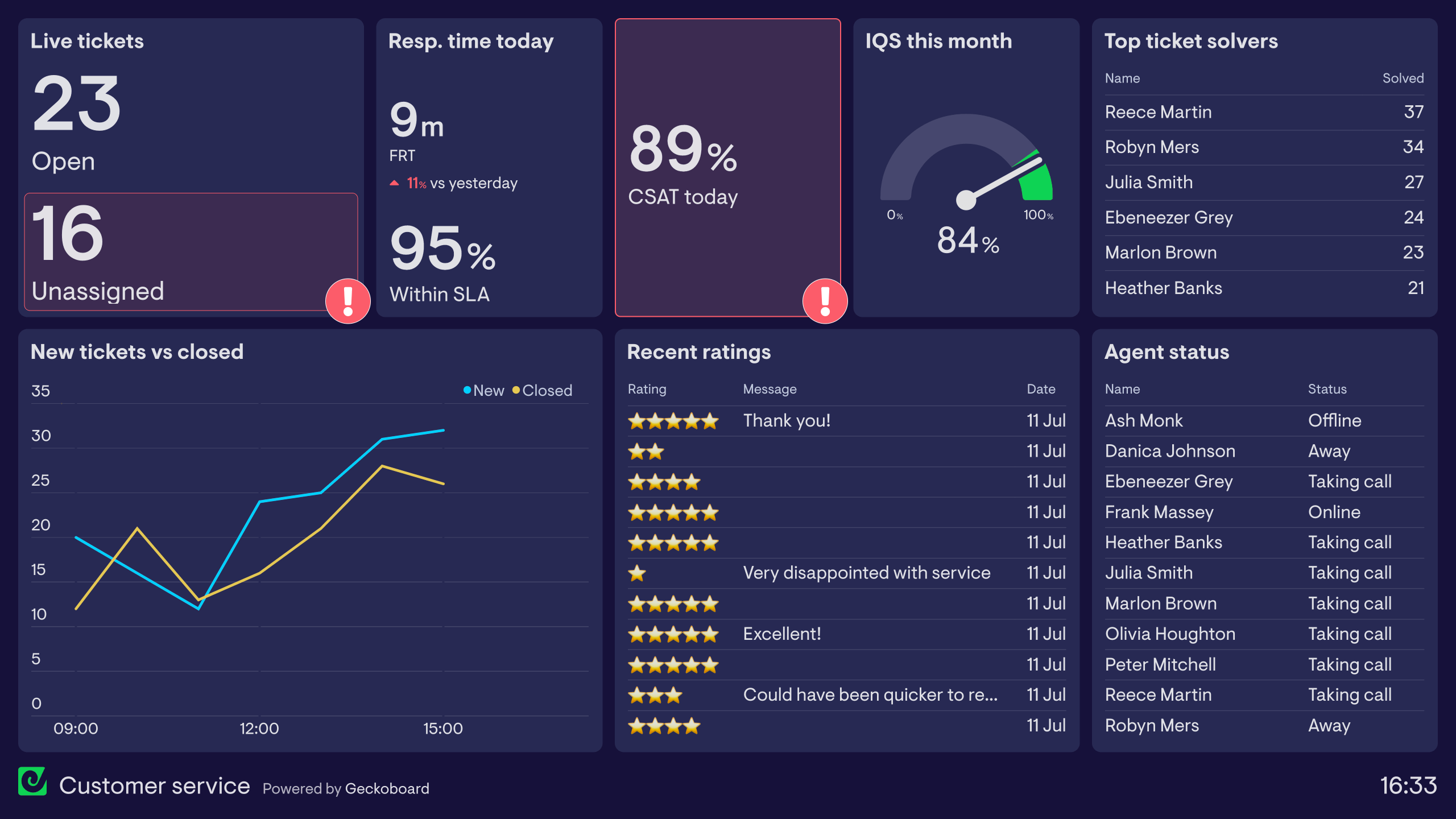 With Geckoboard, in a matter of minutes, it's possible for anyone to create custom Zendesk dashboards, which display all your most important data. You (or your team) can access these dashboards whenever you like, on desktop or mobile devices.
Or you could even display your dashboard permanently on a TV screen or monitor. That way, you will always stay on top of important changes.
Refresh rates more than 6x faster
One of the best parts about using Geckoboard is that it will refresh your Zendesk metrics faster and more regularly than Zendesk itself. Unlike Zendesk Explore, which refreshes your data every day or every hour (depending on your plan) Geckoboard refreshes Zendesk Support and Zendesk Sell metrics every 10 minutes, Zendesk Chat metrics every 1 minute, and Zendesk Talk metrics every 30 seconds.
And that's regardless of which Zendesk plan you're on.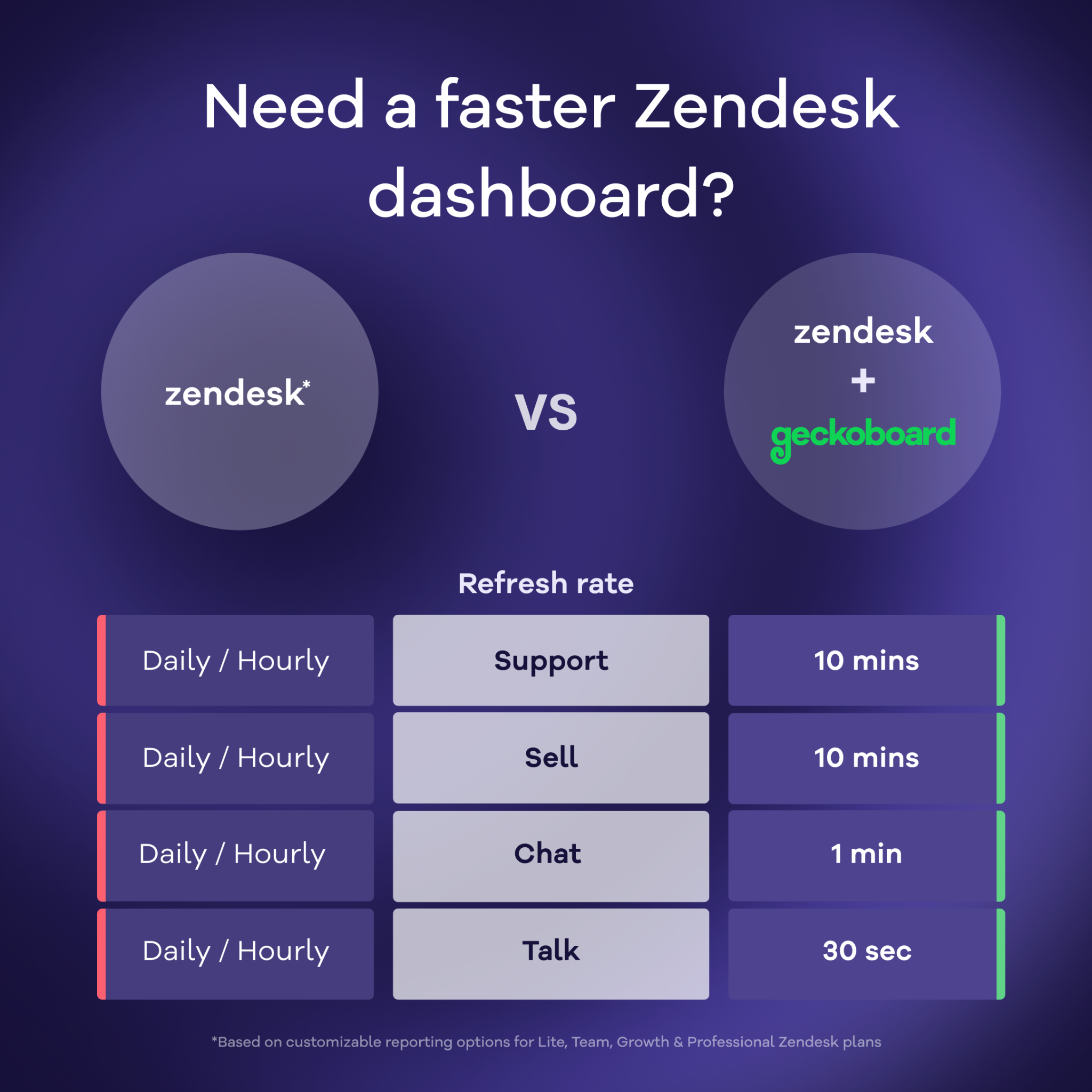 How to build a Zendesk dashboard with Geckoboard?
Step 1: Connect your Zendesk account
Once you've signed up for a free trial (no credit card required), just connect to your data by selecting Zendesk Chat, Zendesk Support, Zendesk Talk or Zendesk Sell.
Step 2: Design your dashboard how you want it
To get started, select from our pre-built widgets, or customize your own. You can set the timeframe, filter, and choose the best visualization for the KPIs want to display. You can also add goals and status indicators so it's easy to see when things are on track.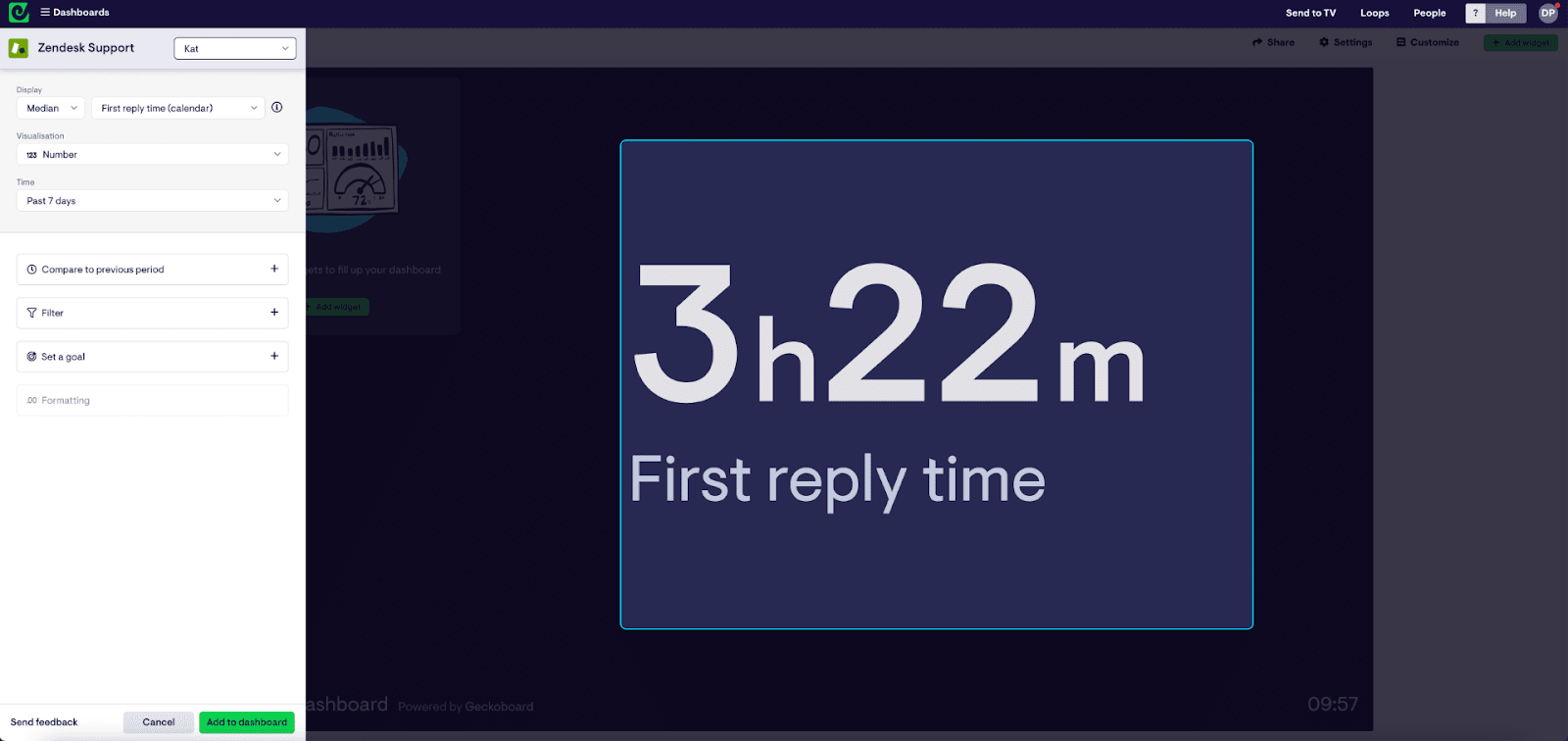 With our drag-and-drop interface, building a custom dashboard will take just a few minutes. If you want some ideas, then check out our library of dashboard examples for Customer Support.
Step 3: Share it
Geckoboard makes it quick and easy to share your dashboard with team members, or with other members of your organization, such as senior management. It's a great way of promoting accountability, or just showing off the wonderful work you and your Support team are doing.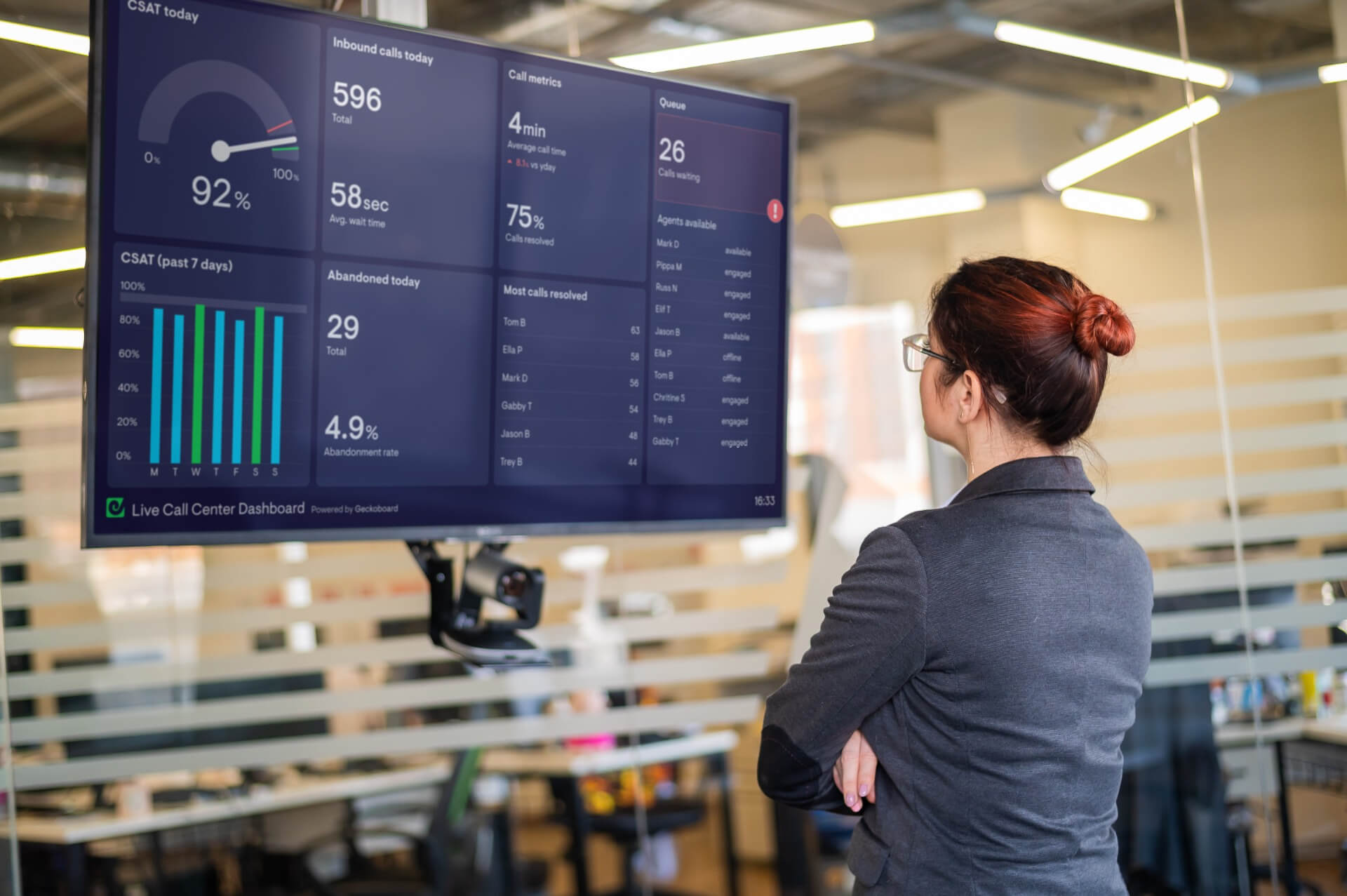 Check out some of the further guides we have for sharing Zendesk dashboards:
Conclusion
For Customer Support Managers, refreshing your Zendesk data manually is more than just an annoying extra step. Not only is it completely avoidable, you could also be missing out on important real-time data that will help you deliver faster, more responsive Customer Support.
If you care about delivering best-in-class Customer Support and CX, then why not try Geckoboard today.