We recently had the opportunity to hear how one of our customers was able to improve their key metrics by changing the way they track and communicate data. As many businesses understand, accessing and sharing data is often complicated, time-consuming, and frustrating. Diggerland faced this challenge and shared their story of how they not only overcame it but also increased their conversion rate by 33% in just six months.
For a little background, Diggerland USA is a construction themed adventure park in New Jersey where children and their families can drive, ride, and operate real, diesel powered, full-size pieces of construction equipment. Each machine has undergone advanced engineering modifications which make them safe for the public, allowing children to operate them with little to no instruction.
Hard-to-access data and slow response times
Chris Peters, Director of Marketing and PR at Diggerland, and his marketing team are responsible for driving online purchases of tickets for their theme parks. While the team had well defined key metrics, they knew that they were reacting too slowly to big changes in metrics because of their existing tracking solutions.
Their past system for monitoring metrics involved unearthing data from several different systems from previous periods, comparing it with the current period and then putting it together in spreadsheets which they shared to monitor key metrics. Not only was this process time-consuming, it also meant they were missing out on significant opportunities. Chris wanted a dashboard showing live key metrics visible to everyone all the time.
Finding the right tool
Chris reviewed an enterprise business intelligence tool but felt it wasn't the right fit for two reasons. First, it would be time consuming and expensive to set up, requiring consultants to get a working solution.
Second, the tool was designed to do deep-dive analysis with complex visualizations, which he didn't believe would work for his team when displayed on a TV. He also considered building his own solution, but felt the cost of hosting, setup, and ongoing maintenance would be a big tax on his team.
A new, simple solution for the entire team
Chris turned to Geckoboard, and felt it was a simple and quick to setup solution with actionable live visualizations the whole team could identify with. The process was so simple that they got a dashboard live on the first day.
Diggerland heavily uses different Google tools such as Google Analytics, Google Adwords, and Google Sheets. For this reason, Geckoboard was a perfect fit for getting this data up on the wall with our simple, out-the-box integrations with these tools.
At Diggerland HQ, each person has a TV screen above their desk. Because Geckoboard is so simple to use, everyone can take ownership of visualizing their own data. By having key metrics on TV screens, there is a shared focus for the team on improving the metrics that matter most to the business. Seeing it live also allows people to instantly identify when things aren't going well and come up with a solution.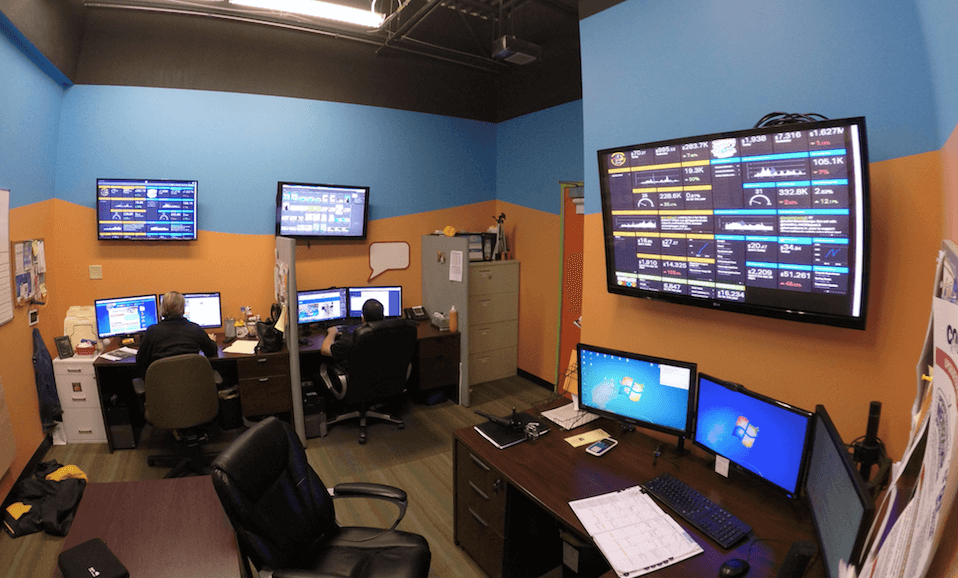 Diggerland office with TV dashboards mounted on the wall
The team also has a dashboard displaying a macro picture of company performance. This is supported by more dashboards which display metrics that are a leading indicator of company growth. Here are some of the things the team keeps an eye on through their dashboards (although Chris emphasizes that the dashboards are constantly evolving and KPIs change):
Attendance
Demographics
Individual product sales
Revenue by day / week over week / year over year
Conversion rate
Unique web traffic
The last one (unique web traffic) is of particular importance since the majority of the park entry tickets are purchased online. If that number goes down, the team works hard to identify the reason and quickly get it moving back in the right direction.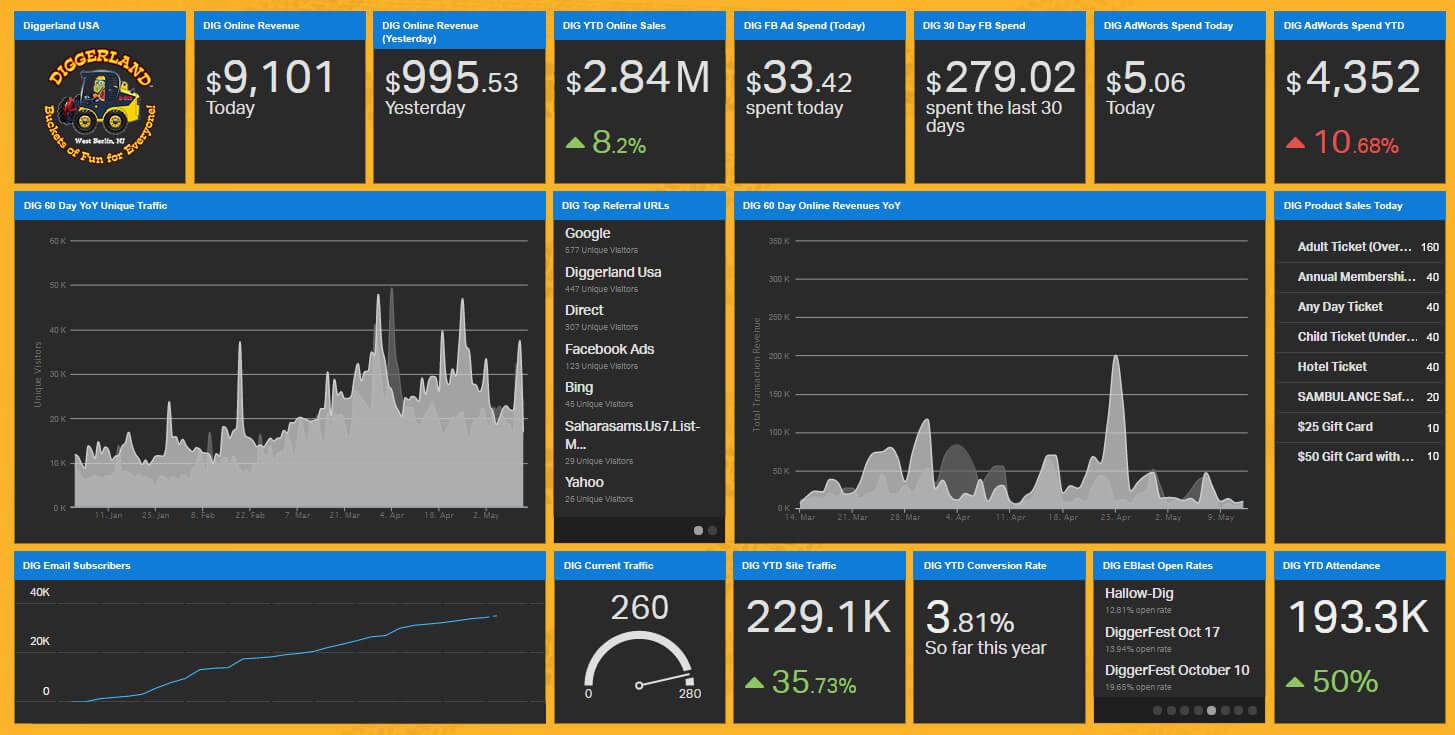 The dashboard contains sample data.
The key metrics shown on Geckoboard are mainly consumed via the wall dashboards but the mobile app also comes in handy. When staff is on the move, the data goes from the wall into their pockets.
Tracking key metrics helps prioritize work
Chris and his marketing team use Geckoboard to focus on their key metrics. Chris feels his team now prioritizes work quickly and effectively because they are always working to improve the metrics above their desk.
"Geckoboard has transformed the way we work. It's so easy to set up that you can get a dashboard live on the wall on the first day. The simple live visualizations make our business's most important metrics easily digestible and actionable for everyone and as a direct result of installing live TV visualizations of our most important metrics, the team has managed to improve our website conversion rate by 33% in 6 months." Chris Peters, Director of Marketing and PR, Diggerland USA
They're also able to directly quantify the impact PR efforts are having on site traffic. When a film crew goes onsite, they see the resulting spikes on their dashboard as it happens.
Optimizing their conversion rate
For a period, the team focused heavily on increasing conversion rate on the website. Tracking the conversion rate and other related metrics on a TV dashboard allowed them to test and optimize various strategies in real time. Iterating based on the live impact of the team's efforts, they improved their conversion rate by 33% in just six months.