Ordering. Shipping. Marketing. Customer service. Team communication. No matter what size ecommerce business you have, there are dozens of tasks and different factors to consider on a daily basis - and hundreds of ecommerce tools promising to help.

Comparing all the possible tools at your disposal can be confusing and time-consuming. To make your job a little easier, we sorted through the top ecommerce tools and put together a list of the 38 best options. The tools are sorted by category, so you can easily find the most relevant ones for your business.

In this list, you'll find:
Internal communication tools
Effective collaboration platforms help keep everyone at your company on the same page, even across departments. These tools can help you update your team on the latest company news; keep order, shipping, and inventory data organized and visible; and foster collaboration between team members.
1. ContactMonkey: Create internal newsletter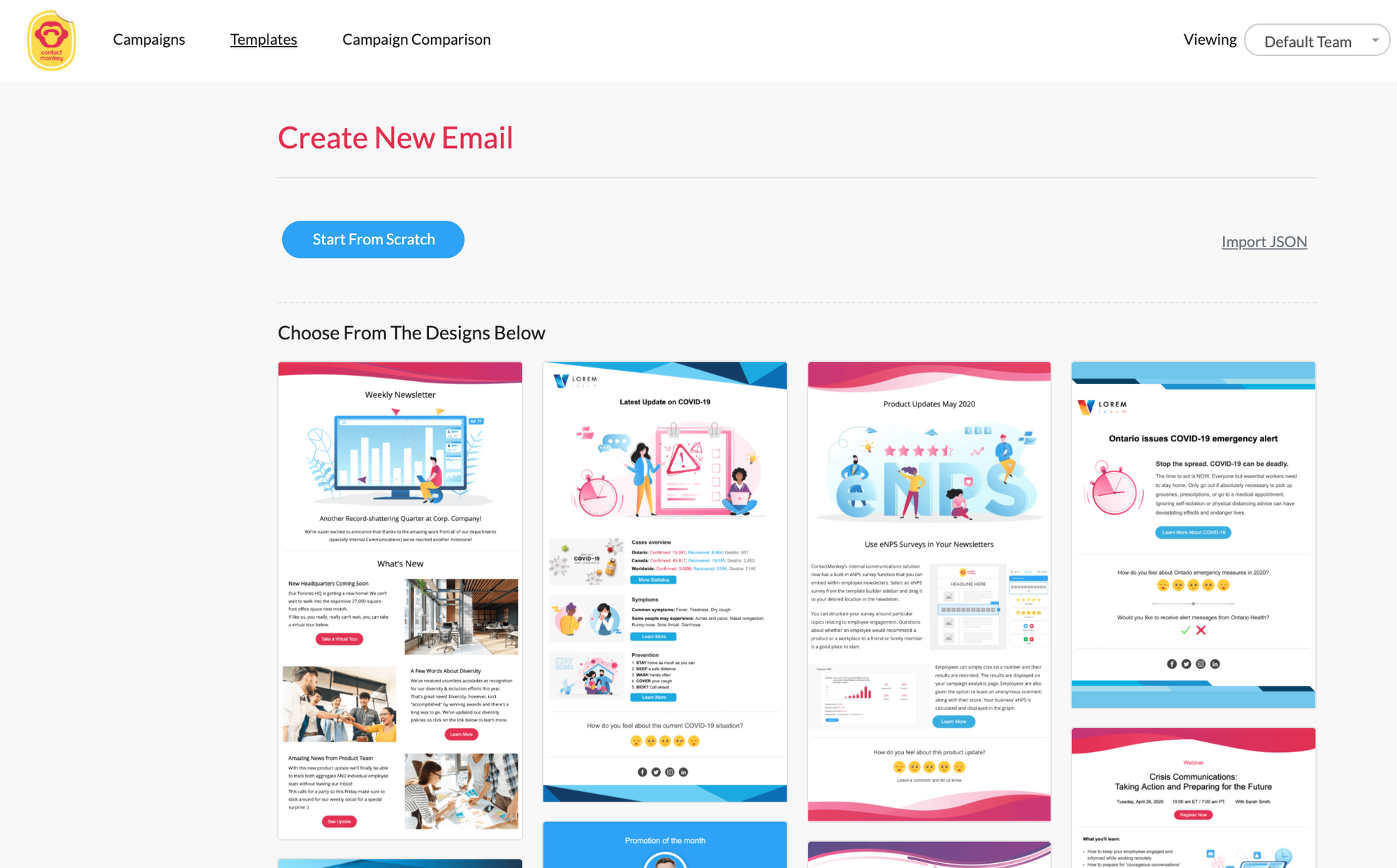 ContactMonkey offers templates to help you build engaging, informative company newsletters. These internal emails are an excellent way to update all of your employees about the latest company news and prepare them for any upcoming changes, such as new product launches or changes to the point-of-sale system.

ContactMonkey also offers analytics and tracking, so you can measure the effectiveness of your newsletters by looking at clicks and open rates.
2. Geckoboard: Share key metrics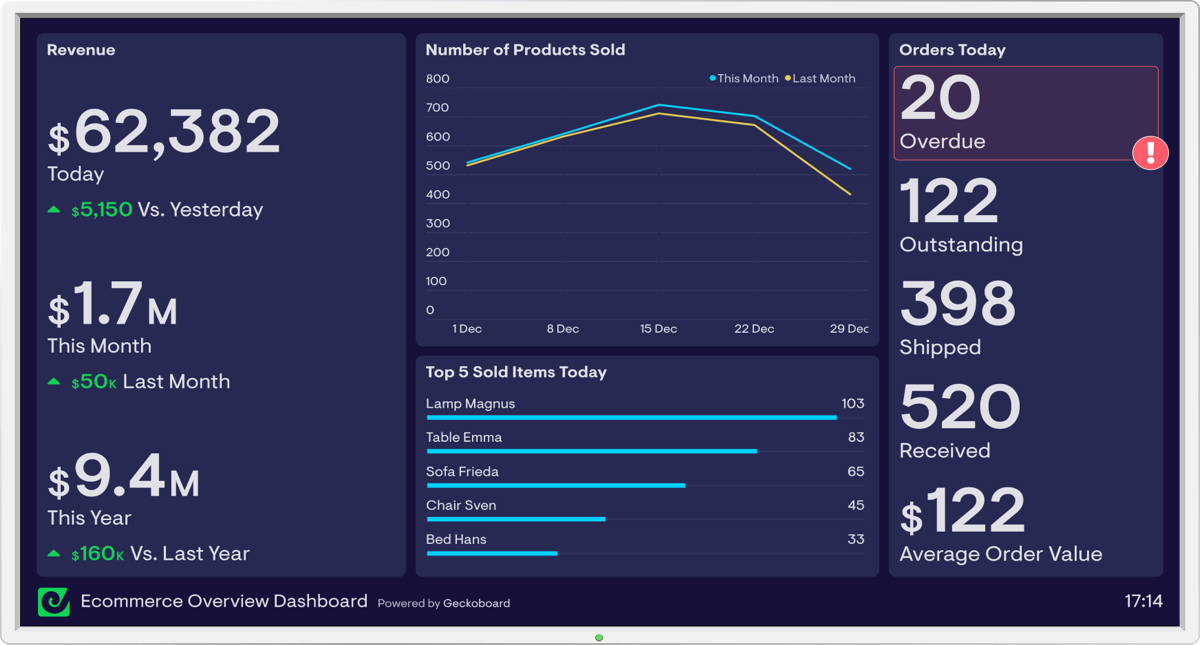 Geckoboard's data dashboard tool makes it easy to surface your most important metrics. Data visualizations transform basic data points, like your cart abandonment rate or average order value, into appealing displays that are easy to interpret at a glance. Share your dashboard on an office monitor or TV. Or send it via sharing links or in Slack to ensure that all team members have access to key data at any time, even when working remotely.
3. Kin: Organize HR needs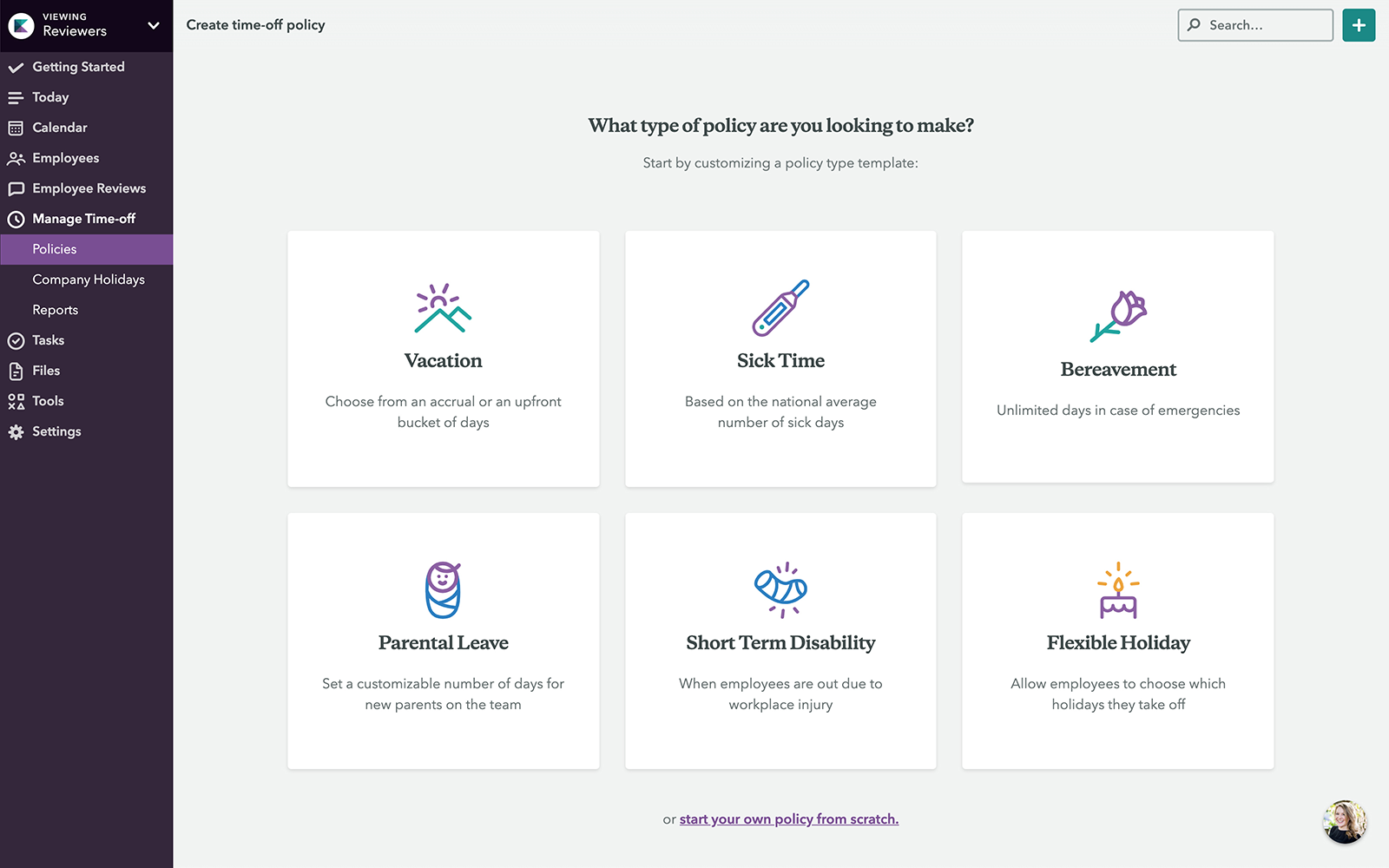 Kin HR software offers a one-stop shop for your most important human resources needs. Use their dashboard and templates to manage hiring, create onboarding checklists, build HR policies, and organize and manage employee information. You can even schedule employee reviews and organize team objectives and feedback.
4. Segment: Consolidate customer data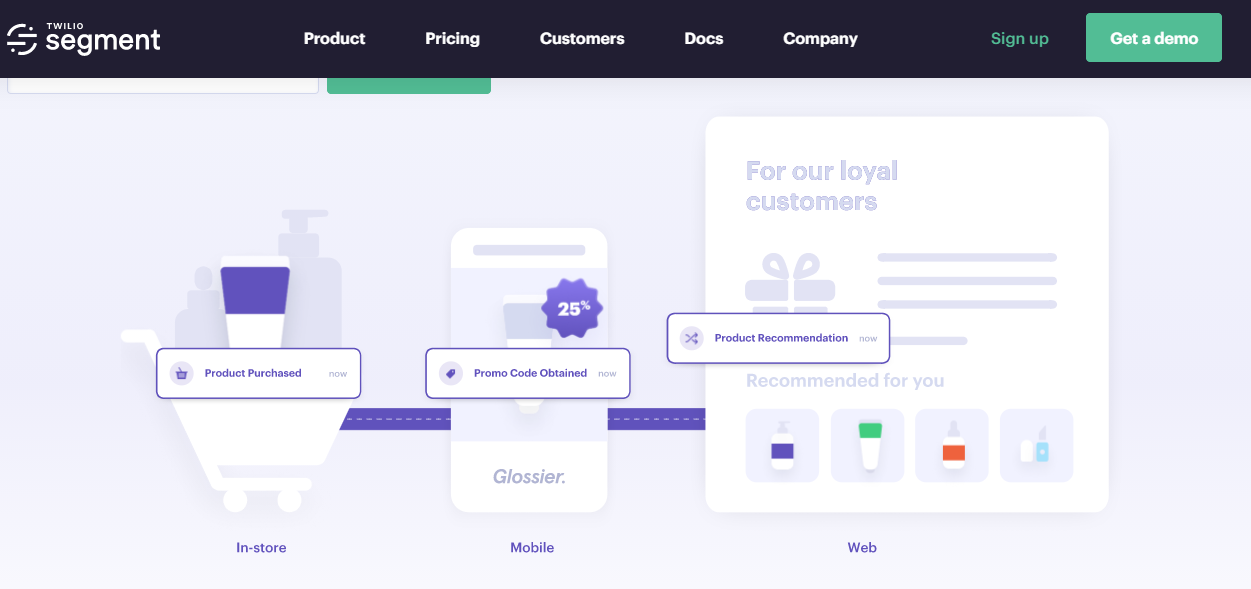 Segment is a customer-data management platform that enables you to track and organize customer data coming from multiple channels, including your website and mobile app. Track information like purchase history and discount codes used to create targeted recommendations. Consolidating all your customer data into one easy-to-use dashboard helps your marketing and customer service teams stay on the same page and personalize customer communication.
5. Slack: Instantly message team members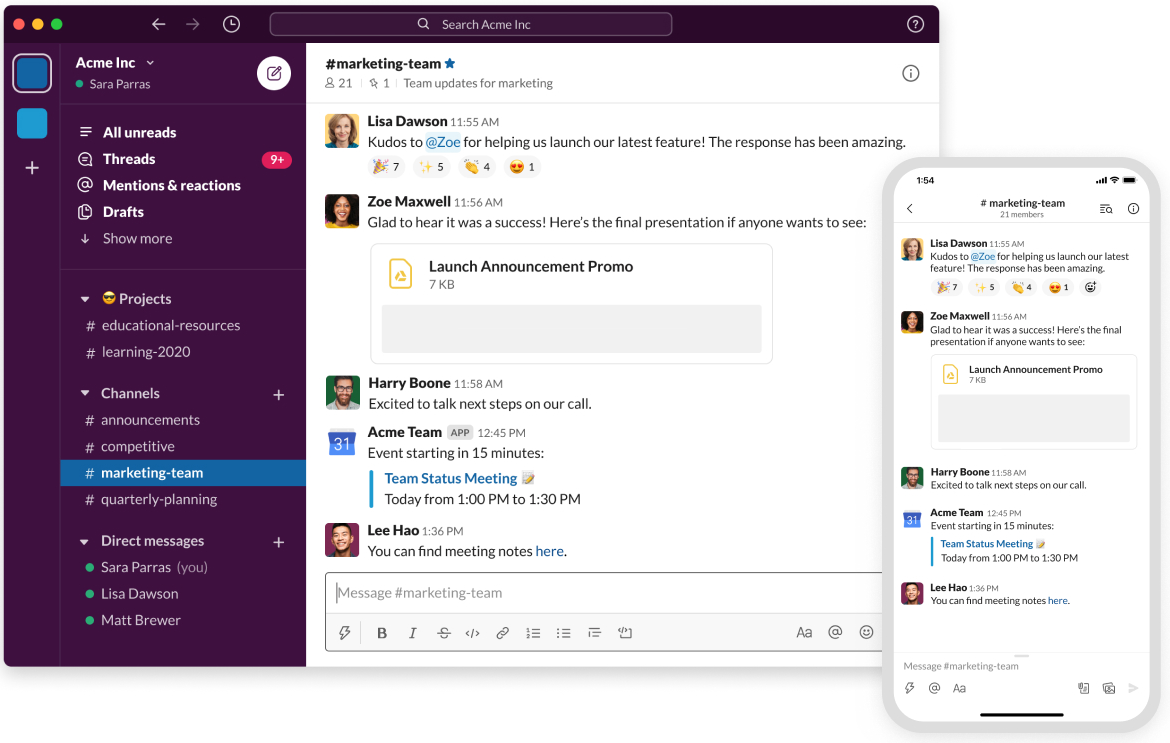 Slack is an instant messaging tool that allows you to create separate channels for each team or specific topics. For example, your order fulfillment team might use one channel to discuss incoming order requests, while your customer service team uses another to internally manage customer support needs, such as returns and concerns about a product. It's especially useful if you have a remote or distributed team. With segmented channels, team members can keep track of projects and team updates in real time in a more conveniently organized way than email.  
6. Trello: Collaborate from anywhere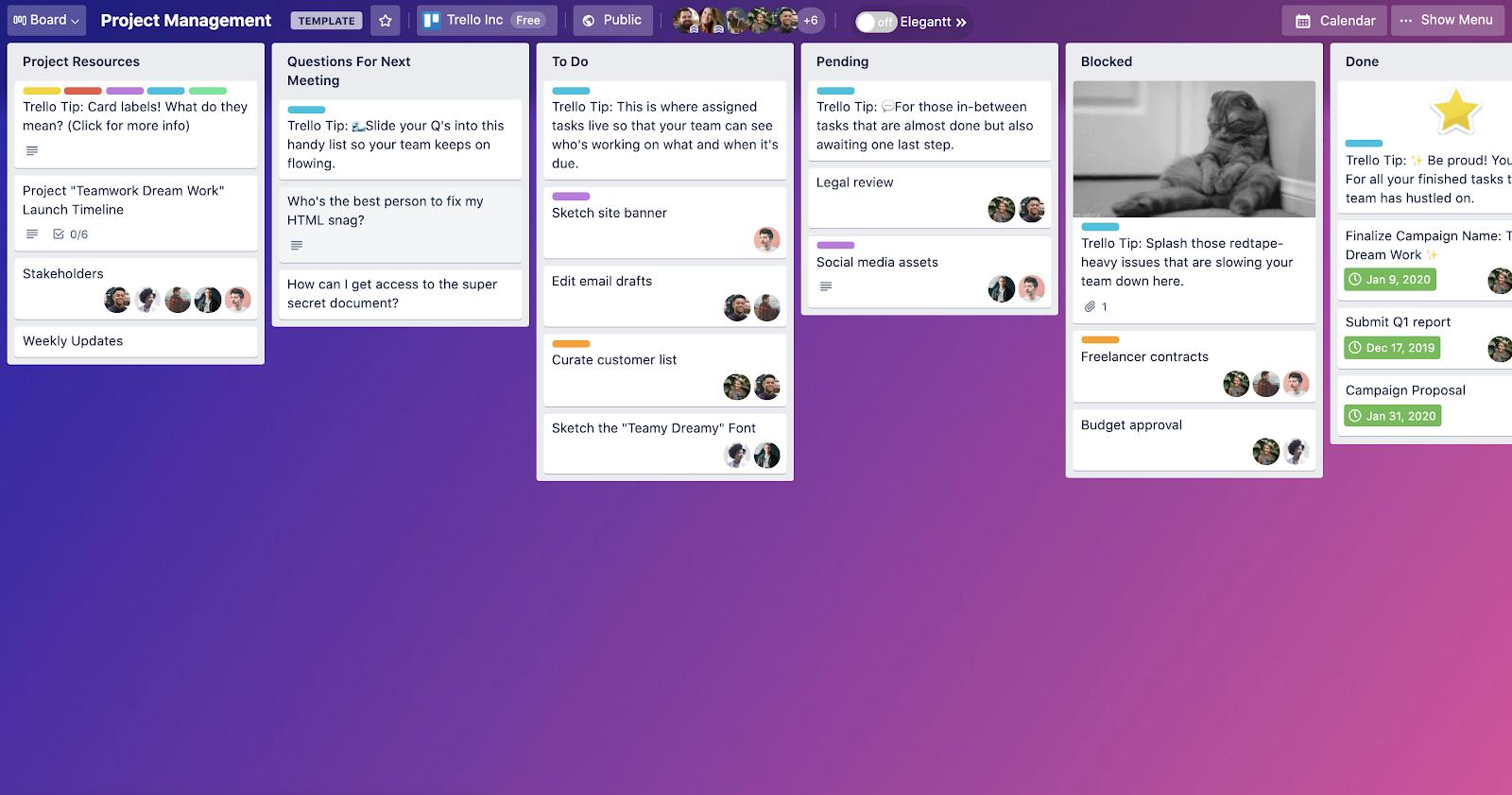 Trello is a productivity platform that helps teams collaborate on projects and keep track of tasks even when they don't share an office. Project boards can help your team effectively assign and manage tasks. For example, if you recently listed a new product, you could assign team members to track reviews or monitor how often an associated discount code is used each day. Individual cards on the board include details like due dates and a progress bar to help keep everyone on track.
Customer service tools
Any ecommerce business knows how overwhelming it is to manage customer questions and requests coming in from multiple channels. Customer service ecommerce tools are vital for managing your support team's workload and ensuring that every customer gets the attention and help they need.
7. Gorgias: Consolidate tickets from multiple platforms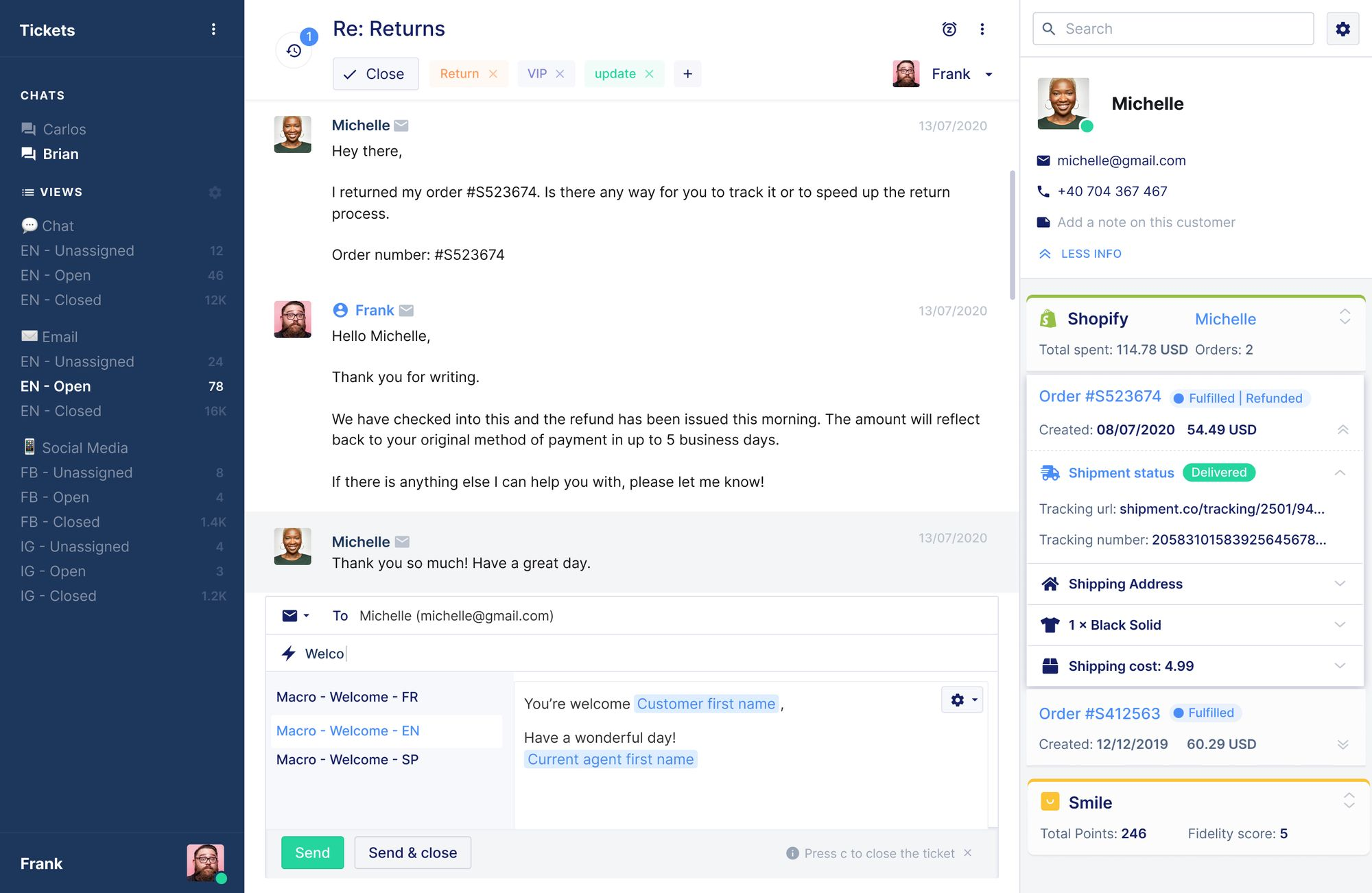 Gorgias is customer support software that consolidates customer tickets from multiple channels—including email, social, and chat—into a single location. Customer service reps can easily respond to tickets coming in from a variety of sources without having to switch back and forth between different platforms. Gorgias also offers integrations for major ecommerce tools, such as Shopify, Facebook, Instagram, and Smile.io.
8. Plivo: Enable SMS communication with customers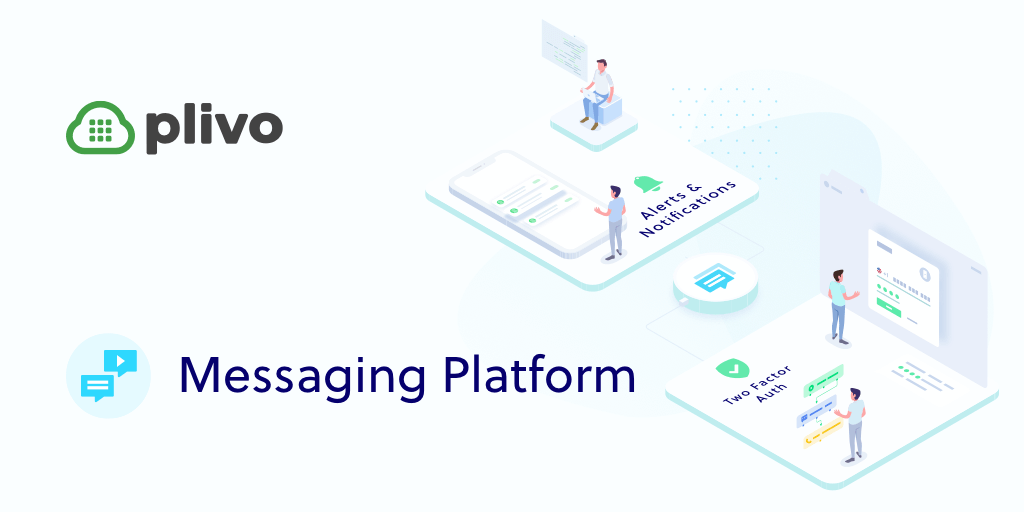 With Plivo's messaging platform, you can easily communicate with customers via SMS or MMS. Set up automated order and shipping alerts to help customers track their purchases. Or send surveys via SMS to quickly gather valuable customer feedback.
9. Smile.io: Build a loyal customer base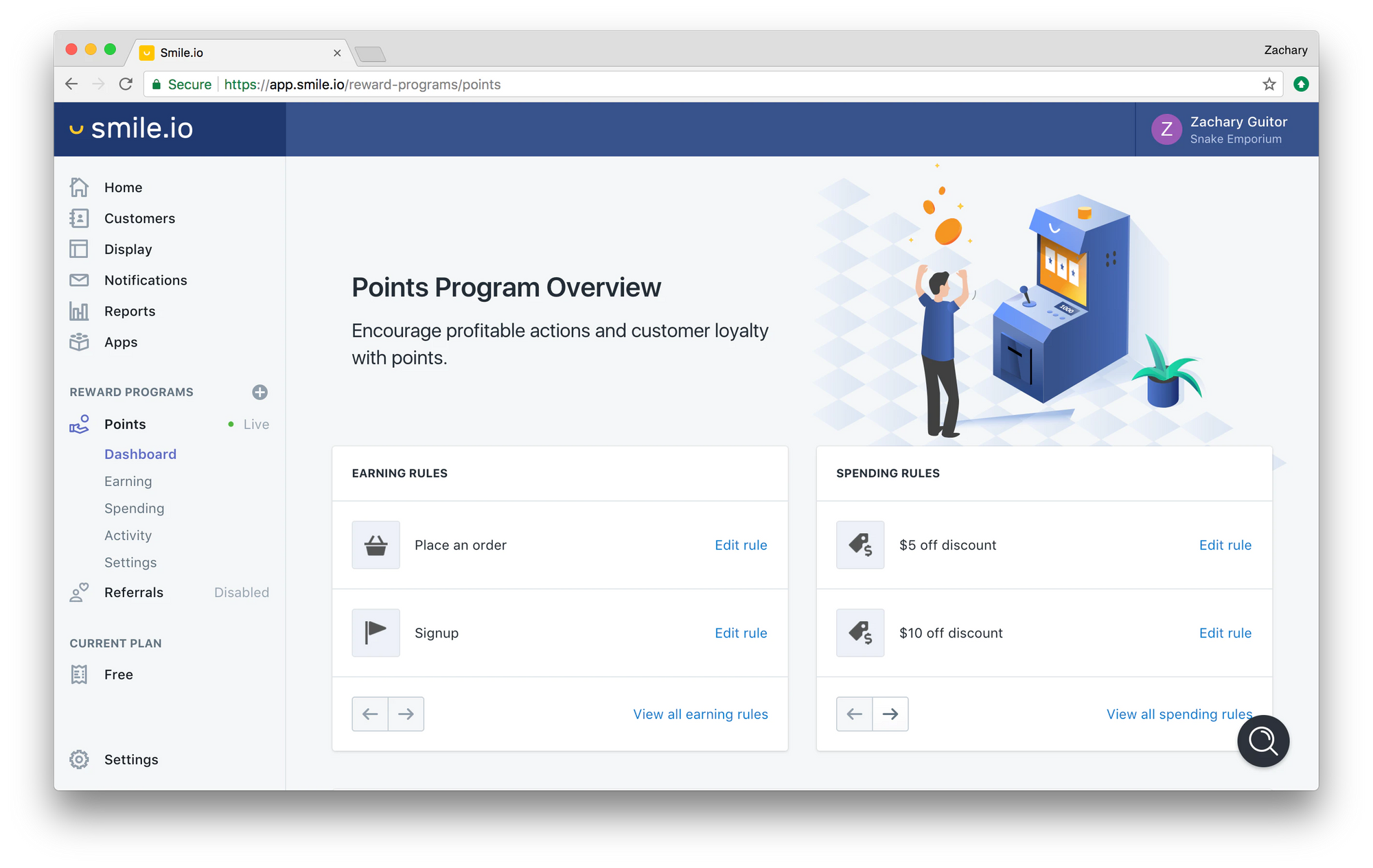 Smile.io is a loyalty platform you can use to build a rewards program to increase customer loyalty. Award points when customers engage with your brand, such as when they make purchases or share reviews. Offer discounts or other incentives when customers collect a certain number of points. Your loyalty system will encourage people to become repeat customers, and Smile.io will help make the whole process easy to manage.
10. UJET: Offer customer support optimized for smartphones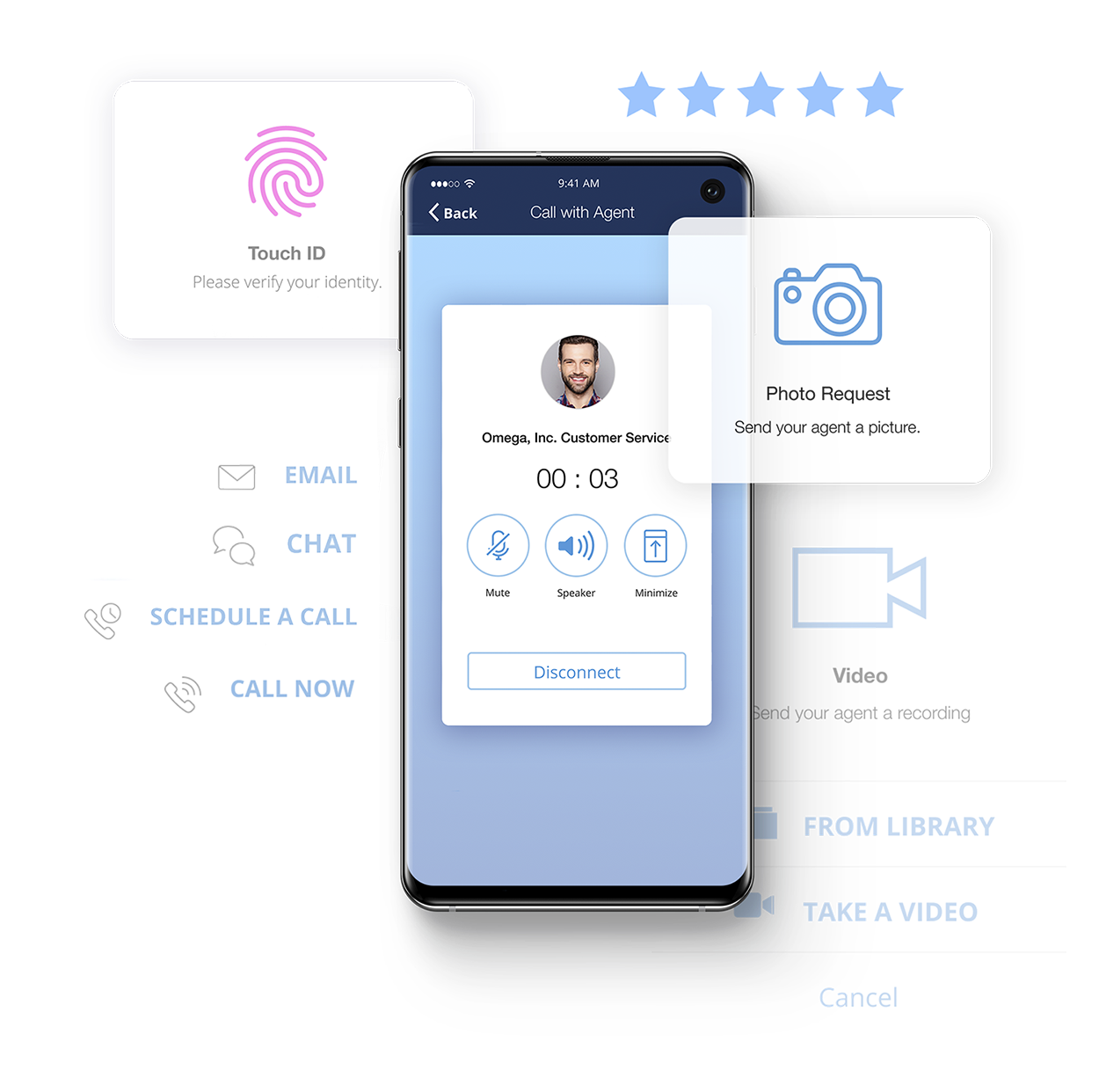 UJET is a customer support platform designed to help you interact with customers where they spend the most time: on their smartphones. With UJET, your team can utilize smartphone features such as fingerprint recognition and a camera to identify customers and direct calls and messages to the right agents. Users can even submit videos and pictures to help agents accurately define and address the problem.
11. Appointlet: Assist your customers with fast online scheduling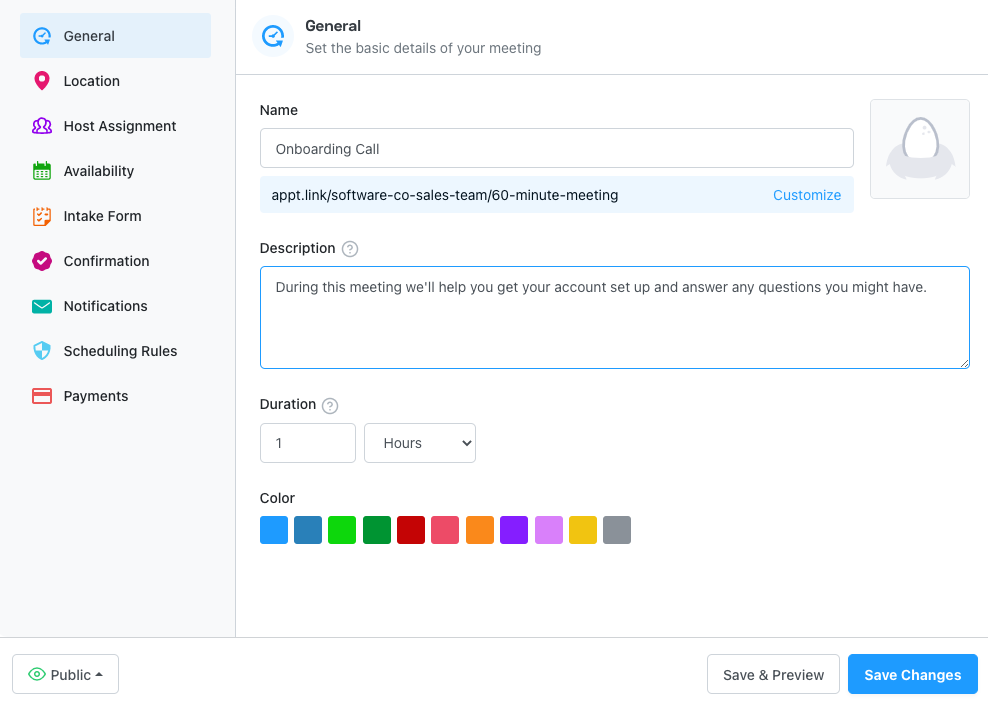 Appointlet is an appointment scheduling software that offers unique features for customer service teams, such as the ability to qualify customers who need 1:1 help with custom forms. Not to mention, you can sync prospect and customer data with your CRM. Scheduling difficulties are one of the leading causes of customer churn, but with a tool like Appointlet, all scheduling friction is removed so your team can focus on solving the problems at hand.
12. Zendesk Chat: Talk to customers in real time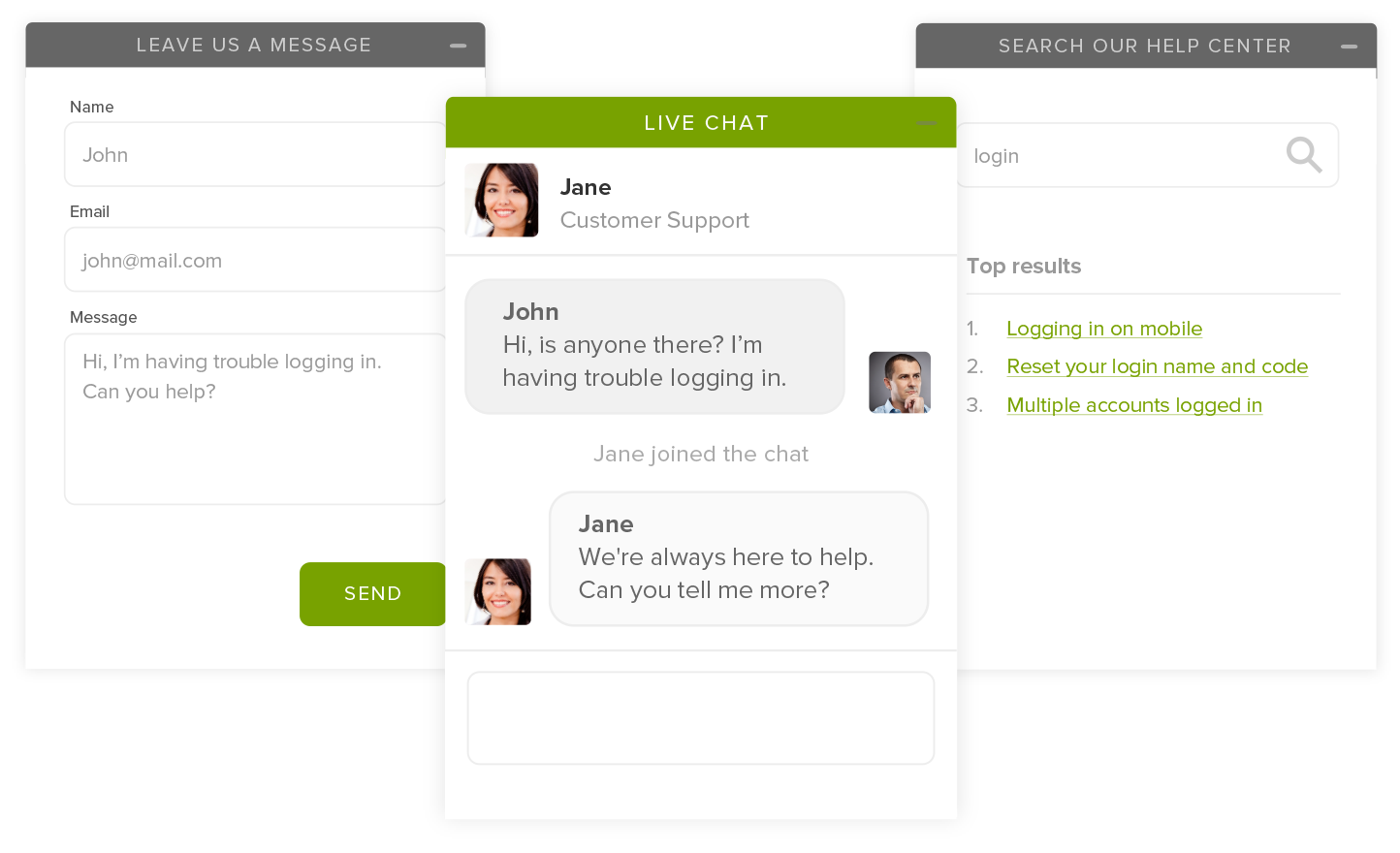 Zendesk Chat is a key part of Zendesk's suite of customer service products. With this tool, you can add a live chat feature to your website so customers can easily send messages and receive quick answers. If a potential customer has a question about a product,  you can resolve their concerns right away—potentially making the difference between a completed purchase and an abandoned cart.
Website creation and management tools
Site design and performance is critical for ecommerce companies—your website is the main place for customers to view items and make purchases. These ecommerce tools can help you improve your website's functionality and design to attract more visitors and showcase your products.
13. Photoshop: Curate beautiful product images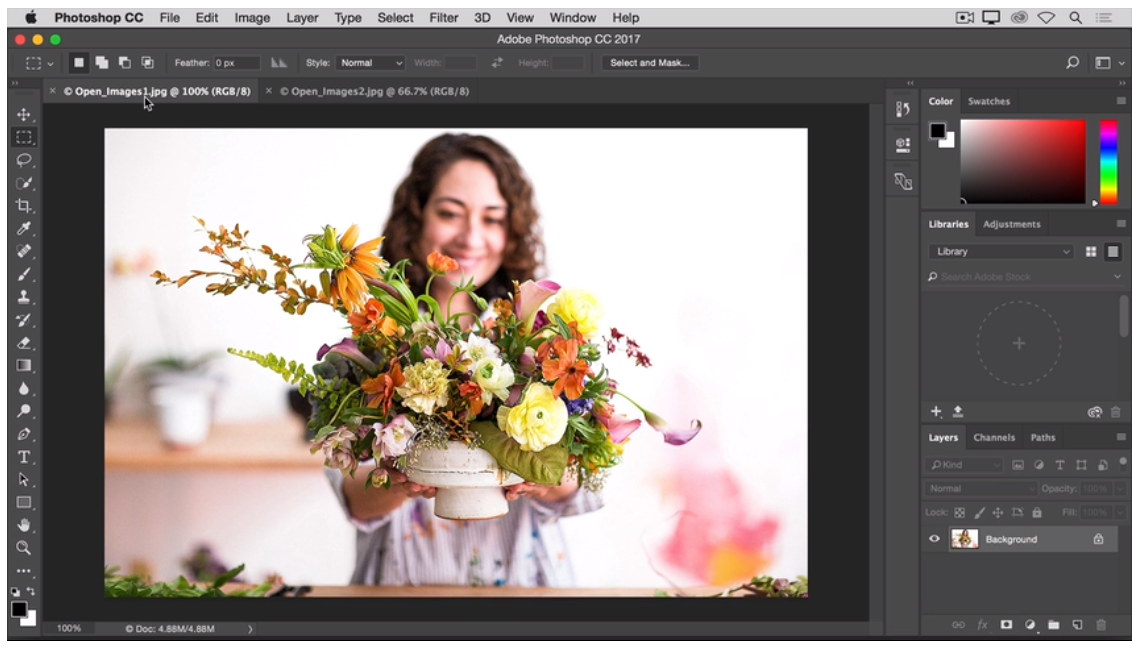 Photoshop is a photo-editing and graphic-design tool. Use this software to easily remove unwanted background images, touch up colors, create composite images, and more. The Baymard Institute found that product photos played a prominent role in shoppers' perception of quality: 56% of shoppers immediately looked through photos when landing on a product page, and low-quality pictures significantly lowered shoppers' perception of an item. Photoshop is ideal for creating eye-catching product images for your ecommerce store.
14. Sellbrite: Sell your products in major online marketplaces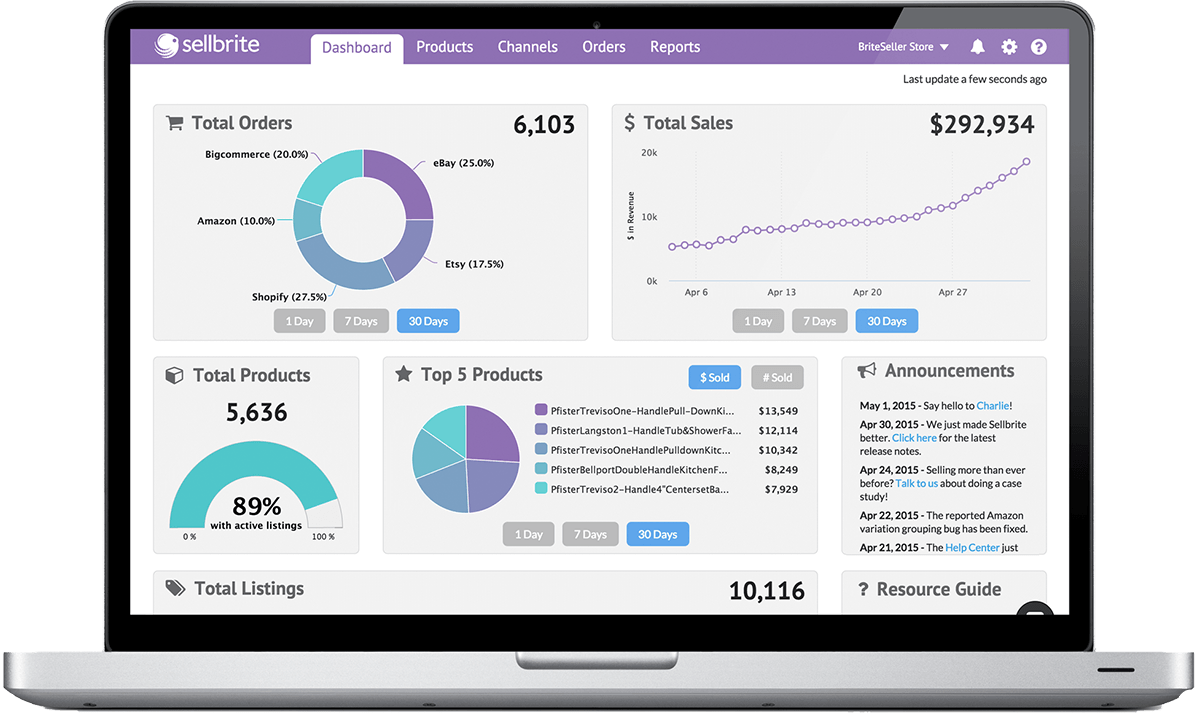 Sellbrite allows you to easily list and sell your products in major online marketplaces, like Amazon, Etsy, eBay, and Google Shopping, expanding your potential customer base dramatically. Sellbrite's analytics dashboard provides a single location where you can list and manage products, orders, and sales across multiple sites. You can even manage your inventory from the same dashboard.
15. Shopify: Manage your online store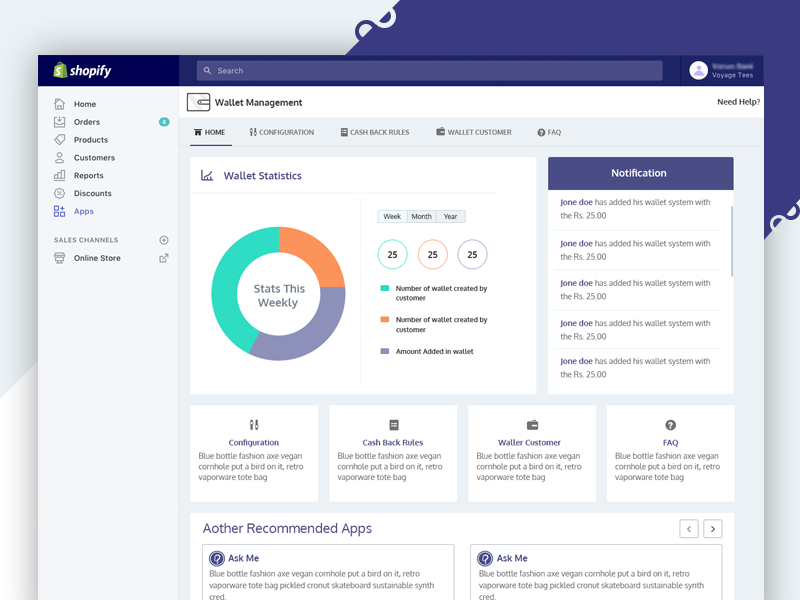 Shopify offers a one-stop shop for processing payments, tracking and fulfilling orders, and keeping an updated record of your inventory and customer data. Shopify is well-established and already has a payment infrastructure in place. Sellers who use this platform can easily process credit cards and accept payment in other forms, such as Shop Pay or other third-party payment platforms. By giving customers multiple payment options, Shopify sellers are less likely to see cart abandonment.
16. Syte: Enhance customer product discovery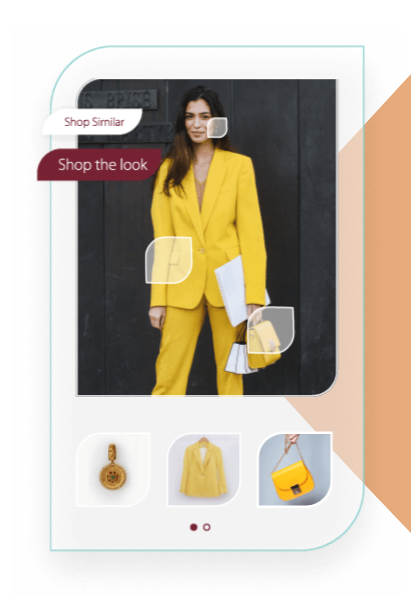 Syte is product-discovery software that integrates into your app or ecommerce store. It uses AI to offer personalized product recommendations based on your customers' shopping and search habits. The tool guides people to products they may not have discovered on their own. Syte customers regularly see boosts in conversion rates and average order values as the software suggests products aligned specifically with each shopper's tastes.
17. Webflow: Design your ecommerce website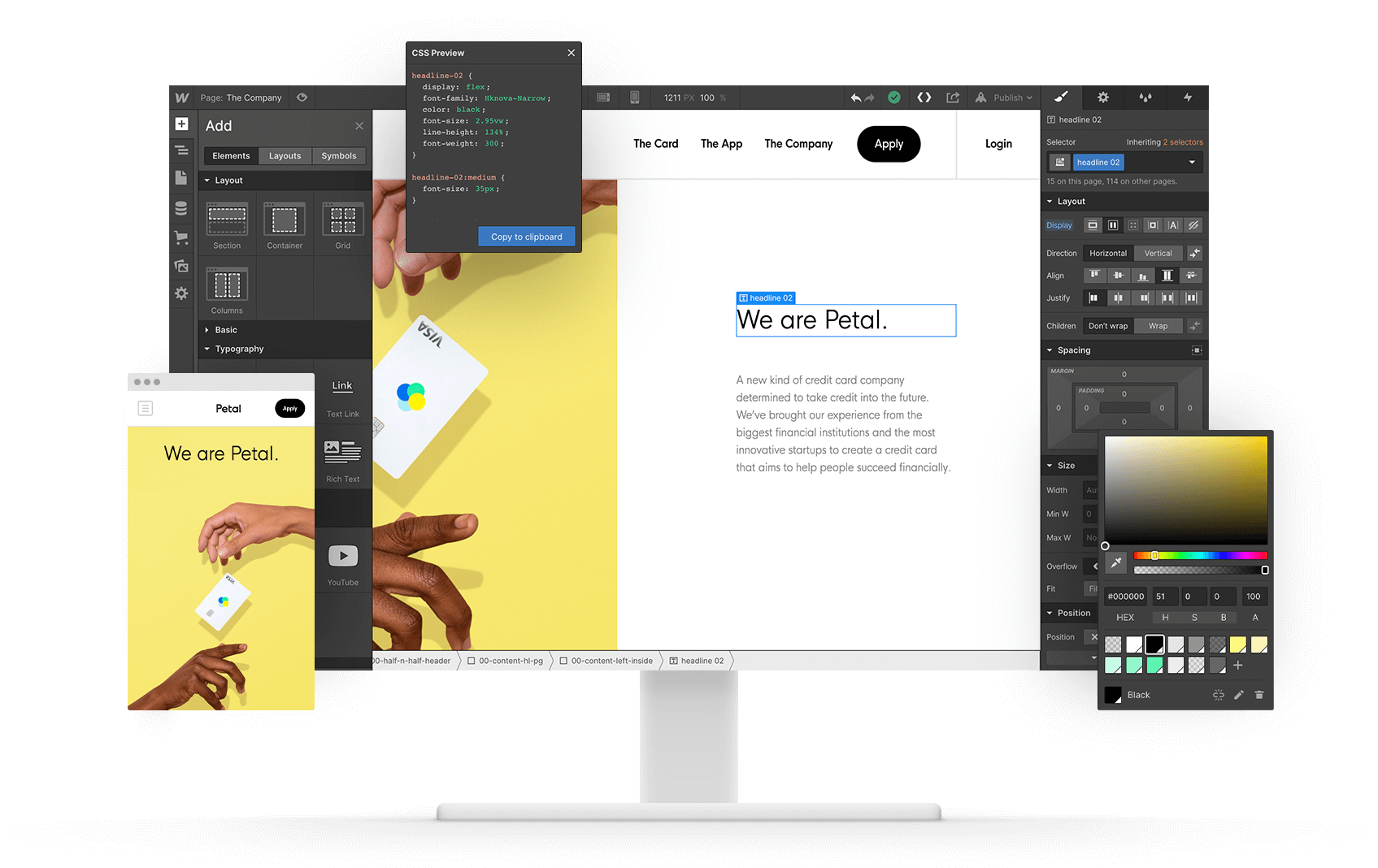 Webflow's ecommerce platform is ideal for designing a unique, aesthetically pleasing website. Its customizable product fields, cart, and checkout will help you create a consistent branded experience for every part of the shopper's journey. You can also use Webflow to create custom emails, making it simple to have consistent colors and branding across all touch points with your customers.
Social media management tools
Whether you're running paid social media campaigns or relying on organic posts to attract people to your store, social media management tools can give you insight into what your customers want and can save you time and effort in the process.
18. AdEspresso: Optimize your social media ads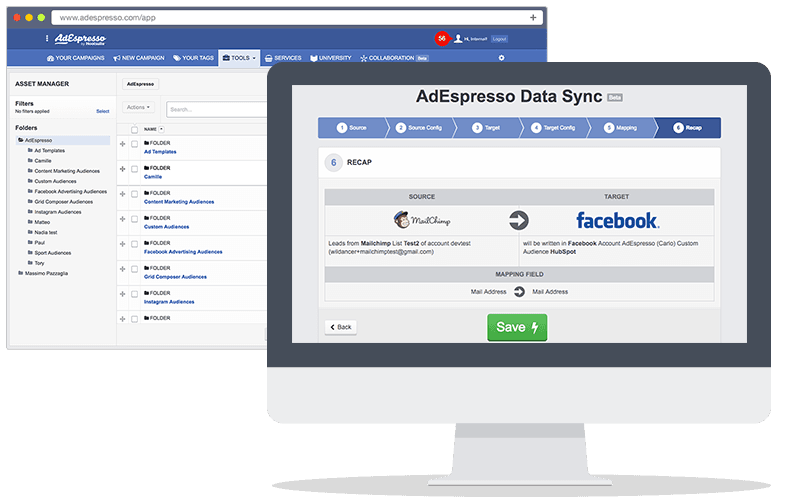 If you run ads on social platforms—like Facebook, Instagram, and Google—AdEspresso's social media management platform is an invaluable ecommerce tool. Use it to create and manage advertising campaigns, optimize them to increase clicks and conversions, and monitor analytics to see what is (or isn't) working.
19. Buffer: Automate your posting schedule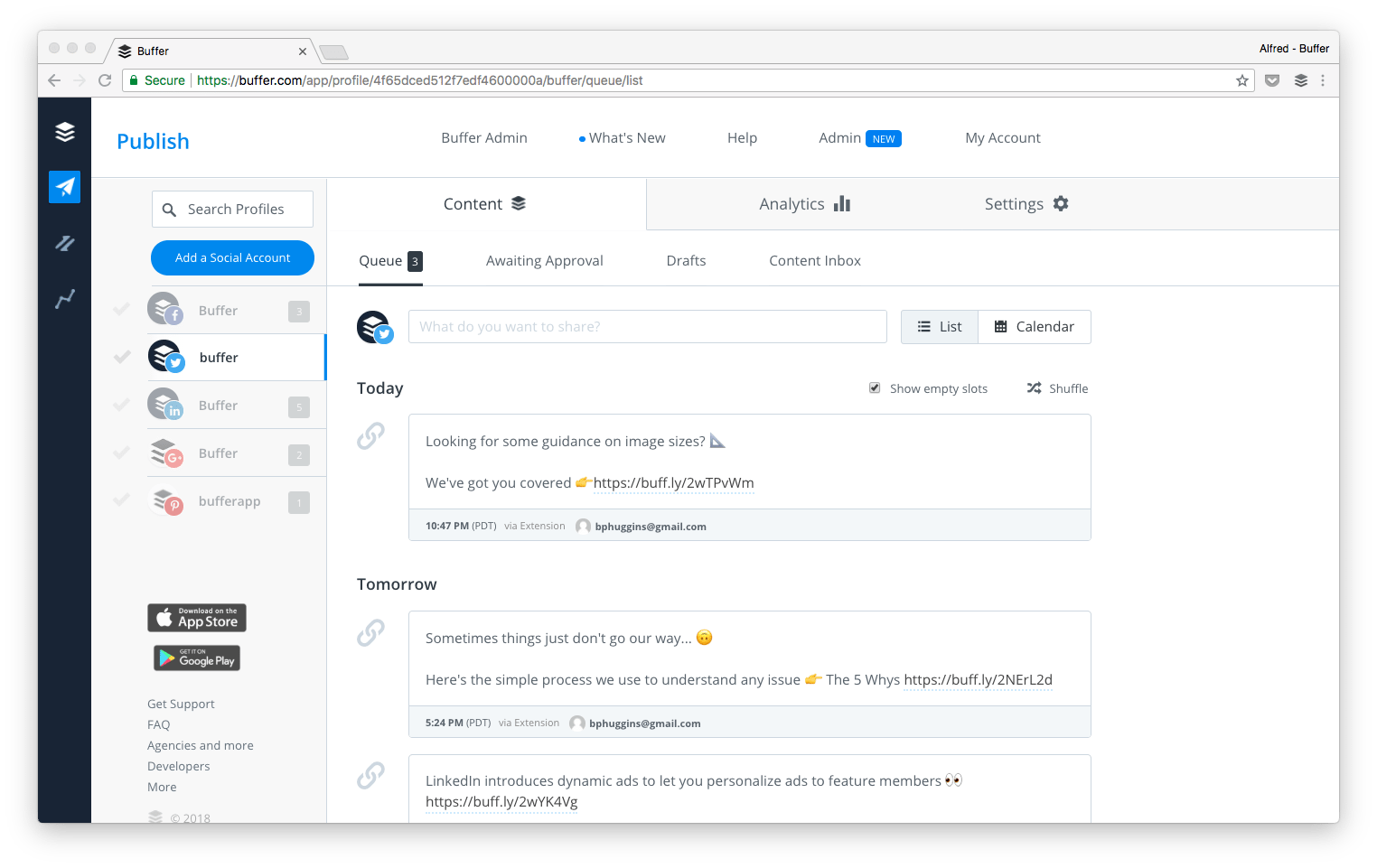 Buffer's social media scheduling tool enables you to create posts in batches and schedule them to publish at later dates. That way, you can publish regularly to keep your audience engaged, but you don't need to set up posts every day. Buffer also has analytics to help you see what types of posts or products resonate best with your audience on each platform.
20. Shakr: Design eye-catching videos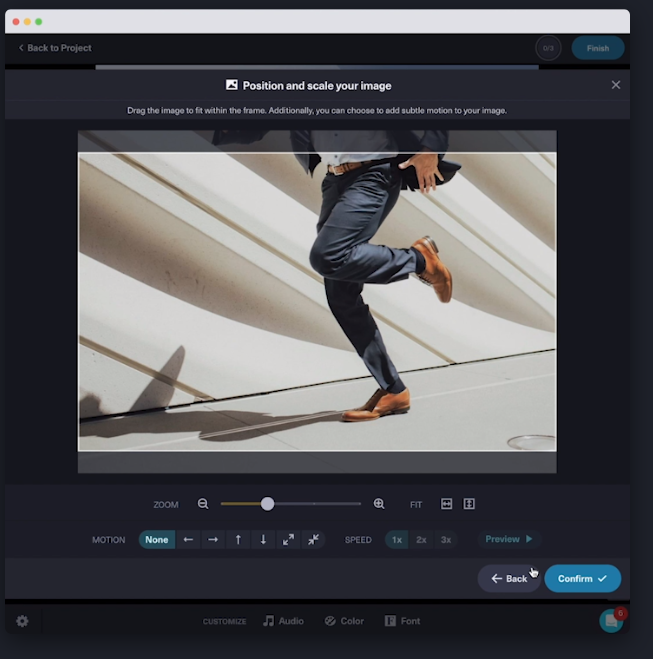 Shakr is a video-creation platform with templates and editing tools to help you design high-quality videos for your ads, website, or social media. The majority of mobile data traffic worldwide is from video, so creating unique, quality videos is vital to helping your brand stand out.
Marketing ecommerce tools
You know what sets your products apart from the thousands of listings out there, but how do you get that information in front of potential customers? Marketing is vital for spreading the word and growing your ecommerce business. When identifying the best marketing ecommerce tools, consider the types of campaigns you plan to create and your main goals for each one.
21. Alexa: Research effective keywords
One method for increasing traffic to your site is ecommerce search engine optimization (SEO). This is when you optimize your pages so that when shoppers type specific keywords, like "tennis shoes," your page shows up at the top of the search engine results page. Alexa's keyword research tool can help set you on the right track for your keyword-based campaigns. Use it to identify the best keywords to drive traffic to your site, look at the keywords your competitors are targeting, and increase conversions by finding and targeting buyer keywords.  
22. Bazaarvoice: Create sampling campaigns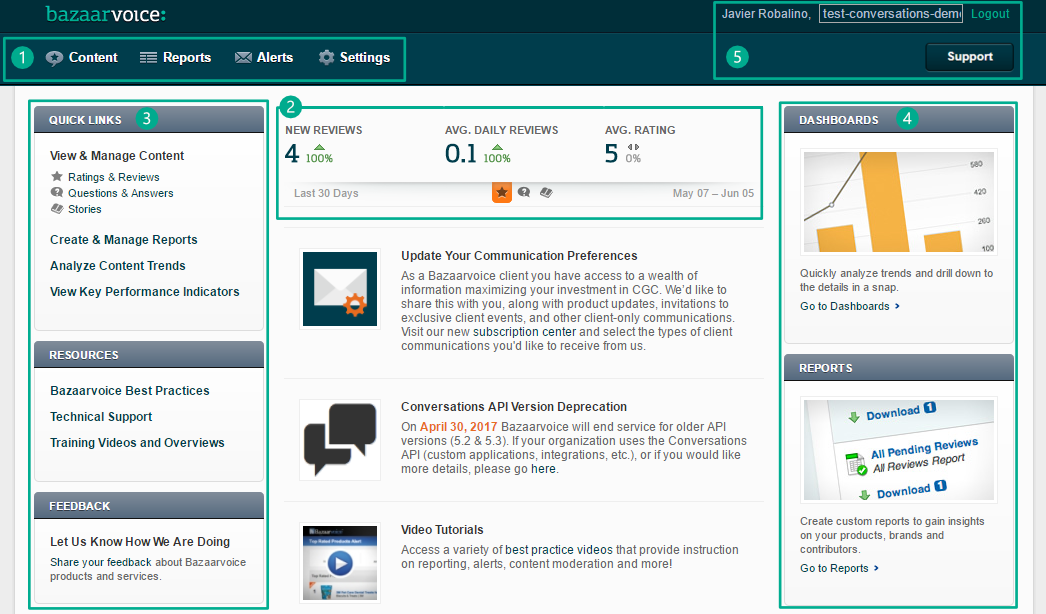 Bazaarvoice can help you create and manage sampling campaigns, sending product samples to engaged members of your target demographic to encourage them to leave reviews and purchase more of the products they enjoyed. Bazaarvoice leverages its product reviewer community to match you to the best target audience for sending samples. That way, you can maximize high-quality reviews and tap into social proof without wasting product samples on people who aren't genuinely interested in purchasing the product.  
23. Criteo: Retarget website visitors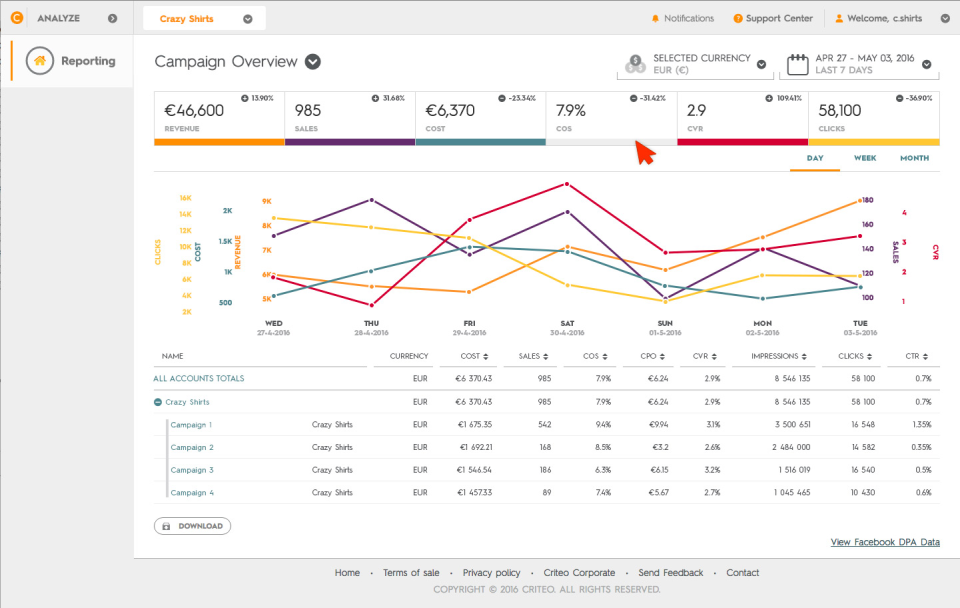 Criteo is advertising management software with a dynamic retargeting option. It personalizes ads for your customers so they see product recommendations related to items they have viewed in the past. This dynamic retargeting shows shoppers ads for products they are interested in, increasing the odds that they will click through and make a purchase.
24. Extole: Build a referral program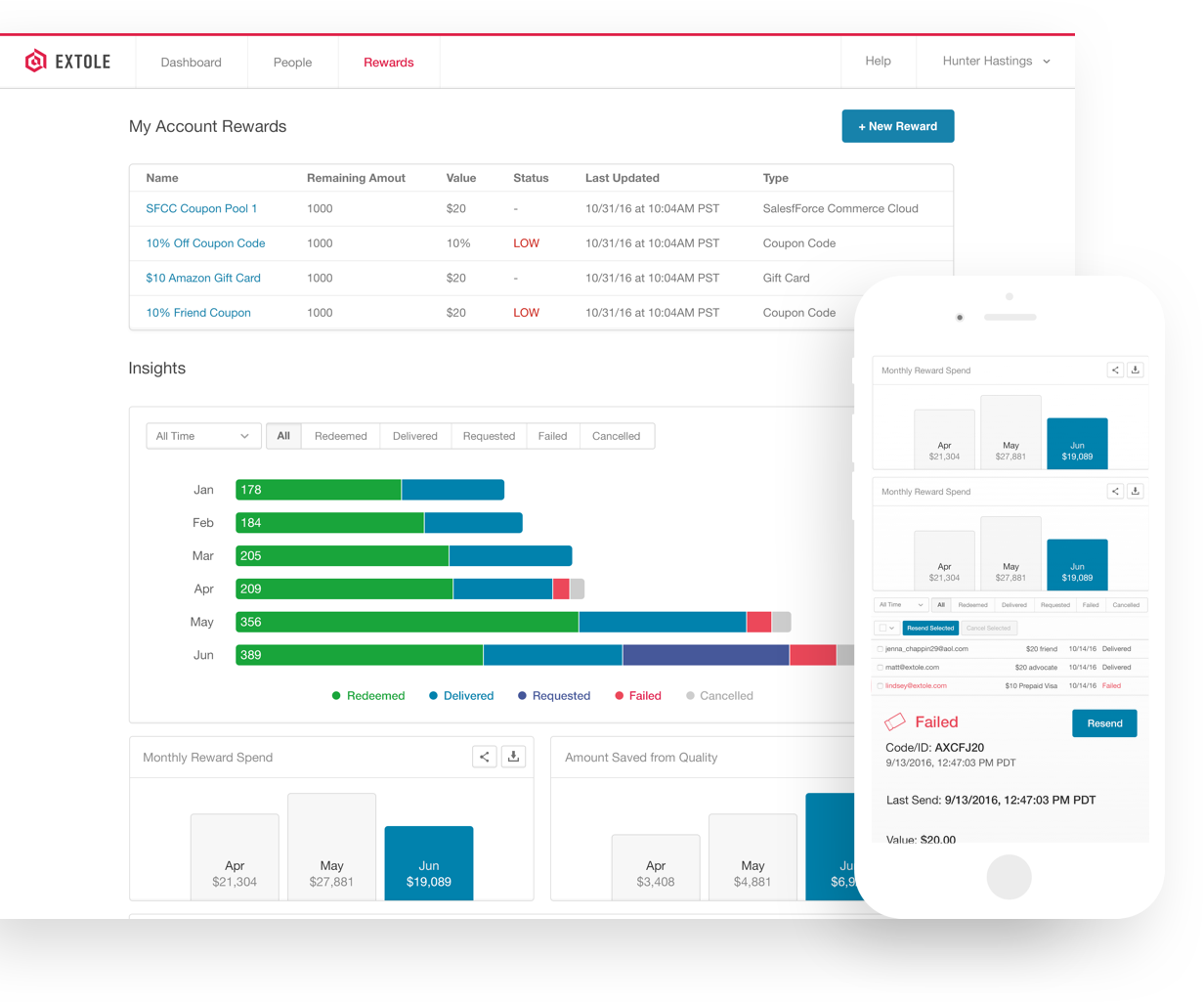 Extole helps you increase your potential viral coefficient by creating a branded referral program. With this ecommerce tool, you can design and offer unique rewards to current customers for referring their friends and family or sharing recommendations on social media. Extole's platform ensures your branding stays consistent throughout every aspect of the program.
25. Google Ads: Create search-optimized campaigns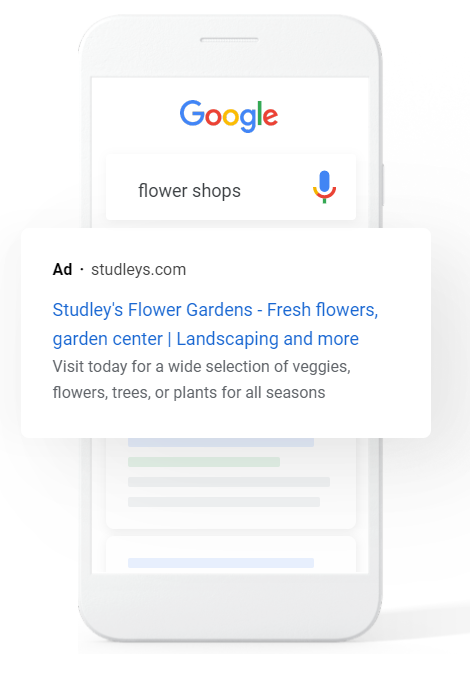 Google Ads offers a platform to help you create and optimize ad campaigns so that your ads are the first thing people see when they search for your target keywords. Google Ads may be limited to Google searches, but since Google holds almost 70% of the market for search engines, that still puts your product in front of the majority of people looking up your key terms.
26. Jilt: Upgrade your email marketing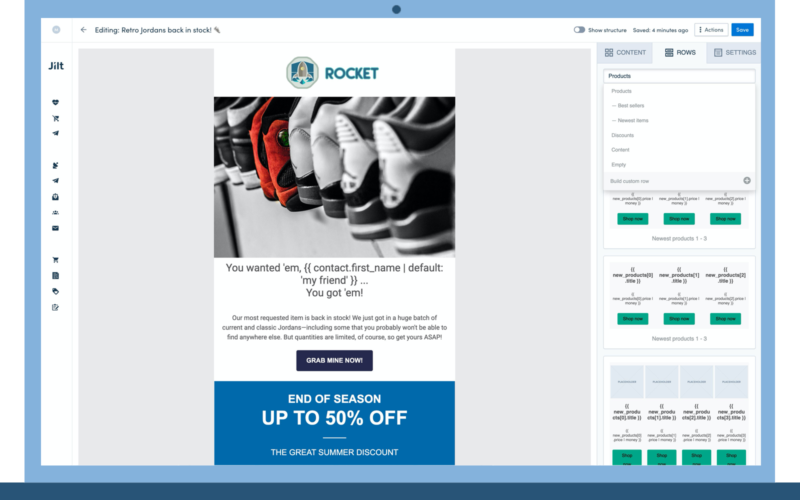 Jilt is an email marketing platform built with ecommerce stores in mind that you can use to easily design eye-catching newsletters. The tool has scheduling and segmentation capabilities as well, so you can create different newsletters for each subset of your target audience and send emails when customers are most likely to open them.
27. Optimizely: Leverage A/B testing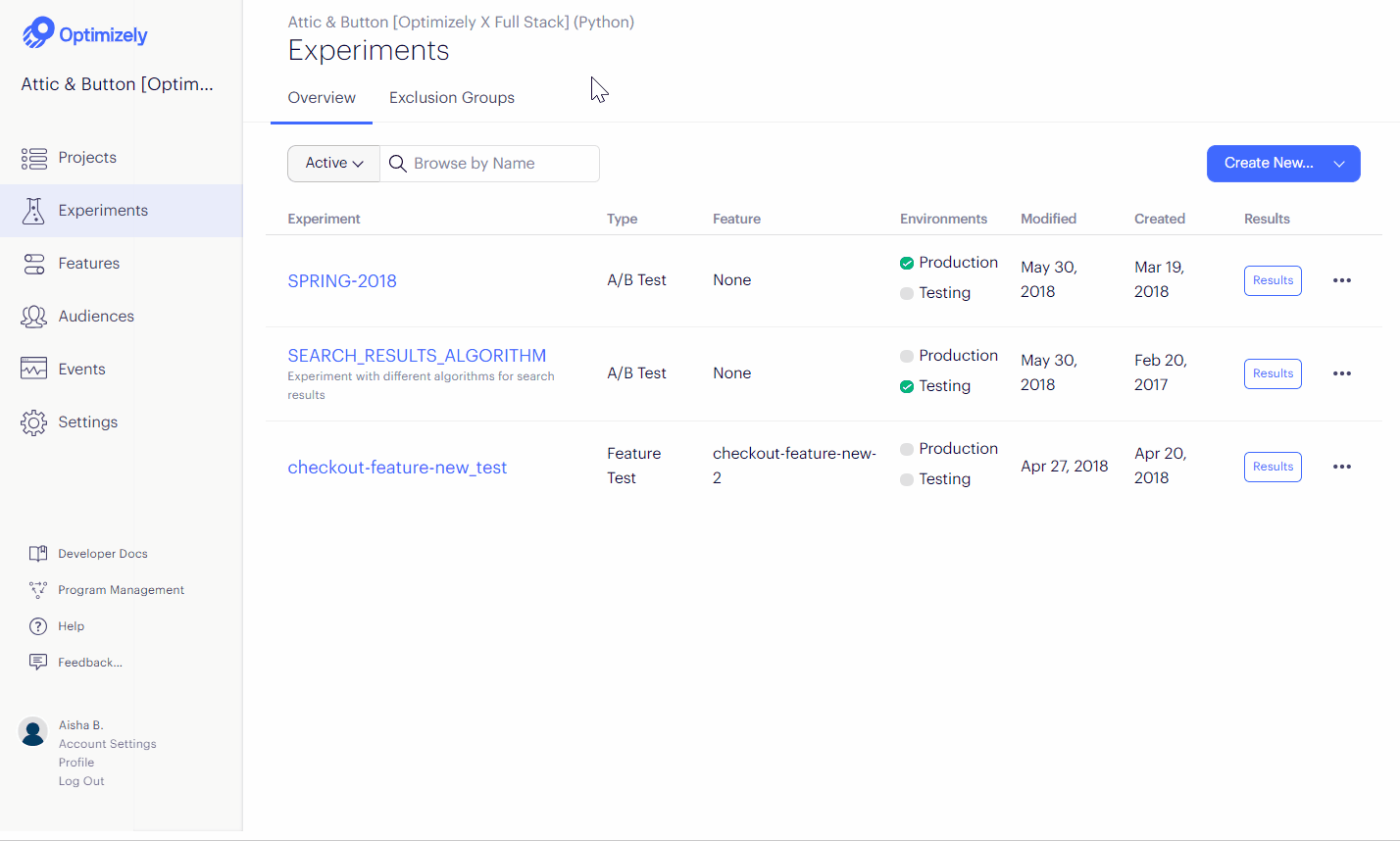 Optimizely is an experimentation platform that lets you test multiple versions of your checkout design, landing pages, or product pages to see what resonates best with your customers. You can adjust different aspects of the page until you find the version that leads to the highest click-throughs and conversion rates.
28. OptiMonk: Generate new leads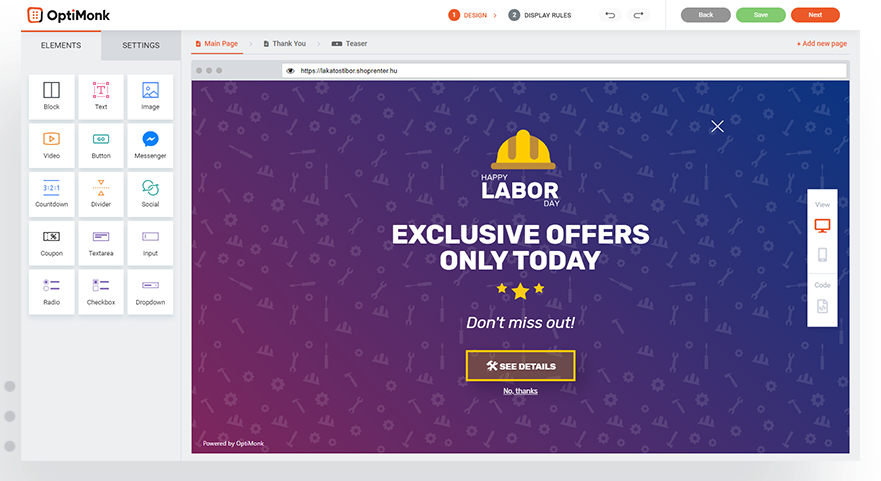 OptiMonk offers tools for lead generation, including methods for growing your email and phone lists and connecting with potential customers on Facebook Messenger. For example, with OptiMonk, you can design eye-catching signup banners for your website to capture emails from warmed-up leads who may purchase at a later date.  
29. Taplytics: Automate your marketing efforts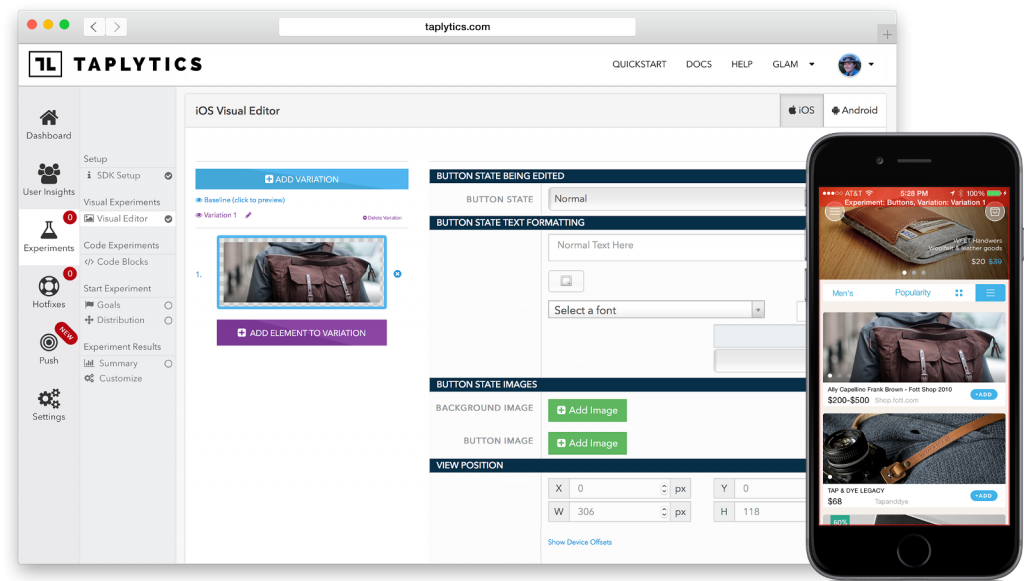 Taplytics' marketing automation software helps you scale your ecommerce business with less effort by automating everyday marketing tasks. You can automatically email customers about product launches, send personalized recommendations when a customer views a certain product, and send special offers to attract inactive customers.
30. Yotpo: Collect and display customer reviews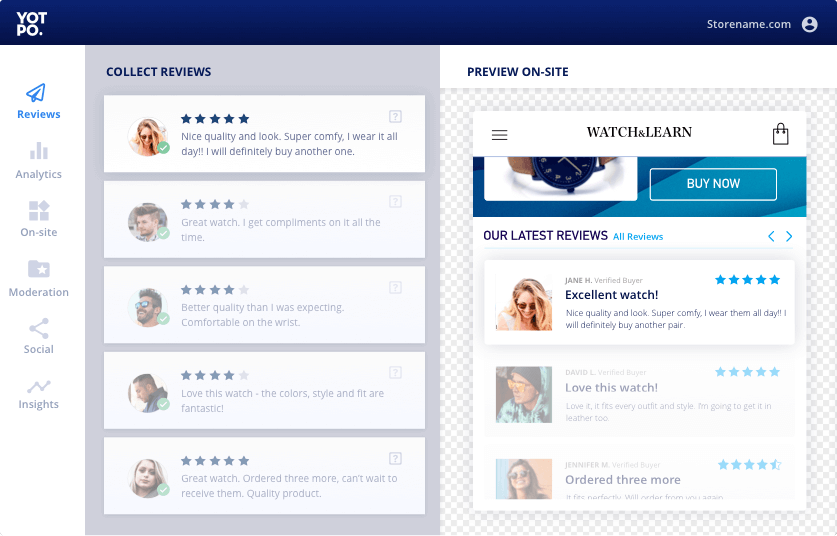 Yotpo is an ecommerce marketing platform that simplifies the process of collecting and posting customer reviews. Use this tool to set up automated review request emails for when a customer makes a purchase. You can also optimize and customize the options for customers to leave reviews on your website and mobile app. Showcase your reviews to help build trust in your product and encourage new customers to buy from you.
Competitor and customer research tools
Businesses have made great strides in seeking direct input from customers to find out what they want, but as your customer base gets bigger, this becomes more difficult. Research-focused ecommerce tools simplify the process of learning about your customers (and your competitors), so you can concentrate on putting that data into action in your product development and marketing.
31. Formspree: Build unique customer surveys
Formspree is a form-building tool that helps you design engaging feedback forms. It even offers tips for creating forms in fun, unique formats, such as quizzes or calculators. Formspree offers JavaScript- and HTML-based forms, as well as simple pop-up forms, enabling you to create completely customized surveys that visually match your branding. By using this tool, you can collect information directly from the customer about their preferences and opinions and then use their feedback to guide your product updates and marketing campaigns.
32. SpyFu: Run a competitor analysis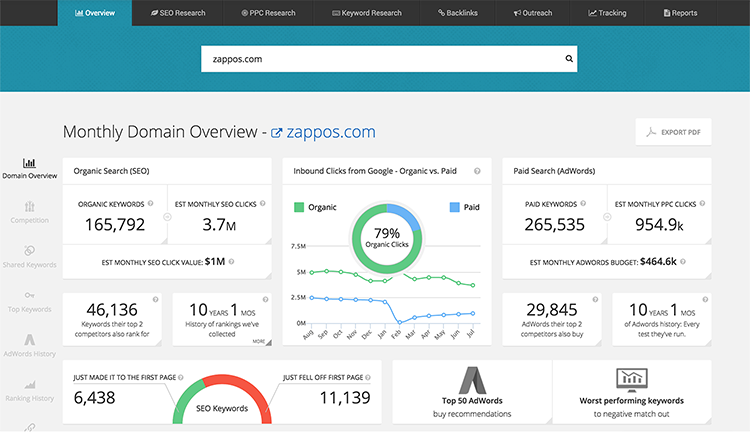 SpyFu is a keyword research tool that includes several useful features for competitor analysis. Using SpyFu, you can identify your top competitors and find out what their top keywords are, including ones they rank for that you don't. You can also identify your competitors' top pages and figure out what they are doing to bring more traffic to their site.  
Financial ecommerce tools
These ecommerce tools can make it easier to manage customer payments and stay on top of your financial situation. They also help make purchasing easier for customers—which can lead to more conversions.
33. Bread: Enable customers to pay over time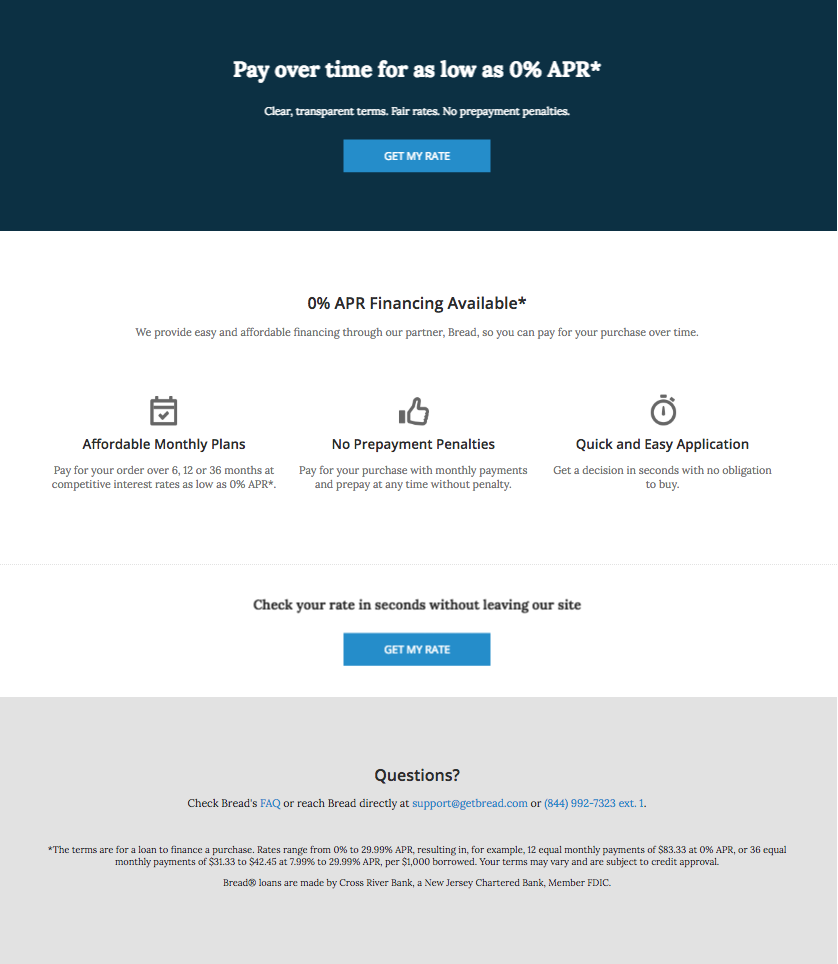 Bread is a payment management platform for offering pay-over-time options to customers. By allowing shoppers to pay in installments, you have a better shot at selling big-ticket items. Bread's platform helps you manage the process from start to finish and offers templates for displaying payment options on your website.
34. QuickBooks: Manage bookkeeping and accounting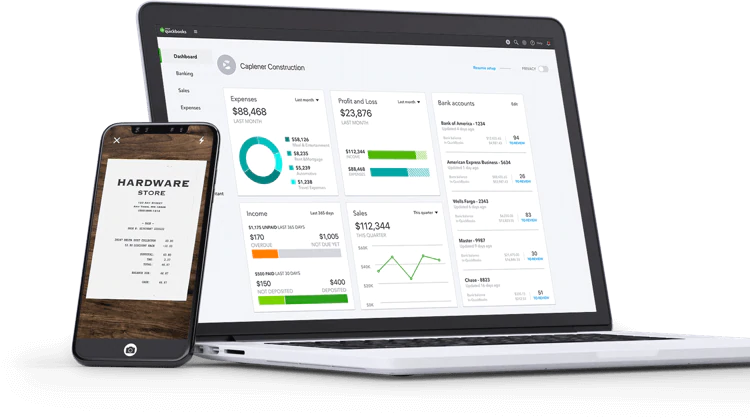 QuickBooks is one of the most popular accounting tools across industries. It is all-in-one accounting software specifically designed for small businesses. Use QuickBooks to track expenses and revenue, save receipts, track mileage for your delivery drivers, and even manage payroll.
35. Stripe: Process online payments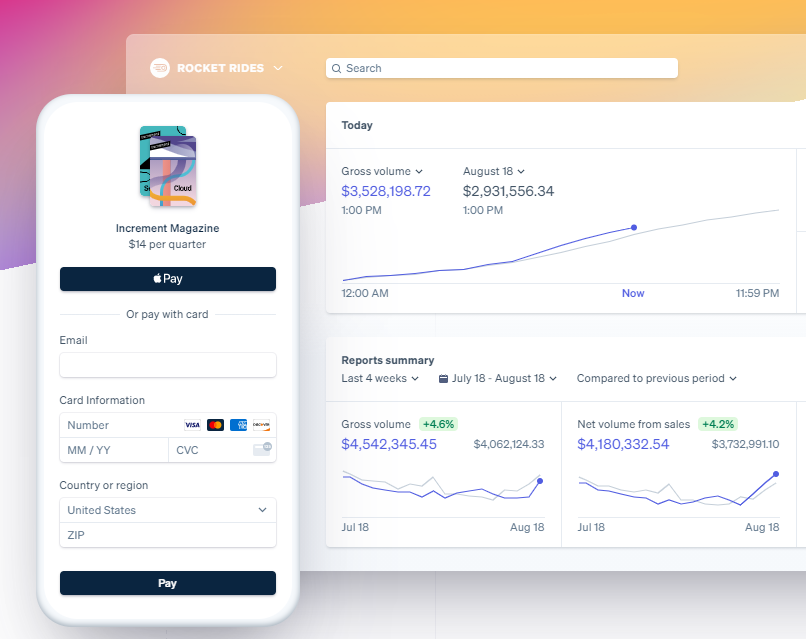 Stripe's payment processing tool enables you to accept payments on your website or app. With Stripe, you can let shoppers use their preferred payment method. Customers can use any major credit or debit card, along with branded payment methods, like Apple Pay and Google Pay.
Ordering and shipping tools
Last, but certainly not least,  ecommerce tools can simplify the ordering and delivery process, so customers get exactly what they want with as few complications as possible.
36. Airhouse: Outsource your fulfillment needs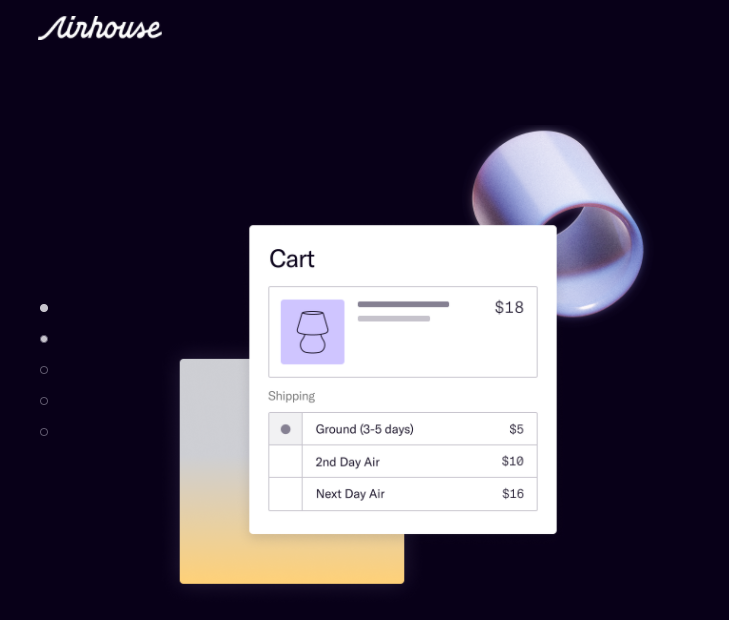 Airhouse, a fulfillment company for direct-to-consumer businesses, is an excellent tool to consider as your company grows and expands its inventory and shipping needs beyond what you can easily manage in-house. Once a customer places an order, Airhouse handles picking, packing, and shipping. Its software is easy to integrate with your online store, so you can track orders and shipping information and monitor your inventory.
37. OptimoRoute: Schedule and optimize deliveries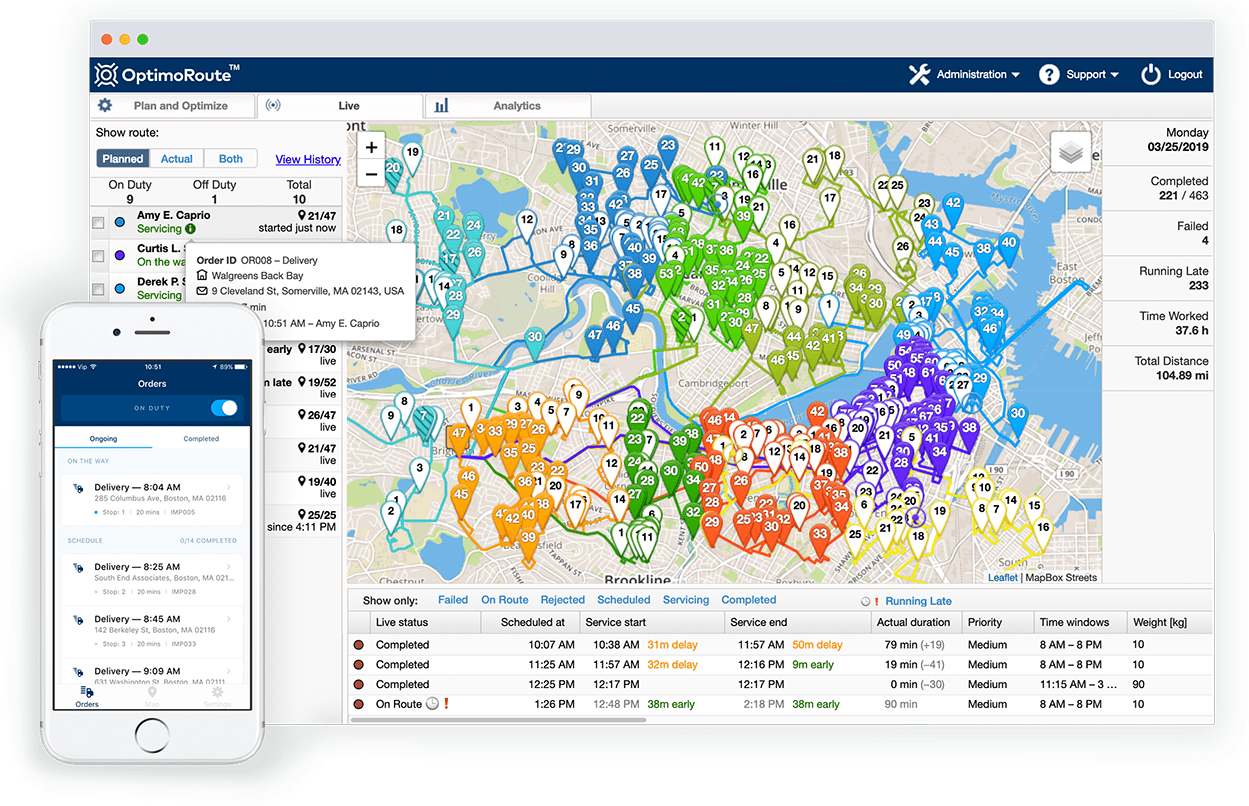 If you have an internal delivery team, OptimoRoute can help you plan and schedule the most efficient routes to ensure timely deliveries. This tool removes the guesswork from  planning by accounting for vehicle capacity, planned returns for reloading, and employee schedules and breaks.
38. ShipHero: Manage in-house orders, shipping, and returns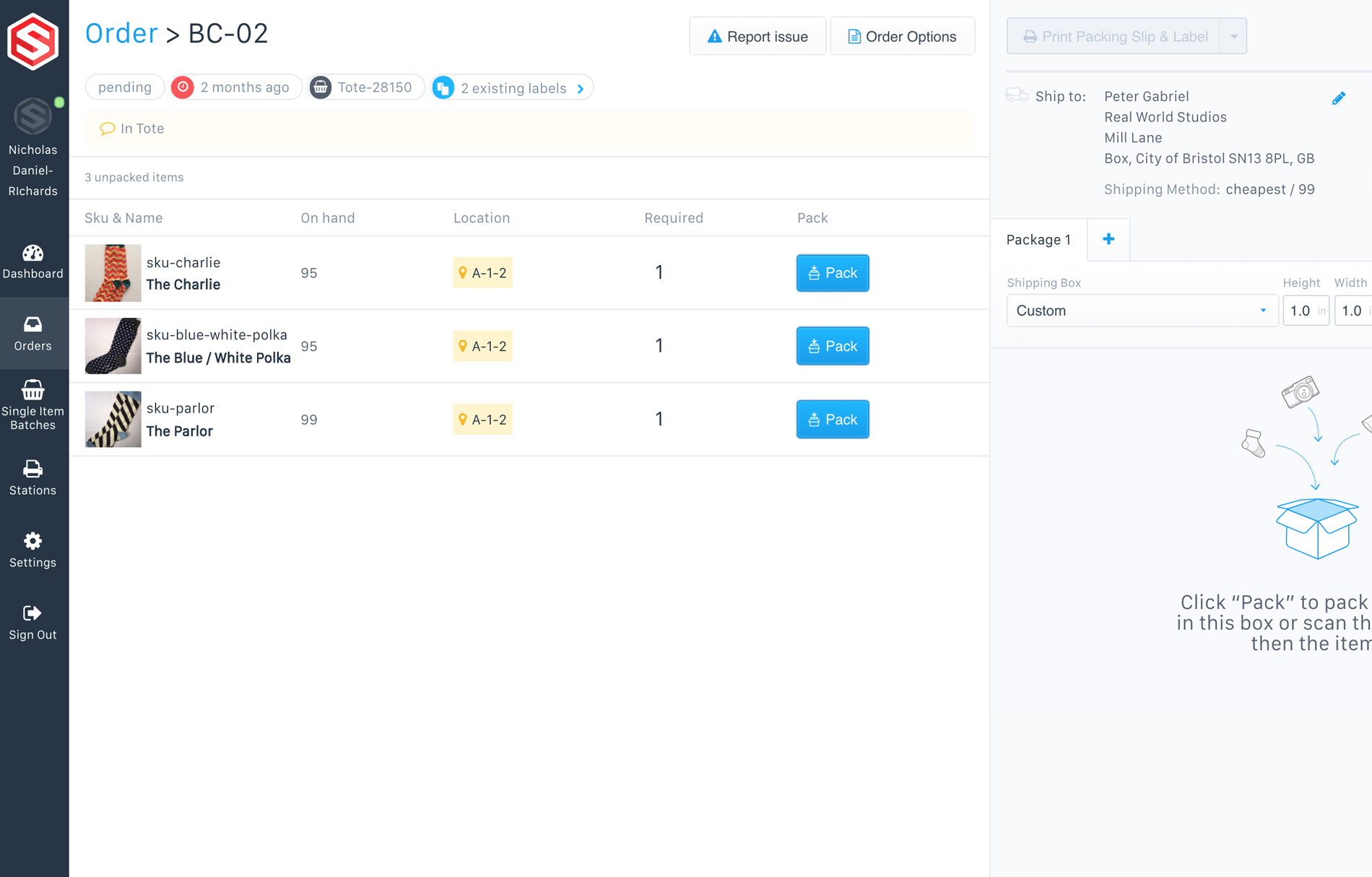 ShipHero offers fulfillment-services software to help ecommerce businesses manage their own orders and deliveries, without outsourcing to a third-party fulfillment company. The software integrates with a variety of platforms, including Shopify and Amazon, so you can track orders from multiple sources. ShipHero also has tools to help your customer service team update order statuses and manage returns.
Choose the right ecommerce tools for your team
Now that you've seen the variety of ecommerce tools available to you, talk to your team to find out which ones are the best fit for your business. Survey your marketing, customer service, and other departments to find out what areas they struggle with, and then review this list to see what tools might help solve their problems.