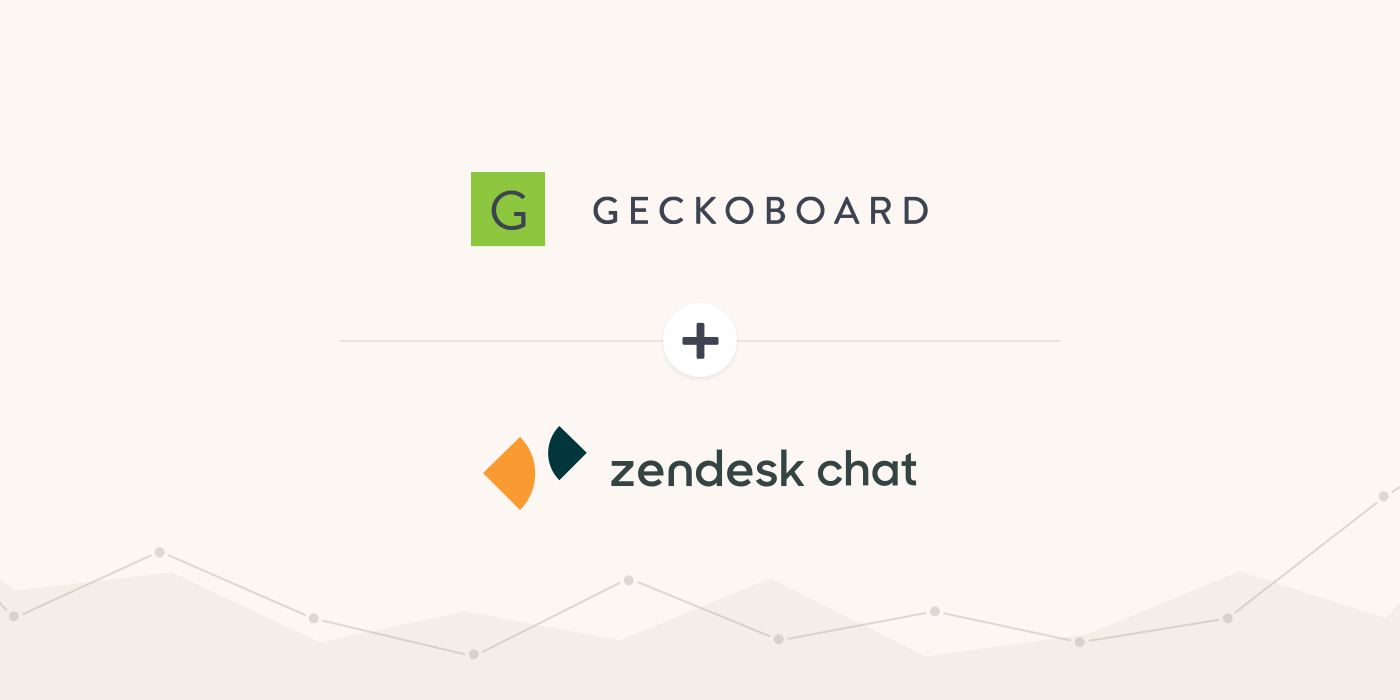 Customer service is changing.
Gone are the days when it was perfectly acceptable to respond to a customer in a day or two. Nowadays, whether you're selling cars, consulting, or carrots, customers expect fast, friendly resolutions to their problems in minutes, not days.
Thankfully, over the past 11 years Zendesk has been making it easier than ever for organisations of all shapes and sizes to have better, more efficient and more personal conversations with their customers, whether that's through email, over the phone or via live chat.
Recently we've been excited to hear how our new Zendesk Support and Talk integrations have helped teams be more responsive to changing ticket and call volumes, have better awareness of their performance in real time, and build appreciation for their hard work across their organisation by displaying live metrics using Geckoboard.
That's why today we're thrilled to be adding a Zendesk Chat integration to the mix that makes it a breeze to see live metrics from all your Zendesk channels in one easy-to-understand TV dashboard.
Now no matter how your customers are getting in touch with you, your agents can know which channels need their attention most and make customers feel like rockstars with lightning-fast response times.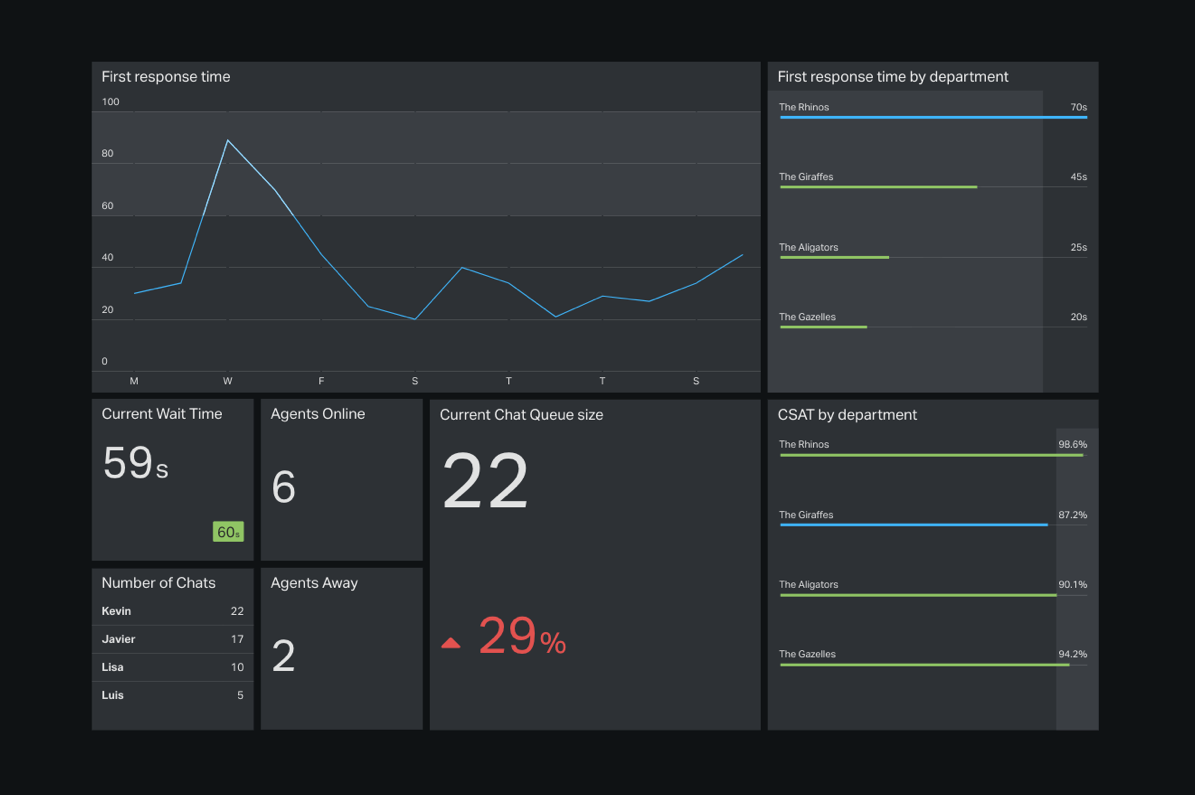 Understand how your support channels are performing right now
Our new Zendesk Chat integration allows you to quickly and easily add live Chat metrics to your dashboards to give full visibility of what's going on across all your support channels at a glance.
Using the same intuitive interface as our Support integration, it's effortless to create easy-to-understand visualizations and leaderboards that clearly communicate metrics like average first response time, chat duration, current queue size and number of agents online.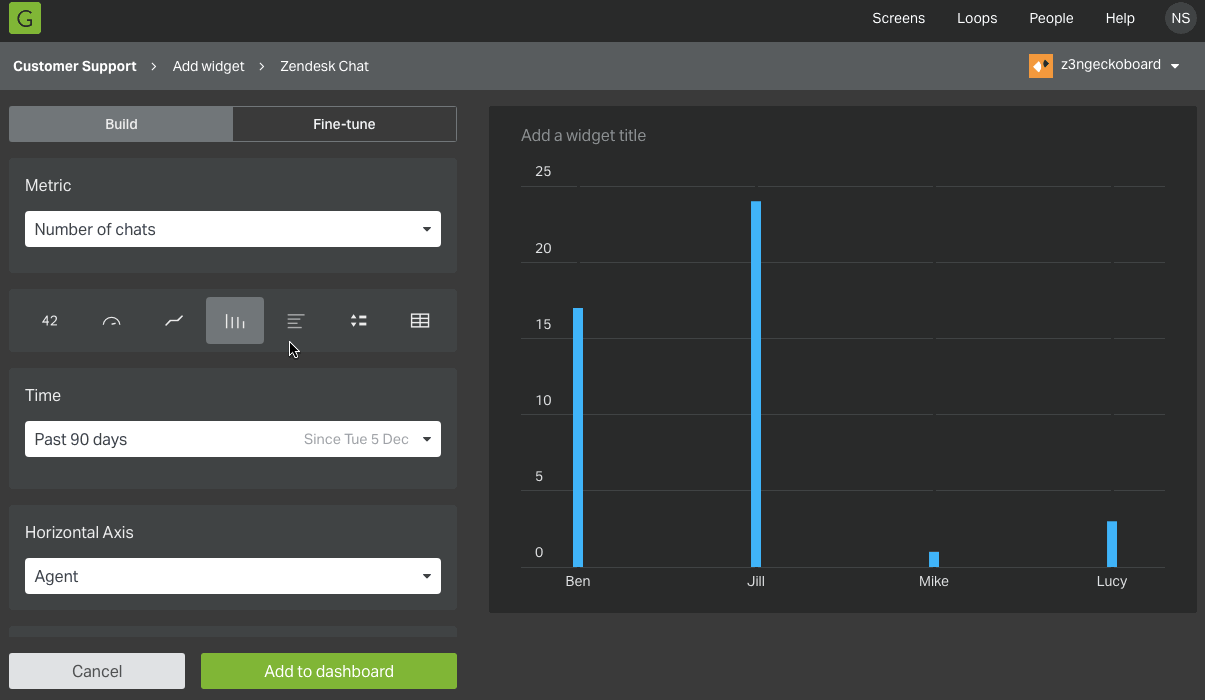 Customize to your needs
We've provided a number of time-saving presets to help get you up and running with the most popular metrics from Chat in seconds. But since every team is unique, we've got a whole raft of powerful filters that give you control over the finer details. Easily dial your metrics in from being a high-level overview of team performance, right down to specific departments or agents.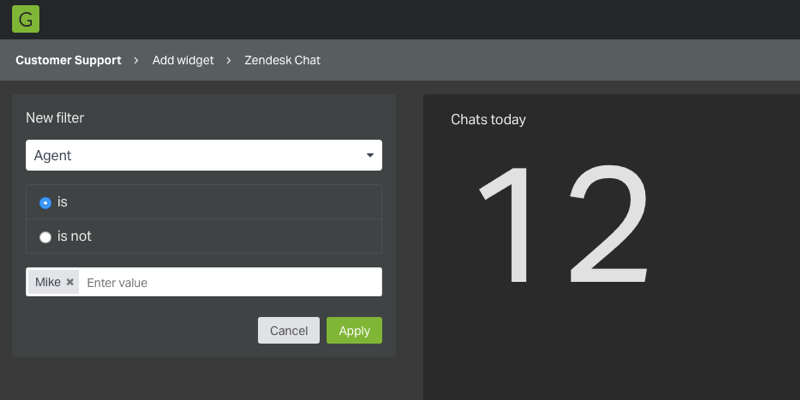 One up-to-date dashboard for all your key support metrics
Support agents rarely have the chance to get visibility on what's going on outside of their current stream of work throughout their day, so making informed decisions over when to switch focus to another channel to help customers or a colleague out is tough. Sure, it's possible to pull reports and dig in to find out what's causing bottlenecks and inefficiencies, but in the words of Cory Archer, Director of Support at Databank IMX, "that's great for yesterday, but I'm interested in today!".
Our Zendesk Chat integration sits alongside our integrations with Zendesk Support and Talk, as well as over 60 other integrations with services like Google Analytics, Twitter and Pingdom, to enable support teams to instantly see up-do-date metrics in one glanceable view.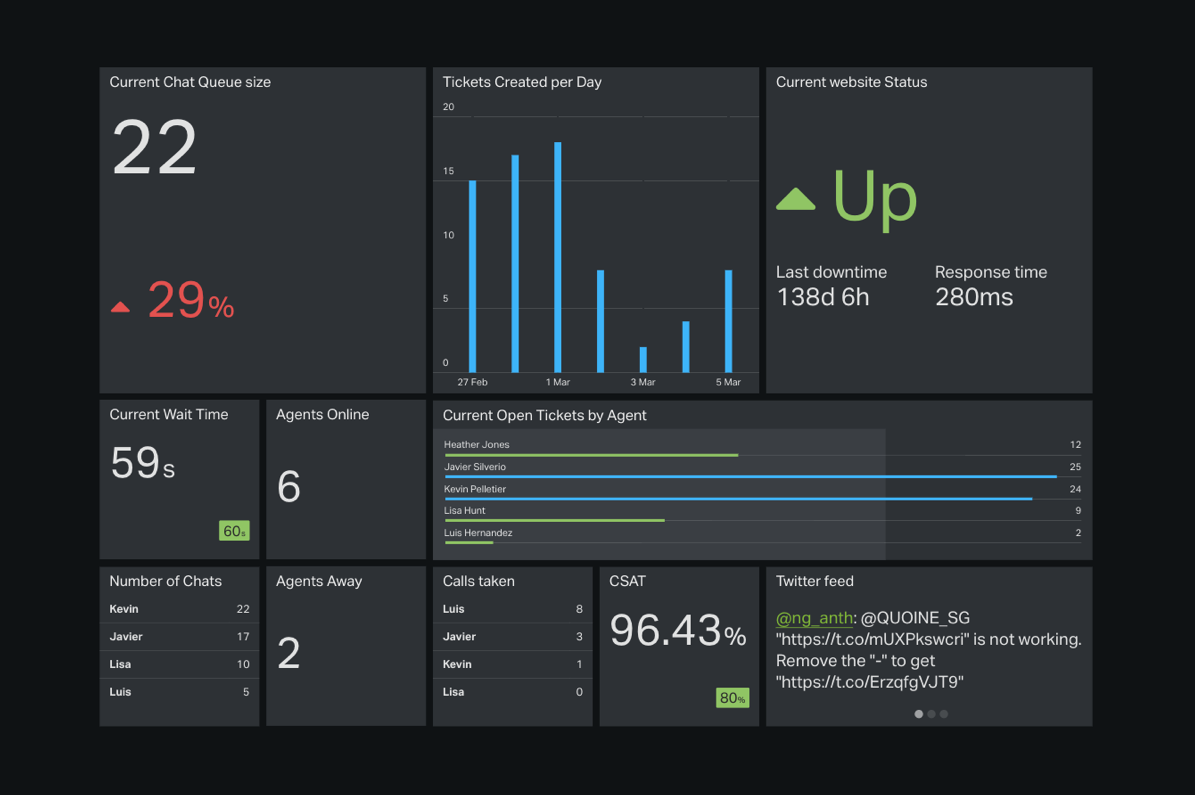 Our Zendesk Chat integration is available starting today. Simply log into Geckoboard or sign up for a free 30 day trial to start building your first Zendesk Chat dashboard in minutes!
NB: Real time metrics are only available to users on Zendesk Chat's Enterprise plan