Ever wish you could crawl under a rock when someone mentions a 'mandatory integration' of a new software solution? You're not alone.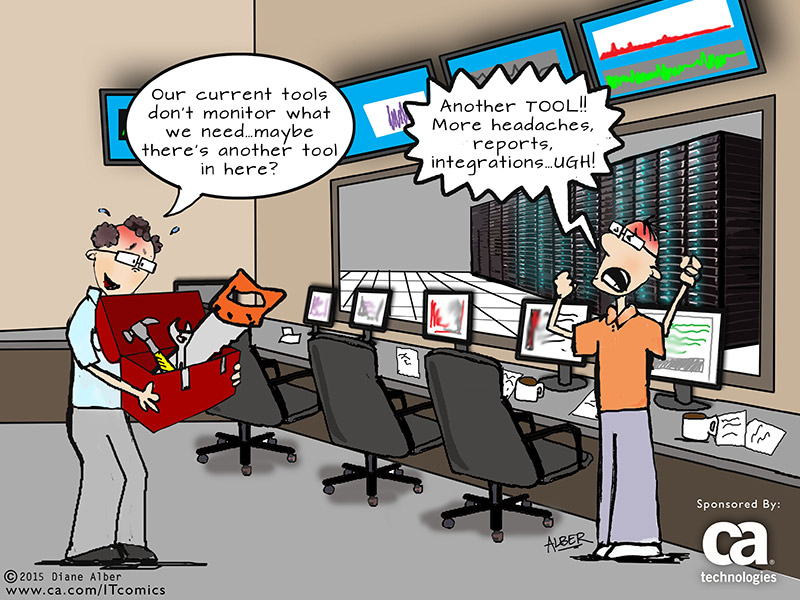 *(Source: Kip and Gary comics)
As grand and innovative and effective as a new software might be (ahem, Salesforce), the integration process can often be draining - usually because implementation was an afterthought. Don't let this happen at your company! Here are six steps to make your Salesforce implementation pain-free AND successful. (Check out the handy checklist at the bottom of this post!)
6 Steps for Successful Salesforce Implementation
1. Plan your integration. Planning is always paramount for successfully completing a project - in this case, integrating Salesforce at your company.
First, define the specific objectives and outcomes of this integration. Why are you switching to Salesforce? What sales metrics do you hope to improve by using Salesforce? In what ways will your pipeline management improve? What adoption percent would make this integration a success? Answering these big picture questions will provide direction for the entire project and establish benchmarks for measuring progress.
Second, recruit an executive champion. You need a c-level executive who understands why implementing Salesforce is essential and has the authority to redirect resources as necessary to finish implementation. The last thing you want is for implementation to stall because management isn't allowing time to be allocated to it. Get an executive who will champion the project before you have an issue or need help.
Third, outline all the necessary implementation tasks and estimate the timeline. This is what I like to call a brain dump. Jot down everything that has to happen in order to reach the objectives defined above (Trello and Smartsheet are great tools for this). Be sure you start with your desired sales process and then work backward to map your implementation against it (as opposed to mapping your sales process against the implementation). Otherwise, keeping Salesforce up to date will be a drain for your sales team because it doesn't fit with their workflow.
"Salesforce is a culture – it is a collaboration platform that epitomizes the definition of relationship management. Successful implementations start with senior leadership and sponsorship and continue with organizational culture change to ensure user adoption horizontally and vertically. To use Salesforce.com is to adopt a new way of doing business." - Beth Saunders, Certified Salesforce.com Sales Cloud Consultant and Administrator
2. Educate your team. Now that you have clearly defined objectives, a plan to achieve those objectives and an executive champion for implementing Salesforce, it's time to persuade the entire sales team (and marketing team if applicable) of the awesome benefits they're about to experience. And yes, I'm serious. If your team isn't on board with the plan, you'll be pushing and prodding them every step of the way and it'll be miserable for everyone.
Share the overall vision and objectives (outlined in step 1) with everyone involved (usually referred to as project stakeholders or just stakeholders). Defining why you're doing this is one of the best motivators. Help your sales team see beyond the challenge of learning a new system to the bigger picture of a more efficient sales process and a better-managed pipeline. Realize that Salesforce.com is more than just new software, it's a new way of operating. Explain how things will be different and highlight all the benefits of using Salesforce (e.g. less confusion around the status of leads, better communication with customers, easier to track progress on objectives, clearer goals, etc.).
Next, begin assigning the implementation tasks (outlined in step 1). Everyone will participate in some capacity and it's critical to make sure they know which tasks they'll 'own'. Add each person's name to your implementation plan next to their assigned tasks.
Conduct weekly stakeholder meetings to ensure the implementation process is moving forward and to resolve any issues that may arise. This meeting doesn't need to be long or laborious (30 minutes should work). Email an agenda ahead of time to all the stakeholders and then spend the meeting actually resolving issues and making decisions.
Dedicate time and resources to adequately train your sales team on how to use Salesforce. This includes understanding the basics of Salesforce as well as how your company in particular will use the platform. Training can take various forms such as a course, a workshop, a book or an online guide, etc. (Check out this list of the best Salesforce training resources.) Whichever format you choose, be sure to also incorporate time for each person to play around in Salesforce.
"You're employing Salesforce to kick your professionalism up a notch. You want high quality, standardized service from your sales and customer support teams. The only way to ensure this is to give your team high-quality, standardized training." - Amad Ebrahimi, Founder and Writer at Merchant Maverick
3. Prep your data. Before you move any data around, take inventory and clean up any messy data. Have you eliminated data entry mistakes? Are all your contacts entered and up to date? Have you merged any duplicate accounts?
Take time to sort through the data on your existing platform, then determine exactly what data will be transferred to Salesforce. Keep in mind your desired or preferred sales process (not just the current process) discussed in Step 1.
Configure and customize Salesforce to align with your preferred sales process. Check out this list of the Best 25 Free Salesforce AppExchange Apps. Don't get bogged down here - only make the configurations that you truly need. Too many custom fields might actually slow down your sales team.
"Take the time to clean up your data before importing it into Salesforce.
Avoid duplicate accounts and contacts by merging accounts whenever possible. As the saying goes, 'garbage in, garbage out.'" - David Ciccarelli is Founder and CEO of Voices.com
4. Transfer your data. It's time to make the official switch from your existing platform to Salesforce.
Start by importing a small batch of contacts to test the import. Are the fields aligned? Did you get all the data components for a single contact? By testing the import, you can easily catch any errors and fix them with minimal effort.
You'll also want to evaluate your settings. Do you need to fix any configuration issues? Or should you increase/decrease any customizations? Now is the time to make any changes. Get a few key stakeholders to review the contacts and provide feedback since a fresh set of eyes can help identify current or potential issues. Any newly generated contacts should be entered into Salesforce at this point.
After making any necessary tweaks, import all of your remaining data into Salesforce. Be sure to communicate the import date and time to everyone so you don't end up with a data gap (i.e. sales reps entering contacts or contact details in the old platform after the data has already been transferred to Salesforce).
Create reports based on the objectives outlined in Step 1. Salesforce report builder allows you filter, aggregate, segment, and format your sales metrics. If the previous platform had limited reporting options, you might want to set some new key performance indicators (KPIs) for your sales team now that you can track most things.
Begin monitoring adoption. Everyone should be familiar with Salesforce at this point and should be actively using it. Salesforce recommends measuring three different areas for adoption: usage, data quality, and business performance. You can also set up a Salesforce Adoption Dashboard.
5. Track your progress. With the data successfully imported to Salesforce, it's tempting to think the project is finished. Not just yet! It's time to make your data actionable.
Breakdown the sales team KPIs for each individual sales rep. Make sure each team member knows exactly what metrics they need to hit - number of activities (calls, emails, meetings), monthly sales $, number of opportunities, etc. Leading metrics are particularly helpful.
Tracking the performance of your sales team is equally important as setting KPIs. You'll want to use the reports generated in Step 4 to create a dashboard (or multiple dashboards) to monitor the metrics you've set. Dashboards not only help you track performance, but they also incentivize your sales team to use Salesforce since they'll publicly fall behind the rest of the team if they don't enter data correctly. For real-time Salesforce dashboards, you can use our Salesforce integration to easily create a sales dashboard using reports to display on a TV on the sales floor. Setup a trial and select the Salesforce integration to take it for a spin. We'd love to hear your feedback!
Review the implementation process and proactively ask for feedback. Are there new/different issues you're encountering? How well is the new sales process working? Is some aspect taking too much time? Why? Taking time to review your Salesforce implementation might seem extraneous, but it's incredibly helpful to understand what worked well and what didn't. And you just might uncover a key insight about your customers or even your team.
This should go without saying, but as a reminder, be sure to thank your entire sales (and marketing) team. Learning a new process takes time and energy. Recognize their effort and do something fun to celebrate (dinner? donuts? an afternoon off?).
"Management should have customized reports and a dashboard that fits their needs that they can look at on a daily basis. I find that many managers of small business do not utilize the dashboard reports as tools to help them manage. Without this customization, Salesforce becomes an information/data dump, and is only used when a salesperson leaves the company and to make sure they do not lose momentum with prospects." - Allan Himmelstein, President of Sales Coach AZ
6. Iterate, update and communicate. Salesforce will periodically be updated, so you will need to iterate as new functionality becomes available. Your sales process will also change as your company evolves, so be prepared to adapt your current implementation. Down the road, you may even need to build a new implementation for a new enterprise sales team compared to the requirements for midmarket and SMB teams and vice versa.
The key is communicating these changes to your sales team. Don't make the mistake of assuming they'll see the necessary changes and execute accordingly. Use your company's regular sales training or sales enablement sessions to communicate key changes, explaining why they've been made and how your sales reps need to adjust their Salesforce workflow.
Don't let Salesforce implementation be a drag at your company. Be the hero who successfully integrates Salesforce with your sales team.
We just launched a new Salesforce integration to build always-on TV dashboards from your Salesforce reports. Try it for free today!
Try the Salesforce Integration
Use the handy checklist below to ensure your Salesforce implementation is seamless!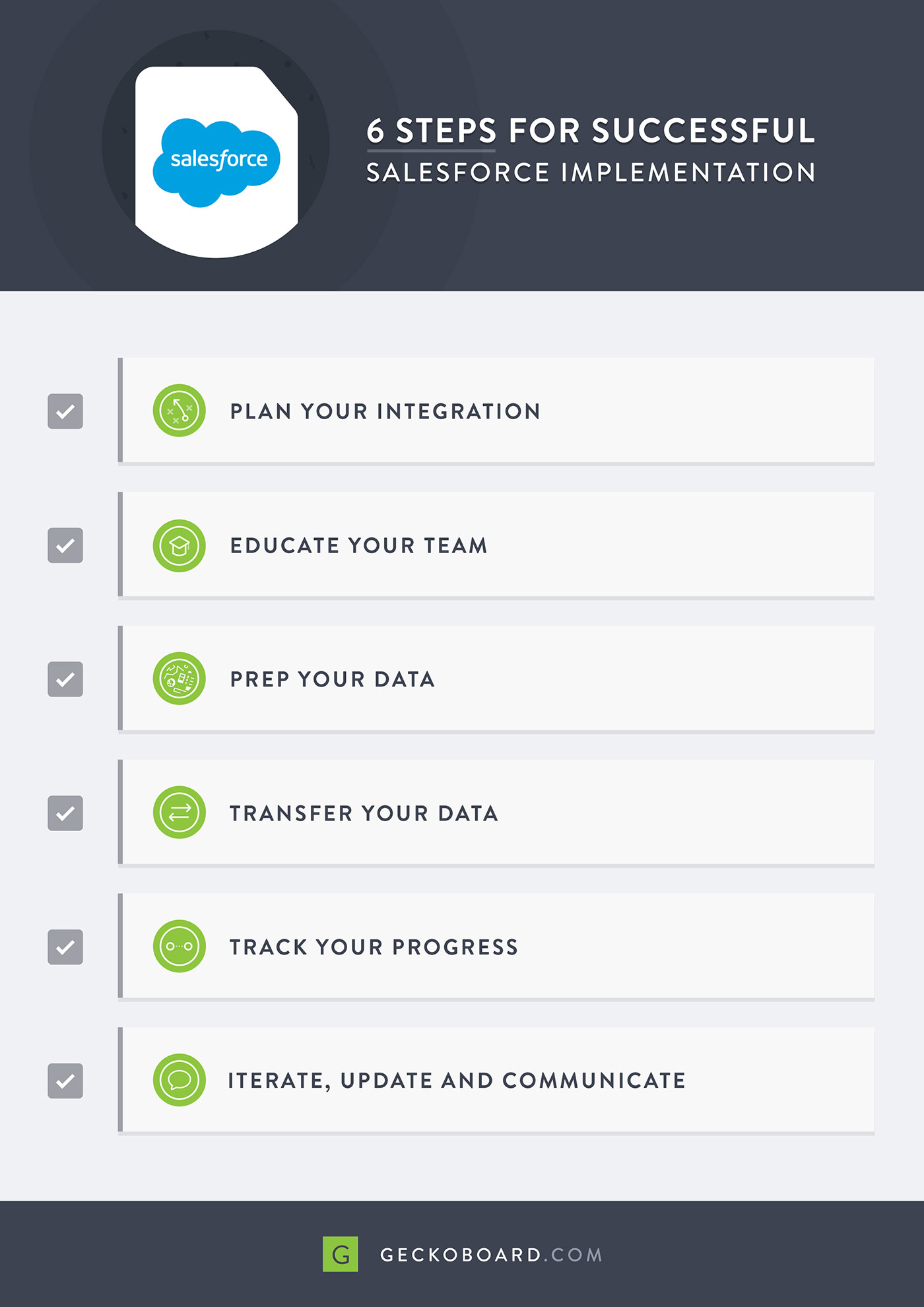 Want to explore additional Salesforce functionality? Check out this list of the Best 25 Free Salesforce AppExchange Apps.
Related Posts: