Salesforce is a powerful tool, but the array of features and constant updates available to help your business can also make it difficult or frustrating for your team to learn the platform. That's why comprehensive Salesforce training is vital. A study by Whatfix found that 35% of sales reps feel they need more training to use their customer relationship management platform (CRM) effectively.

More than 150,00 companies use Salesforce. Because the tool is so popular, there are dozens, if not hundreds, of training tools, courses, and materials to choose from. It can be a challenge to figure out which are the best ones for your team.

To save you time (and frustration!), we've researched the best Salesforce training resources and organized them into the following categories:
Whether you're implementing Salesforce for the first time or looking for ongoing Salesforce training, this list will help you determine the best training option for your sales team.
Instructor-led Salesforce training classes
Instructor-led classes are often more expensive than self-paced or unstructured training, and they require more scheduling and coordination from your team. However, they do offer some unique benefits. Your team will be learning from the experts with instructor-led Salesforce training, and they'll be able to ask follow-up questions to ensure they fully grasp each concept. The structured environment will also likely push team members to learn and help keep everyone on track.
1. Salesforce Trailhead Academy
Some of the best Salesforce training resources come from the company itself. Salesforce offers more than 50 in-person and virtual courses through its Trailhead Academy. Each one covers a different aspect of the platform. Some are aimed at specific jobs or roles. Reporting Strategies for Business Analysts, for example, is designed for business analysts and sales managers.

The time frame needed to complete each course ranges from a few hours to multiple days.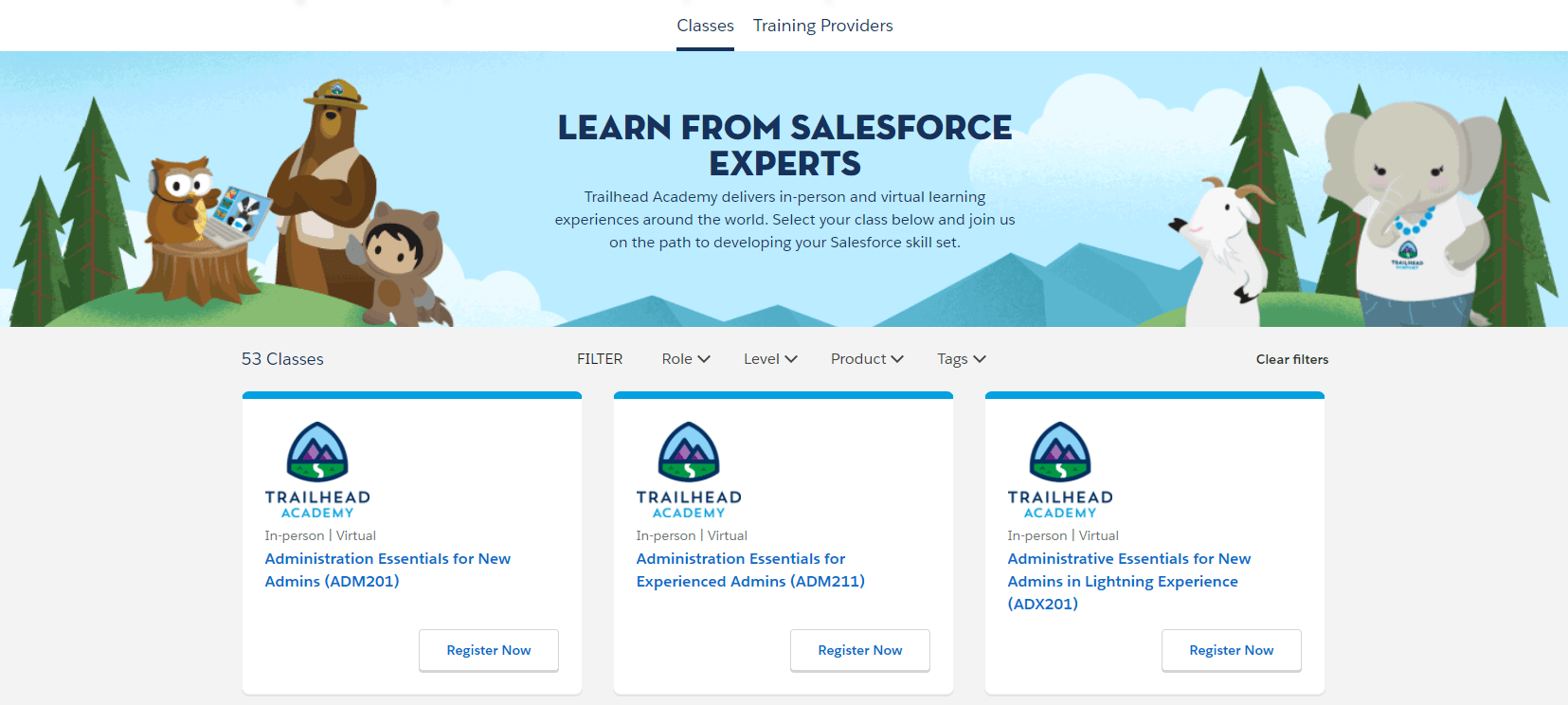 Pricing: Cost varies widely between different topics and locations, starting at $300 and going up to $4,500 per course.
Key benefit: Since these classes are run by Salesforce or one of its partners, your team will be learning directly from the experts.
2. Stony Point
Stony Point is a Salesforce training partner that offers both in-person and virtual training. One of the offerings that sets Stony Point apart is its year-long Training as a Subscription Service (TaaSS) pass. With this training, you can access any of the business's instructor-led courses at a significantly discounted rate.

Stony Point divides its courses into three categories based on how you'll be using Salesforce:
Technical training
Salesforce end-user training
Sales training
Course length ranges from four hours to 40 hours.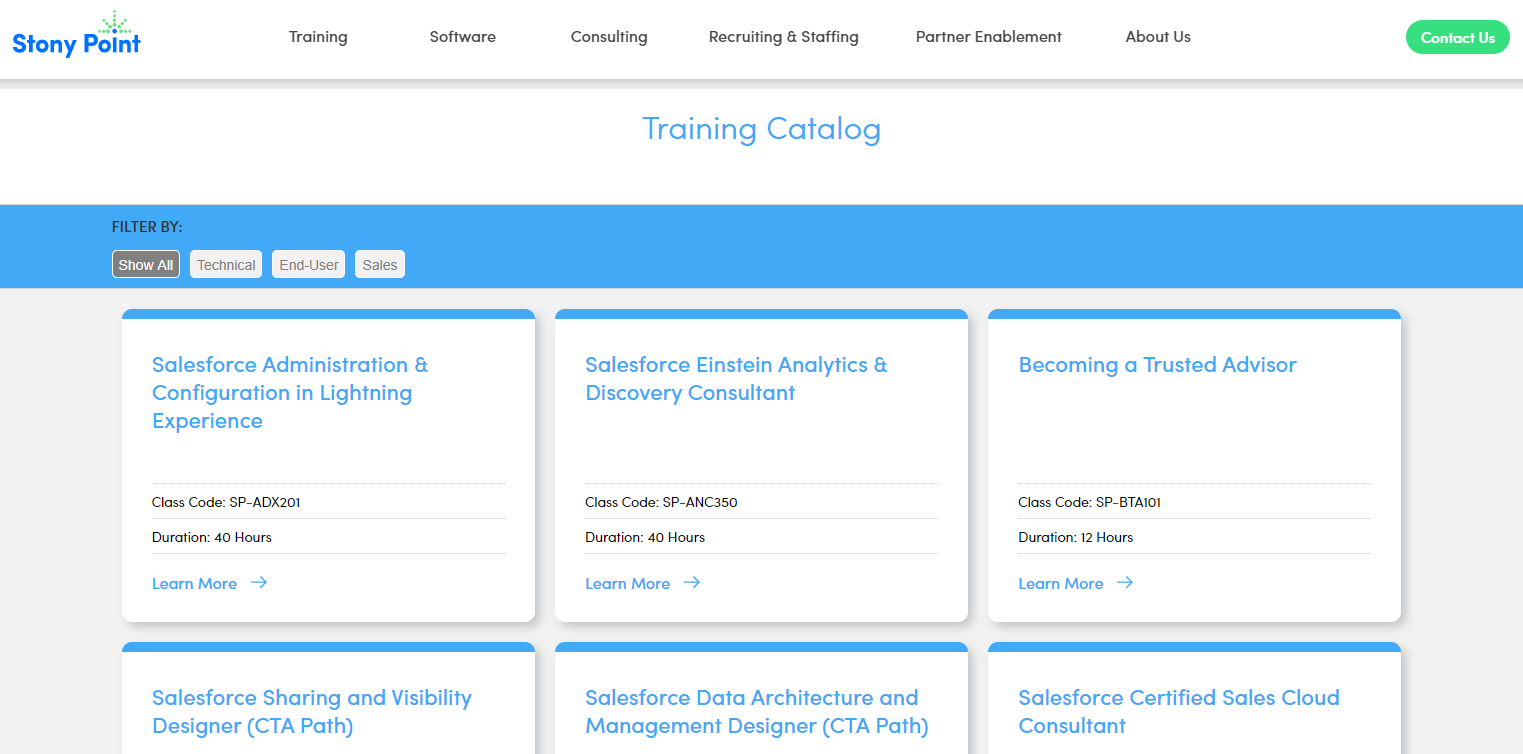 Pricing: Courses start at $400 and go up to $4,000, averaging about $100 per training hour. TaaSS ranges from $900 to $4,500 per annual license, depending on how many licenses you purchase.
Key benefit: There are several ways to save money on Stony Point courses, including volume discounts for teams and the TaaSS offering. In addition to off-the-shelf classes, you can work with Stony Point instructors to create a custom training plan.
3. Beth Saunders Associates
Beth Saunders Associates offer Salesforce training geared explicitly toward nonprofits and co-ops. Nonprofits may have different CRM needs. They are working with donors and focusing on building relationships and encouraging ongoing donations without having a traditional product to upgrade or add on to. Instructors at Beth Saunders Associates will work with you to create an in-person training curriculum or develop an ongoing coaching plan.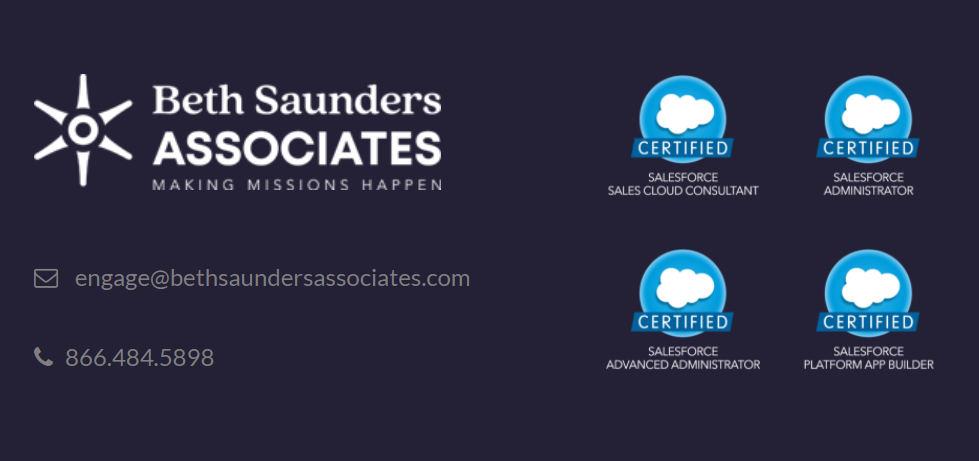 Pricing: Since they completely customize all training, you will need to contact the Beth Saunders Associates team for pricing.
Key benefit: By developing a custom Salesforce training plan, your team won't waste time learning features it doesn't need.
In-app guided Salesforce training
Often the best training method is learning-by-doing. With Salesforce in-app guidance, team members can walk through the platform's various features step-by-step. This way, your team can train and practice using Salesforce at the same time.
4. Salesforce in-app guidance
Salesforce added an in-app guidance feature after upgrading the platform to Salesforce Lightning.

With this training, Salesforce prompts will pop up to guide the user as they go through the platform. Walkthroughs are similar, but they direct the person through a series of steps, whereas prompts are a single notification. You can create custom prompts and walkthroughs or install a pre-built package from the Salesforce AppExchange.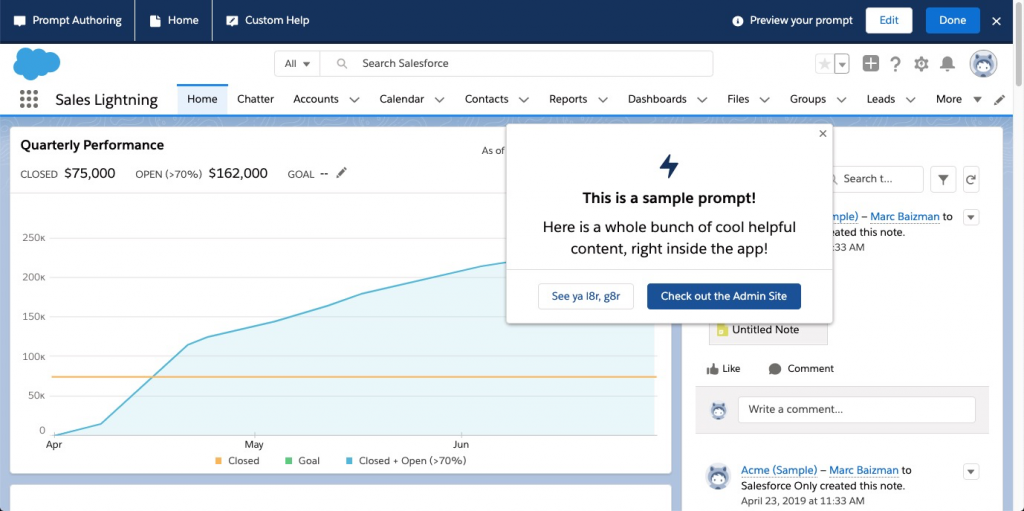 Pricing: Basic in-app guidance is a built-in feature on the platform, but you need a myTrailhead subscription to create full walkthroughs. You have to contact Salesforce for pricing, but they do offer a free 30-day trial.
Key benefit: Salesforce in-app guidance is already integrated and guaranteed to be compatible with the platform. Because prompts are a built-in feature, you don't need coding knowledge to set them up.
5. Whatfix
Salesforce's in-app guidance only offers a few basic features, especially if you don't have a myTrailhead subscription. Digital adoption platforms (DAPs) are third-party integrations that offer more guidance features and customization options for your in-app training.

The Whatfix DAP helps with Salesforce adoption by providing walkthroughs, alerts, and self-help materials to guide team members and help them learn the different features. In addition, Whatfix offers user analytics and the ability to collect feedback in-app, so you can track your team's progress and offer targeted help if they are struggling.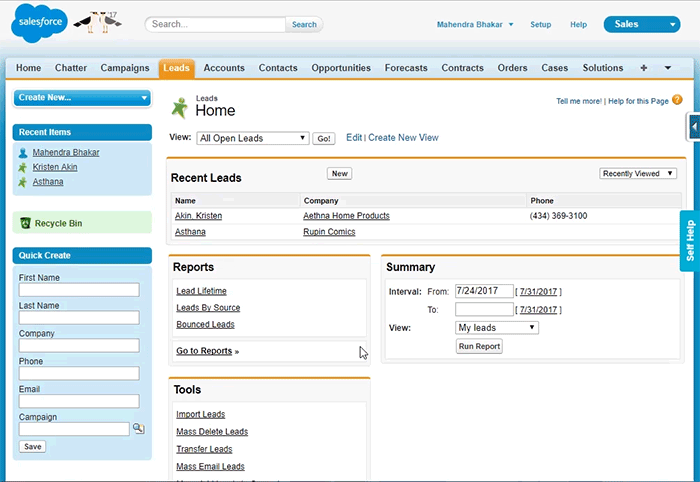 Pricing: Whatfix offers different packages based on your company's needs. Contact the company for pricing details.
Key benefit: The platform offers users a self-help menu that shows team members articles, walkthroughs, and other materials that are relevant to their roles and where they are on the platform. Like Salesforce, Whatfix offers no-code content creation.
Self-paced Salesforce training courses
Self-paced, asynchronous training is a practical option for large, distributed, or rapidly growing and dynamic teams. Since they don't require an instructor, these types of courses are often more affordable and flexible than other training alternatives. Team members can stop and start as needed and work the training around their schedule.
6. Salesforce Trailhead
In addition to formal classes from the Trailhead Academy, Salesforce offers over 800 individual learning modules. These short lessons cover the different features and applications of Salesforce.

If you want to learn about a topic at an in-depth level, the site has more than 200 Trails, which are lesson plans made up of a set of modules. To take quizzes and track and record your progress, you'll need to log in via your Salesforce, Google, LinkedIn, or email account.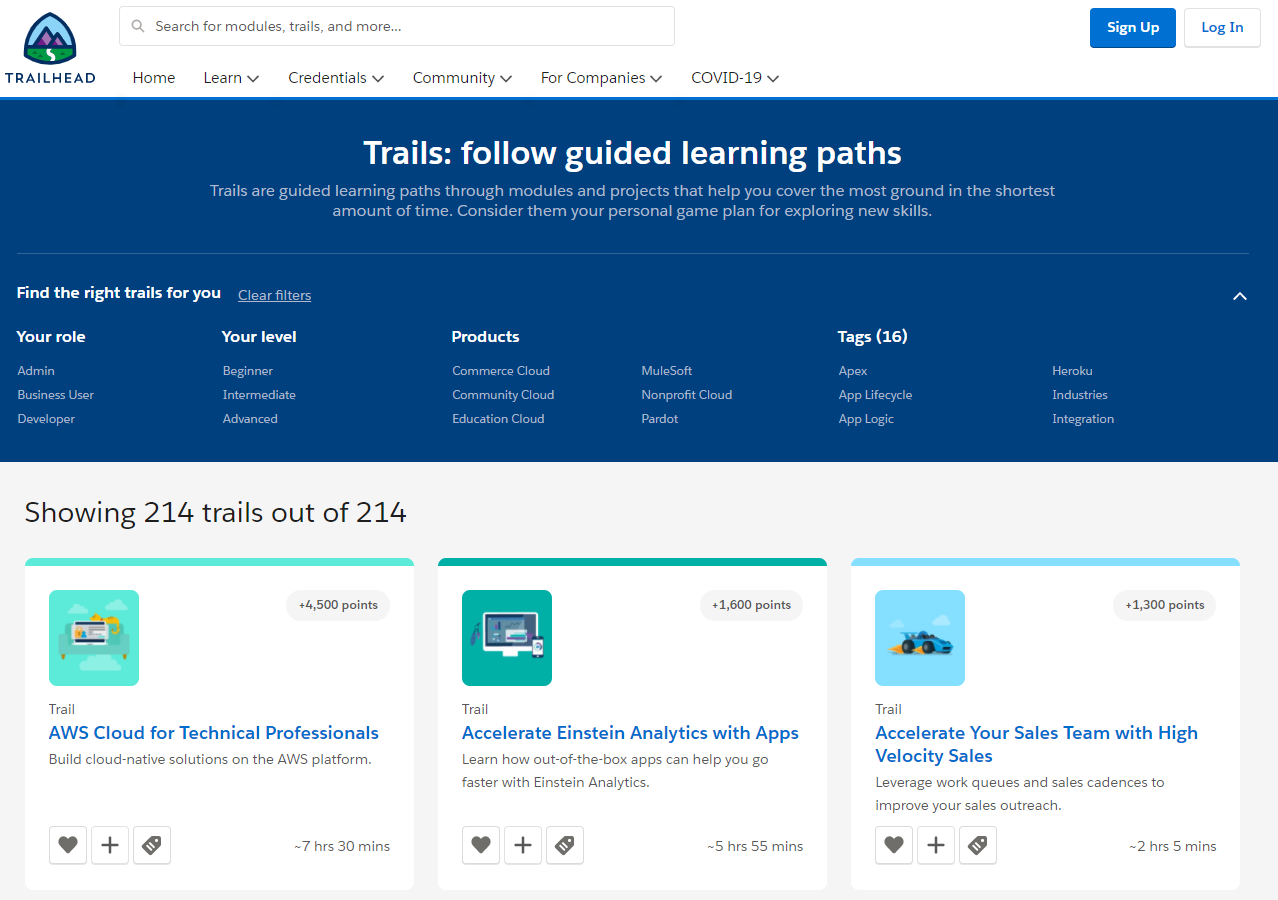 Pricing: Trailhead is free.
Key benefit: For more extensive or structured Salesforce training, Trailhead has curated Trailmixes that group Trails into broad topics like "Lead a Sales Team from Anywhere."
7. Udemy
If you're looking for video-based Salesforce training or structured self-paced courses that come with a certificate of completion, consider Udemy. The online academy includes more than 70 Salesforce courses.

Udemy's lessons cover different topics and levels of expertise. You can start your Salesforce training from the beginning with Salesforce 101 or dive into specifics like Salesforce reports. Udemy's beginner courses are particularly highly rated. Salesforce 101 has 4.4 stars with over 3,200 reviews.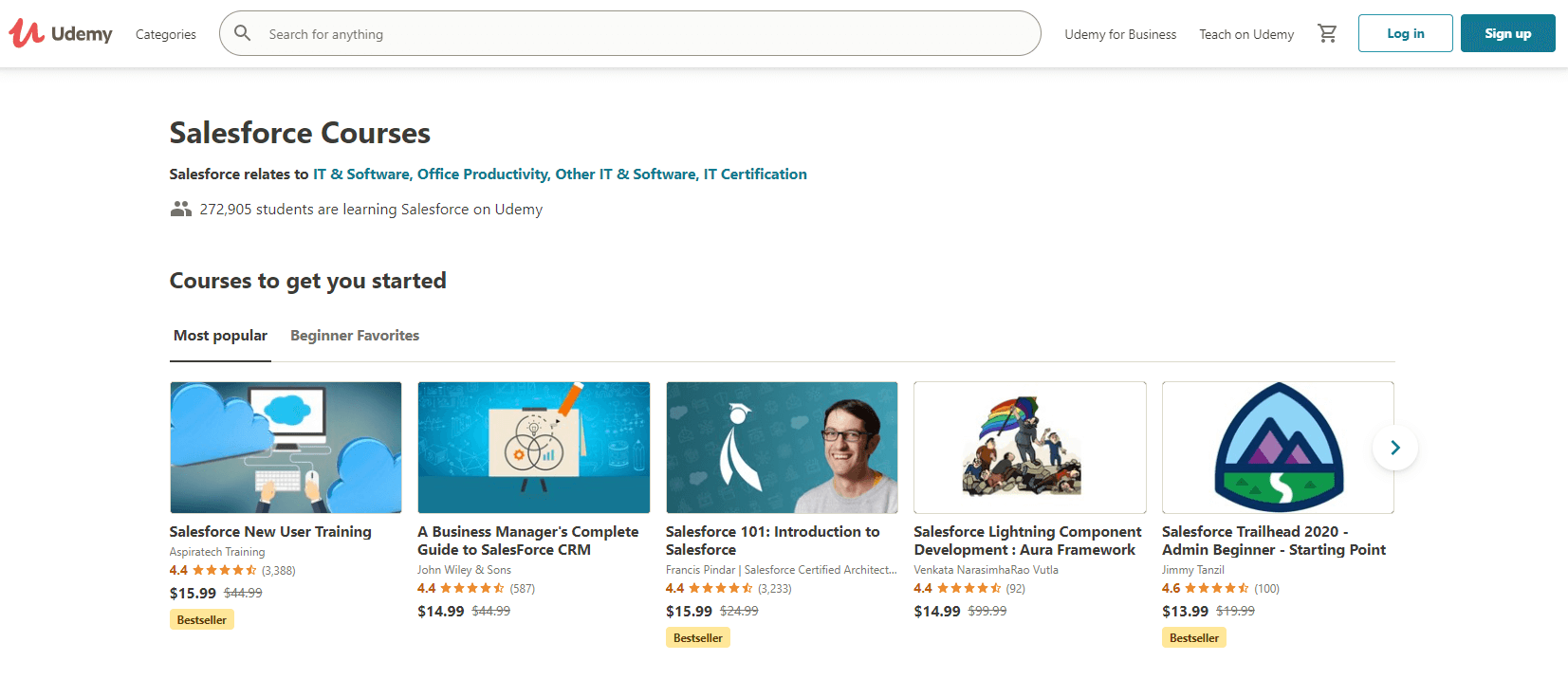 Pricing: The courses range from free to $100. However, Udemy frequently runs flash sales, so you could pay as low as $13 for a $95 lesson.
Key benefit: The courses vary widely by length. There are "bite-size" courses under an hour, but there are also multi-part lessons that are 28 hours or more. You can pick and choose the best time frame for your team, as well as the most relevant topics for their level of expertise.
8. Simplilearn
For Salesforce certification training, try Simplilearn. The site has four complete courses covering details for different Salesforce certifications, including one for developers and another for administrators.

Simplilearn's courses are longer and more comprehensive than Udemy. They include projects, case studies, and quizzes in addition to more traditional e-learning content. These advanced courses are highly rated, averaging 4.6 stars on Trustpilot and Course Report.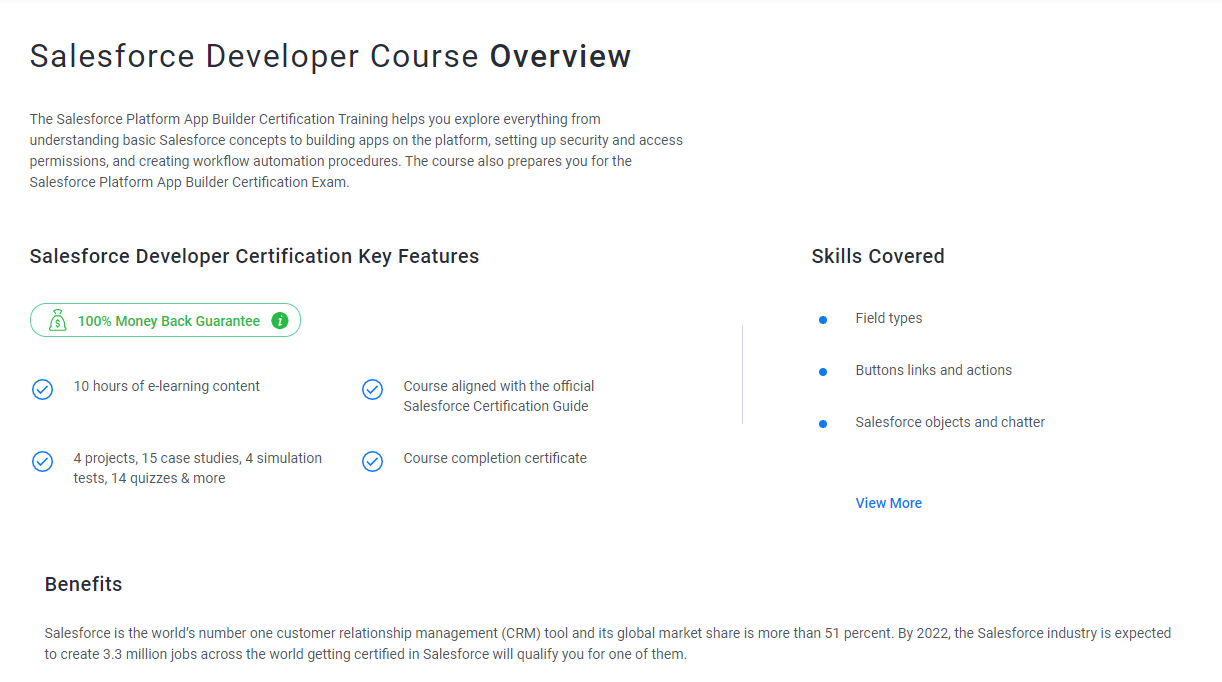 Pricing: Simplilearn is a little more expensive than some self-paced learning tools. Two of the courses are $599 each. The third is a comprehensive certification course covering Administration and App Building. This one starts at $899 for self-paced training. The final course, a Platform Developer Overview class, is $1,499.
Key benefit: Your team can receive comprehensive training to help them get their Salesforce certification, including practice tests. Simplilearn also offers a wide range of free articles for supplemental Salesforce training.
Supplemental Salesforce training resources
Along with offering formal, comprehensive training, provide team members with supplemental Salesforce educational materials. With these resources, team members can learn more about difficult or complicated features without going through a full course and bookmark articles or documents for quick reference.
9. Downloadable tips and user guides
Salesforce offers tip sheets and complete guides that your team can download, enabling them to work on their Salesforce training anytime and anywhere. Information sheets are available for a wide range of topics and use cases, including everything from Salesforce basics to details about using specific features.

Consider assigning or recommending specific guides or tip sheets to team members based on the parts of Salesforce they are having the most trouble learning.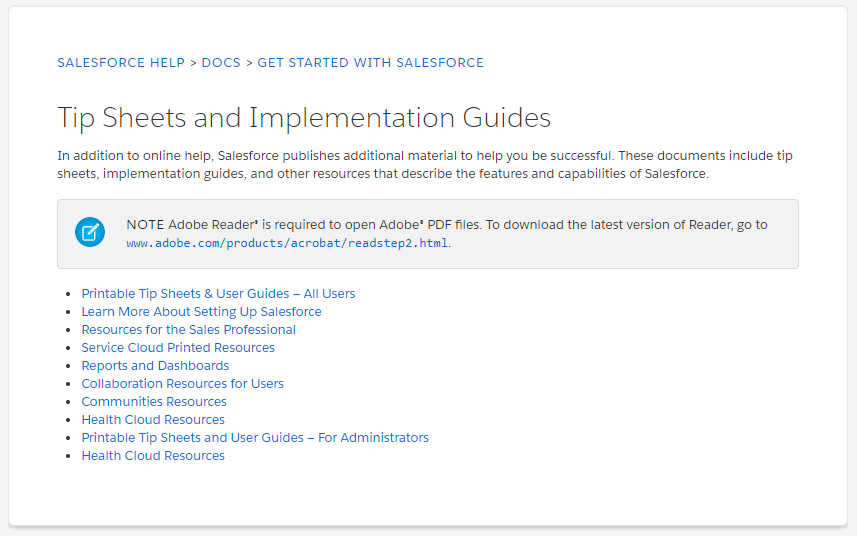 Pricing: These resources are completely free.
Key benefit: Since the tip sheets and guides are downloadable, your team can keep them on hand for quick reference and access them without an internet connection.
10. Salesforce YouTube
Salesforce's YouTube channel is a great place to learn about new products and features or access relevant interviews and webinars. The company regularly posts information about new features and video guides on how to access and use them. The wide array of short-form videos means your team can quickly find guides for the feature they are currently using.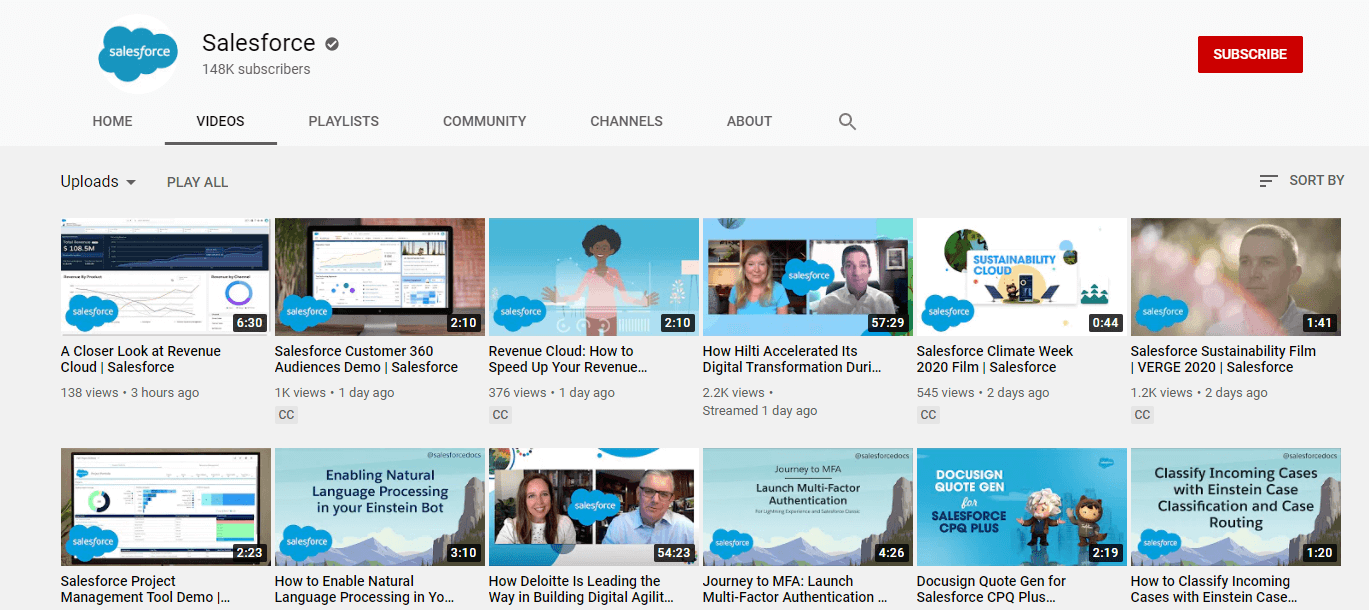 Pricing: These resources are completely free.
Key benefit: Some employees may find the video format more helpful than written documentation. YouTube is ideal for visual learning because team members can see the task being completed on the platform instead of just reading about it.
11. Discussion Forums
Given the widespread adoption of Salesforce, odds are that if you encounter a problem, someone else has had the same issue. With Salesforce's discussion forums, you can see how others solved problems on the platform and crowdsource a solution if no one else has asked your question yet.

Though many of the forum threads are developer-focused, you can sort by topic to look for sales-related questions or general concerns about using the platform.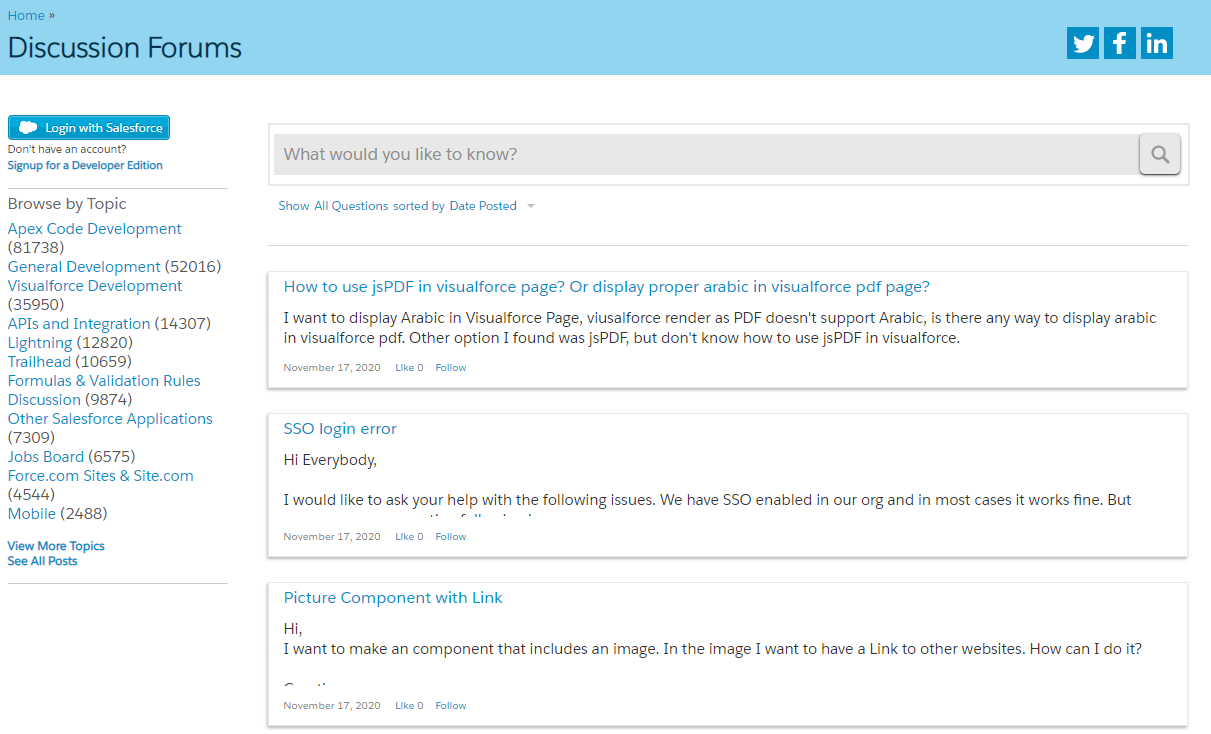 Pricing: The forum is free to access, but you need to sign in with your Salesforce ID to post or answer questions.
Key benefit: Your team can get specific, direct answers to their problems instead of sorting through general self-help materials or product documentation.
Consider offering your team multiple types of Salesforce training, including videos, structured courses, and text-based supplemental reading. That way, you can appeal to different learning styles, and every person will be able to figure out what method works best for them.
Gamify your Salesforce training with a leaderboard
Learning to use new technology, especially a platform as nuanced and multi-faceted as Salesforce, can be frustrating. Make the process more fun with gamification. Several of the training resources discussed above have gamification elements built-in. Salesforce Trails, for example, has levels and badges team members can earn.

You can also motivate your team and create an air of friendly competition by displaying individual progress and achievements on a leaderboard dashboard.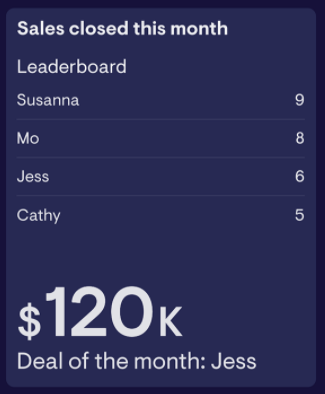 With Geckoboard's Salesforce integration, you can create a basic sales leaderboard and use alternative data sources, like Google Sheets, to track and display team progress throughout their Salesforce training.


Want to learn more about Salesforce and motivating your sales team? Check out these resources: