Ecommerce analytics tools can provide you with powerful data-driven insights that help you measure your business's progress and stay ahead of the curve.
In 2019, retail ecommerce sales worldwide amounted to 3.53 trillion US dollars and e-retail revenues are projected to grow to 6.54 trillion US dollars in 2022. Ecommerce is booming and to maximize your reach and remain competitive it's important to have the right tools to analyze your business's success and areas for improvement.
But with so many options, it can be challenging to decode all the different features and figure out which tool is right for your online business.
Whether you're using ecommerce analytics tools for the first time or looking to upgrade your current software, this list will help you decide on the best ecommerce analytics tool for your team.
How Can Ecommerce Analytics Tools Help Your Business?
These days, businesses have access to a vast amount of data and different metrics. It can be easy to get bogged down by data so keeping your ecommerce analysis focused on a few key metrics will help ensure you stay on track.
Before we review each ecommerce analytics tool, it's a good idea to have an idea of which ecommerce key performance indicators you want to optimize around. While each online business is unique and may want to track different metrics, here are a few KPIs to get you started.
Revenue per visitor (RPV) - the amount of money generated when someone visits your site
Average conversion rate - the percentages of visitors who purchase from your site divided by the total traffic
Average order value (AOV) - the average amount a customer spends when they place an order on your site
Reviewing these ecommerce KPIs regularly should help you:
Convert more leads
Set accurate budgets
Work out an effective pricing strategy
Read more about ecommerce KPIs you should be tracking.
When you use ecommerce software, have access to the right metrics, and optimize for the above KPIs, you'll be able to deepen your understanding of your business and enhance the overall shopping experience for growth.
Top 7 ecommerce analytics tools

Ecommerce analytics tools can help you take your business to the next level. Here we're sharing our top seven tools that can help you analyze and optimize your online store in 2022.
1. Optimizely
If you're looking to create a more personalized and authentic shopping experience, Optimizely's ecommerce specific features can be an effective place to start. The platform centers around using A/B testing and experimentation to create more authentic experiences and ultimately drive conversions.
Use Optimizely to:
Collect actionable customer-focused data to influence site optimization
Experiment with simplified checkout flows to reduce shopping cart abandonment
Trial chatbots to provide quicker customer service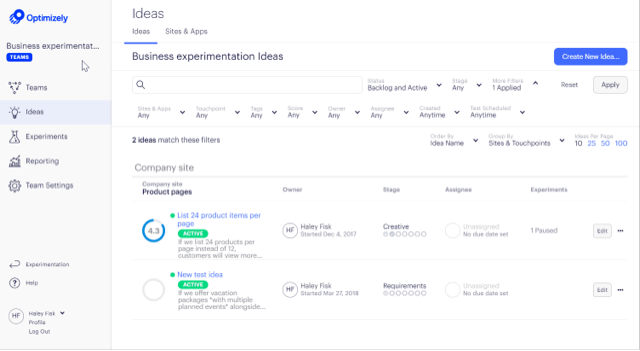 Pricing: Plans depend on business size, subscription length, and whether it's full-stack or web. Optimizely doesn't disclose their pricing on their site, so businesses need to contact them directly.
Best for: Ecommerce business owners who want to trial new techniques to optimize their site experience.
2. Crazy Egg
Crazy Egg is a user-friendly ecommerce analytics tool that gives users easy to digest data and dashboards. The ecommerce software encourages businesses to consider every visitor to be a potential customer to help you build a better overall online experience.
Crazy Egg's top features include:

Heatmaps showing which parts of your site are receiving visitor attention and which sections are ignored
Scrollmap tool that shows if your CTA buttons are in the right place
Site recordings that show the entire user experience from the moment someone clicks on a page to when they leave. Review each visitor's cursor movements along with everything they click on
A/B testing tool to help visualize any possible changes to the site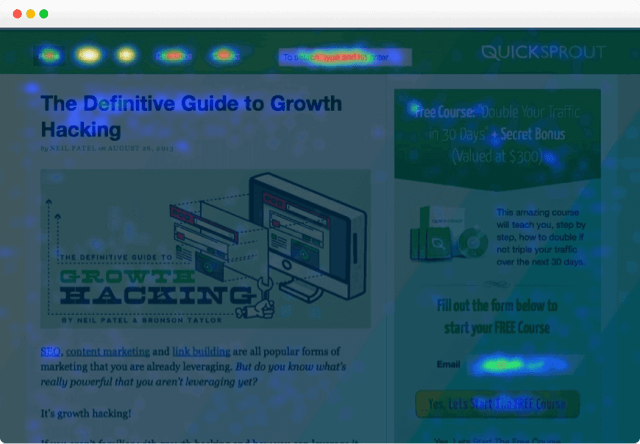 Pricing: From $24 per month based on annual billing.
Best for: Ecommerce businesses that want to track customer moves and see how visitors interact with their site to optimize their conversion rate.

3. Glew.io
Glew.io is one of the most comprehensive ecommerce analytics tools available today, making it a good choice for both smaller ecommerce businesses and larger ones.
Using Glew.io ecommerce tools you can:

Review your top-selling products and differentiate them from products that generate less profit
Configure Glew.io to track sales from multiple retail platforms. For instance, if you sell on Amazon and from your own site, you can see both sets of sales data in one place
Use advanced customer analytics to target specific customer segments and review what specific customers bought
Review your site's marketing performance by pulling data from Google Ads, Facebook Ads, and Instagram Ads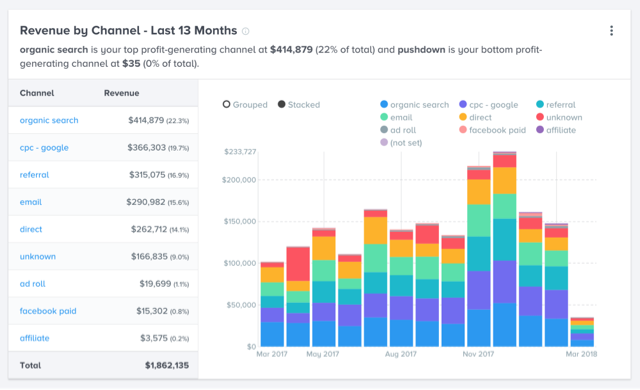 Pricing: From $79 per month for a one year contract.
Best for: Both small and medium ecommerce brands looking for a complete ecommerce analytics tool.
4. Google Analytics
If you're new to the world of ecommerce analytics, free tool Google Analytics can be a great place to start.
Google's Enhanced Ecommerce provides merchants with powerful metrics that enable site managers to track traffic through each stage of the funnel.

Identify your site's weaker areas like drop-off points within the checkout process or reasons for shopping cart abandonment
Find out which devices your traffic is coming from and how they convert
Discover the unique sales performance of your products on-site and understand your customers' lifetime value
Uncover which pages your visitors are spending the most time on and which pages have the highest bounce rate

Pricing: Free
Best for: Ecommerce business owners who are using Google Analytics already, who want to analyze their website traffic and receive some additional ecommerce insights.
5. Supermetrics
More of a marketing analytics tool than purely ecommerce software, Supermetrics pulls data from a variety of sources to analyze which campaigns and channels are boosting your conversions and revenue.
Pull data from Shopify, Facebook Ads, Google Adwords, and other platforms into a data visualization tool or spreadsheet
Set up automatic data refreshes and scheduled emails so you always have up to date data to review and analyze

Pulling data is usually a time consuming and tedious task - Supermetrics effectively cuts down the time so you can focus on analyzing data, optimizing current initiatives, and planning new marketing campaigns.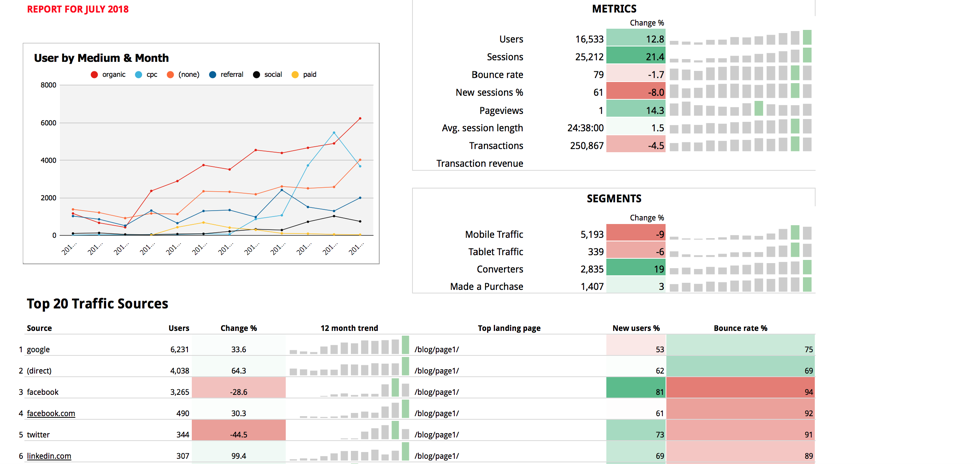 For a deeper overview of how Supermetrics works, check out this example of how Geckoboard uses it to pull data from SEMrush into a Google Sheet to power an SEO dashboard.

Pricing: Pricing starts at $39 per month and depends on the preferred data visualization tool.
Best for: Ecommerce businesses that want to figure out if their marketing strategy is effectively driving revenue.
6. Woopra
Abandoned orders are every ecommerce business owner's nightmare. With an average abandonment rate of 70%, cart abandonment affects all ecommerce businesses.
Woopra's analytics features concentrate on shopping success and lowering cart abandonment rates.

Find out how long it takes the average customer to buy
Identify different drop off points throughout the sales funnel
Review abandonment rates in different situations like adding payment details or selecting shipping so you know which area of your site needs the most work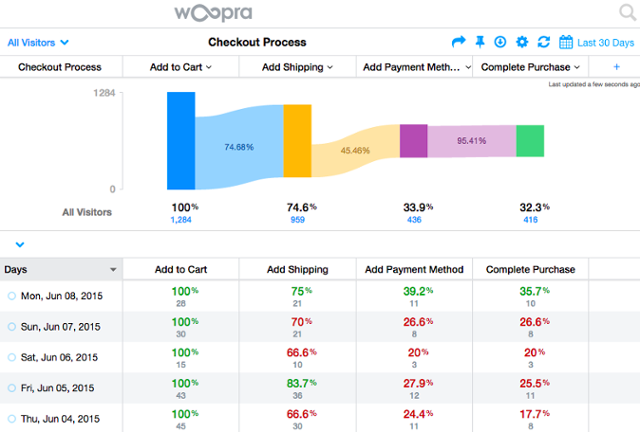 Pricing: There's a free plan for limited use and pro plans start at $999 per month.
Best for: Ecommerce business owners who want a strong understanding of why customers abandon their orders and how they can improve their sales funnel to result in more conversions.
7. Matomo
Formerly known as Piwik, Matomo has many of the same analytical features as Google Analytics along with a few additional ecommerce analytical tools to boost your online shop.
Review in-depth sales reports that are broken down by geolocation, product, and marketing channel
Set up automated reports to view metrics like average order value and conversion rate along with issues that cause visitors to abandon their shopping carts
Integrate Matomo with storefronts like Shopify and WooCommerce
Rest assured that users have 100% data ownership with data being securely stored by the platform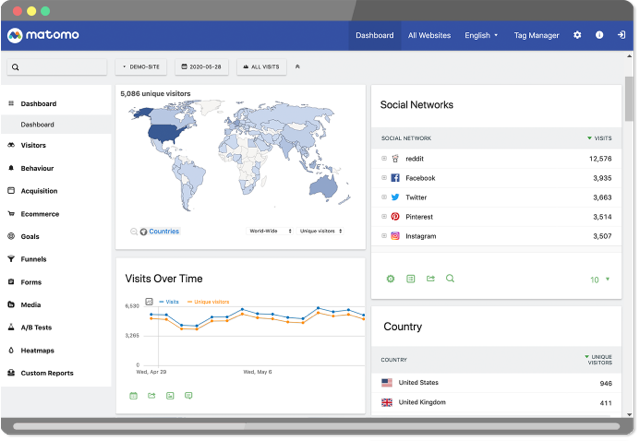 Pricing: Matomo is free if you host data on your own servers or $29 per month to host data on their cloud servers.
Best for: Privacy-conscious store owners who want budget-friendly ecommerce analytics tools.

Integrate your ecommerce analytics tool with your dashboard

While your chosen ecommerce analytics tools may help identify long-term trends across your site and answer ultra-specific questions about your sales funnel, checkout process, and overall shopping experience, they can be more complex to use and require special team training to get the most from them. As powerful as they might be, these tools can be tricky to share around the organization, and in most cases they only cover one part of your online operation.

That's why in recent years, user-friendly dashboards like Geckoboard have become an effective way to pull metrics together into something that's neatly packaged and easily digestible for the whole team. These all-in-one dashboards are designed for everyone in the organization to access throughout the day, which helps keep everyone on the team in the loop, and means that you can quickly and easily change course and optimize should you need to.

Learn more about what a KPI dashboard is and how to set one up in our article, how to build a dashboard.
Next Steps

Each ecommerce business will have individual requirements when it comes to tracking their KPIs. While the above ecommerce analytics tools are by no means an exhaustive list, they should give you some idea of which metrics you'd like to track and which tools you'd most like to access.

Learn more about ecommerce dashboards in our ultimate guide to ecommerce dashboards in 2022.


---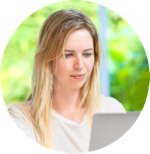 Holly Stanley is a B2B writer for ecommerce, SaaS, and digital marketing brands. She specializes in writing long-form blog posts and ebooks.