This is a guest post from Coupler.io - a no-code platform that makes it easy to pull data from different APIs into a Google Sheet for tidying, merging or reporting. Author Julia Haleniuk works at the intersection of language, technology, and design. Her background spans new technologies, UX writing, technical documentation, and content strategy.
--
Back in the day, we all used Microsoft Excel, and Google Sheets was only meant to be its simple alternative. Well, it turned out that it literally excelled in its own field and outgrew its predecessor. Better still – it's free and it's easy to use. No wonder we love it.
Today, Google Sheets has been developed to the point that its functionalities can go way beyond only creating tables. That's all thanks to the range of Google Sheets Add-ons created along the way by developers for a variety of purposes – from marketing, to sales and analytics. Yet most average users who are new to the Google Sheets and Google Workspace (previously G Suite) aren't aware of these add-ons, let alone their purpose. It's time to change that.
What is a Google Sheets Add-on?
For those of you that do not know, let's start by explaining what a Google Sheets Add-on is.
To put it simply, Add-ons, also known as plugins or extensions make an already great product even better. How? By extending the product's functionalities. In this article, we will go through some of the very best add-ons out there. But first things first…
How to install and manage Google Sheets Add-ons
Adding an add-on to your Google Sheets is simple. Whilst in a Google Sheet, just click on "Add-ons" in the top menu, and then "Get add-ons".
You'll see a large modal window with an endless list of add-ons that you can browse. Hover over the icon below each add-on to see what it does. To install an add-on, just click that icon and hit Install on the next screen.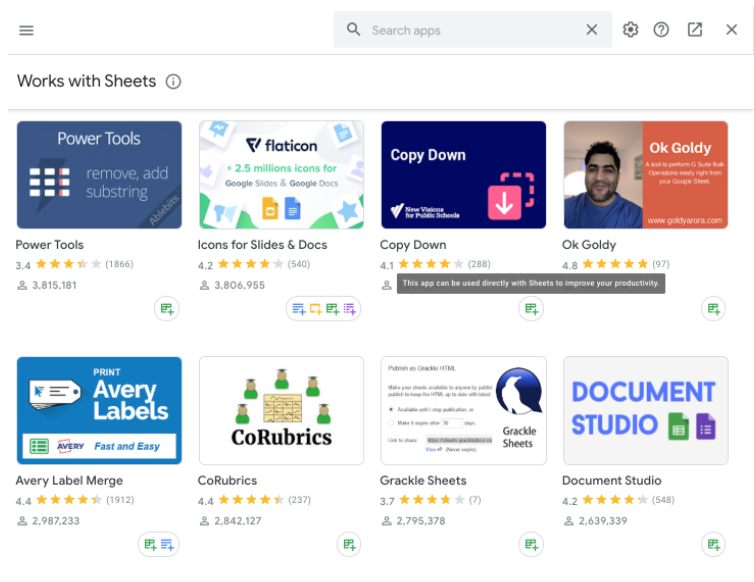 An alternative way to install an add-on is to simply go to the Google Workspace Marketplace and find the add-on you wanted to install by typing its name in the search bar. Then, just click on the add-on and hit the Install button.
The Best Google Add-ons
Now that you know how to quickly install add-ons, it's time to explore the top 15 Google Sheets Add-ons that we swear by, that cover a variety of scenarios - from improving formatting, to data analysis.
Formatting add-ons
Awesome Table
With Awesome Table, sorting and filtering data in a spreadsheet has never been easier. It lets you reformat data in your spreadsheet and turn it into a table, maps, or cards. On top of that, you can define the number of columns and rows and filter your spreadsheet.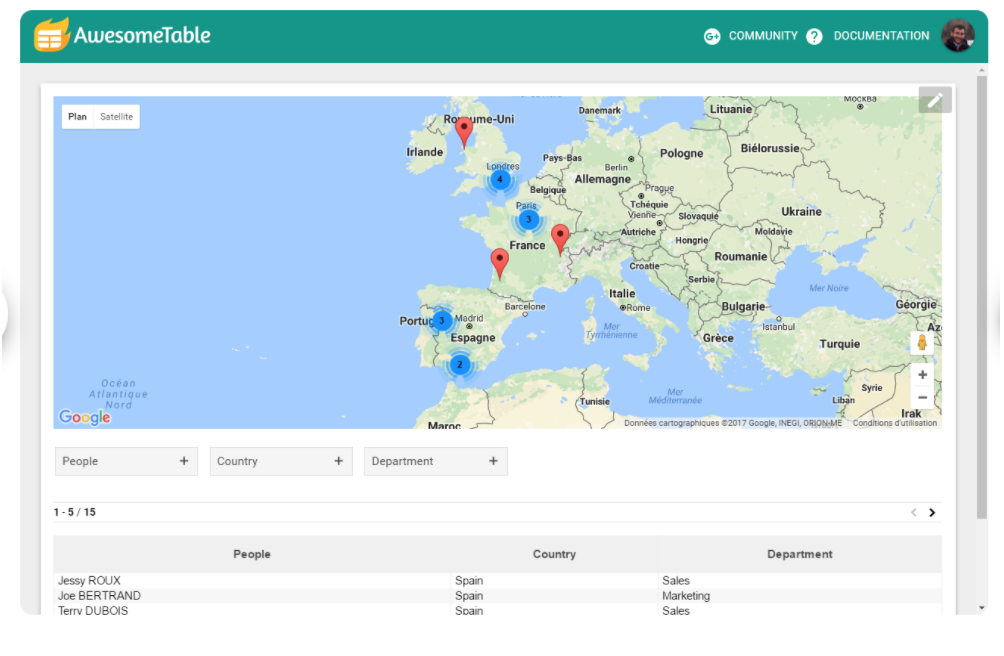 Crop Sheet
Want to quickly get rid of unnecessary rows from your spreadsheet? Look no further than Crop Sheet. You can remove extra rows and columns from a sheet in the blink of an eye.
Say goodbye to deleting extra rows and columns yourself over and over again. Just like you would do with an image – crop the area of your spreadsheet you want to keep.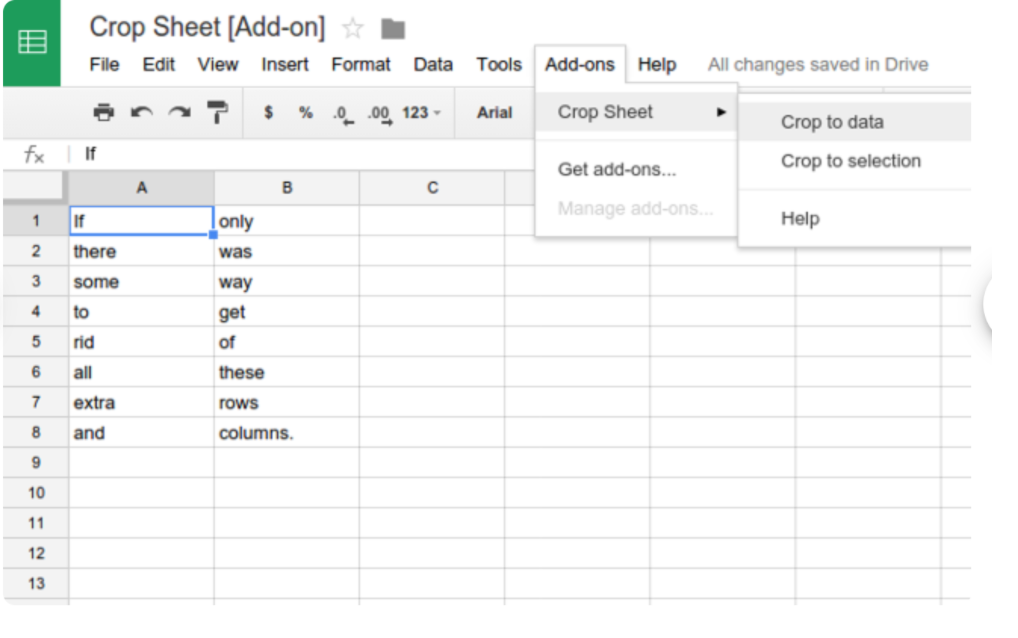 Marketing and Sales add-ons
Document Studio
Did you know that you can create customized documents from your data in Google Sheets? We've got you covered. Try Document Studio and make your business look more professional, with a range of business letters, professional-looking invoices, contracts, and sales pitches based on your G-Sheets data, then send personalized emails individually or in batches.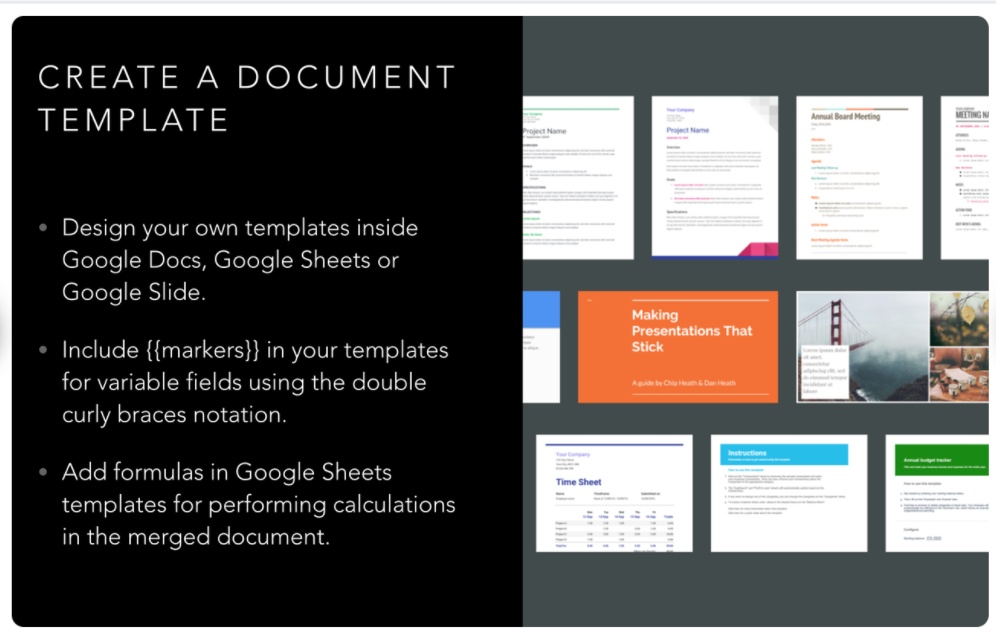 instagReader
If you work on Instagram campaigns, we don't have to tell you how tiring it is to copy data from Instagram. Now, imagine that you can actually extract data from any Instagram account automatically. instagReader does the work for you, even within a defined period of time.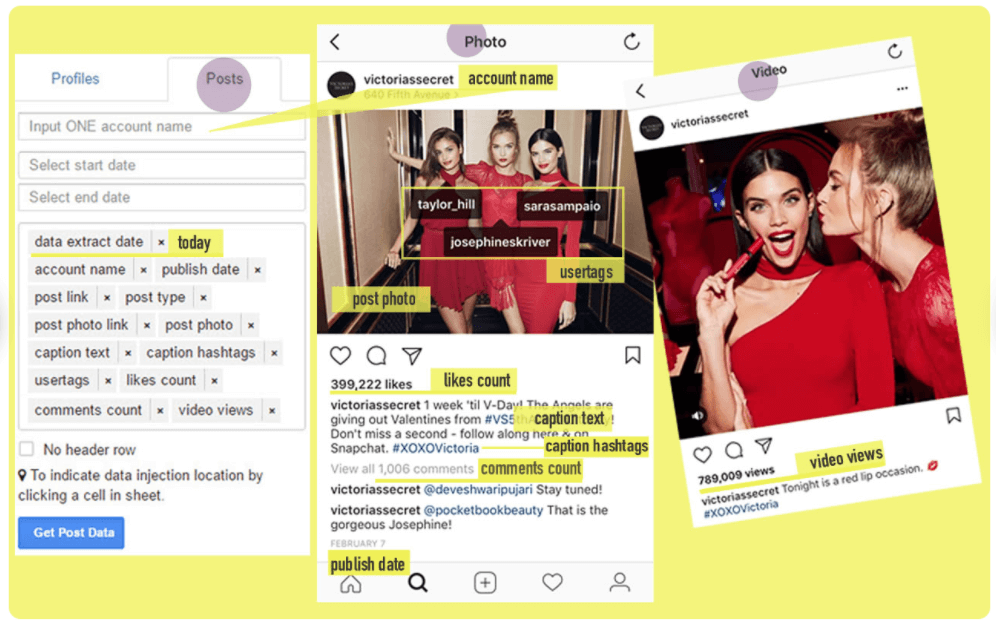 TowerData Email Intelligence
The more you know about your customers, the better you can communicate with them by creating relevant content.
With TowerData Email Intelligence, you can build your customer personas based on their demographics, you can learn who your customers are, what they like, and how to speak to them. This powerful Google Sheets add-on "gives you data on 80% of email or postal addresses in batch or via a real-time API."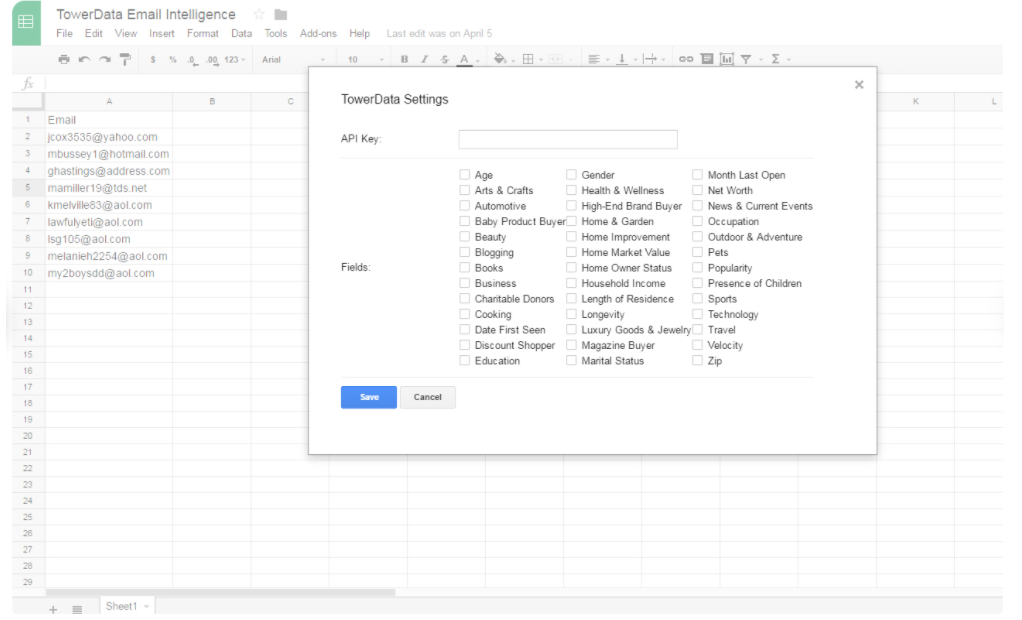 AdStage
Are you still manually exporting data from your networks? With AdStage, you can have your paid marketing performance data pulled into your Google Sheets file. It imports your data from sources like Google Adwords, Facebook Ads, Bing Ads, Twitter Ads, LinkedIn Ads and Google Analytics for you.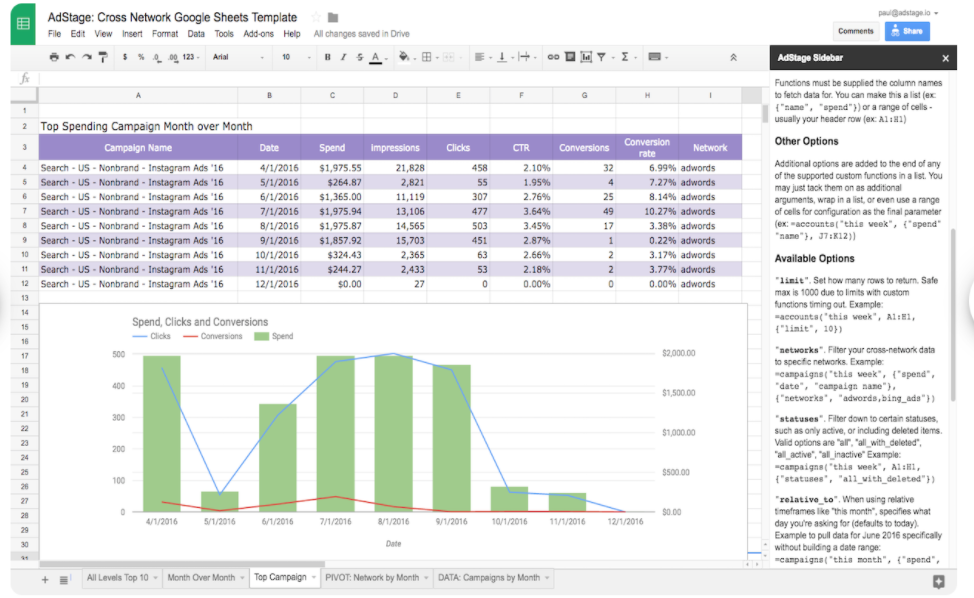 Salesforce G Connector
This plugin goes out to the marketers that use Salesforce. With Salesforce G Connector, you can pull and keep your data from Salesforce up to date. Generate a report based on that data and share it with other Google Drive users by giving them access to data from Salesforce.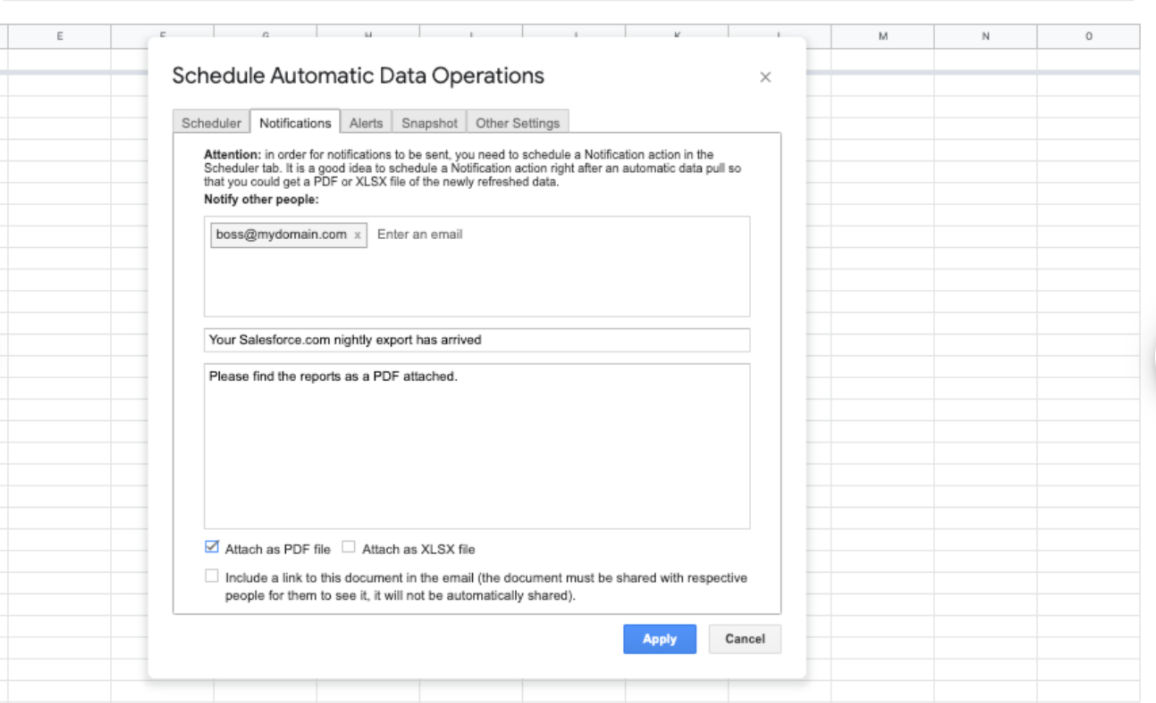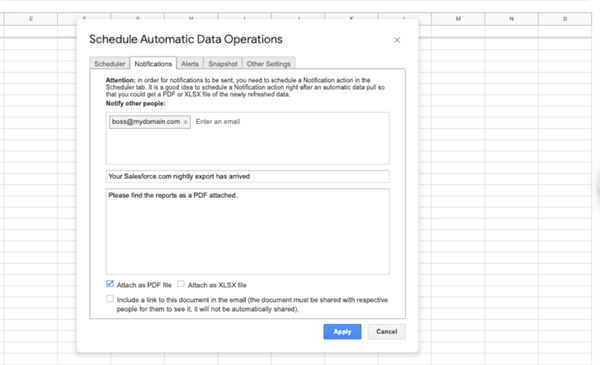 Data analysis & Reporting add-ons
Coupler.io
Can a single add-on replace a data management app, a project management tool, a sales reporting product, and an accounting app? That's what Coupler.io sets out to achieve. And it's by far the most powerful Google Sheets add-on when it comes to data management.
Coupler.io takes your data from different apps, such as Airtable, Quickbooks, Pipedrive or Jira and pulls it right into your Google spreadsheet. This gives you a clear overview of your customer data, operations, business reports, and project estimates in one place. It also lets you automatically import CSV data into Google Sheets without any coding experience.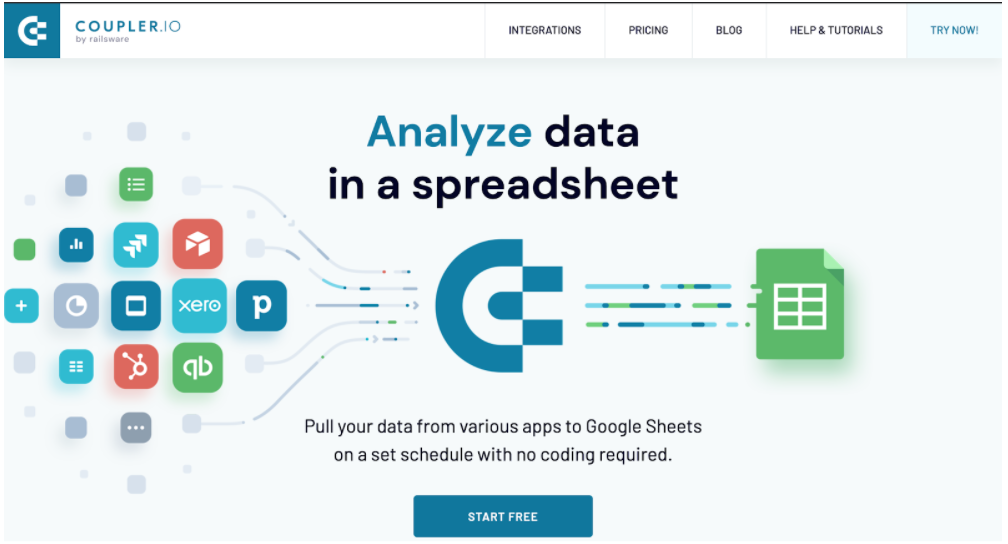 autoCrat
autoCrat lets you email the data inside your spreadsheet to someone as a PDF file. It also has the power to personalize mass emails and automate the process of creating them. You just have to tell Autocrat which fields to merge via <<tags>> and Autocrat will mass-generate the personalized documents for you.
On top of that, it works with Google Slides and saves you plenty of time by allowing you to use your presentations as a template in Autocrat by shipping data from Google Spreadsheets straight into the presentation.
AppSheet
Did you know that you can build a mobile app in Google Sheets? Yes, you actually can with AppSheet. This intelligent, no-code application development platform lets you connect your data via Google Sheets and deploy a fully-working mobile app in minutes. AppSheet lets you customize your app to match your brand. It's the perfect solution if you want to distribute an internal app to teammates or employees. On top of that, mobile apps built in AppSheet work offline and sync to the cloud when connected back to the internet.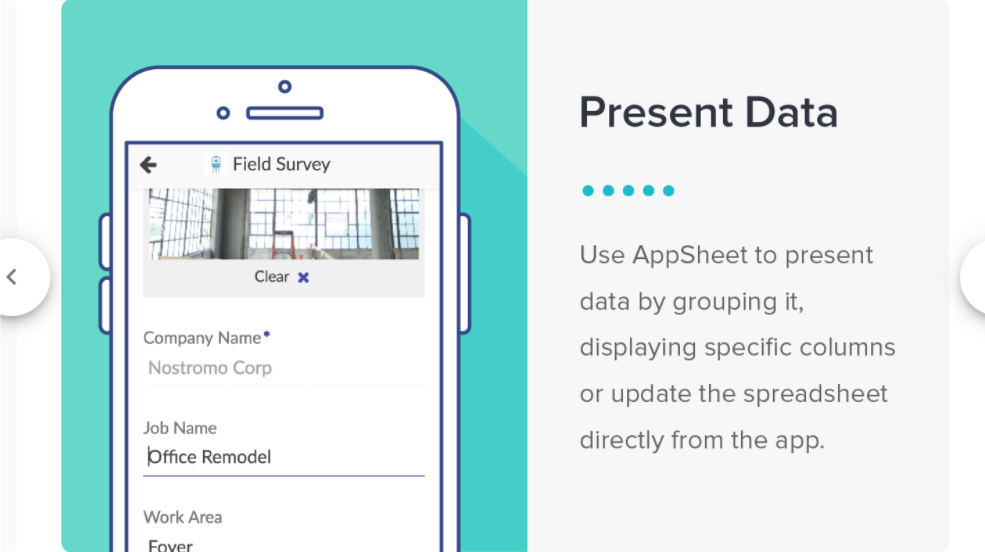 Styling and Templating add-ons
Text analysis
If you have ever analyzed survey responses in a spreadsheet one by one, you know how much of a pain it can be. Scanning all these rows can leave you drained. With Text Analysis by Monkeylearn, you can have the text in your spreadsheet analyzed. Text analysis is perfect for marketers, researchers, copywriters, etc. It uses its Artificial Intelligence powers to analyze text and, for example, spot negative reviews about your business to save you from a PR crisis.
Better still, it condenses long-winded sentences into short ones, detects languages, or even analyzes social media content and lets you know what people say about your business.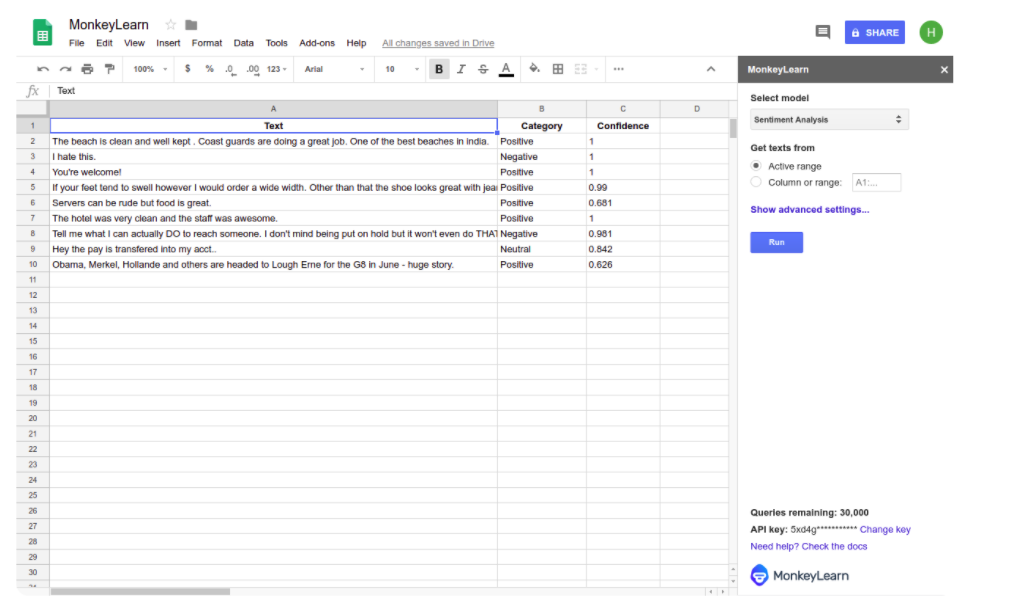 Table Styles
Table Styles lets you quickly give your Google Sheets tables a consistent and professional look and feel. Simply select your data in the file and use one of predefined ready-to-use styles. You can apply styles to all or selected elements in your table.
In Table Styles, you can also create your own template from scratch or add an existing table to your collection for future use.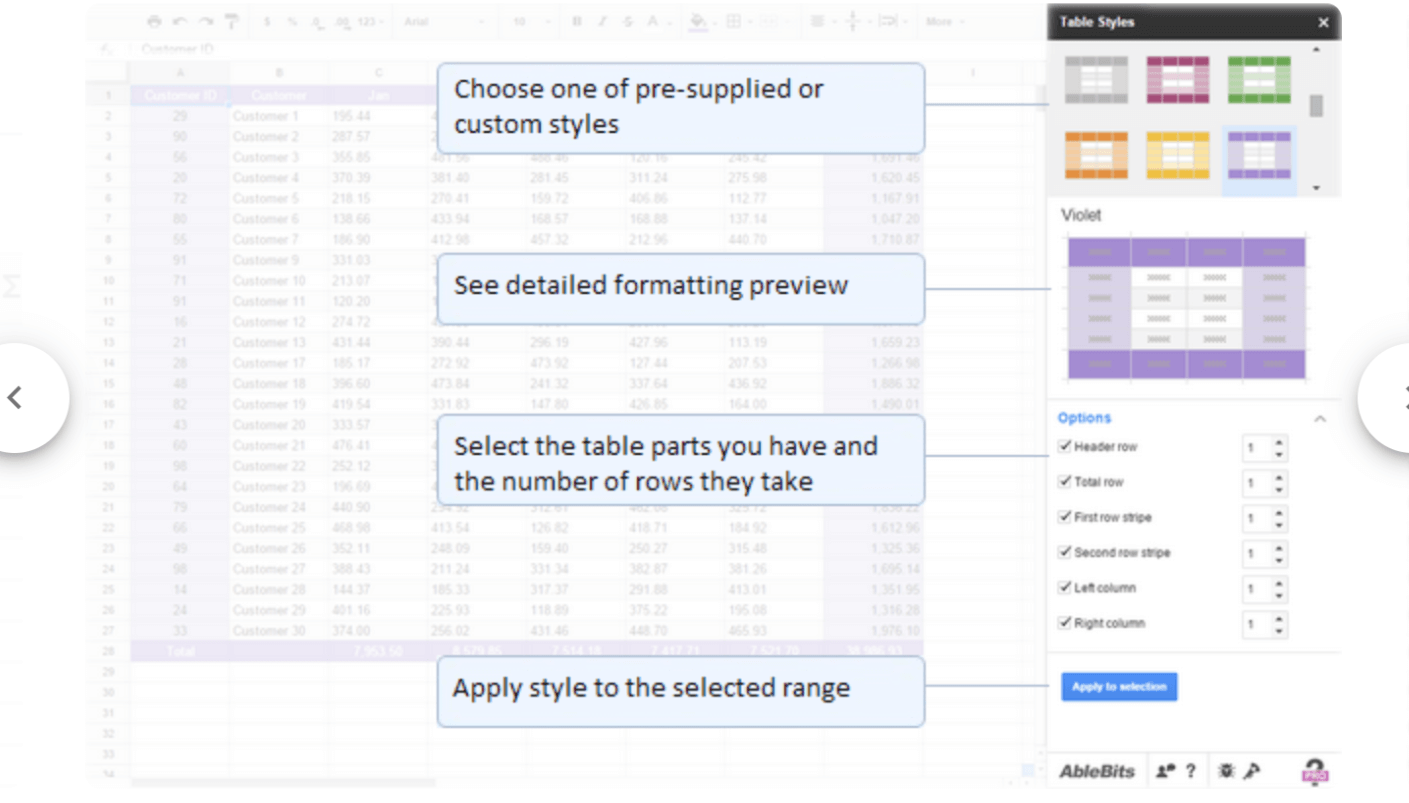 Mail Merge
Mail Merge certainly isn't just another add-on. It's the easiest way to personalize and style your emails and letters to customers or friends in a classy way. It's free, without any watermarks or frustrating ads.  What's cool about it is that you can use it both for work and personal purposes.
It lets you invite people to an event, send newsletters with personalized content, send mass mailings (yes, sales people this one's for you), distribute friendly payment reminders or even send birthday greetings for holidays or birthdays to friends.
Sharing
PDFfiller for Google Sheets
Did you know that you can actually fill out PDF documents with your ready data from your Google Spreadsheets? With PDFfiller for Google Sheets, it's now possible. Say goodbye to spending tons of hours filling out multiple forms with data from Google Sheets manually. With PDFfiller, you can automate the entire process from start to finish. Now that's a time-saver!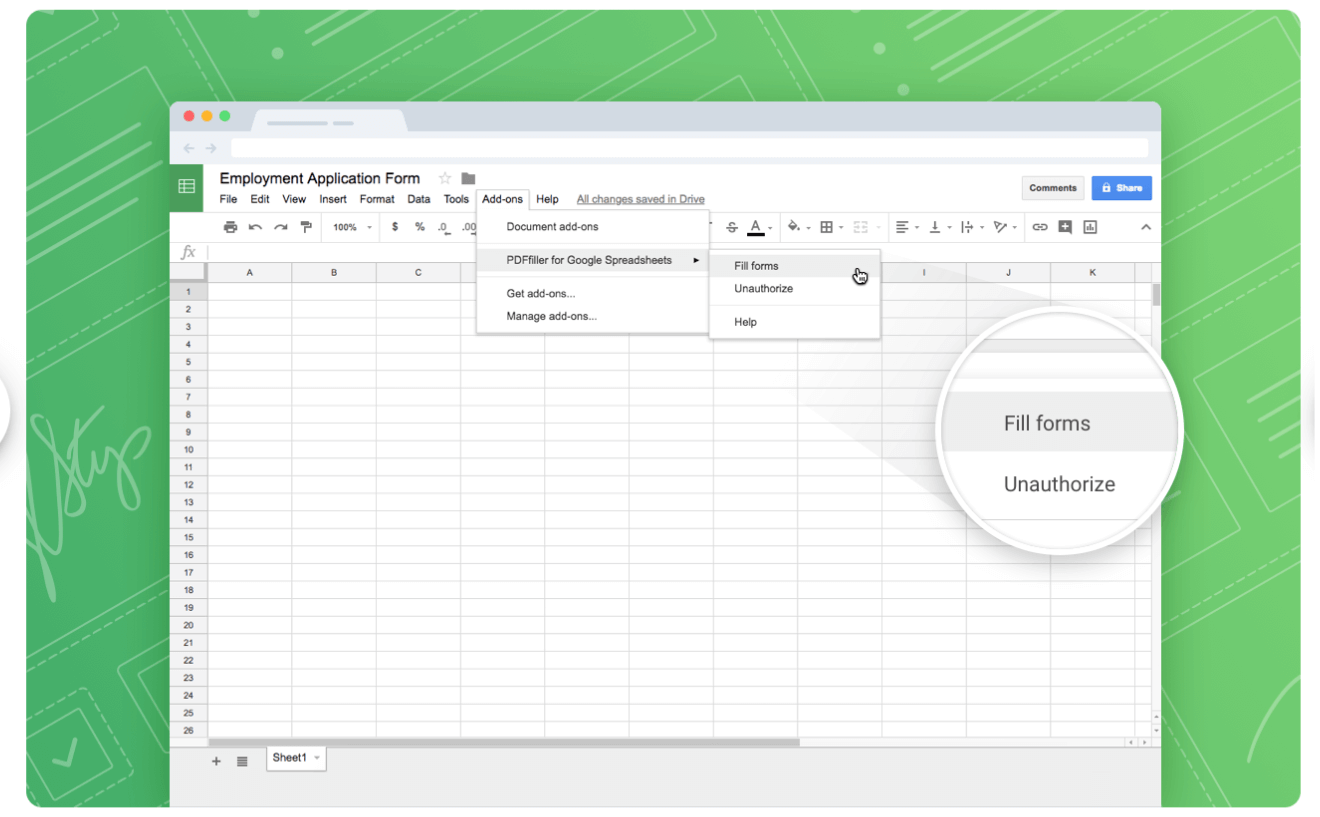 Other useful Add-ons
Advanced Find and Replace

Say goodbye to manually replacing text or data in your cells. The Advanced Find and Replace plugin lets you do that across multiple sheets at once. It scans your spreadsheet for notes, links, values and replaces anything you want with a click.

Twitter Archiver

How many times have you come across an interesting tweet but lost it in the sea of others on your feed? Not anymore with Twitter Archiver. This plugin saves tweets that match any predefined hashtag in your Google Spreadsheet right away.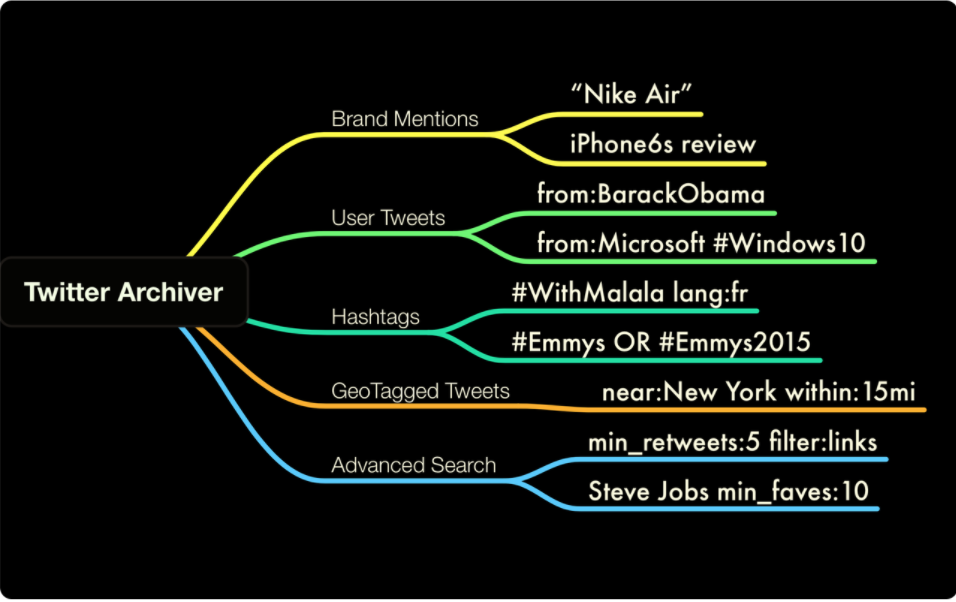 Now, Go Try them Out or Build Your Own Google Sheets Add-on!
All in all, as you can see, Google Sheets Add-ons can really make your life easier by improving your and your team's workflow. The best thing is that it literally takes seconds to install them, just take it from there and enjoy the extended functionality of Google Sheets.
If for some reason you still haven't found the perfect add-on that simplifies your daily tasks, we have good news – it is possible to build your own add-on without expert coding knowledge.
See how you can extend Google Sheets with add-ons on your own and build your own custom add-ons with workflows, connect to 3rd party tools or integrate your data with other apps on the Google Workspace.