For the companies that use it, Slack is the business equivalent of mission control. The collaboration hub that connects everyone's work – wherever they are.
Much more than a messaging platform, the secret to Slack's success is how easily it integrates with the tools businesses use every day. From popular collaboration tools like Google Docs, to automated alerts and notifications for thousands of niche and specialist products.
Slack understands that teams work best when important information comes to the team, into a single shared space – not the other way around, where team members need to log into many different tools and platforms.
Google Analytics and Slack
Google Analytics is one of the most used digital marketing tools in the world. Over 35 million websites use Google Analytics (GA), and its popularity looks set to continue with the latest version: Google Analytics 4 (GA4).
Unfortunately, many teams don't make the most of their GA data, especially when it's only ever accessed in-app (sometimes infrequently) by the team members who already know how to use the platform.
But it doesn't have to be this way. You can gain much more value from your GA data by integrating Google Analytics with Slack and generating regular updates for your website metrics.
Scheduling regular Google Analytics reports, to be posted in Slack, increases the visibility of your website KPIs. This helps team members become more familiar with key metrics so they can spot important changes (such as a sudden drop in traffic) and respond quickly.
How do you integrate Google Analytics and Slack?
So how do you generate Google Analytics reports in Slack? Today we're going to explore four options:
Manual reporting
Geckoboard
Arc Analytics
Zapier
Option 1: Post Google Analytics reports manually
This is perhaps the most common way of sharing GA data with your team in Slack.
Sure, it's not the most original suggestion, but we're including it here for completeness.
Once you've created custom reports in Google Analytics, it doesn't take much effort to just share a link in a Slack channel every day, or every week.

There are some obvious drawbacks however:
It's easy to forget to share the report
You're relying on team members to always click the link (spoiler alert… they won't)
Not all team members know how to navigate Google Analytics' interface, especially since the launch of the GA4
It's not visually engaging – eventually the link will just become part of the furniture.
Option 2: Geckoboard
Yes it's our own product, but it's fair to say Geckoboard is a very popular solution for users of both Google Analytics and Slack.
With Geckoboard, you can use your Google Analytics data to create a custom KPI dashboard. You can then schedule regular snapshots of your dashboard to be sent to any of your Slack channels.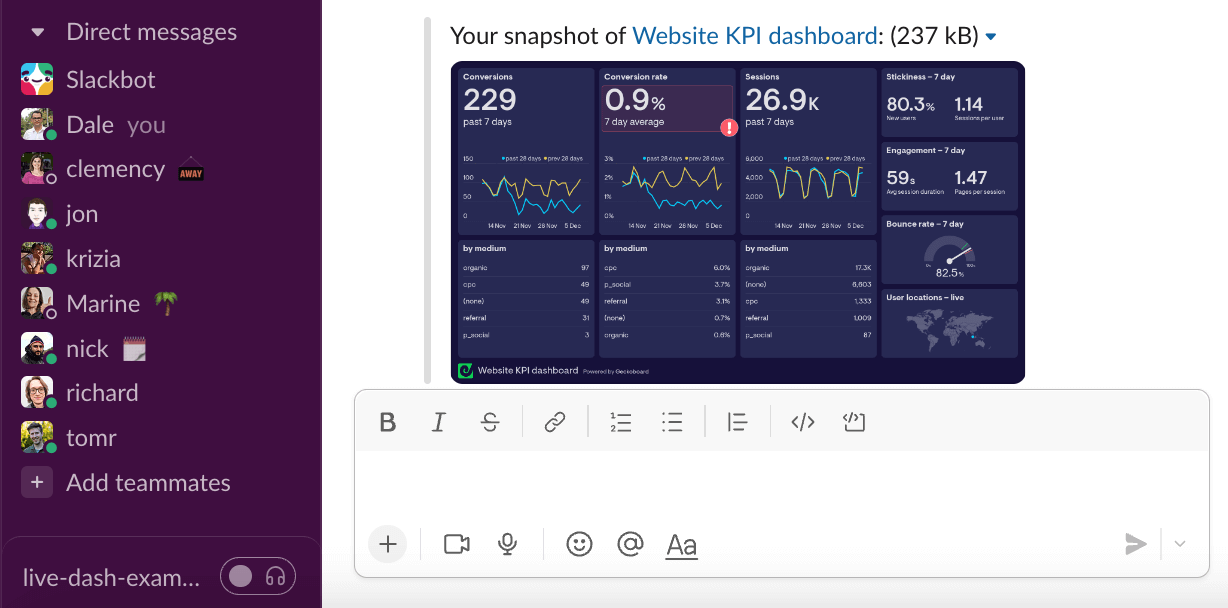 And that's not the only sharing option. You can also schedule snapshots of your dashboards to be sent to your team via email. Or you can use Geckoboard to create a TV dashboard that makes your Google Analytics data unmissable.
Geckoboard integrates with over 80 different data sources, so you can create dashboards for Slack that also surface metrics from tools like Salesforce, Shopify and Zendesk. Plus, Geckoboard integrates with the new version of Google Analytics, GA4, so it's completely future-proofed.
How to create a Geckoboard dashboard for Google Analytics

Step 1: Sign up to Geckoboard and connect your Google Analytics account
Once you've signed up to Geckoboard's free trial (no credit card required), you can start building your dashboard by clicking 'add widget', then choosing either Universal Analytics or Google Analytics 4. (We recommend using Google Analytics 4 if you've already set it up –  because Google will be discontinuing Universal Analytics on 1 July 2023.)

Next you'll be asked to build a widget – select any to get started. Then sign in with your Google account to create your connection to Geckoboard.
Step 2: Add a widget to your dashboard
Once you've connected your data, you can start building widgets in Geckoboard. A widget is a data visualization: such as a number, a gauge, a leaderboard, a table, or a bar chart.
You can add context to your widgets in the form of goals, comparisons and status indicators. This helps anyone looking at the dashboard to understand whether the metrics are normal or have changed.
Step 3: Add more widgets and build up your dashboard
Once you've got the hang of building widgets, you can start to build up your dashboard. Use the WYSIWYG editor to move widgets around, make them bigger, or even combine them into groups by dragging and dropping.
Step 4: Connect your Slack account and schedule regular snapshots
Once you've built a dashboard, simply connect your slack account and schedule regular snapshots to be sent to your Slack channels daily, weekly or monthly.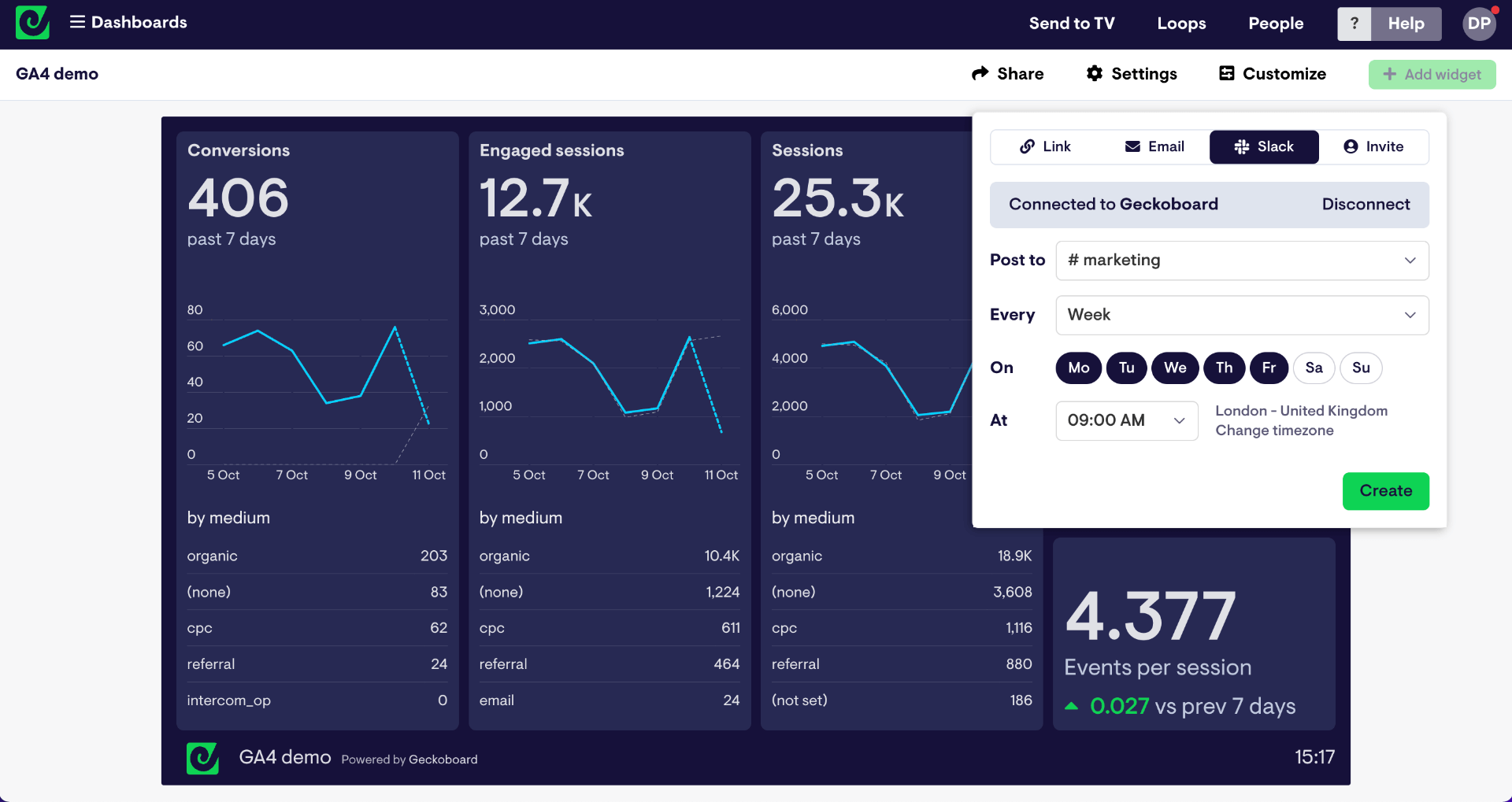 Option 3: Arc Analytics
For many years now, Arc Analytics has been a popular tool for getting your Google Analytics data into Slack. It's even been recommended by Slack themselves.
Arc analytics focuses on delivering bite sized reports in your Slack channels on various GA metrics from Users to Bounce Rate. It delivers these reports in an easily digestible format, even writing in plain English how that metric has changed over a given period of time.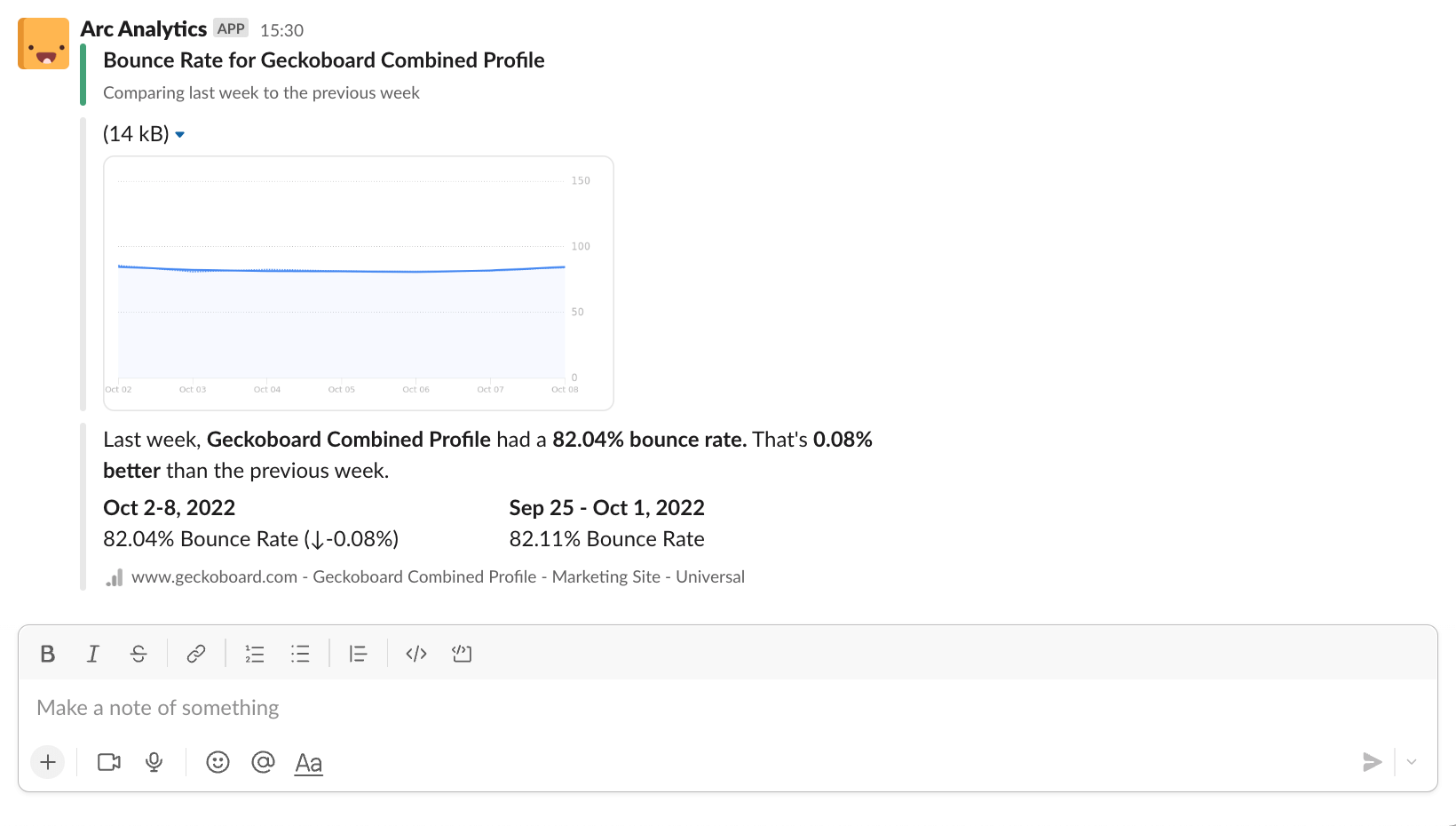 What's more, with Arc, you can also set up alerts which trigger when a metric reaches a certain threshold – for example, if your Bounce Rate exceeds 90%.
We should point out that (at the time of writing) Arc does not yet have an integration with GA4, which is set to fully replace Universal Analytics on 1 July 2023. And although this may change in the future, it's not ideal for those who have already moved onto GA4, or will be moving very shortly.
Option 4: Zapier
We love Zapier. (In part because it integrates brilliantly with Geckoboard).
With over 5000 app integrations, if you need to connect two different tools, the chances are, Zapier can do it.
And indeed, it is possible to use Zapier to connect Google Analytics with Slack. Unfortunately, in this case, the scope of the connection is quite limited.
You can set up a Zap that creates an alert in Slack when a user sets up a new goal on Google Analytics. But currently, that's all you can do.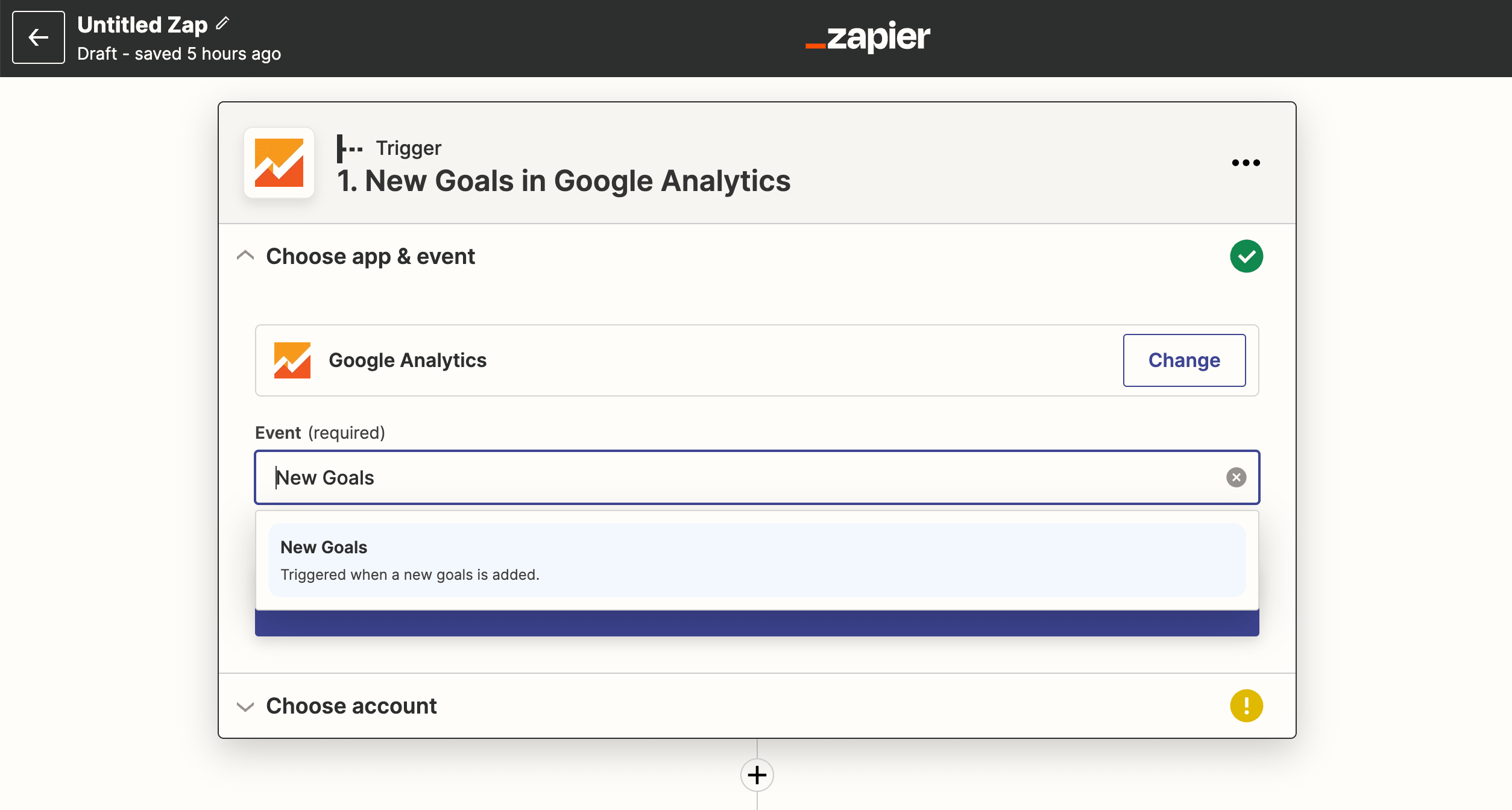 This may be helpful for certain operational situations, but for users who wish to see their Google Analytics metrics within Slack, this is not a viable option.
Zapier also does not yet have an integration with Google Analytics 4. But that may well change in the future.