Goal-oriented organizations are twice as likely to hit their targets compared to other companies who aren't setting and measuring goals. To clarify, being goal-oriented means that your team members are aligned and focused on achieving the same goals, together.
If you want to become more goal-oriented, you first have to set and track the key metrics for your business (i.e. you need to know what your goals are and if you're on the right track to reaching them).
But after that, how are you going to ensure your team is working on activities to reach those goals?
We're learning a lot as we create a metrics-driven company here at Geckoboard and thought we'd share the tools that help us stay focused and aligned. We may not always have an exact map of how to get from where we are now to our goals, but by promoting open communication and collaboration, our team is informed and headed in the right direction.
"Setting and achieving goals isn't about knowing how you'll get to the end result, but about understanding the incremental steps needed to edge you closer to it." - Stanford psychologist Kelly McGonigal
Tools for Focused and Aligned Teams
This list of five tools is by no means exhaustive, but each one makes teamwork easier and more effective for companies that want to be goal-oriented. (See a quick recap on what goal-oriented means and why it's essential for high-growth businesses.)
1. Slack
Company-wide communication is absolutely essential for getting and staying in sync. Slack, a messaging app for teams, enables everyone to stay connected and updated throughout the day - especially if you have remote staff. It's an easy way to share everything from daily activity to questions to helpful articles.
With our team spread across six different time zones, Slack helps us foster open communication and allows ideas to be shared between teams. Having specific channels keeps conversations organized and on topic.
Pro tip for Slack: Create a safe environment where everyone can contribute and ask questions. Praise in public (group channels) and keep feedback constructive. If necessary, reprimand in private (direct message).
2. Trello
Whether you're managing a project, maintaining a weekly to-do list, or planning your content calendar, Trello will keep you organized and focused on upcoming tasks. Becoming a goal-oriented team or organization is all about executing well as a team. Consider these statistics:
86% of polled executives and employees blame a lack of collaboration or bad communication for team problems and failures.
97% of employees and executives believe lack of alignment within a team impacts the outcome of a task or project.
As a visual platform for project collaboration, Trello helps mitigate these common challenges by keeping your team focused and informed. Trello is based on the Kanban system following the general sequence of to-do, doing, and done. You can assign people to specific tasks, set deadlines, and add checklists.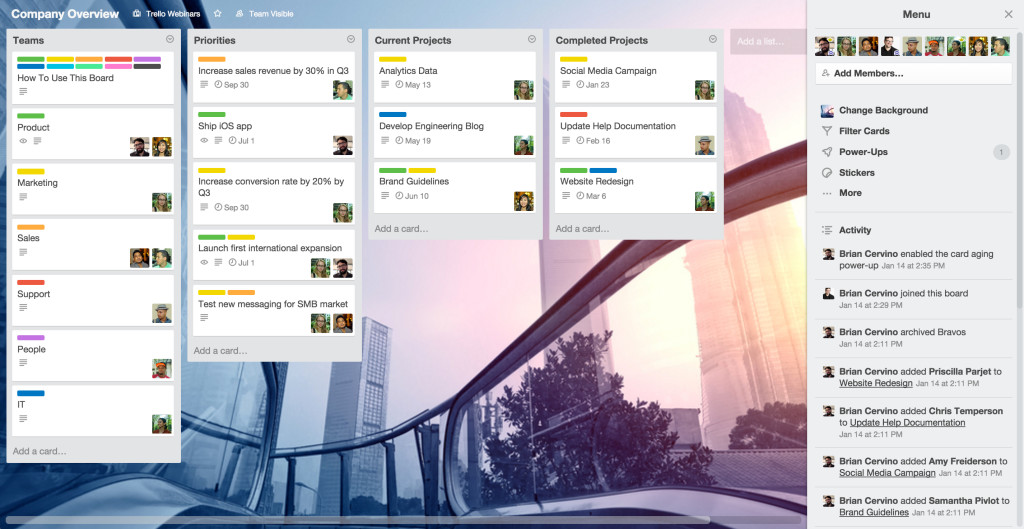 See this sample board here.
Trello makes it easy to break down your goals into actionable tasks (and even subtasks) and manage your workflow. All conversations, links, images and people involved in a specific task can be organized in a single card. This feature alone saves us significant time and helps us avoid frustration since each person knows exactly what needs to be done and who is responsible.
You can always turbocharge the functionality of Trello boards by adding "Power-ups" (integrations with other tools like Slack, Google Docs, Salesforce and more).
Pro Tip for Trello: Make sure each person knows exactly what they're responsible for and when it's due by assigning each person to their respective tasks (usually a 'card' is created for each task) and adding a due date. Keep communication around each task or project within the card so everyone stays informed on progress.
3. 1Password
Any tech-savvy leader knows how challenging it can be to keep logins for dozens of online services secure and yet available to employees. With 1Password, you can easily create, store and share logins without worrying about privacy.
Aligning your organization toward a single goal inevitably means making sure employees have access to the data and resources they need to do their best work. By creating team-specific vaults, you can maintain control of who has access to various accounts.
I was first introduced to 1Password here at Geckoboard and love how easy it is to access over a dozen different applications and services. 1Password for Teams works like a charm.
Pro Tip for 1Password: Take the time to get all your company passwords added and organized by vault. Then give team members access to the respective vaults. We've found it helpful to have a separate vault for each team (marketing, support, etc.).
4. Google Drive
Using the suite of tools within Google Drive is a no-brainer for collaborative, goal-focused teams. Google docs is a great tool for editing blog posts, outlining objectives and key results, drafting website copy, and so much more. Its capacity for multiple people to simultaneously edit and comment on a single document is essential for keeping everyone on track.
Google Sheets is one of our favorites, especially when it comes to sharing hard-to-access data with the entire company. Google Forms are a quick way to collect and segment information, especially when paired with Google Sheets.
If you're presenting any kind of data in a team or company meeting, using Google slides encourages comments and sharing once the meeting is over.
Pro Tip for Google Drive: Setting the 'share' option to 'anyone at the company' makes it easy for employees to search for a specific doc or sheet. If you're using Trello, add links from Google Docs or Sheets to your cards in Trello for easy access and better organization.
5. Zoom
Zoom is a versatile video conferencing tool that fosters clarity in communication. Chatting face-to-face creates a stronger level of connection that's just not possible with other online communication or even phone calls.
Since our team is spread across six different time zones, we use Zoom on a regular basis for our 1:1 meetings, all-hands meetings, and show and tell events. We can easily record the meeting so others can watch it later if they are unable to attend live.
The more clearly you can communicate your goals, the easier it will be for your team to understand and achieve them. Obviously, remote teams benefit from using Zoom, but it can be equally useful for webinars and client meetings. When you have lots of people on a call, you get this fun Brady Bunch view with their gallery display.
Pro Tip for Zoom: Don't forget to share your screen during a video call if you're explaining a process or giving a tutorial. It's far easier for someone to listen AND watch as you do it than to only listen.
Making the Tools Work for You
At the end of the day, tools are just tools. By themselves, they won't accomplish much. It's up to you to use them effectively - this means making sure your entire team uses them. Collaborative resources work best when everyone is committed to working together towards a singular business goal.
What tools do you use to keep your team focused and aligned? Or do you have other tips for using the tools we've listed in this post?
Share your thoughts in the comments!



Bonus Tool: Geckoboard
Obviously, we use our own product every day and believe it transforms the way people track and communicate their most important metrics. And of course, I'm a fan, but don't just take my word for it. Here's what other companies are saying about Geckoboard.
Ethan Smith, Chief Growth Officer at Yummly:
"With Geckoboard, the visualizations of our targeted metrics are always readily available for the whole team to act upon. The dashboards help reinforce our culture of transparency, enables highly focused teamwork and allows everyone to contribute to the general health of the company."
Romain Ogilea, Data Analyst at Casper:
"Geckoboard is a fundamental tool that we use to monitor long-term and short-term performance in order to guide our teams on a daily basis in real-time and make the results of their efforts visible to everyone."