Mirabeau is a Netherlands-based agency, leading in web- and mobile application development. The agency combines design, technology and marketing to create powerful solutions for clients like, ING, MoneYou, Air France-KLM, AEGON, Nationale-Nederlanden. We had the opportunity to interview Franklin Heijnen, Creative Director at Mirabeau. Franklin explained how Mirabeau is using Geckoboard to empower their teams, build stronger relationships with clients and develop a strong culture of result-oriented individuals.
Below are some excerpts from our conversation.
Give us a 'pen portrait' of Mirabeau.
Franklin: Mirabeau is an online agency that was established in 2001. We recently had our twelfth year anniversary, and at the moment we are about 300 employees. The combination of creativity and technology is mainly the core of Mirabeau. We're a typical full service agency, so clients come to us for strategy, design concepts, development of websites and for the management of websites when the project has finished. Travel, finance and e-commerce are the main lines of trade in which we are active.
When does Geckoboard help you most?
Franklin: We see two main use cases for Geckoboard; the first one is helping clients to get insights. Dashboards play a role in creating KPI awareness within our clients and help us identify potential problems ahead of time. The second use is helping our Scrum/Agile/DevOps teams to give a multidisciplinary overview of running projects and daily operations. We initially define dashboards that contain project KPI's (like ETC, number of open issues, number of hours spent etc.), operation KPI's (like uptime, performance), test KPI's (number of failed and succeeded tests) and social information (twitter feed). So we create dashboards for teams which enables them to create a holistic view of what's is happening now. Dashboards help in creating data awareness.
What challenges have you faced in building a data-driven culture?
Franklin: The biggest challenge wasn't the design and configuration of the dashboard itself, but defining the right KPIs to put on it and then getting the data needed to populate the board. Acquiring the most appropriate data from back-end located systems and databases can be difficult because of security and distribution restrictions. So, for example, a client's supplier may not want to co-operate because of their own internal policies, and it can take a little 'missionary work' to get buy-in. There are also practical challenges, such as how do you compare the relative value of your chosen KPIs? The way we do this is by working with the client to allocate a monetary value to each KPI. For example, that might be €10 for a new email list subscription and €15 for a new content contributor. This enables our e-commerce managers to make decisions based on value instead of just costs. You also have to make sure that the increased focus we're putting on data and results becomes integrated into the agency's way of working – more than having tools and techniques available, this is all about getting people and process to work in harmony.
How do you visualize your data?
Franklin: In the agency we have dashboards on the wall so data is freely available and highly visible. We also share URLS with clients, and even buy them iPads, so they can access KPIs 24/7, wherever they are. Dashboards also help in creating general data awareness. To achieve sustainable online success, you have to keep a close eye on trends and adopt a continuous cycle of optimization. So we hold monthly evaluations, when we look at trends using Excel or a PowerPoint presentation. It all starts by defining specific goals and the main metrics, which we do with clients in workshops at the very beginning of each project.
What would your advice be to other agencies looking to become more data-driven but not sure where to start?
Franklin: Begin with KPIs. Define these and make them easy to understand, because this is all about data awareness. Teams and clients need to know what's going on the whole time and having access to the right data can make a huge difference. We already have a lot of transparency with our clients, so Geckoboard helps us leverage that and focus on results.
Click the image below to download the case study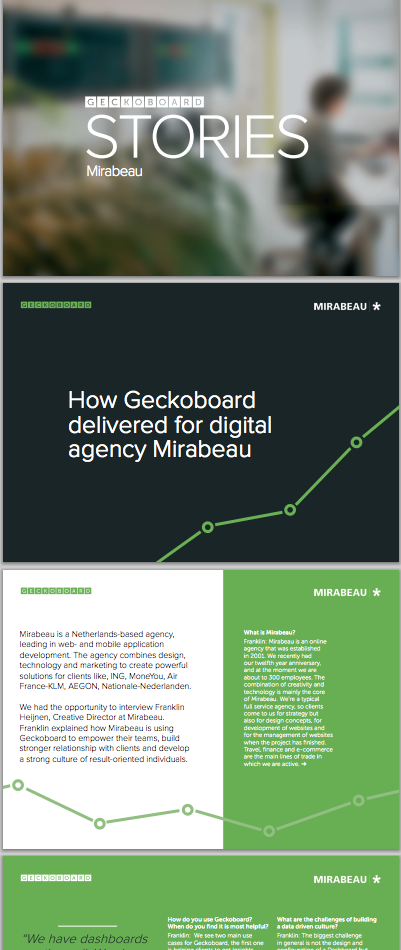 If you are a data-driven agency and would like to feature on this blog contact us at sofia@geckoboard.com