This is the latest in our series of featured business dashboards, which highlights the interesting and different ways our customers are using Geckoboard. We hope that you will be inspired to try new ways of using your board, visualising your data and designing your dashboards.


We recently heard from Brian Winfield of GiftCard.com who has given us an excellent insight into how they're currently using Geckoboard. Founded in 2004 and it is based in the US, GiftCard.com lets you personalise Visa cards with your own artwork and send e-gift cards. We asked Brian to answer a few questions about how they use Geckoboard, here's an insight to their use case.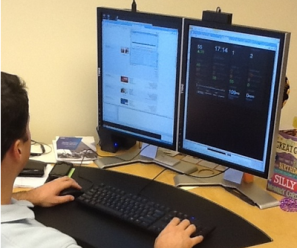 How did you find out about Geckoboard?
We found Geckoboard through our bug tracking system, Gemini. We now use one dashboard to monitor metrics that reflect the health of our company and another to monitor the day to day operations. This information has been useful across all departments including customer service, marketing, operations, and IT.
How you went about choosing the right metrics to display on Geckoboard? We chose to display stats that we were already tracking. The executive team uses one dashboard to monitor the health of the company. Metrics displayed include sales, card volume, site traffic, and conversion rate. The operations department uses a separate dashboard to monitor relevant day to day metrics. Metrics displayed on this board change depending on the current needs of the department including which stage the orders are in the fulfillment process, rush orders, and system response time.
How do you think Geckoboard has helped improve decision-making throughout the business? There's no shortage of data to sift through; Geckoboard eliminates the chance of human error in the data compilation and presents it in easy to digest visuals. This allows us to make decisions more quickly based on more accurate data. Before Geckoboard, these metrics were presented to the executive team on a weekly basis. Now the team has the ability to see the data in real time and is able to use the mobile app to check in even when they're out of the office.
What are the key benefits of making data visible? In addition to the improved quality of the data we receive and the ability to make decisions more quickly, the visibility into key metrics has been beneficial across all departments. We are able to create more accurate financial projections, compare each month's sales to the previous month in real time, and have a better understanding of the effects of our marketing efforts. It has also given us beneficial insights into our internal service level agreements (SLAs) and staffing.
Thanks to Brian for sharing his experiences of Geckoboard.
About GiftCard.com GiftCard.com helps you celebrate the important people in your life by offering Visa Gift Cards you can personalize with a photo or custom artwork and mailing them in a custom greeting card. It also offers hundreds of store and e-gift card options as well as incentive cards for businesses on its corporate site, IncentiveCardLab.com.