This is the latest in our series of featured business dashboards, which highlights the interesting and different ways our customers are using Geckoboard. We hope that you will be inspired to try new ways of using your board, visualising your data and designing your dashboards.


Michael Stone, Customer Advocate at BetterCloud, tells us about how they're using Geckoboard in their distributed business. They're headquartered in New York City with offices in Atlanta, Georgia.
How did you find out about Geckoboard?
Our CEO, David Politis, saw a Geckoboard set up in the Atlanta Tech Village - where BetterCloud has their engineering office. He called me up and said 'We need this now!'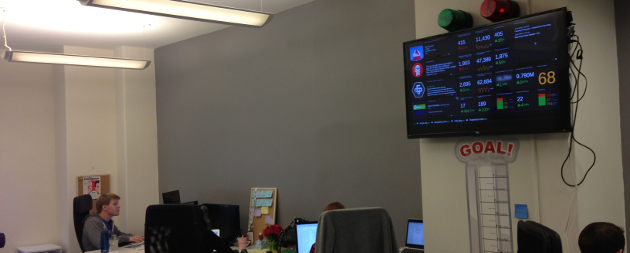 What was the initial reaction of your team after the status boards were placed in the office for everybody to see?
The whole team was really impressed and thought the UI was slick and appreciated being able to see company metrics in real-time. Since we have two different offices - one in New York City and the other in Atlanta, it's very important that the whole team stays connected and on the same page. We used to have a weekly meeting where we would update everyone on key metrics, but the Geckoboard has replaced these updates.
By displaying vital stats that we surface in Geckoboard, we're able to bring the two teams closer together.
How did you choose your metrics?
The metrics we chose to include were selected based on what we thought would be the most useful for every employee - regardless of their job function. These metrics revolve around product install numbers, traffic to our different websites, social media streams, blog posts, information from Zendesk, tracking issues in JIRA and more.
What would your advice be to other organizations that haven't started using this kind of technology, or that are interested in leveraging their current efforts more?
I would highly suggest organizations start using this type of product. Transparency is important and the Geckoboard definitely helps with that. Everyone in your company should share in the ups and downs and that's why it's really important to choose numbers that are important to the business. Everyone will end up focusing on these metrics all the time, so choose wisely.
How does Geckoboard bring your two offices together?
Initially, having two offices on both ends of the east coast was a bit daunting, but after a year and half of working this way, we've maintained a close connection and have managed to build one cohesive culture. Geckoboard has become the centerpiece of the technology project we've built to keep both offices as close as possible. Now, everyone has the same information at the same time - including what our customers are saying about us and how we're trending. We can all get a snapshot of the state of the business with a glance at the Geckoboard.
Thanks to Michael for sharing his experiences of Geckoboard.
About BetterCloud
BetterCloud is the leading provider of cloud management and security tools for Google Apps. FlashPanel, its flagship product, is a directory management and Google Drive security application that empowers Google Apps administrators by providing added controls, visibility, automation and more. BetterCloud also powers Ask the Gooru, which provides free Google Apps training videos and aims to further the adoption of Google Apps.