Are there times when you feel like your Customer Service team is under appreciated for the work you do? Perhaps your team members have spoken openly about not getting the credit they deserve.
Sadly, it's not uncommon for Customer Service teams to feel like they're working extremely hard without getting the same recognition that others parts of the business do.
*Cough cough* Sales. *Cough cough* Marketing. *Cough*.
On one level, you could write it off as paranoia. After all, if your business genuinely didn't value the Customer Service team, then you wouldn't have a job in the first place, right?
But maybe there is something to it. In fact, in most businesses, the support function doesn't get the same recognition that their revenue-generating colleagues do.
But when you understand why certain teams get more recognition, you'll realize that it's in your power to change things.
Why don't Customer Support get more recognition?
So why do some teams naturally find themselves getting more recognition than others?
It boils down to two main reasons: a) visibility and b) being able to quantify your work.
What does this mean?
Let's consider the Sales and Marketing teams.
Sales teams have very clearly defined targets. Their work is quantifiable – how many meetings they've had, the $$$ sitting in their pipeline, the revenue they've brought in for the quarter, the list goes on. It's very easy to know how your sales team is performing.
Sales targets are also often closely aligned to overall business goals, which in turn makes them more visible. When everyone is looking at the quarterly revenue goal, the sales team is under the spotlight and getting a pat on the back when it's reached.
With the Marketing team, it's in their nature to be visible because that's marketing – getting your product or service in front of the right customers.
Because of this, it's likely they're pretty good at internal marketing.
Meaning, the company will be aware of the current campaigns running and how they're performing. Leading to credit for their efforts when things are going well.
In other words when Sales are bringing in big deals, and marketing are running interesting new campaigns, it's easy for people to talk about them – and so people do. Their work becomes part of the company watercooler chat. It gets referenced in meetings by the CEO.
With Customer Service, it doesn't always work like that. Your colleagues don't know how to quantify the value of the work you do, and even if they did, the work isn't visible to them, so it's not top of mind.
How do I get the credit my Customer Service team deserves?
As we've suggested above, you'll need to increase the visibility of your team's work as well as making your goals clear to the wider organization so they're able to quantify your efforts.
The good news is that there are quick and easy ways to showcase the hard work of your team.
Use the customer voice
As the team with front row access to your customers you're in a prime position to utilize their voice.
Everyone in the business will be interested in your customers' problems, pain points, and their feedback.
By sharing customer stories you'll naturally gather more attention and interest from your co-workers.
It'll also help shine a light on the problems you're solving on a daily basis which will boost recognition for your efforts.
And finally, there will undoubtedly be positive feedback for the Customer Service team. Sharing this right from the horse's mouth will have a big impact on the credit your team receives.
Set up channels in collaboration tools (such as Slack or MS Teams) or use meetings to share kudos for the team via customer quotes.
Lead by example
As a leader in Customer Service, a big part of your job is to make sure you're banging the drum for your team.
Your team will naturally look to you to guide them and you need to be their biggest advocate.
If sharing your team's achievements with the wider organization isn't something you currently do, you'll want to change this.
Bring your KPIs to the attention of the wider business
A real-time KPI dashboard is a great way of both increasing visibility and quantifying your work. You'll be able to educate the whole business on your KPIs and how your team is performing, all in one place.
By including your most important metrics alongside a live feed of positive customer comments you can deliver your results and use the voice of the customer to generate a buzz around your achievements.
Here's what Sally Jackson, Customer Service Manager at The Entertainer had to say about implementing their first Customer Service dashboard:
I think there's a lot of thought that all we do is sit and chat with people on the phone every day. But when you can display on a board that we've got other pieces of work that we're doing, it just gives a business that greater understanding and appreciation of what the Customer Service team do.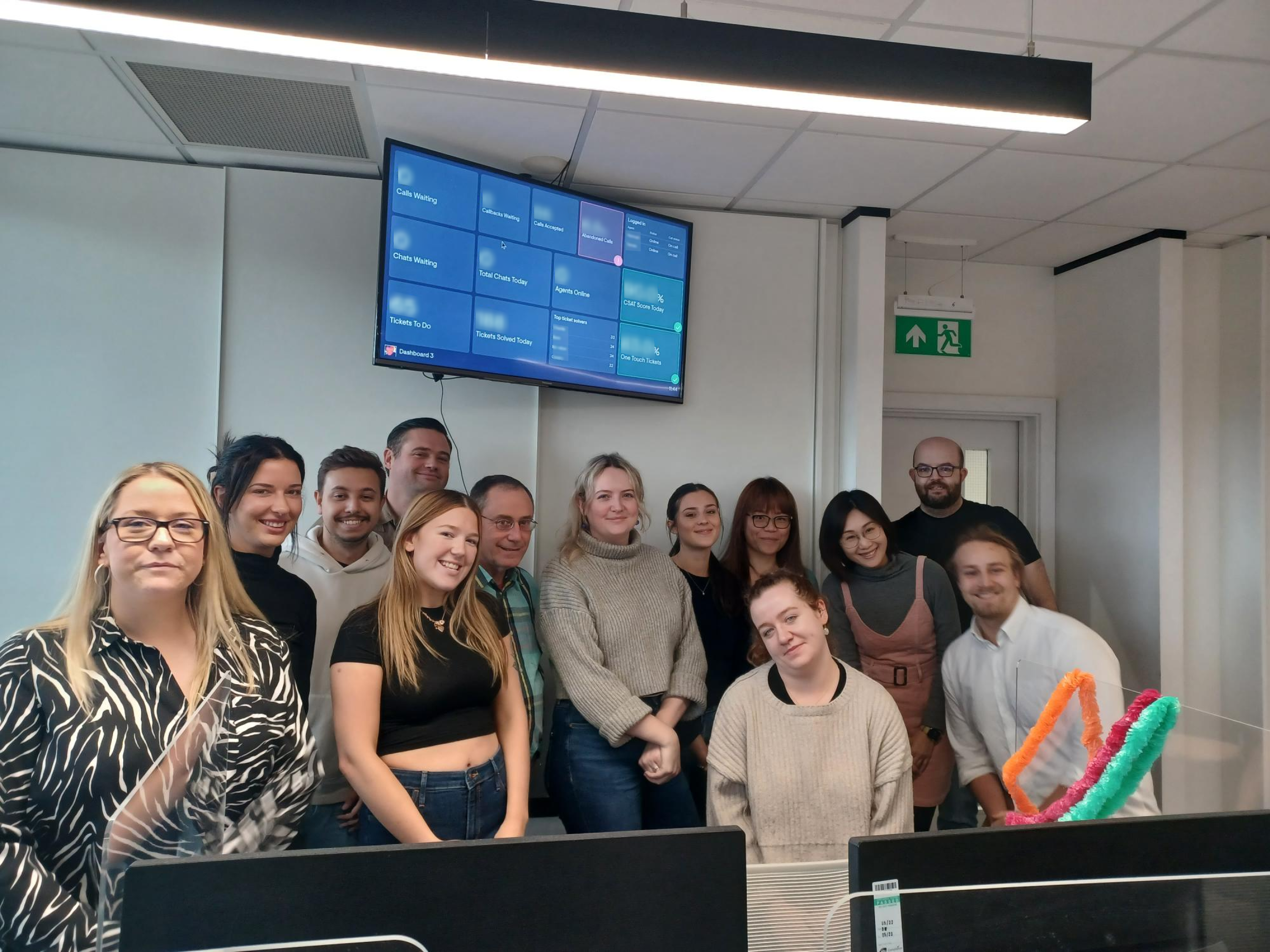 Using a dashboard tool like Geckoboard allows you to bring together your most important Customer Service KPIs and highlight the impact your team has on your customer experience.
Geckoboard allows you to quickly and easily create a dashboard by connecting popular Customer Service tools such as Intercom, Zendesk, Gorgias, Aircall, Delighted, and Klaus to bring your key data into one place.
If your team works in an office, getting your KPI dashboard up on a TV is a sure fire way of creating visibility. Anish Ravi, Head of People Services at Flink, tells us how their dashboard is literally stopping people in their tracks:
Literally everybody who passes by stops, takes a look and looks at my team and says, "wow, that's good." So that's a big achievement, now my team is visible. People are really able to see what my team's impact has been. And that's something that we've been struggling with for a very long time. I put my team on the map and everybody knows who my team is now. So that's big.
Even if you don't have big screens at your disposal, you can still create visibility with a Geckoboard KPI dashboard. Send scheduled dashboard screenshots to Slack or email or share a live link to keep everyone in the loop when it comes to Customer Service performance.
If you're not sure how you'd go about implementing a KPI dashboard and getting buy-in from the wider company why not check out these success stories from our customers:
Want to jump-start your Customer Service team's visibility? Try Geckoboard for free and create a KPI dashboard in minutes to share your successes with the whole business.