When it comes to Zendesk Explore and reporting in Zendesk, there's no denying Zendesk's power in analyzing customer data and uncovering insights. However, even experienced users will acknowledge that Zendesk Explore can be complex to understand, and challenging to master.
Perhaps you're new to Zendesk, or are a long-time Zendesk user who's recently been tasked with new reporting responsibilities?
You might be facing a long, steep learning curve in order to deliver the reports you need right now.
But don't worry, we're all about working smarter, not harder.
That's why we've put together this Zendesk reporting 'cheat sheet' – four simple ways to get the Zendesk dashboards and reports you need – without having to learn how to use Zendesk Explore first.
1: Build a Zendesk dashboard in minutes with Geckoboard
Geckoboard is a trusted favorite for Customer Support professionals and has been used by thousands of Zendesk users over the years.
Geckobaord's drag-and-drop dashboard builder doesn't require any training, or prior experience. Just connect your Zendesk data, then build real-time KPI dashboards in minutes.
No free Zendesk seats? No problem. Geckoboard is particularly useful when you need to share Zendesk metrics with a wider audience. For example, support agents, or senior managers who don't have the skills, time or access requirements to use Zendesk Explore themselves.
With sharing options for TV display, email, Slack, mobile and desktop, sharing your Zendesk KPIs couldn't be easier.
Plus, in 2023, Geckoboard launched interactive view, which allows users to drill down into metric and trends in a way that many customers have said is much more user-friendly than Zendesk Explore. Perfect for quick queries and sense-checking your data.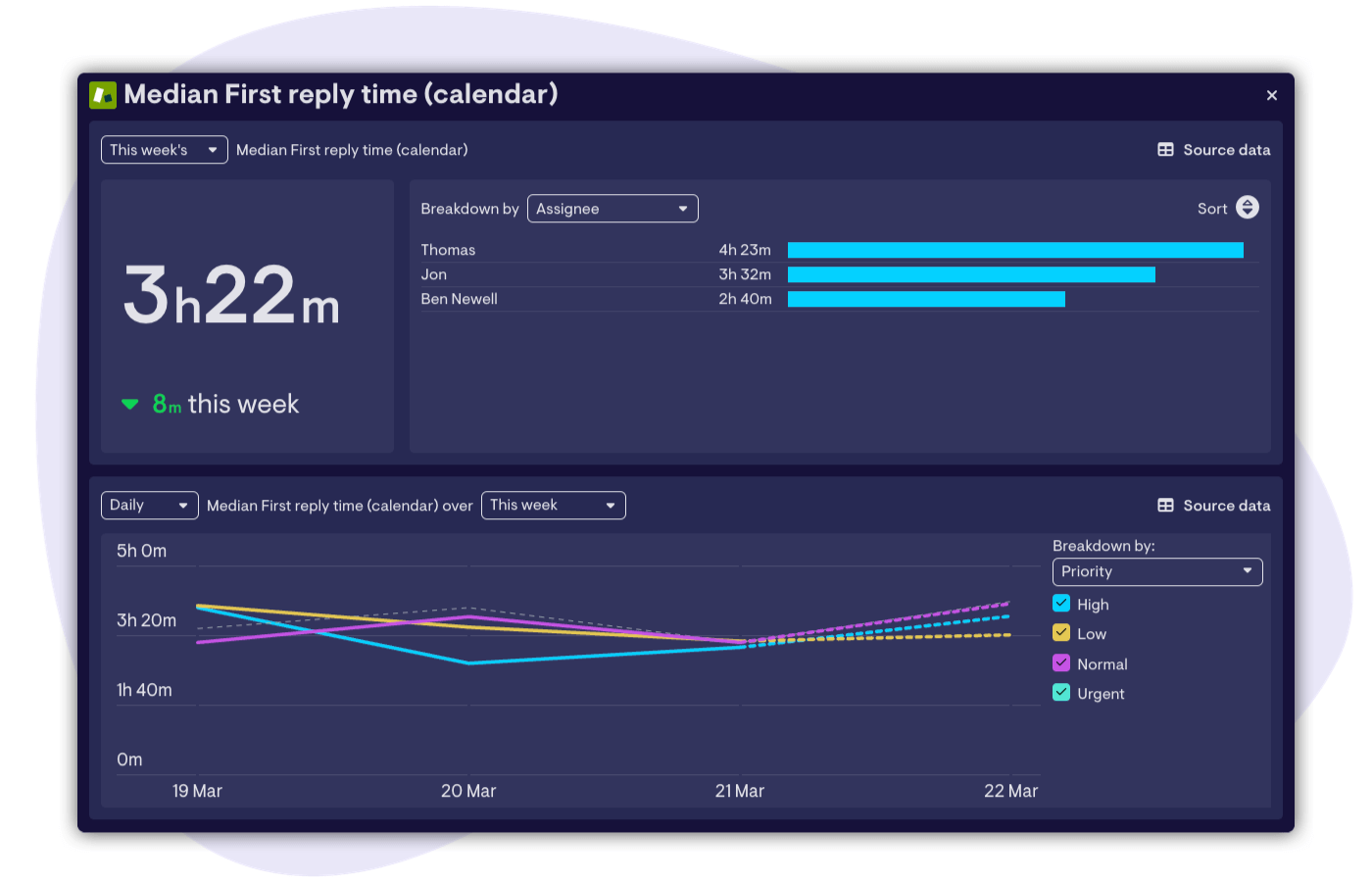 2: Pre-built reports in Zendesk Explore
It's probably already occurred to you to use Zendesk's pre-built reports, and if it hasn't, well why not? They might contain exactly the right data you need!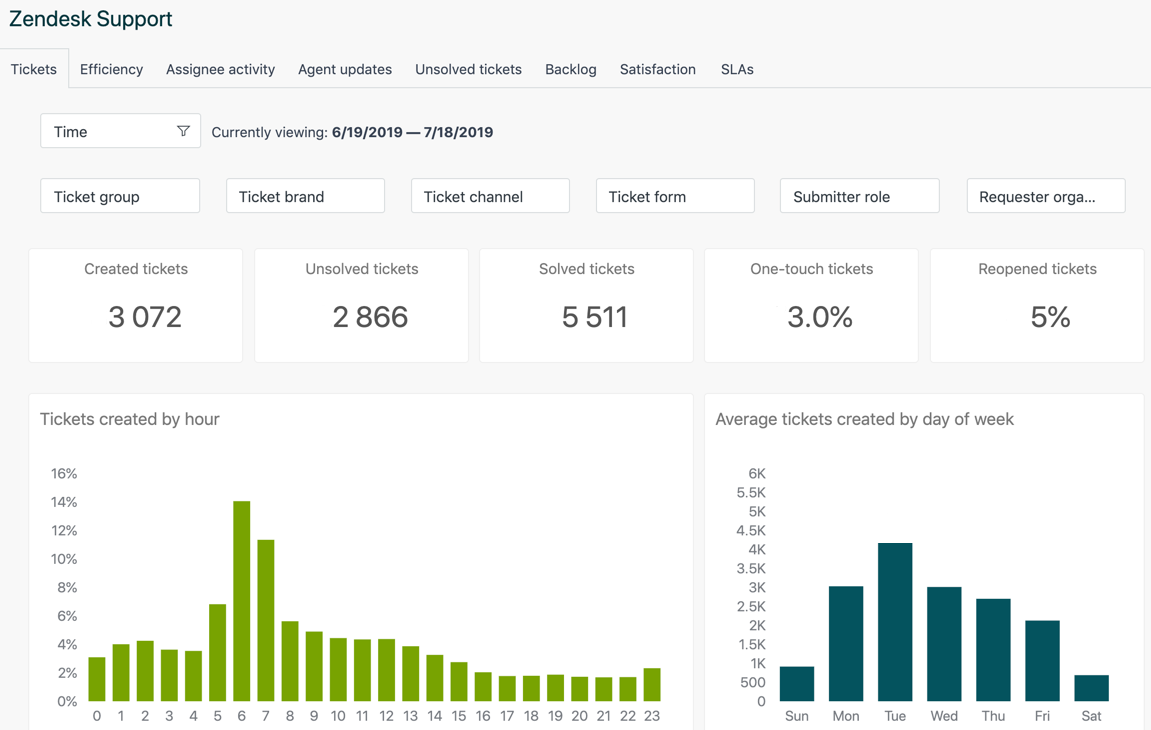 Zendesk Explore contains pre-built reports for:
(*Note the only 'live' dashboard available is on the Enterprise plan. All other Zendesk Explore dashboards refresh every hour or every day, depending on your pricing tier. If you need a real-time dashboard, check out Geckoboard which refreshes Zendesk data every 10 minutes for Zendesk Support, Every 1 minute for Zendesk Chat and every 30 seconds for Zendesk Talk)
3: Zendesk Explore recipes
Many Zendesk users aren't aware of Zendesk's 'Explore recipes'. This reports library is a great resource compiled by the Zendesk team, which shows you, step by step, how to create a series of different custom reports you might need. (Just like a recipe book.)
That means, if you know which report you need to create, you've got more chance of being successful, even if you don't know the ins-and-outs of using Zendesk Explore.
Explore Recipes include reports such as: Chat volume year over year; Percentage of tickets created by channel, and Finding tickets with no replies.
4: Work in Google sheets instead
If you're still struggling with Explore, then it makes sense to switch to a tool you are comfortable using such as a spreadsheet tool like Google Sheets.
By downloading the raw data and working in a spreadsheet, you will have the freedom to work with your data in any way you see fit. Whether that's by using pivot tables, functions like VLOOKUP, or by pasting the raw data into a pre-built spreadsheet template.
The downside to working in spreadsheets is that there is a major manual component to this workflow. And if you are reporting regularly, then this approach may not be sustainable in the long run.
However, if you're set on this style of reporting, then be aware there are ways to make your life easier. For example, you could use the Zendesk API or a connector tool to automatically update your spreadsheets. You could also check out a tool like Coefficient which is designed to make importing Zendesk data into Google Sheets much easier.