Powerlinx is an exclusive, online community for business leaders that matches your needs against millions of businesses that can help you solve problems and seize opportunities. With a mission to make businesses more successful, drive innovation and fuel the global economy, Powerlinx needed a tool to help them track progress and make sure they were heading in the right direction.
Kristen Fergason, CMO, and Yoni Cohen, Head of Product at Powerlinx, told us about the importance of actionable metrics and their focus on building a transparent company culture.
Helping other businesses reach their strategic objectives
Kristen: Powerlinx is a business platform. Our goal is to introduce two complementary business owners, CEOs or Senior Executives who can help their businesses grow and make strategic partnerships. May it be a geographic extension or a joint venture, mergers and acquisitions, raising capital, finding new customers or finding suppliers and developers.
Our goal is to create a more efficient process and to advise on how companies connect with each other to reach their next growth objective. We now have a presence in more than 130 countries across the world, working with companies ranging from a 2-3 person wholesale business, all the way up to multi-billion dollar companies. It's been really cool to see how we're able to help different companies in different stages to grow and reach their next strategic objective.
Keeping everyone on the same page
Kristen: We've got four investors based in five different countries. From the first second the idea of Powerlinx was conceived, it was clear that we were never going to be based in the same location. That's why we very early on needed a good way to track our progress and make sure that we were all able to say, 'I know what we're doing, I know where we're going and I'm aware of all the things that have to be done next.'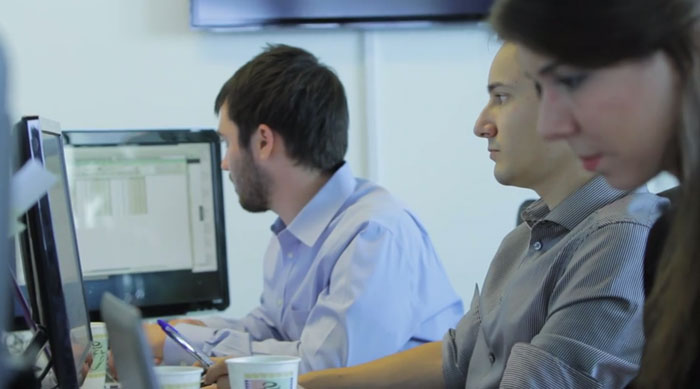 Using actionable metrics to understand the process
Kristen: The first board we built showed our company-wide KPIs, but we quickly realised we needed something that was catered towards our marketing efforts. What's happening on the website? How many users are signing up? Where are they going and where are they spending their time? What stage of the funnel are they in? We needed to bring all those things together to help us understand what our inbound traffic flow looked like to help us identify areas we needed to improve. Geckoboard gives us a real-time pulse of what's happening in the business. The minute we see one little red arrow pointing down, somebody's on that channel looking into why it's happening. It's highly actionable for us.
Yoni: We have one dashboard which we call our analyst dashboard. This dashboard is a place where a combination of a lot of really cool technology and some added support come together to show us exactly how effective analyst interactions are with our members.
That whole process is seen as a snapshot on your dashboard. Then, we can readily see how many companies are currently still being analysed and how many the system is waiting for feedback on or how many companies are being introduced as we speak. Also, the whole company can see how we're getting closer to our objectives by viewing posted conversion rates.
Reducing the noise
Yoni: Everything started organically. We had one dashboard where we put up one very interesting piece of information. More information was added, and all of the sudden we had three dashboards with too many metrics to keep track of. That's when we revisited the dashboard, took a look at our process and said, 'Okay, now what do we actually care about?' We identified those metrics and agreed on three or four metrics that would be 'the masters' and set the directions for the rest of the dashboard.
Kristen: We had a ton of metrics in the beginning. Seeing all the stuff we threw up there helped us reduce the noise. It helped us filter down to what our core metrics were and understand what was important. One of our founders sits in our office space and he would come out and grill us on numbers. As intimidating as it sounds, it helped us think about what we really should be looking at.
Having the power of visualisation enables us to drill into those things that are really important and clear away the noise. It was so easy to do it. It's so much better than just having an Excel spreadsheet that goes out to the board, but actually having the graphics and the funnels and the real-time notion. It's just so much more fluent and dynamic.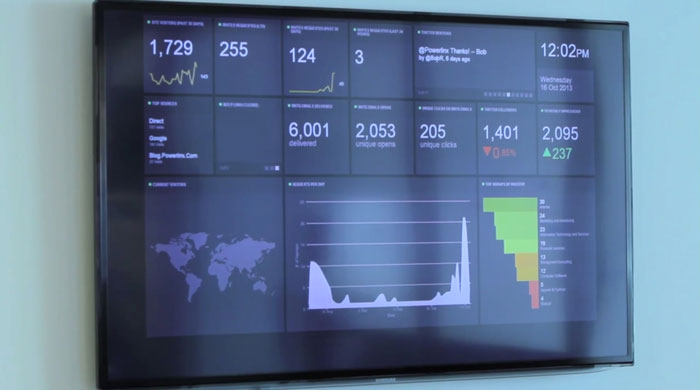 Starting the data-driven process
Kristen: Start from what it is you're trying to do as a company. Start from the result you're trying to achieve and go backwards. At the end of the day you want a customer, and that means there's something they have to do in order to become your customer. Track that and then go backwards because that's going to give you the insight you need. Look at it every minute of every day because it's going to give you the most actionable information.
Yoni: I completely agree. There are a lot of really easy ways to get data up that you don't realise. Take a look at your recent spreadsheets, or Google Analytics - I'd bet you have access to some of the data you care about in one of these formats already. Starting is easy. Don't worry about updating the data live, or even updating it every day. Just get used to having the structure in place. What are the two or three things you care about now? Start small.
Have your stuff in Excel? Get it out of there. Because when it's in Excel, people lose it. Some people can look at a spreadsheet and it's completely natural to them. But for a significant percentage of people, it's not. You can put it up there on the board or on your laptop as a way of introducing a new behaviour. Even if these numbers are not live and even if you took them from a spreadsheet and they're only 98% accurate because two things changed since it happened - it does make a difference. Again, start small and keep it simple. Just start somewhere. You can always go back and change it. If it doesn't work today, nothing happens. You wait two weeks and come back to it. Don't be afraid to throw something up there and see what sticks. That's the most important advice I would give.
A second one would be don't get trapped. This happens to too many people, and it happened to me, too. We get so excited about all this data, but then you don't know what to do with it and you start a meeting thinking the data's going to tell you exactly what to do or the opposite. It kind of throws aside reason. Especially if it's not a very developed flow, make sure you're keeping the context of what you're trying to accomplish and why.
Using motivation to create and cultivate a transparent company culture
Kristen: Everybody wants to feel like they're doing a good job. Having the numbers up there is a constant motivator. I'll see the number of customers up there and I think, 'I have to get that number up right now. Why am I on this call?' We want people to see the numbers on the dashboard and say,' I know I could affect that. I can do these three things right now and it's going to help.' It's about empowerment. That's what our company's about, too.
I remember working years ago in a company where I saw somebody's internal room of analytics and there were screens of data everywhere. It was so powerful to me. I just thought: it's amazing that people can do that. Showcase the numbers. Put them everywhere. Employees buy into that. They love to see it. They love to feel like they're a part of it. Don't be afraid to share the numbers - let everybody own them.
Want to know more about Powerlinx? Visit their website.