Continuing our series of Geckoboard customer interviews focused on KPIs, goal setting frameworks and dashboards, we speak to Emiel van Lenthe (Marketing and Operations) of Codator.
Emiel tells us how a side project became a scale up, organizing thousands of divorces a year in the Netherlands, and how they use Geckoboard dashboards to track every stage of the funnel.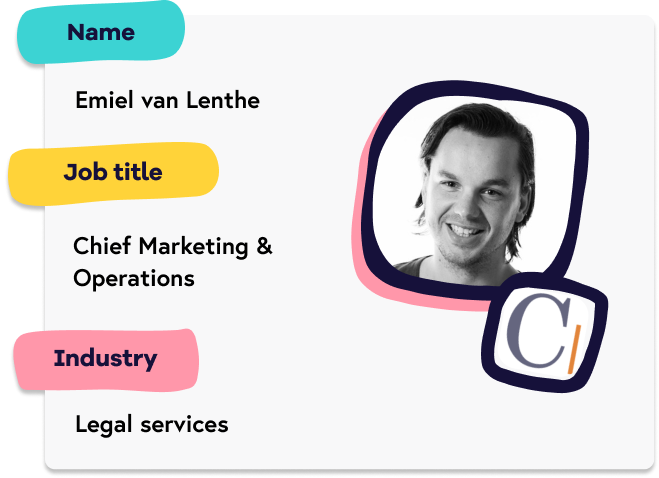 Tell us about yourself and Codator
I'm Emiel van Lenthe and I'm Chief Marketing and Operations at Codator. Previously I worked at an agency in the Netherlands doing the digital strategic media planning for Volkswagen and Porsche.
At Codator we provide a legal platform for niche markets, mainly focusing on divorces. We're a side project that turned into a startup, that turned into a scale up.
Our service is an automated way for people to apply for a divorce (online). We have a whole system behind it, software, tooling, and a lot of automations. We have two high seasons a year, after Christmas and in September after the summer holidays. This September we are forecasting around 300 divorces.
We've now been offering the service for two years. It's been a dynamic ride, but we now employ 30 people.
How did you decide you needed a dashboard?
We decided we needed a dashboard shortly after first opening our office two years ago. The team was growing and growing and we needed something to make sure everyone was aware of the numbers. When it was just a couple of us we could get by with just a Google Sheet, but that didn't scale.

We want to be as data driven as we can and dashboards allow us to share the right data with each team in the clearest way. Geckoboard ensures everyone can see their goals and work towards them.
What KPIs are you tracking on your dashboards?

Every team has their own KPIs on their own dashboard in a prominent position in the office. Right now we have three; a service desk dashboard, a marketing dashboard and a lawyer service dashboard. We use smart TVs and sharing links to display the boards.
The service desk team's dashboard is on a TV screen above their desks. It's the service desk's job to convert leads from marketing into cases so this dashboard includes our main funnel metrics including conversion of leads into cases (7, 14 and 28 day averages) and margin.
For the marketing dashboard, we look at the funnel metrics for all six of our websites. The marketing team focuses on generating as much traffic to our website as required to convert visitors into our target number of leads. The dashboard shows traffic to each of the websites and conversion rate to leads. We also keep an eye on cost per lead to make sure our various campaigns are on track.
For our lawyer service desk dashboard we track how many agents are online, no. calls, no. chats, waiting time and more. When there is an incoming call we have a red status indicator so that the team sees this and knows they need to take action.

Where is the data on your dashboards coming from?

Our data comes from Google Sheets, Google Analytics, Intercom, and Zendesk.
Do you have a method for setting goals or KPIs?

We use common sense! When Codator started five years ago, we decided on some metrics that we thought captured the key elements of the business. We used these to make adjustments to our funnel and give us a steer on how we were doing as a company, but it's an ongoing process.
For example, we started out with a single definition of qualified leads but now we have eight, each with different values. It has been an evolving process but the methodology is just common sense and curiosity.
We have tried some things along the way that have failed but we didn't continue with those. We focus on getting a MVP and once the MVP is working, we use the data to scale. If something doesn't work we say goodbye and move onto the next project.
Who sets goals for each team within Codator?

It's a co-production. At first, it was just the management team setting goals with the investors. Asking "what do we want to invest in?", or "where do we want to make profit?". The bigger picture was set by our investors and the managers broke down the details for their teams. Making sure that the bigger picture works with the day to day team members can be quite difficult.
Now, we have a different approach. We look at the market and let the investors know what we can achieve. Then most of the time the investors are using reasonable and see the absolute maximum of what is attainable and that gives us a goal to aim for.
We have a Google Sheet for the investors that tracks all of our organic traffic over 30 days and 60 day so that they can see and understand market trends. They can see how we convert this traffic into leads, from leads into calls, from calls into cases and then into revenue.


Have you tried any metrics that haven't worked?

Definitely! Every week we have discussions about metrics to make sure they're relevant.
Mostly the changes are initiated by the team. Particularly if there is a metric which they can't change or action, they rightly ask how they can be responsible for this number.
We make sure to keep our dashboards up to date and reflect any changes we make to the metrics we're tracking. If we change our metrics we always make sure to explain why. When we're considering new metrics to track I'll often export the raw data into a spreadsheet and check it makes sense before automating it. It's easy to drown in the numbers or come up with metrics that don't make sense when you apply them to real data.
And finally, how has Covid affected your business and the way you use Geckoboard?

At the start of lockdown traffic and business dropped a lot. But we expect the market to behave like every summer where we see a drop off during the holiday season and a spike in September. We're seeing traffic and business going up and up again now.
In terms of how we work, the Netherlands went into lockdown in March and we all started working from home. At this point we started sharing our dashboard everyday using the Slack snapshots. We've got it set up to post a screenshot of each dashboard to the relevant channel at the end of each day. This is still in place now that we are back in the office. We like it because people who are not in the office can see what happened that day and we have talking points for the next morning. We have a lot of our tools connected to Slack so this was really helpful.