Zendesk is the customer service software of choice for over 100,000 businesses, which rely on the platform to deliver first-class customer experiences.
But in customer service, things can change quickly, which is why Support teams need a way to stay on top of their data – no matter where they are.
The increase in flexible and remote working has meant that many Customer Support Managers now expect to be able to check in on their team via email, Slack and other business apps using their mobile phone.
So why should your Zendesk reporting be any different?
In this article, we'll show you the easiest way to build real-time Zendesk dashboards , so you can check your Support KPIs from anywhere.
What are the benefits of accessing Zendesk reporting via mobile?
There are many reasons you might need to check your Zendesk KPIs on a mobile device:
A sudden change – a build up of new tickets on one channel, or a sudden breach of SLAs, might be something your team needs to take action on quickly. If you're on the go, without access to real-time data, it can be hard to direct your team.
The morning check-in – many people like to ease into their day by checking their emails and KPIs over a coffee in bed. Being able to access your key Zendesk metrics via mobile can give you peace of mind that there'll be no surprises landing on your in-tray when you do eventually start work.
Access for stakeholders – the best Support Managers actively encourage senior leaders to take more of an interest in their work. But these stakeholders are often time poor, working from their phone. Give them an easily accessible KPI dashboard – it's a simple but effective way for them to see the impact Customer Support is having.

Can I access Zendesk Explore via mobile?
Unfortunately Zendesk's native reporting platform, Zendesk Explore, is not available on their mobile app. It's also not possible to access Zendesk Explore on all mobile devices because the interface is not compatible with narrow screen sizes.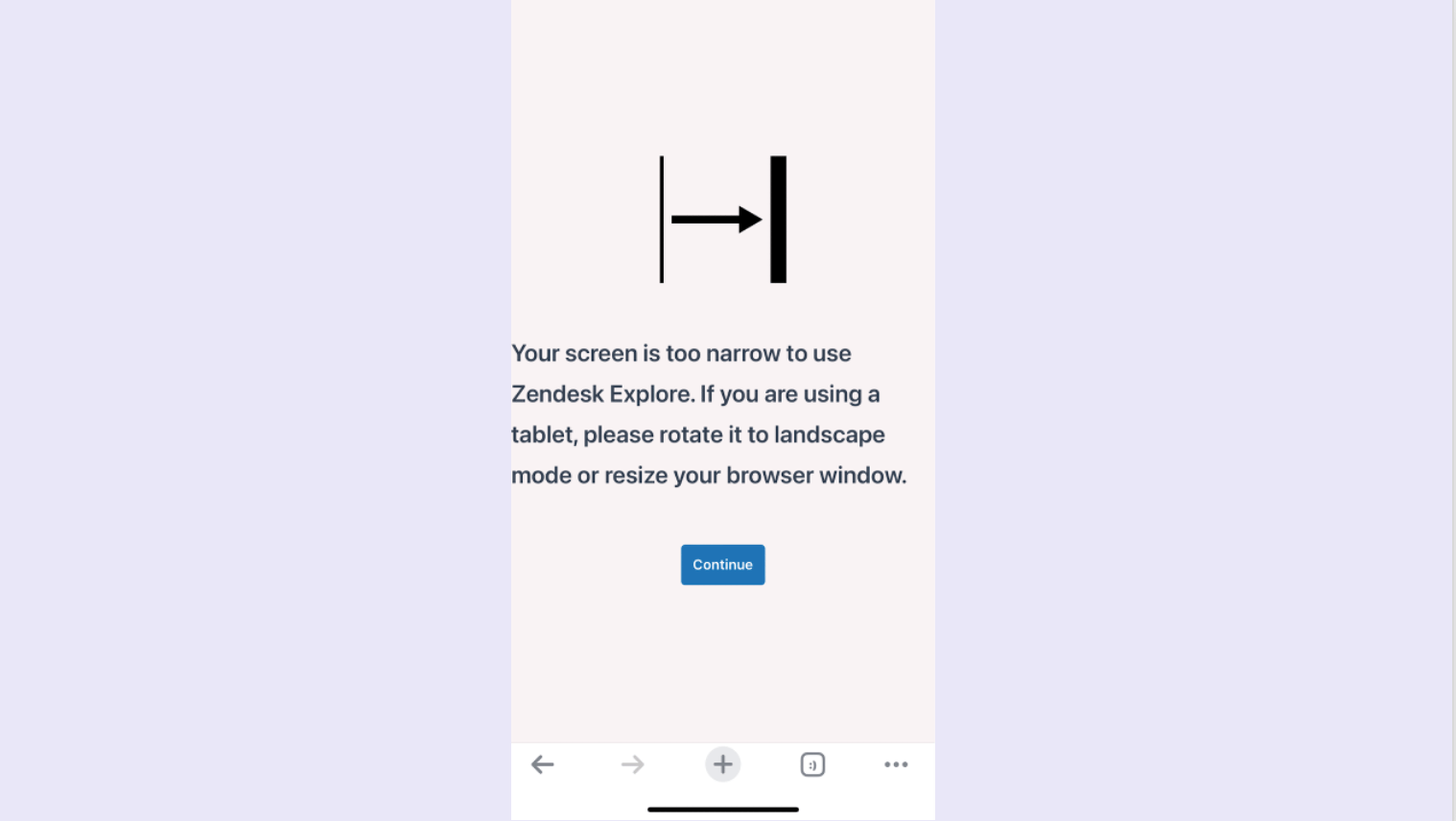 But don't fear, there is another way.
Step by step – how to build a Zendesk dashboard you can access via mobile
Fortunately, you can use Geckoboard to set up dashboards that can be accessed via mobile. In fact, Geckoboard is the perfect tool for the job because it:
Step 1: Sign up to Geckoboard
Although Geckoboard dashboards can be accessed via mobile, keep in mind that you will need to use a desktop or laptop to sign up to Geckoboard and build your dashboards. There's a 14-day free trial – with no credit details required.
Step 2: Connect your Zendesk account
To start building, connect Zendesk Sell, Zendesk Support, Zendesk talk or Zendesk Chat.
Step 3: Create a widget
After you've connected your data, you can start building widgets. (A widget is just a name for a data visualization: such as a bar chart, a leaderboard, a gauge or a number.)
You can make widgets more meaningful by adding goals and status indicators. This helps anyone using the dashboard to understand whether a metric is good or bad, and if they need to take further action.
Step 4: Build up your dashboard by adding more widgets
Now you know how to build widgets, you can start to populate your dashboard. Customize your widgets by resizing them, or even grouping related metrics together.
Step 5: Access the dashboard via your mobile device
Now your dashboard is complete, there are two main ways you can access it via mobile.
The first is to log into Geckoboard using a mobile browser. Here, you can switch between  dashboards, which are now visually optimized for mobile display.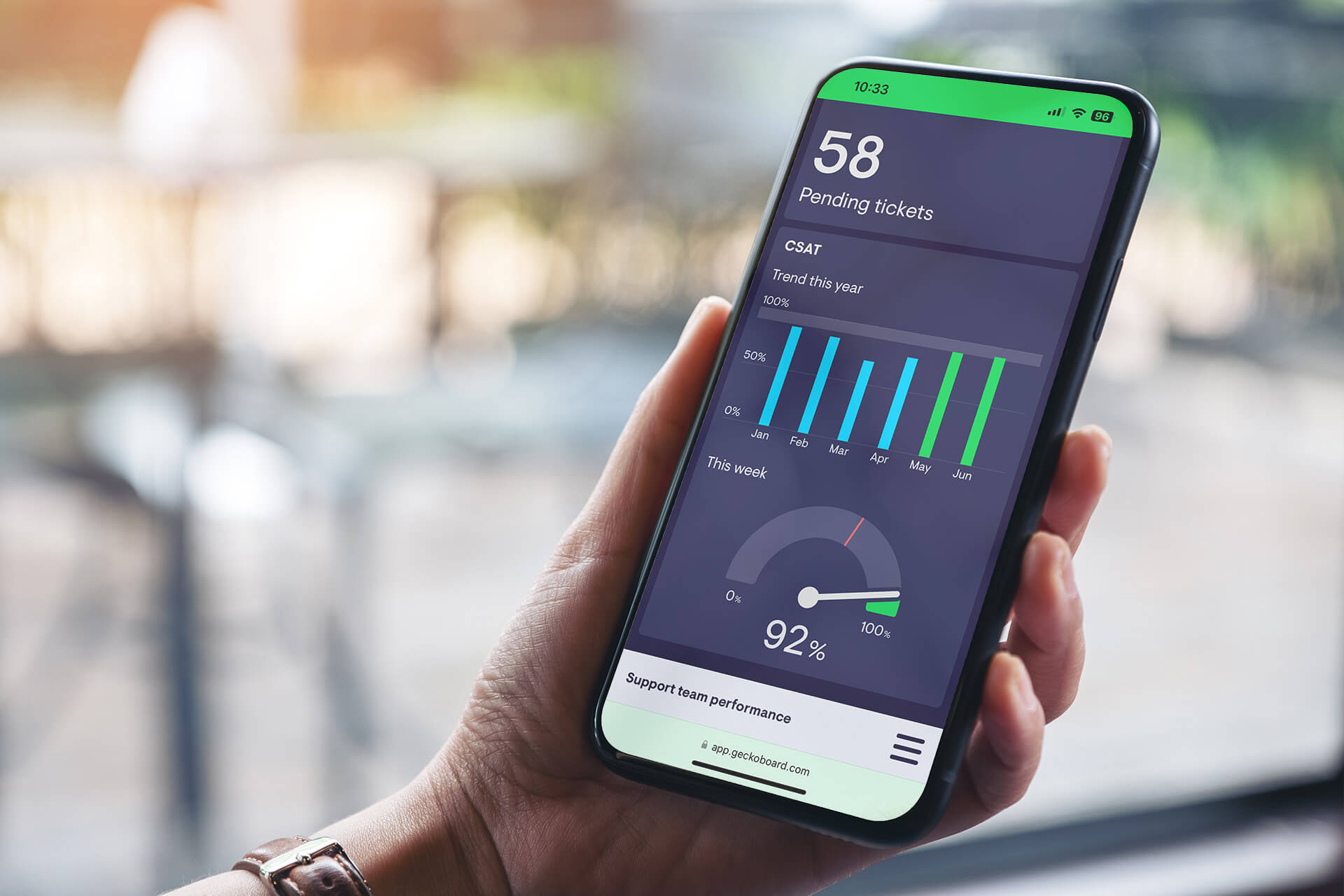 The second way is to create a sharing link for your dashboard. This allows anyone with the link to access the dashboard. This view maintains the original dashboard design and proportions.
(Alternatively, if you only need to check your Zendesk KPIs at set intervals, you can set up a snapshot of your dashboard to be sent to your email or slack channels on certain times and days.)
Step 6: Add Geckoboard to your mobile home screen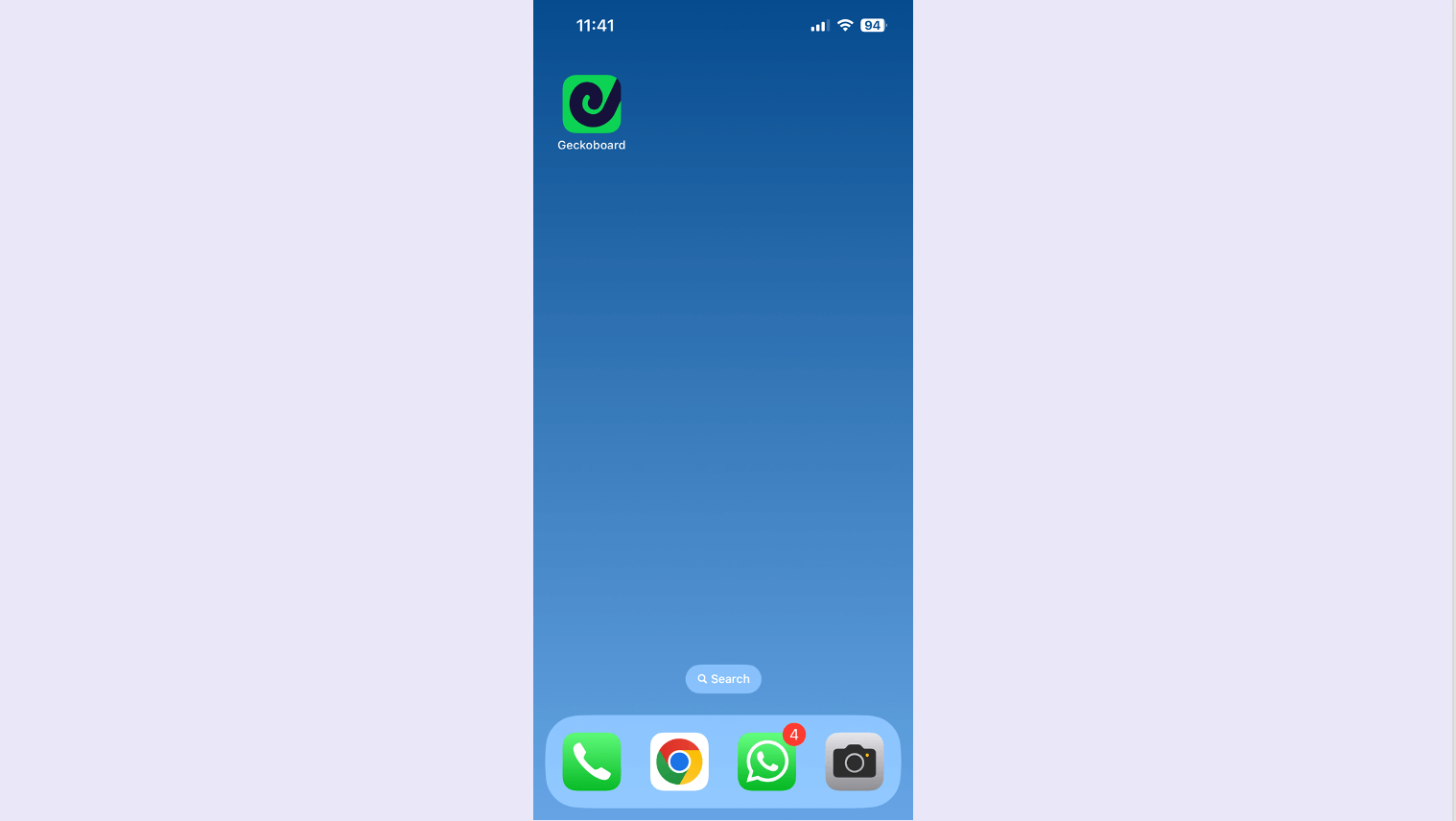 To access Geckoboard as easily as any other mobile app, you just need to add it to your home screen. Here's how:
When you're logged into Geckoboard on a mobile browser – use the browser settings to add the page to your home screen.
For Android users, we recommend using Chrome. Select "settings", followed by "Add to home screen"
For iPhone users, we recommend using Safari. Select the share button then select "Add to home screen".
Try Geckoboard for free
We hope you found this guide useful. Start your free trial with Geckoboard and create dashboards for Zendesk and over 80 other different data sources.