This is the latest in our series of featured business dashboards, which highlights the interesting and different ways our customers are using Geckoboard. We hope that you will be inspired to try new ways of using your board, visualising your data and designing your dashboards.

We recently had an excellent chat with Otto Hilska CEO at Flowdock. Flowdock is a team communication tool, a shared team inbox, with group chat. The company launched in 2010 and it is based in Helsinki Finland. Here at Geckoboard we use Flowdock pretty much every day, and it is extremely helpful.
We wanted to find out how Flowdock is using Geckoboard to leverage data-driven decision making. Here are some highlights from our conversation.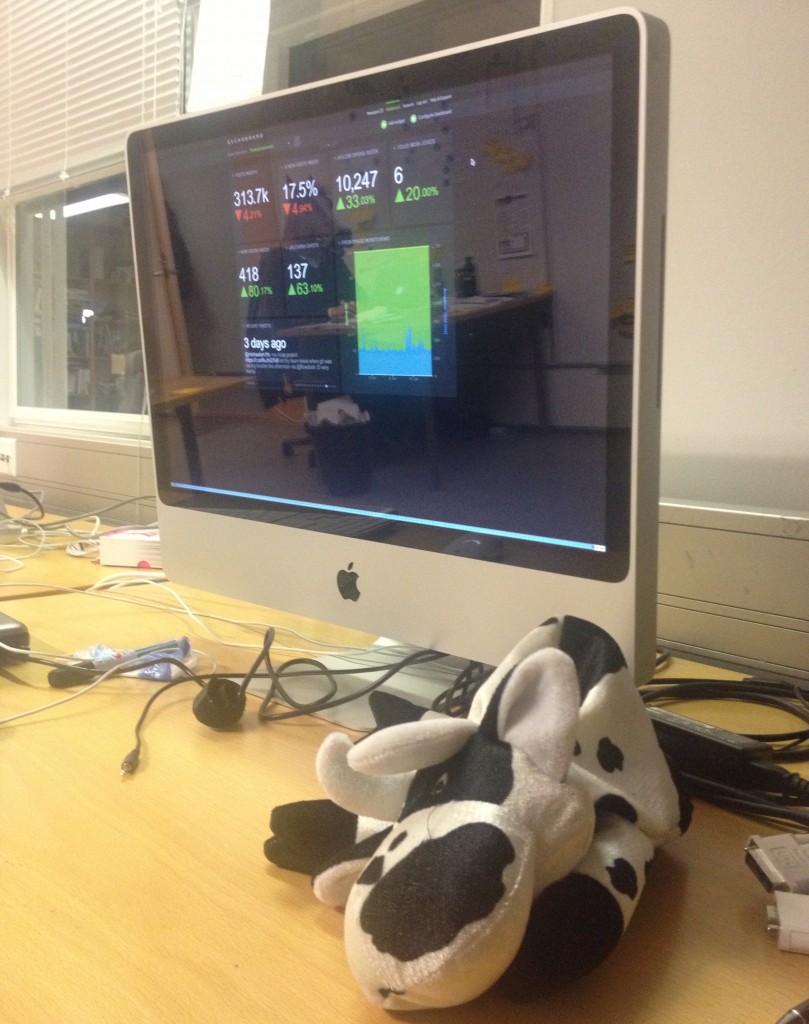 How did you find out about Geckoboard?
Otto: "We have been using Geckoboard for a while now, I think Christoph Janz, one of Geckoboard's investors recommended it to me. I am using Geckoboard as a status tool that I check every morning to see what is happening; we also have a computer running Geckoboard on a big screen. I think it is pretty useful for the team to know how much money we are making, and how valuable a customer is and so on... that affects how they treat customers."
How you went about choosing the right metrics to display on Geckoboard?
Otto: "It happened very gradually. I think at the beginning we kind of just added things that were easy to add, like site visits, and monthly revenue, and so on, and eventually we started adding more and more components to the dashboard. I think it kind of happened pretty much over time."
How do you think Geckoboard has helped you to improve decision-making throughout the business?
Otto: "For us it is more about having visibility to the overall business performance. For example, we have dashboards for paid users, what is happening in the trial period, how our conversion funnels is working etc. These are the kind of things we show on Geckoboard. You are not necessarily conscious that all of this data is running in the background, but it is very helpful for the team to see how the conversion funnels are working."
What are the key benefits of making data visible?
Otto: "I worked for big companies before and quite often the teams don't know how much traction their products are getting, or they are not necessarily that connected to their customers. For example, we educate all of our employees to know where they can find all metrics they need, and access the information and tools that are helpful. It is always so easy to trust your instincts, like to feel this feature is so much better than the old one but, when you start actually measuring quite often, you realize that those assumptions were wrong. We regularly send updates and communicate to the team information that is relevant, and that maybe they have not consider within their decision making."
It was great to talk to Otto about data-driven culture, and its challenges. We would love to hear your stories too. Let us know if you would like to be featured on this blog. At Geckoboard we believe in making data visible and approachable. We count with a fast growing list of third-party integrations that you can immediately access in order to start leveraging data visibility in your organisation. Simply put, identify your key metrics and let us do the rest.
About Flowdock
Flowdock is a shared team inbox, with group chat. Teams using Flowdock stay up-to-date, react in seconds instead of hours, and never forget anything. It brings activity from your project management tools (Pivotal Tracker, JIRA), version control systems (GitHub, BitBucket, Kiln), customer feedback channels (Zendesk, email lists) and many other sources to an easily consumable stream. Team can then work on the issues together, and react in seconds. Flowdock recently launched a new design; creating a beautiful group chat tool, which embraces all of the other apps, and seamlessly moves between threaded conversation and traditional linear chat. Flowdock customers on average spend more than 7 hours using the app on a given workday.