Happy New Year! With 2016 in full swing we're happy to announce the launch of a new community for developers who are using Geckoboard. We're pretty excited about it and hope you will be too.
What made us build it?
Many of our customers have been integrating "other data" (data sources which aren't supported by our 70+ cloud API integrations) using a feature in Geckoboard called Custom Widgets. If you're not familiar with them, Custom Widgets are a way to visualize data from a source we don't support on your TV dashboard. They use the same simple and digestible visualizations we have designed for our pre-built integrations, but are capable of pulling data from services, databases and any other data sources which Geckoboard hasn't already integrated with.
After talking with many of our customers we have been genuinely amazed at some of the things being built with Custom Widgets. We love the way you're innovating in some impressive ways on top of the application we've lovingly built. It also became clear that a lot of these projects, hacks, ideas and new perspectives have the potential to go even further - if only there was a way to share and bounce ideas off of other Geckoboard users.
Because of this, we've been thinking about how we can create a platform for the innovators and inventors in our customer base to share their work with the wider Geckoboard community to get the answers, feedback and ideas that can take their projects even further. We wanted to build somewhere that if you're considering integrating a particular data source via a Custom Widget, you can find a friendly, supportive group of other folks who may have already worked on a similar solution in the past.
What have we gone and done?
With all this preamble, we're pleased to introduce to you Geckoboard's new Developer Community! The goal of our community is to give you all a forum to share the useful integrations you've built using Custom Widgets, and also be a place to ask if anyone else has previously integrated a particular data source you're looking at. We hope it will give you a platform to accelerate your success with Geckoboard and also showcase your awesomeness.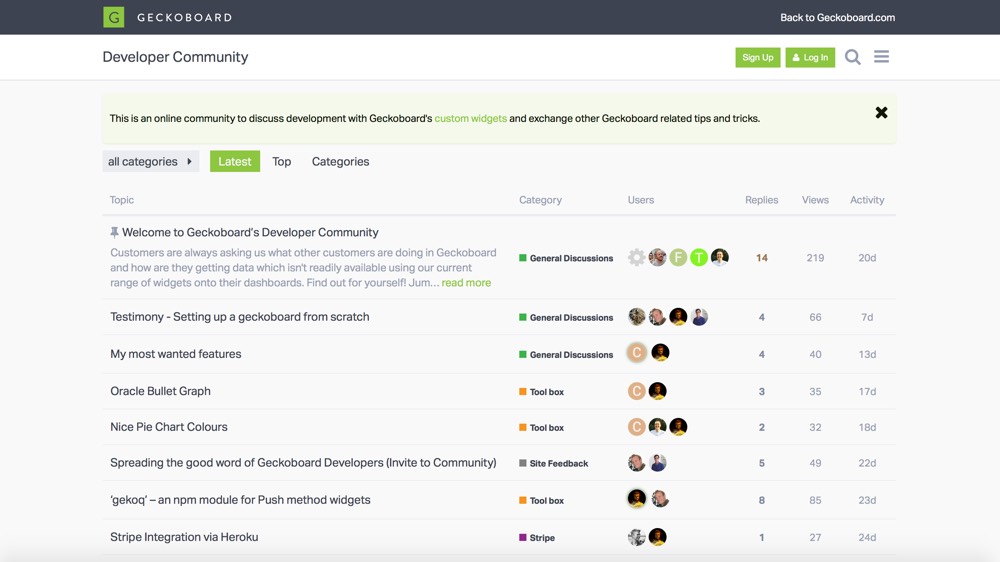 What's going on over there?
We soft launched the Developer Community to a subset of users late last year to see if there was an appetite for it. Nobody likes to throw a big party where nobody turns up, right? The reaction has been great, and we've seen many useful insights shared already. For example Kevin Davis from ChefSteps shared how he integrated Stripe sales data into Geckoboard and our own Jason Mendes kicked off a conversation on a Node.js module that simplifies sending data to Push Custom Widgets.
It's not all been about development - we've also seen some great conversations about the challenges of building a data-driven culture and how you've overcome some of those. We're looking forward to seeing how this community evolves over time, and would love to see you be part of it.
How can you join?
We've made it as simple as possible to get involved. Simply head over to the Developer Community and click 'Sign up' to create an account using your email address, Twitter account or GitHub account.
That's it! Take a few minutes to have a look at our Community Guidelines, introduce yourself in our Welcome thread, and go ahead and start sharing your projects, ideas and questions.
We look forward to seeing you over there!