This is the second part in our mini-series of stories from unsung heroes on the front lines of customer support management, who share what has helped them succeed in their role.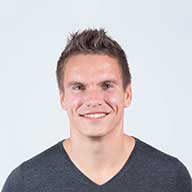 Hero: Johann Loibl
Years in CS: 5
Current job title: Head of Customer Services
Company: Zip Co, a 150-people online business providing interest-free credit and payment solutions to consumers.
Team size: 35 (full-time and casual) divided into three teams: Customer Care, Merchant Support, and Inside Sales.
Service hours: 9am-9pm on weekdays. 9am-6pm on weekends.
Tickets per month: 35,000-40,000.
Channels: Phone, email, chat and social.
Johann exudes the calm and confidence of someone who's already scaled and optimized support at three different companies, including Groupon Australia, before arriving at Zip Co in 2017.
At that time, the Zip Co support team consisted of eight agents, who were serving about 100,000 customers through 10,000 tickets per month. Today, the team has grown to 35 people supporting 650,000 customers although ticket numbers have not grown exponentially but sit around 35-40,000 per month and that is no coincidence.
Here's Johann's story of how he efficiently scaled CS in four steps by communicating commercially within the company, in particular with the executive leadership, and how he's actively graduating his team members to other departments in order to fill the whole organization with customer-centric people.
Step 1. Gathering data
The small team doing support were managing tickets well when Johann arrived but there was no proper tracking or reporting in place so he made that his very first priority.
"As soon as possible, I needed to start gathering data and then quantifying the existing qualitative data in order to see where we needed to optimize. I'd then be able to come up with a smart action plan," he explains.
He advanced the team's basic usage of Zendesk Support to include things like tagging ticket fields to understand why customers were getting in touch in the first place. He also connected Zendesk to their backend systems and Salesforce to allow the them to connect the data in Zendesk to other data sources in order to identify the root cause of customer issues. Johann also introduced new support channels through Zendesk Chat and Zendesk Talk.
Within the first month, Johann was tracking metrics from all of Zip Co's support channels - their current call queue, first response time, full resolution time, customer satisfaction feedback, backlog, tickets created and tickets solved, among other things. To feed these metrics back to the team he created an easy-to-understand live view of all of these metrics on a Geckoboard dashboard.
"The dashboard shows us live information on things like how many agents are online and how many calls are in the queue. This is invaluable since it tells us when there's a spike and we need to, for example, shift more agents from email to phone."
Step 2. Getting a seat at the table
Depending on the company culture, customer services can sometimes find it difficult to be heard. Johann says it's all about opening communication channels and talking in a commercial language his leadership team will identify with:
"It's all about perception. If you go in thinking nobody is going to listen to you, that's exactly what's going to happen! As soon as I start in a business, I go out of my way to establish communication channels with all the relevant departments because that's what's going to get me a seat at the table. Then, I roll out my business plan – I talk the execs' language. I talk about how much the friction in customer experience is costing the company."
Customer feedback – The wall of pain
Another way to help get his department some attention from other parts of the company, and from senior leadership, was to create a literal 'Wall of Pain'. Instead of the customer feedback sitting in spreadsheets, Johann put it up on a wall in the office where everyone could see it walking past.
As well as operational metrics from the Zendesk Suite, the wall features the top five problems customers are experiencing at each stage of their journey. It shows the number of tickets all those issues produce and, to put things into perspective, a dollar-figure next to it to show what it is costing the company.
"Every time somebody from the executive team walks by, they stop to have a look and will want to learn more. If external people like suppliers or future partners come to visit, they always stop at the wall. They stop there and look at our Geckoboard, which shows live data on how support is doing. The Wall of Pain and my dashboard are the most powerful communication tools I have to help my department be seen and heard internally."
---
Give your support team a boost
With Geckoboard's real-time dashboards, everyone knows exactly what's happening in CS right now.
Find out more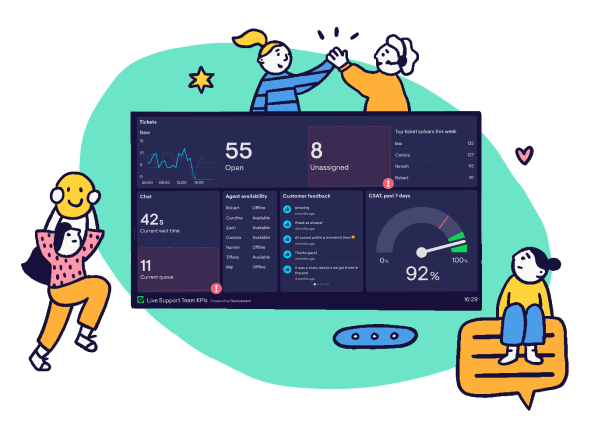 ---
True customer-centricity
In many organizations, customer-centricity stops at the 'Buy now' button. Decisions are made that are easy for the business and bring money to the business rather than looking at things from the customer's perspective. Johann defines customer-centricity as "making customer decisions, not business decisions". He gives an example:
"We had a bug in our telephone solution. The customer could press five at any stage, triggering a callback request. But because of the bug, the program didn't create a ticket in the system so the agent had to create a ticket manually, bringing with it a lot of other pain points. The business decision would have been to turn callbacks off and ask customers to stay in the queue for 15 minutes. The customer-centric option was to take the pain on behalf of the customer until we found a fix. If we deliver something the customer really wants then, ultimately, it's making us money anyhow."
Johann has found a powerful way to get everyone in the business to understand what their customers are experiencing: He invites the other teams to sit in support at least once a quarter to remind them of the customer perspective.
Step 3. Improving the help center
Once the data is available to you, the natural thing to do is improve your processes both downstream and upstream. Johann turned his attention to the existing Help Center, which then consisted of an outdated WordPress FAQ page because he knew that by making the self-serve option better, it would automatically reduce their contact ratio and enable them to scale efficiently.
There are a limited amount of levers you can pull to drive efficiency before you eventually need the help of development resources. Johann found a customer education platform called Elevio, which helped him a lot. It's a simple Javascript plug-in that fits on the right-hand side of the site and ties in with Zendesk (you can create a ticket or host articles in Zendesk) so you don't have to maintain two databases.
He filled in all the information, made sure things were updated and categorized properly, and then you could see the effects against the reporting on how many people were reading through the articles. That then gave him an idea of how good the articles were and what was missing. It also told him what words customers were searching for that there wasn't an article for so those could be written up.
With the benefit of hindsight, I ask what advice Johann would give to anyone just starting out on building a help center.
"Ask yourself what you want the outcome to be. Do you want to inform or do you want to send your customers through a funnel? Then make it a good customer experience – visible, easy to navigate. To be truly customer-centric, I think it should always give the customer the ability to either read or to contact you directly, if that's what they prefer. But you have to of course consider what it might mean for your inbound volume, presenting your phone number or a chat window all the time. But there are again ways to optimize. For example, Zendesk is building out their Answer Bot tool so when a customer starts typing in the chat box, the bot will suggest three help center articles. There are always little things you can try out to encourage more self-service."
Step 4. Graduating CS agents into the business
Good people bring good people
A customer service department is only ever as good as the people who work in it and Johann knows exactly what type of person he is looking for – people who think for themselves, see the wider aspect and relentlessly question things.
"We're a fast-growing startup so at this stage, customer support should be a stepping stone to other parts of the business. I don't want career customer service people until our growth slows down and we've set up all our processes. Right now, I need eager agents who are keen to prove themselves and then move on to another challenge in our company. I think it's really hard to find career customer service types who'd also fit into our dynamic culture."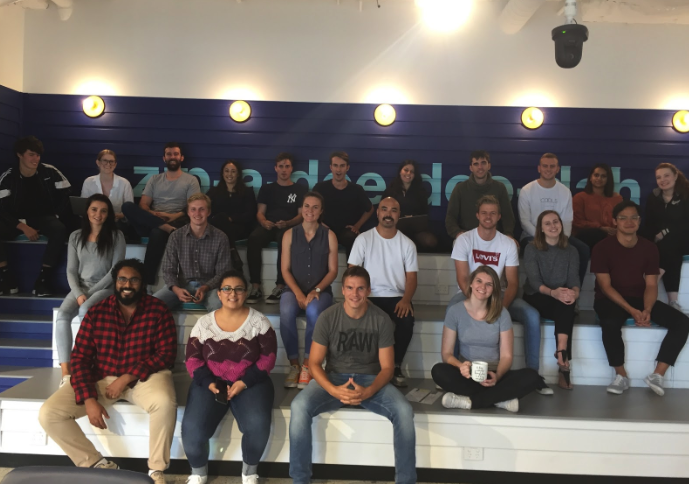 Johann (front center) with his customer support team.
Having grown from a team of eight to 35, Johann has had to do his fair share of hiring while still trying to maintain the same standard of work. He feels lucky to have a strong foundation of hard-working, reliable, driven, self-starting people. That along with a good culture has encouraged existing team members to refer their like-minded friends, who then already know that onboarding is only a week long and not very thorough so they need to learn fast and hit the ground running. It's a learning-by-doing culture and the whole team pulls together to get the new person up-to-speed.
Training to leave
Johann's department doesn't have an official progression plan in place yet but new hires know there are opportunities because they know they're replacing a top achiever who got poached to another part of the business, and this motivates them to do well.
Existing agents can jump on opportunities to get trained up as an expert in a subject-field, which gives them a valuable glimpse into what's happening in other parts of Zip Co. Most of these subject experts eventually transfer into the respective department. One would think that Johann finds this a little frustrating since the knowledge base in his team is in constant flux, but he sees it differently:
"Since January this year, I've lost somebody almost every two weeks because they've been with me for almost a year, done exceptional work and basically caught the eye of another department. In the last five months, I've almost completely changed out my team, but that's the nature of it. It's a spinning wheel. And ultimately, it's amazing for the company because my people have the most product knowledge of anyone at Zip Co, and they're taking that knowledge into those different departments. When someone goes through customer service, they understand what's working but, more importantly, what's not working. To then take that deeply customer-centric person and introduce them to other parts of the business is invaluable because you suddenly have an entire company full of people who are completely in tune with the customer pain points and they are making decisions that benefit the customer."
Learn more about how to boost customer service and keep your team happy by making your most important metrics visible to everyone.
Related articles