Building a support team is like doing a jigsaw where all the pieces keep moving around: You're trying to match customer needs with company priorities, maintaining a high level of service while onboarding new team members, and predicting how ticket volumes will shape hiring roadmaps.

Even worse, if you're the first (and only) person doing support at your company, you're still juggling incoming tickets and covering all your support channels. These responsibilities make it difficult to find the time to map out your future plans for building up your customer support team.

The key is having a clear strategy to hire and train new team members. With a plan in place, you'll understand the time and resources it will take to build your support team from the ground up alongside your main job.

To help you get started, we've rounded up tips for forming this strategy from eight customer support experts, seven of whom are senior-level support professionals at manager level or above. They shared their responses as part of our Customer Support Survey 2021.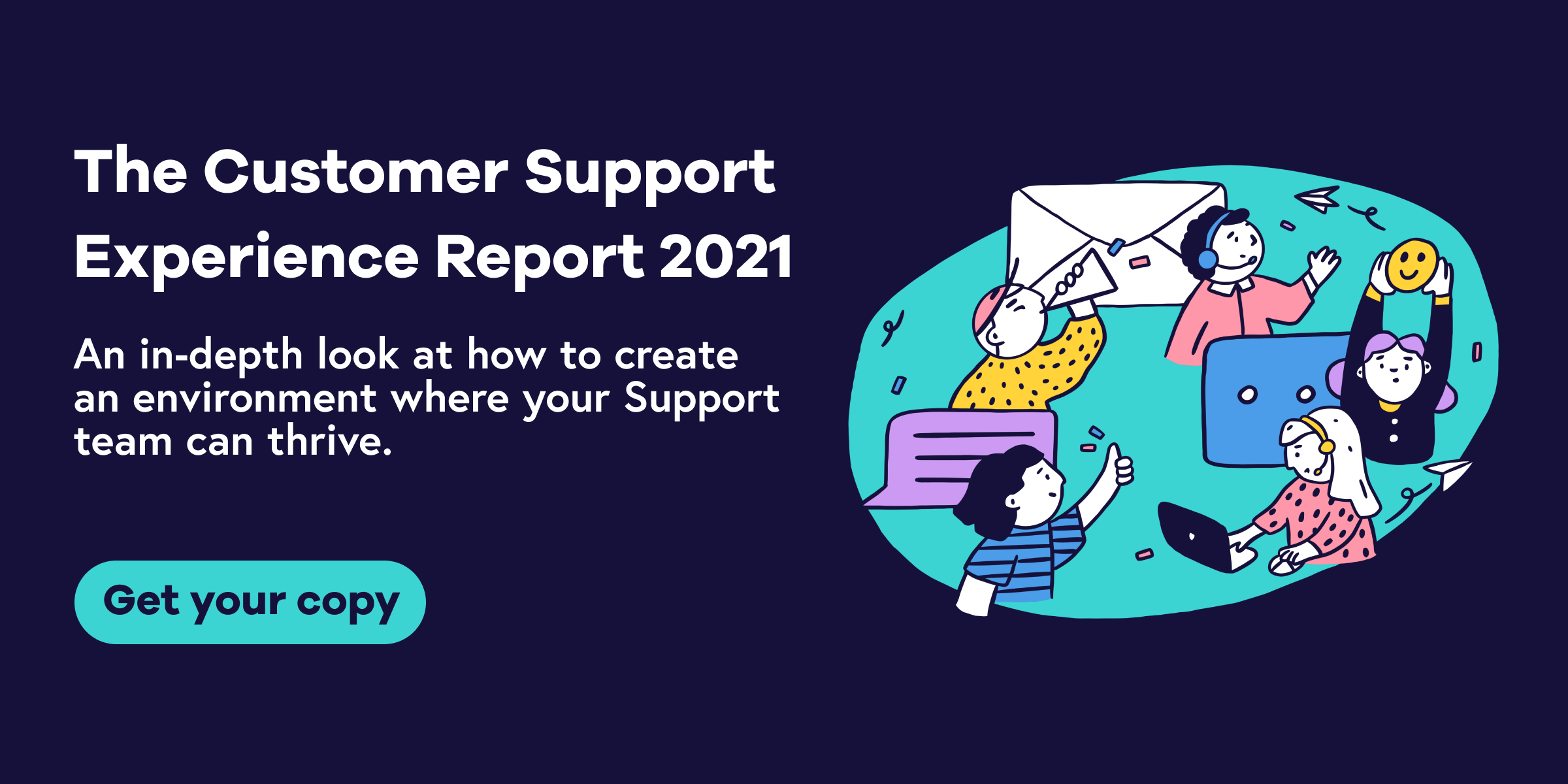 Define success for your future customer support team
If you're the first support hire at your company, your work today sets internal and external expectations of what "good support" looks like for your company.
"Before you build a team, make sure you're doing a good job. It builds trust and goodwill with your bosses and the company so you have more of a free rein in building the team up."
– Helena Pilih, former User Happiness Lead at Big Health
But to get buy-in around building a support team, you need to do more than just perform well. You also need to demonstrate to leadership that you understand how to quantify and track high-quality support work.
"Showing senior execs that you understand what metrics matter and where you expect to see improvements by hiring will again just create more faith that you can build a team."
– Helena Pilih
So before you hire anyone for your support team, set benchmarks based on your work for key support metrics: First Response Time, Call Abandonment Rate, Conversations Per Teammate,  Ticket Backlog. From there, you can make the case to leadership that you'll need to hire additional support reps to meet these objectives.

As one respondent to our Customer Support Experience Report 2021 put it:
"Define what success in a support experience is, then build, deploy, and measure around that."
Hire proactively, not reactively
If you approach your customer support hiring reactively, you're always going to be scrambling to keep up with the volume of incoming support tickets. Instead, plan out your hiring roadmap so that you hire more people than you initially need. With this approach, you won't be understaffed if a team member hands in their notice unexpectedly or a new hire doesn't work out.
"The first time I hired, I hired two people together. Based on our key performance indicators, we only needed one person. But hiring and onboarding are super time-consuming, so it would be better to hire two people in case one doesn't work out or leaves. So instead of hiring one full-time person, I got budget for two part-time people."
– Helena Pilih
Hiring a couple more people than you initially need also makes onboarding less stressful. You can ramp up new team members more gradually rather than needing them to hit the ground running.

As well as the number of people you're hiring, take a long-term view of the skills and experience you need to add to your team instead of what you need right now. One respondent to our Customer Support Experience Report 2021 advised:
"Look at new hires as investments for future growth of your customers' experience, not ways to mitigate immediate fires."
It can be tempting to focus on technical skills and product knowledge, but remember that communication skills are critical in support. In the long run, the best support rep will be empathetic and genuinely care about helping customers.
"Focus on hiring employees that care about people and want to help and build a good self-support option for those that prefer to use it."
Focus on onboarding and training to empower your support reps
Create comprehensive onboarding for your new customer support team members to set them up for success. This process should introduce your new reps to all the tools and technology they'll be using in their role, help them build their product knowledge, and set clear expectations around customer service.
"I put a lot of thought into onboarding materials and in particular in defining four standards to guide each [support] interaction – this did help keep standards high."
– Helena Pilih
Every company will have different support processes, so even if you hire experienced customer support managers, you should provide training to help them succeed in their roles. This training could include shadowing other support team members, or take the form of ongoing conversation reviews. You might also provide a customer support handbook to document your processes and best practices, such as how and when to escalate customer requests. This will help you provide a consistent support experience for your customers even as you add and train new team members:
"We created a training academy within the customer support team to improve consistency across the team in how we resolve customer issues."
– Tarik Abdellah, Director of Customer Support at Xcelirate
Give your customer support team the tools they need to succeed
Respondents to our Customer Support Experience Report 2021 collectively cover nine different support channels. All our respondents provide support via email, and more than half provide telephone and live chat support:
To cover some or all of these channels, your support team will need to get to grips with tools that connect all of this communication.

One respondent to our Customer Support Experience Report 2021 recommended integrating key tools so that your support team can get a more holistic overview of all your support channels and incoming tickets:
"Make your life easier by automating and integration (e.g., connect your apps with each other through Zapier)."
Depending on which channels you provide support on, your support toolbox is likely to include:
When choosing between new tools, consider how well they meet your current support requirements and how well they will scale with your team. You should also consider how much more you will have to pay to add new team members or monitor new channels.
"Get the right Helpdesk software that'll grow with you."
– Steve Grainger, Director of Customer Support at Hireful
Your support team will use your ticketing and help desk tools every day, so prioritize ease of use. If your tools are fast and easy to use, your support team members will be able to help customers more quickly, leading to faster response and resolution times than if they're battling with outdated tech.
Start building your new customer support team
Customer support can sometimes be a challenging environment to work in, especially when product outages or miscommunications bring a sudden influx of dissatisfied customers. Encourage your reps to learn from one another, ask questions, and support one another. Many of the respondents to our Customer Support Experience Report 2021 highlighted the importance of creating a positive, helpful culture within your customer support team:
"Always support the work they do and encourage people to make mistakes and take up new challenges each day."
– Ahana Das, Technical Account Manager at Chargebee
Use the tips shared by our survey respondents as inspiration for building your own support team. Download The Geckoboard Customer Support Experience Report 2021 to discover more advice and best practices from customer support leaders.