As you bring new talent into your team, get your new hires off to the best possible start by helping them to integrate into your company structure, processes, culture and tone of voice.
Guest post by Sarah Chambers, Founder, Supported Content.
Think back to your first day of any job. What were you thinking when you walked in the door? You were probably excited for the future, nervous about making a good impression and (in retrospect) knew almost nothing about what was in store.
Onboarding is what gets new employees through this time of uncertainty and turns them into superstar employees.
Hiring the right person is important, but a well designed onboarding program will set them up for success for many years to come.
How long your training program is, and how many resources you invest in it, depend on your business. Some products will be more complicated and require full-on training. For example, you might have a complicated stack of tools that require their own training and familiarization. You might have multiple channels to deal with that each have their own best practices and unique nuances. Alternatively, some team members might be able to jump into the queue on their second day if the product is easy to pick up.
Regardless, be realistic about how long onboarding will actually take and set those expectations upfront. Knowing that they aren't expected to know everything right away can reassure a nervous new employee. For example, Cory Archer's onboarding program at DataBank IMX doesn't expect an agent to be self sufficient for at least 9 weeks, whereas Johann Loibl's onboarding at Zip Co throws agents into the queue really quickly because the training doesn't need to be as in-depth.
Finally, remember that your onboarding program doesn't just need to introduce a person to customer support, but also to the wider company. Working with HR or other teams to pass on the company values, the mission and organizational structure is critical for a new hire to feel welcomed and at home. They should also be introduced to key people across the organization who they might work with, or hear from in the future.
In this section, we'll go through five parts of a thorough onboarding program:
Before the first day
Introduction and schedule
Pairing with others
Technical training
Independence
We'll also talk about the unique challenges distributed and remote teams face in onboarding new agents and how to overcome them.
What to prepare before the first day
As soon as you know you're going to be hiring, it's time to start getting your onboarding in shape. Deciding how to deliver all the information a new hire will need can take some time. One on one teaching time is great, but it's tough to scale and takes someone on the team away from helping customers. It's also difficult for the new hire to reference later on.
Ideally, most of the information a new hire will need to get up to speed on will be in a searchable, referenceable format. There are two main resources for a new employee:
Knowledge Base – for product knowledge, new agents should be able to read and search the same public knowledge base and self-service resources that customers use. It's also a good opportunity to find the gaps in documentation. Fresh eyes can often spot what's missing more easily than those very familiar with the product.
Internal Knowledge Base – for processes, workflows, policies and troubleshooting ideas, having a repository of up to date information is critical. At Geckoboard, VP of Customer Success Luis Hernandez uses Tettra to collate all the information in one place and keep it up to date. Agents can search for answers straight from Slack and, if they notice something is out of date or missing, they can easily star it for updates.
Besides getting documentation in shape, there's the logistics of onboarding a new team member. They need to have all the tools necessary to start working right away.
Forms and Paperwork – If they need to sign any NDAs, contracts, tax forms etc, try to get those done before they even start. There are tons of online programs that can help HR organize these documents. Make it as easy as possible so they don't have to take too much time out of their first week for boring paperwork.
Access to Systems – Make a checklist (Trello works well for this) of all the systems your new team member will need. For example, they'll need to have a company email, be added as a new agent on your help desk, and have access to the billing platform. Decide who will be responsible for setting these all up. Most importantly, make sure they have a computer and a desk ready for the moment they walk into the office. It's really nice to include a welcome note and some company swag too! There's nothing worse than feeling your new company isn't excited and prepared for your start.
Introduction and schedule
On the very first day, make sure the new hire knows where to go and what time to arrive at the office. If you've got a formal HR onboarding program, they might go through an orientation session with other new employees.
After they're done, ensure there's someone there to help them get set up in support. Introduce them to others on the team and let them get comfortable at their desk before pulling them aside for a chat.
Walk through the schedule and expectations for the first few weeks.
Introduce them to anyone they might need to ask for help.
If you're co-located, give them a tour of the office (point out where the best snacks are).
Reiterate the importance of customer support in your business and how excited you are to have them join the team.
Let them know that you're always looking to improve the onboarding program. If anything is unclear, overwhelming, or unhelpful, they should raise it with you.
The first thing we tell a new starter is that the one thing our competitors can't replicate is our people, so they know from the beginning how valued they are. Then we take them through a nine-week onboarding program of technical training and customer service and psychology workshops to start understanding how they interact with people. Even people transferring internally to my department go through the training to learn our processes, to understand that they're coming into something different, to detox their own support experiences in a sense. I'm not saying that there's nothing positive that you can bring from the culture and interactions you've experienced, but we want to make sure we pick out the best parts of it and help you shed the things that might be holding you back.

– Cory Archer, Director of Support at DataBank IMX
Here is a great sample of the schedule that Cory shares with his new hires. The agent knows who to go to for each session and has something scheduled for every hour. This is particularly important for remote teams, because it's easier to feel slightly more adrift when you're not seated right next to someone.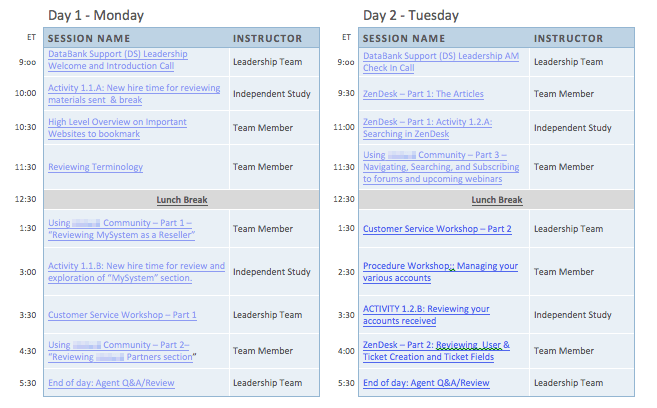 Pairing with others
Almost everyone we interviewed uses peers on the support team to assist with training new agents. Some teams divide up training modules, distributing them to each trainer. Others use a support buddy or mentor as a main point of contact for the new agent, or a combination of the two.
This is helpful for a few reasons. First, it helps integrate the new person onto the team by introducing them to a wide range of colleagues. It also shares the training work amongst more people, so you aren't tied up for a full two weeks onboarding a new person. New people might also feel more comfortable asking their buddy where to find a new pen, or submit vacation requests than they would be asking their manager.
However, it is important to consider that you'll be pulling people away from their standard support duties, regardless of who is training. Onboarding can decrease your team's capacity for a few weeks until the new person is fully up to speed.
If you're assigning your new person a dedicated support buddy (or support mentor), introduce them on the first day. Maybe you can all grab lunch together!
Technical training
Technical training should be a combination of reading documentation or manuals, teaching from subject matter experts, shadowing and hands-on experience. Depending on what kind of product you offer, the most appropriate type of training will differ. Before starting technical training, try brainstorming all the different skills and knowledge a successful agent will need. Develop a module for each one and determine the best method of delivery. Here are a few suggestions for exercises that accelerate learning:
Get hands-on with the product. Have the new agent set up their own test account and click around to get familiar.
Review internal processes and policy. Read documentation or review together.
Practice escalating issues. What information is needed from the customer before contacting engineering?
Define and communicate the expected tone of voice and find examples.
Create situations for the agent to replicate in the product. Set up dashboards, workflows, and whatever else makes sense with your product.
Identify new technologies that they may not be familiar with and walk through them. For example, how do you use your help desk tool? What services do you use for payments?
For our distributed team, we have a three-month onboarding process checklist. The checklist includes the person being onboarded, the buddy, who is always on the same team, and the team lead. Some things, like more administrative stuff, is handled by the team lead, and then the buddy helps them navigate all the self-learned material that we have. We've created courses about everything, from how to solve Zendesk tickets all the way to how to troubleshoot a shipping problem.

– Valentina Thörner, Happiness Team Lead at Automattic
Independence
The goal of onboarding is to move the agent towards being self-sufficient as quickly as possible, without overwhelming them or compromising the quality of customer care. Rather than throwing them directly into the deep end, slowly remove their training wheels as they become more confident with their own knowledge.
Sample questions: Dive into your archive to simulate tickets using real customer questions and work through them.
Pair with other agents: Work together on real customer questions, talking through questions and troubleshooting.
Agents reviewing responses: Start by assigning specific customer questions to the new agent and reviewing each response for accuracy and tone before sending. Gradually add more unique situations into their queue.
Working on their own: As their responses require less and less editing, it's time to let the agent fly on their own! Check in periodically and be available as needed.
The speed at which an agent progresses through these steps depends on the product and their experience level. By gradually reducing the amount of oversight, the agent will feel confident as they develop a sense of the tone and voice while being exposed to more unique situations.
Distributed teams
Transferring knowledge to a new agent is difficult enough when you're face to face with them. It can be even more difficult when you're working remotely.
Remote onboarding brings a specific set of challenges. It can be difficult to get to know everyone on the team well enough to work effectively with them. If the employee hasn't worked remotely before, they may feel isolated or cut off from their peers.
Communication also becomes more difficult. Some things don't translate well through text. As you're just getting to know each other, they might not understand your sense of humor, or they may feel someone is being too blunt. New employees who are just learning where to find relevant information might feel left out of the loop.
To overcome these challenges, it's important to over-communicate and switch up the communication channel as often as possible. Use video calls (like Zoom, Slack calls or Google Hangouts) as often as possible. Sometimes a quick voice call can clear up a question faster than typing.
Nothing beats the power of in-person communication for building a solid working relationship. If you have an HQ where multiple employees work onsite, consider flying in the new employee for a week or two of training. If not, consider getting everyone together for a team retreat as quickly as possible. Forming those relationships face to face will give your new team member the strongest feeling of support.
We work remotely, so we have to make sure that you can get through tasks without constantly being supervised. Our training is all done by the team. First, you're assigned training tasks and we watch to see if you complete them. Then, as you start getting to the tail-end, you're assigned a mentor, which changes frequently over the course of a week or two to help you deliver the experience we're going for. After that, it flips and you start taking your first cases, but you have your mentor there right beside you every step of the way to help remind you of all the processes and procedures.

– Cory Archer, Director of Support at DataBank IMX
Ongoing support
Once your new agent is humming along with minimal supervision, it's time to transition them to a normal review schedule with frequent one-on-ones. They're now a fully contributing member of the team. Congrats!
Consider having a formal review of the onboarding period to deliver feedback and hear how the new employee feels the training could improve. In the past, I've gathered feedback from team leads to understand how the new agent is performing to highlight strengths and opportunities for future training.
The great thing about a growing team is that you'll get many opportunities to onboard new employees. You can keep improving with each hire until you're running a fine-tuned onboarding machine.
Read other posts in the Center of Happiness series
Introduction
Stages of a customer support team
You're swamped, but it doesn't have to be this way. Carving out time to think beyond the barrage of tickets, and being smart about your priorities, can turn things around.
You can't firefight forever. It's time to get some fundamental tools and processes in place, so you can give consistently brilliant support to your customers.
Your team is firing on all cylinders and your customers are delighted. How do you take things to the next level?
Advice articles
Tools of the future: are the robots really coming?
The landscape of tools and software for support teams is vast and ever-changing. Get up to speed with some of the emerging trends that can help give your support team the edge.
Channel overload: less is more
It may be tempting to offer support through many channels, but do your customers really care? Learn how trimming the number of channels you offer can help improve service levels.
Persuasion & buy in: how to sell customer support internally
Customer Support sometimes doesn't get the recognition it deserves, but a few easy tactics can help you and your team become superheroes in the eyes of the company.
Metrics: how to choose them and define what success looks like
Numbers might not be everyone's idea of fun, but they're critical for guiding your team and keeping the rest of the company in the loop.
Finding, recruiting and interviewing quality candidates can be a daunting experience at the best of times, but stick to the fundamentals and you'll have a great fit in no time.
Motivation & happiness: stay energized!
Providing great support is hard, so it's really important that managers understand how to motivate their team to keep them happy and productive.
Self-service done well: help your customers help themselves
Move beyond a simple knowledge base or FAQ and reap the benefits of a channel that's efficient, functional, relevant and open 24/7.
Distributing workloads: balancing inbox zero and long term improvements
Your team knows more about your customers than anyone else. Organize regular time out of the queue for them to work on long-term support projects that will benefit the whole company.