As we head into 2021 after possibly one of the strangest and most unsettling years in living memory, we thought it was about time to take stock and reflect on how Geckoboard has changed over the course of the past 12 months. Like many other businesses this year, we have had to adapt not only the way we work but the way our dashboards work for our customers too.
Brand new Geckoboard
In January we launched a complete overhaul of not only our brand and website but our dashboards also. This was a huge undertaking which involved months of work from everyone across the business.
Helping you to streamline, simplify and share important data is our number one goal, and after months of designing, testing, developing and testing again, we shipped a huge update that allowed us to add some brand new ways for you to visualize your data, as well as making our dashboards clearer and easier to read.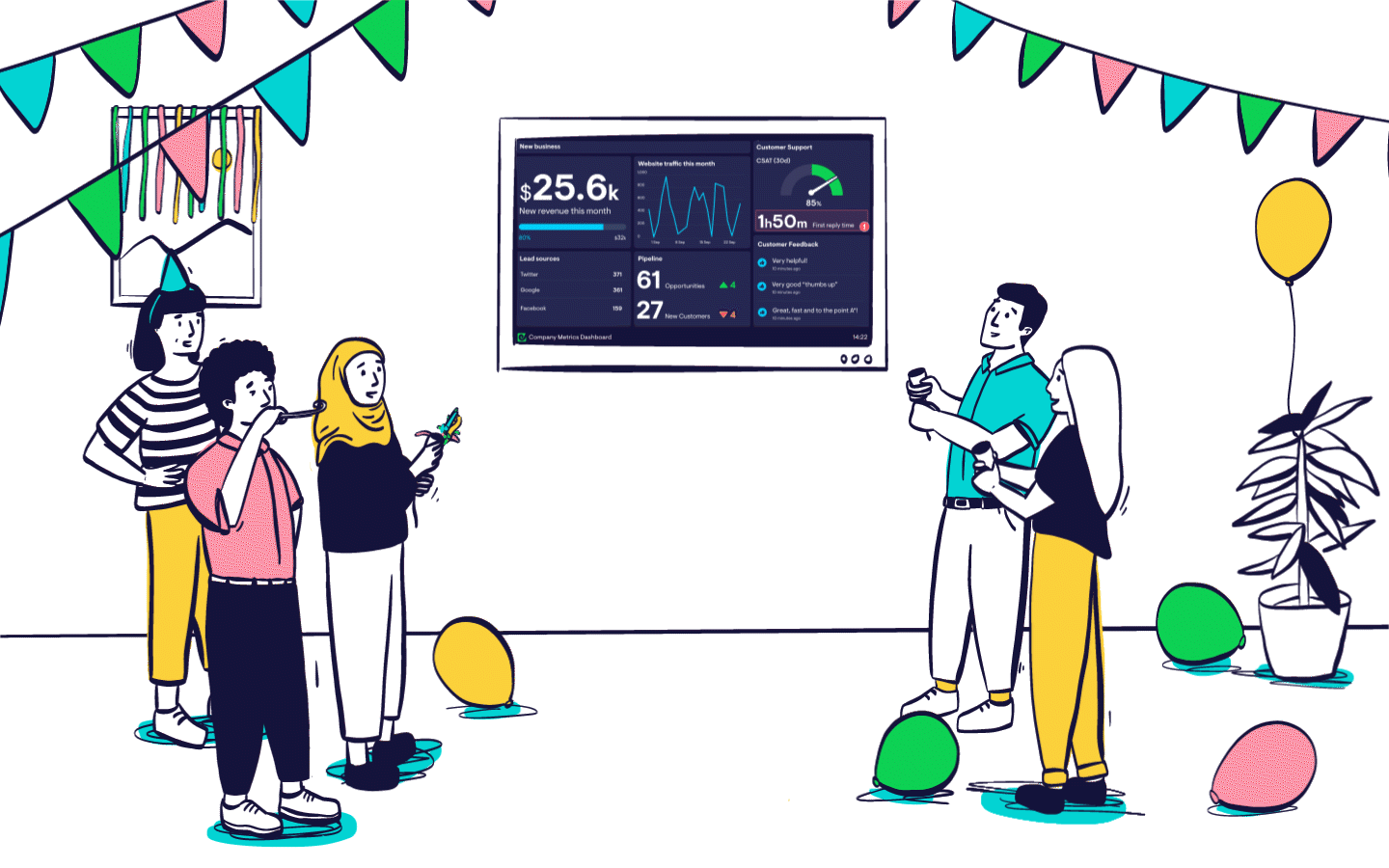 Geckoboard's previous branding and website had been in place since 2015, and updating both of these allowed us to start the year with a fresh new look and feel that complemented our dashboards, and created a much better user experience on our site.
For more information on what we did and why, check out our Founder Paul's blog post on the all new Geckoboard.
Enhanced Mixpanel widgets
In February we remodelled several of our Mixpanel widgets, making it possible to access more metrics from your Mixpanel account, as well as adding user property filters and improving data accuracy.
Mobile-friendly view
In a time when around half of the world was in lockdown we responded to changes to the way our customers were using their dashboards in a number of ways. To make it easier for customers who were using their mobile as a second screen in their new home working setup, the first thing we did was to improve the mobile-friendly view of our dashboards.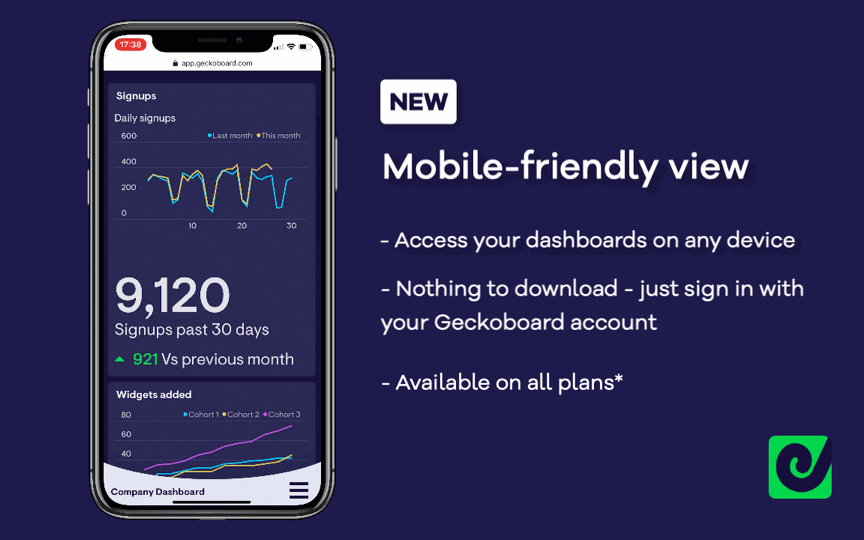 We wanted to make things as straightforward as possible, so now all you need to do to view your dashboards wherever you are is to fire up a web browser on your mobile device, sign in to Geckoboard, and you'll see perfectly formatted dashboards that fit your screen.
Performance improvements to Google Sheets widgets
In April one of our most popular data sources, Google Sheets, received an upgrade. We sped up automatic updates from every 15 minutes to every three minutes so that changes within a spreadsheet were reflected on dashboards much quicker.
New ChartMogul widgets
We also overhauled our ChartMogul data source in April. The new ChartMogul widgets allow for more metrics, provide more options for visualizing them, and to improve data accuracy.
Dashboard Snapshots for Slack
In May we launched our Slack integration at a time when many were continuing to work remotely. Our Snapshots for Slack allow you to schedule daily snapshots of your dashboards to be sent to Slack channels at a set time each day. Snapshots in Slack spark conversations around your metrics in a place where remote teams spend a lot of time.
One of our favourite comments about this feature was from a customer who usually has their dashboard up on screens in their workspace - 'it's like having a piece of the office back again!'.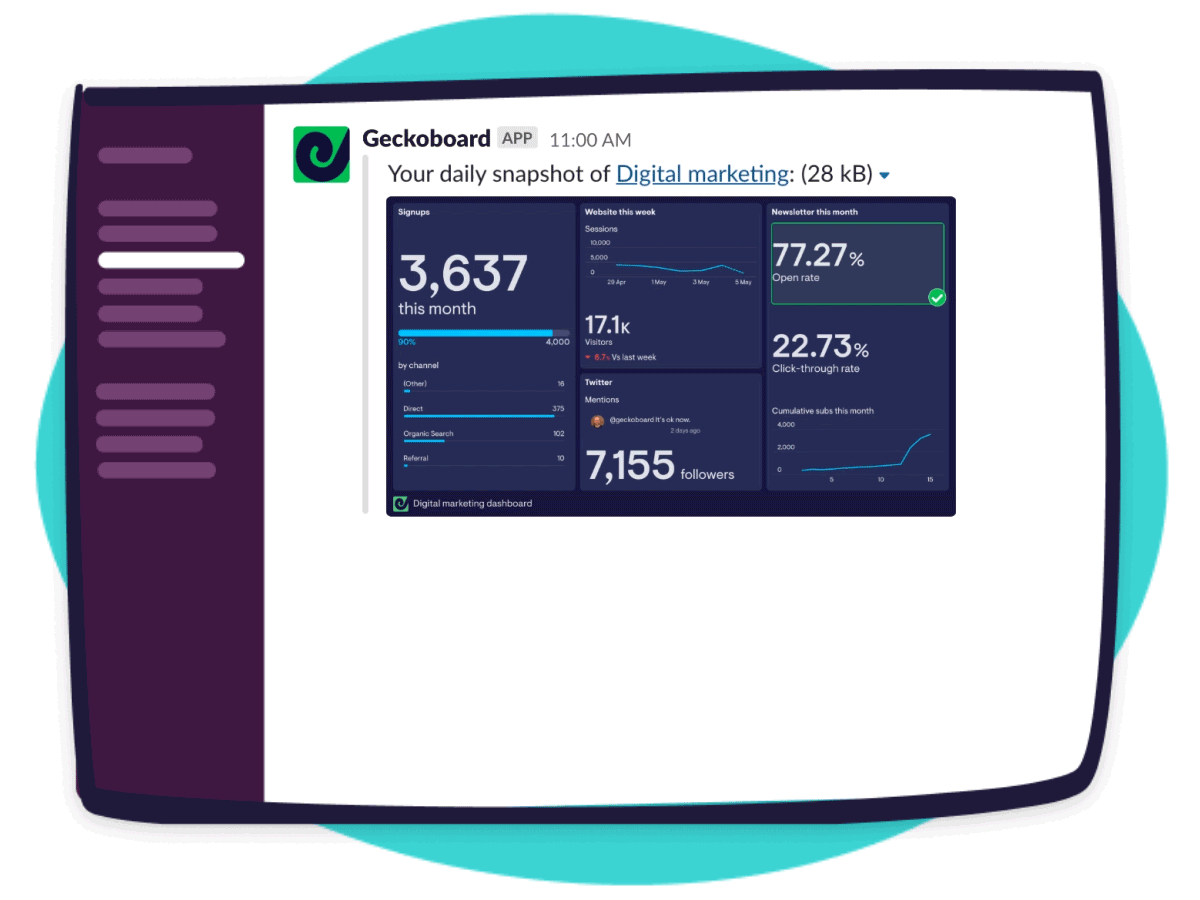 Free Plan
In August we launched our very first Free Plan. With an aim of making dashboards accessible to individuals or small teams who don't have the budget for one of our subscriptions, our Free Plan allows you to create a dashboard with data from a spreadsheet. The plan contains one user and one dashboard and can be shared via sharing links and Snapshots for Slack.
Our Free Plan is the perfect stepping stone for anyone looking to dip their toes into the world of dashboards. Sign up for a trial.
Integromat integration
Geckoboard integrates with over 60+ data sources, however there is always room for more. Which is why in August we built an integration with Integromat. Integromat is a no-code tool that allows you to fetch data from a wide range of services and manipulate it in useful ways.
By integrating with Integromat we have made it possible to pull data from otherwise unsupported data sources into Geckoboard via our Datasets API, opening up many more data sources for our users.
Alongside this, we began offering our time to build out connections to unsupported data sources for our customers on an individual basis. If there's a data source you'd like to connect to your dashboards, get in touch with our Support team and we'll be happy to help.
Custom logos
September was the month of customization at Geckoboard. We rolled out the ability for our customers to add their own logo to the bottom left corner of their dashboards (replacing the Geckoboard icon).
Advanced dashboard theming
As well as custom logos, we launched advanced dashboard theming - giving customers the ability to fully customize the colors of their dashboards.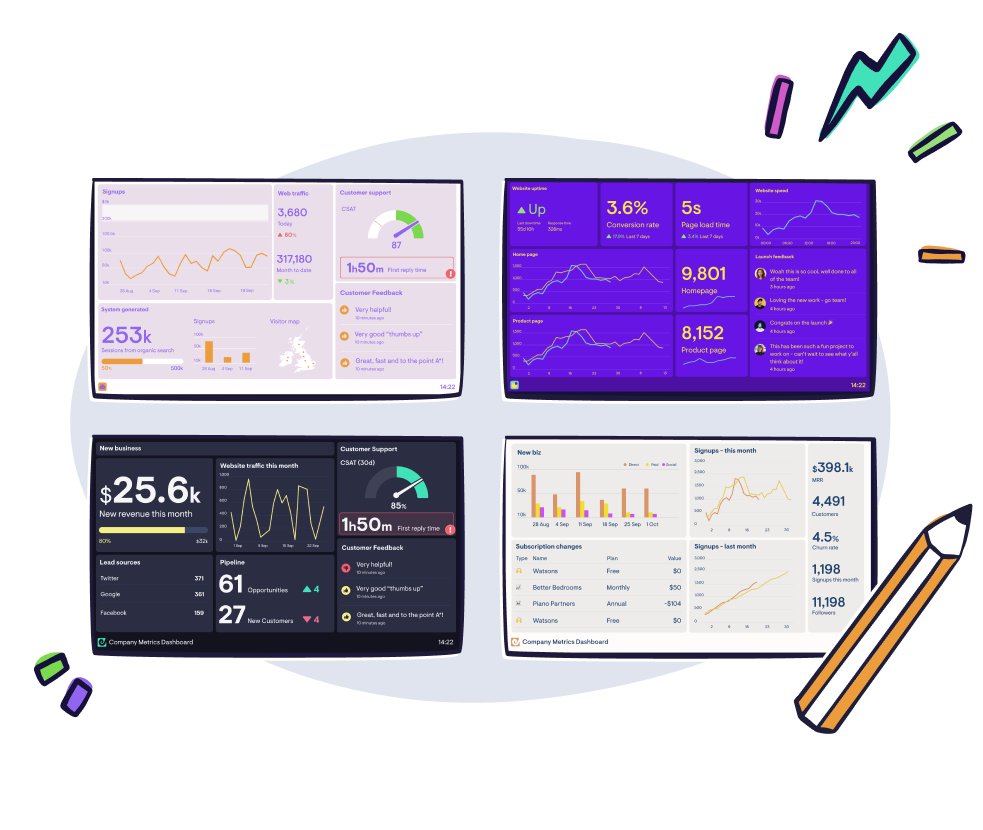 Dashboard theming allows color-coordination of almost every element of your dashboard - from your dashboard's background, to the color of lines on a line chart. Ideal for aligning your dashboards with your company's brand, giving individual dashboards their own identity, or simply giving them a bit of a visual refresh. If you'd like to add dashboard theming to your account, contact our Support team.
Datasets API improvements
In October we released a number of highly-requested improvements to our Datasets API, including; multi-series column charts, support for 'duration' field types, ability to delete datasets, and more.
Support for new database functions
As we moved into November the year was far from winding down as we launched a number of new features, starting with some improvements to our Database data source that added support a number of new functions including; UNIX_TIMESTAMP, JSON_EXTRACT, TIMEDIFF(), and more.
Single sign-on (SSO)
To support our enterprise clients, and those with a large number of users on their Geckoboard account, we launched single sign-on (SSO) in November. SSO allows organizations who use the likes of Google, Okta, OneLogin, Microsoft Azure AD (among others) as identity providers, to securely log in to Geckoboard with just their work email address. If you'd like to discuss SSO feel free to reach out to our Support team.
Shopify data source (beta)
With ecommerce going into its busiest time of year, alongside a huge increase in shopping online, we launched our new Shopify data source in November. This new version has a simpler widget-building experience as well as supporting a wide range of popular Shopify metrics with the ability to drill down by location, channel, currency, discount code, and more. The latest Shopify data source now allows you to pull metrics from multiple Shopify accounts and brings a range of visualizations among lots more.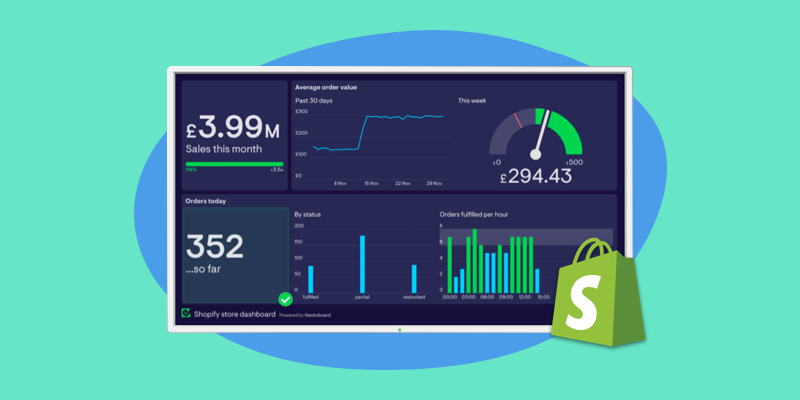 Switch widget orientation in groups
Finally, in December we responded to feedback from customers who wanted to determine the orientation of their widgets within a group (previously this was automated based on space). Thanks to this feature launch it's now possible to change your group layout to choose between widgets stacked vertically on top of each other, or horizontally side-by-side.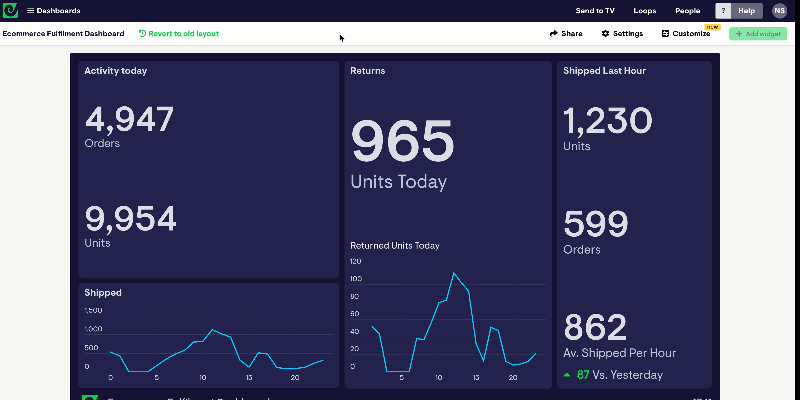 ---

Though 2020 has been a hugely challenging year for many of us, there's no doubt that humans have achieved amazing things in the past 12 months. We're incredibly proud of the team here at Geckoboard. Despite the fact that we've all had to switch to a brand new way of working, juggle childcare alongside work, live through a global pandemic, and fit in time to bake the latest sourdough recipe, we have come out at the end of this year with a ton of brilliant changes that we hope will long benefit our customers.