Few things beat a good old Excel spreadsheet for collecting, calculating and cleaning up your business's performance data. Love them or hate them, there's no arguing they're a useful tool for pulling numbers together and performing analysis.
When it comes to sharing your numbers with other people though, a spreadsheet leaves a lot to be desired. Dizzying rows of data can quickly make those without an eye for numbers lose interest, and bland graphs and charts contribute little towards getting people excited about progress.
And with over 50% of businesses using email to distribute spreadsheets containing their data, the most important numbers can often get overlooked in busy inboxes by those who need to see them.
Simply put, an Excel spreadsheet isn't a great tool for communicating data with your colleagues if you're looking to get them engaged and excited about your business's numbers.
But fear not, Excel fans! Today we're excited to reveal a new integration that will turn your spreadsheet into a beautifully effective dashboard, ready to mount on the wall of your office and get your team excited about their numbers again. Say hello to Geckoboard's new Spreadsheets integration.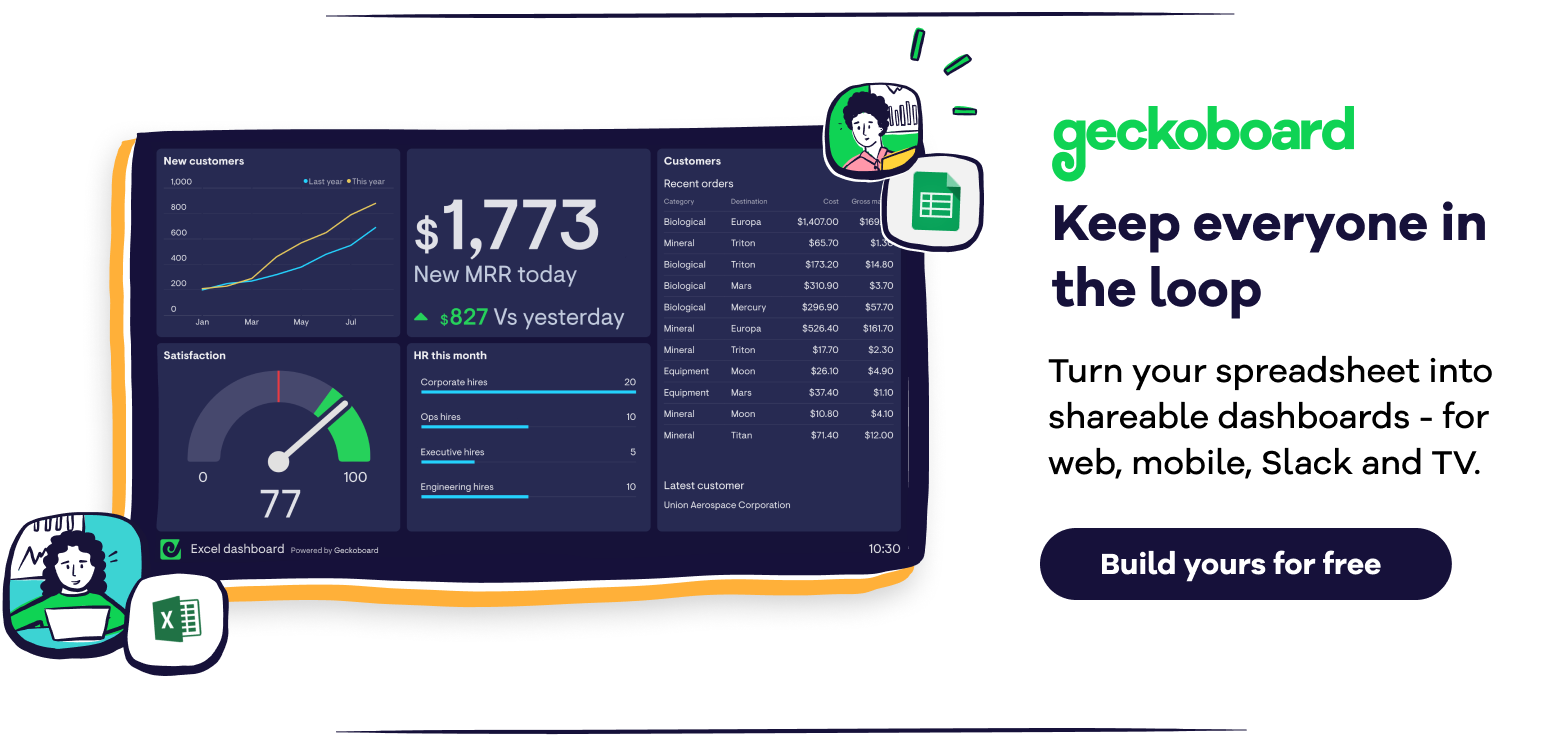 Build dashboards from your Excel data
Following on from the recent overhaul of our Google Sheets integration, today we're launching a major update that adds support for Excel files. Given how many businesses use Excel for tracking their KPIs, this is an exciting addition that should make it much easier for any organisation to give their most important data visibility, get teams aligned, and start having constructive conversations around data.
To make it as straightforward as possible to access your spreadsheet data and keep your dashboards up-to-date, our integration lets you easily connect Excel files hosted in Dropbox, Google Drive and OneDrive for Business. Authorizing any of these cloud storage providers allows you to select your source spreadsheet and start building widgets from your data.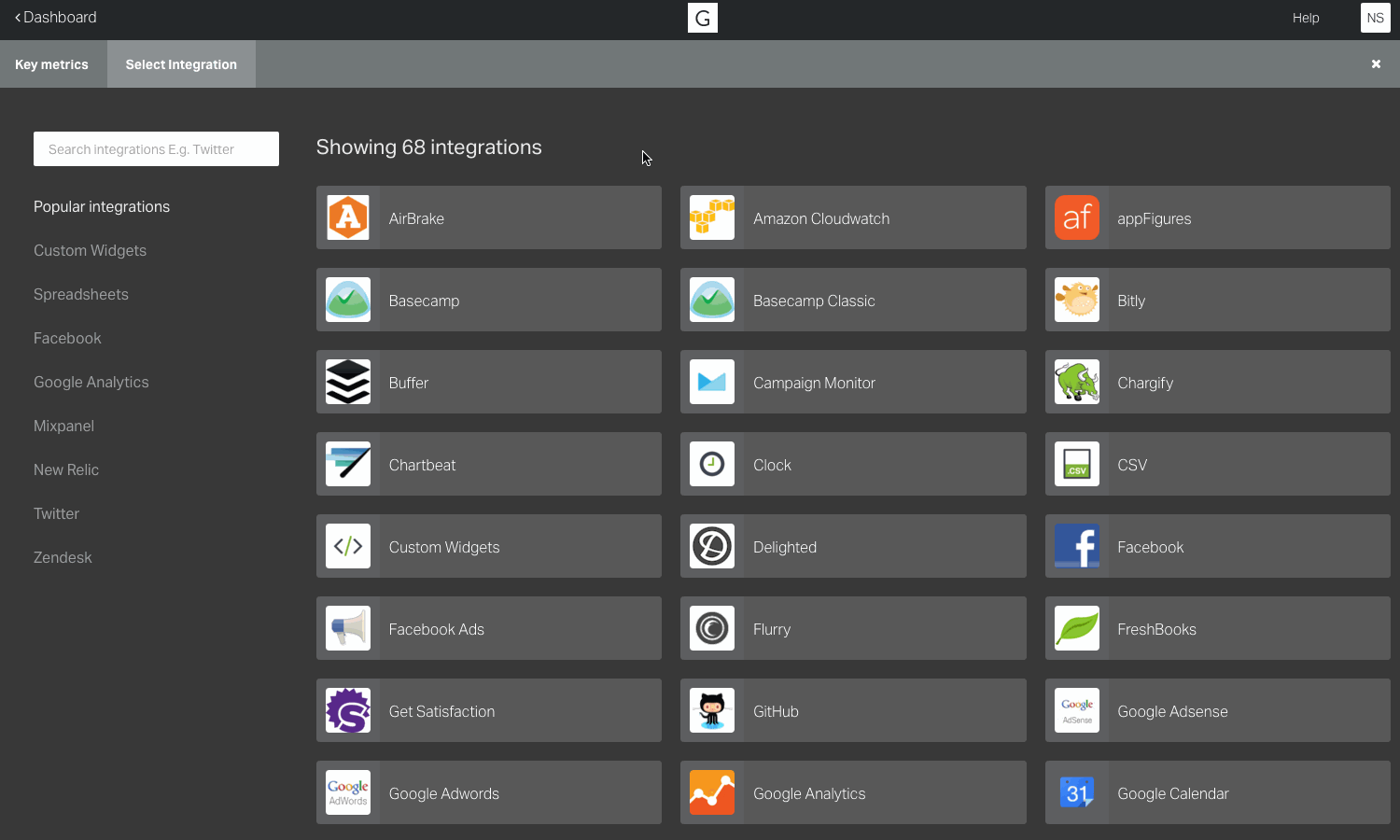 Want to update the numbers on your dashboard? Open up your Excel file, edit your data and save. Once synced, your updated numbers will appear on your dashboard within minutes.
Don't worry if you're not using Dropbox, Google Drive or OneDrive for Business. You can also upload your Excel file to an alternative provider, or your own hosting, and paste a link directly to the file to bring your data into Geckoboard.
Bringing Google Sheets and Excel together
Given the similarities between our Google Sheets and Excel integrations we've kept things streamlined by bringing both together under one roof. Log in to Geckoboard and you'll now find both data sources within a new Spreadsheets integration.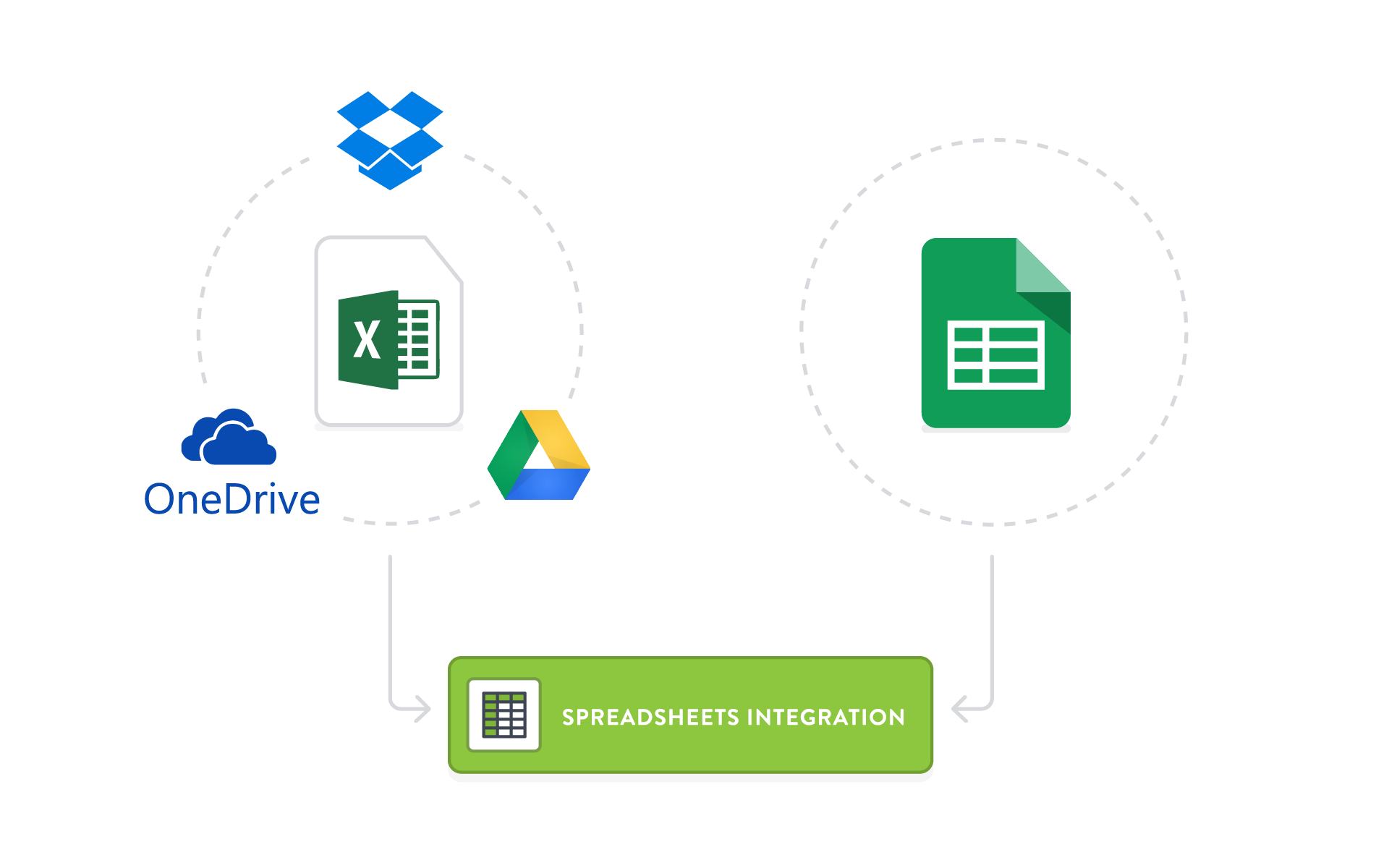 "Have your stuff in Excel? Get it out of there. Because when it's in Excel, people lose it. Some people can look at a spreadsheet and it's completely natural to them. But for a significant percentage of people, it's not. You can put it up there on the board or on your laptop as a way of introducing a new behaviour."
Yoni Cohen, CMO, Powerlinx
Spreadsheets integration: Key features
Turn Excel files and Google Sheets into engaging wall-mounted dashboards that inform, align and motivate your team. See an example.
Communicate data from Excel files hosted in Dropbox, Google Drive and OneDrive for Business. Connect to your file once, build a widget, and simply update the source file to see changes appear on your dashboard, ensuring your data is always fresh.
Now you can make sure you're presenting your numbers in the clearest way possible with a real-time live preview of your widget. Instantly see how your data will look with different visualizations and data sets before adding it to your dashboard.
Get your team engaged with their numbers and bring your data to life with attractive Line, Column, Bar, Number, Leaderboard and Geck-O-Meter visualizations.
Communicate progress against targets with change indicators and goal visualizations so your team can see the impact of their work on business performance.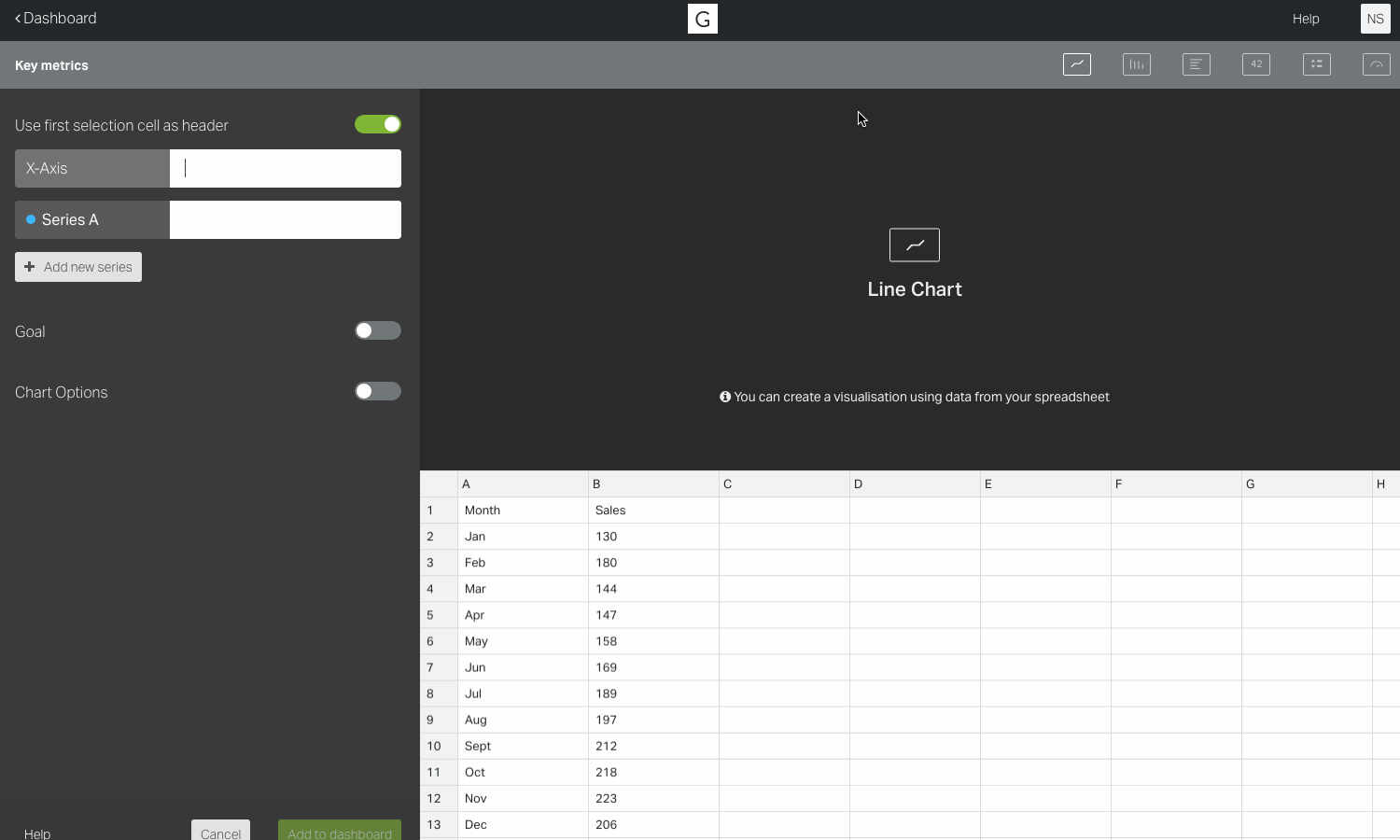 Start building spreadsheet widgets by logging into Geckoboard and selecting Spreadsheets, or read more in our documentation.
Have fun!