Here at Geckoboard we're on a mission to help you make your most important data available and understandable. As a result, we've been working hard over the past few months on a new, much easier way to get data from a spreadsheet into your dashboard, and today we're incredibly excited to share an updated version of our Google Sheets integration. This introduces an entirely new way for you to visualise and share data from a spreadsheet.
Spreadsheets have long been the go-to method for businesses to track their numbers and share them amongst employees and stakeholders. Over the last few years, Geckoboard's Google Sheets widgets have gone some way towards achieving our vision for making important business metrics clear, engaging, and understandable by anybody. However, building dashboards using our Google Sheets integration could be challenging, with limited visibility of what your widget might look like once added to your dashboard, and not enough flexibility for displaying data exactly the way you wanted.
We've listened. The result is a completely rewritten Google Sheets integration that introduces new visualisations, widget sizes, and a reimagined widget-building process.
Here's what's new...


Simple data selection & live preview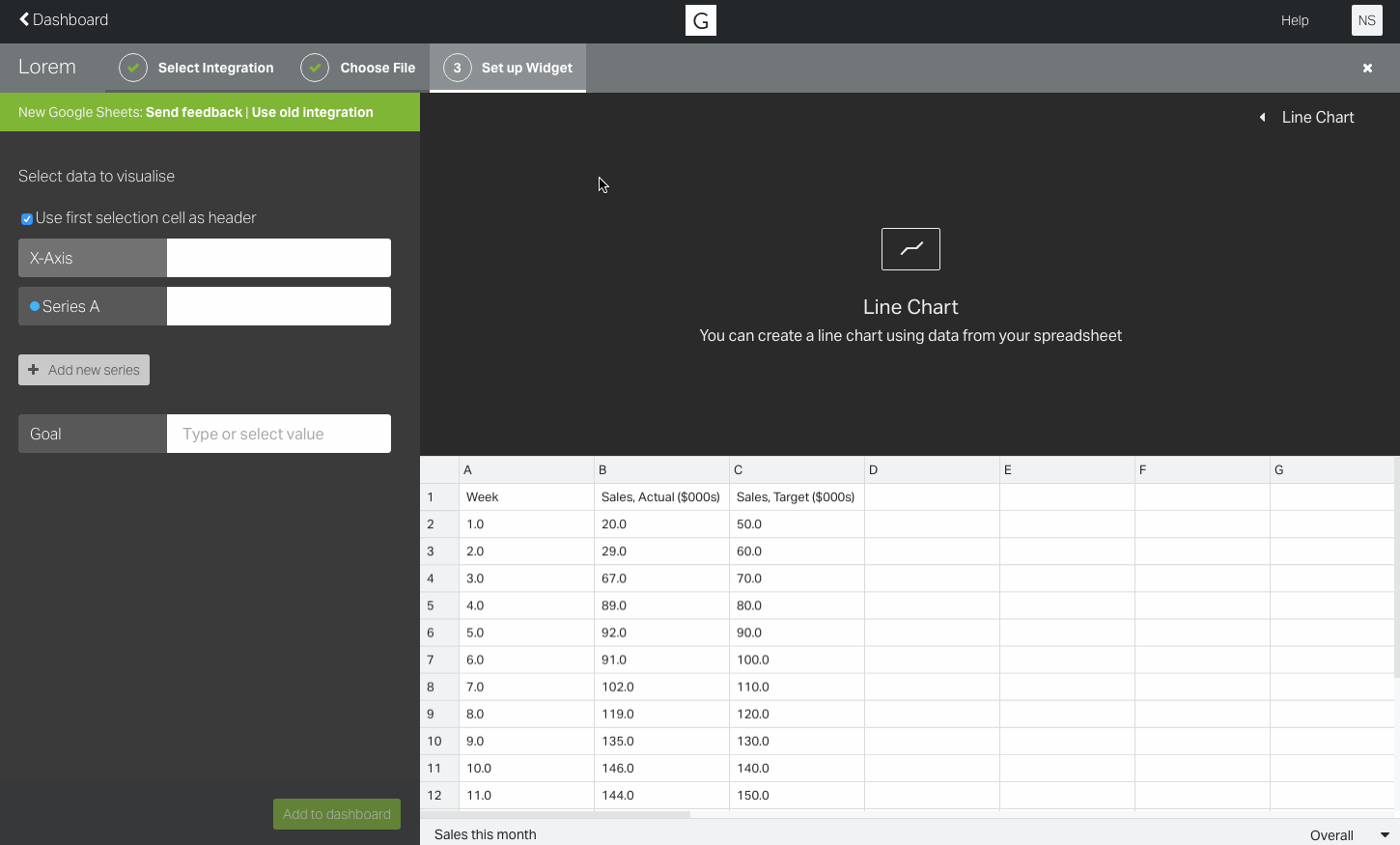 Log in to Geckoboard, add a Google Sheets widget, and you'll now find a much more intuitive widget setup flow. After connecting your Google account and picking a Sheet to use as your data source, Geckoboard now displays the contents of your spreadsheet right there in the widget setup. Selecting the data you want to display in your widget is now as easy as clicking and dragging your cursor over the column or range you want to visualise, or typing the cell range.
Even better, as you do so, a live preview shows how your widget will look using your actual data. This saves significant amounts of time building your widget and enables you to get it looking perfect first time.
If you're an existing Geckoboard user you can find out how to use our new Google Sheets dashboard integration here.


Switch between visualisations on-the-fly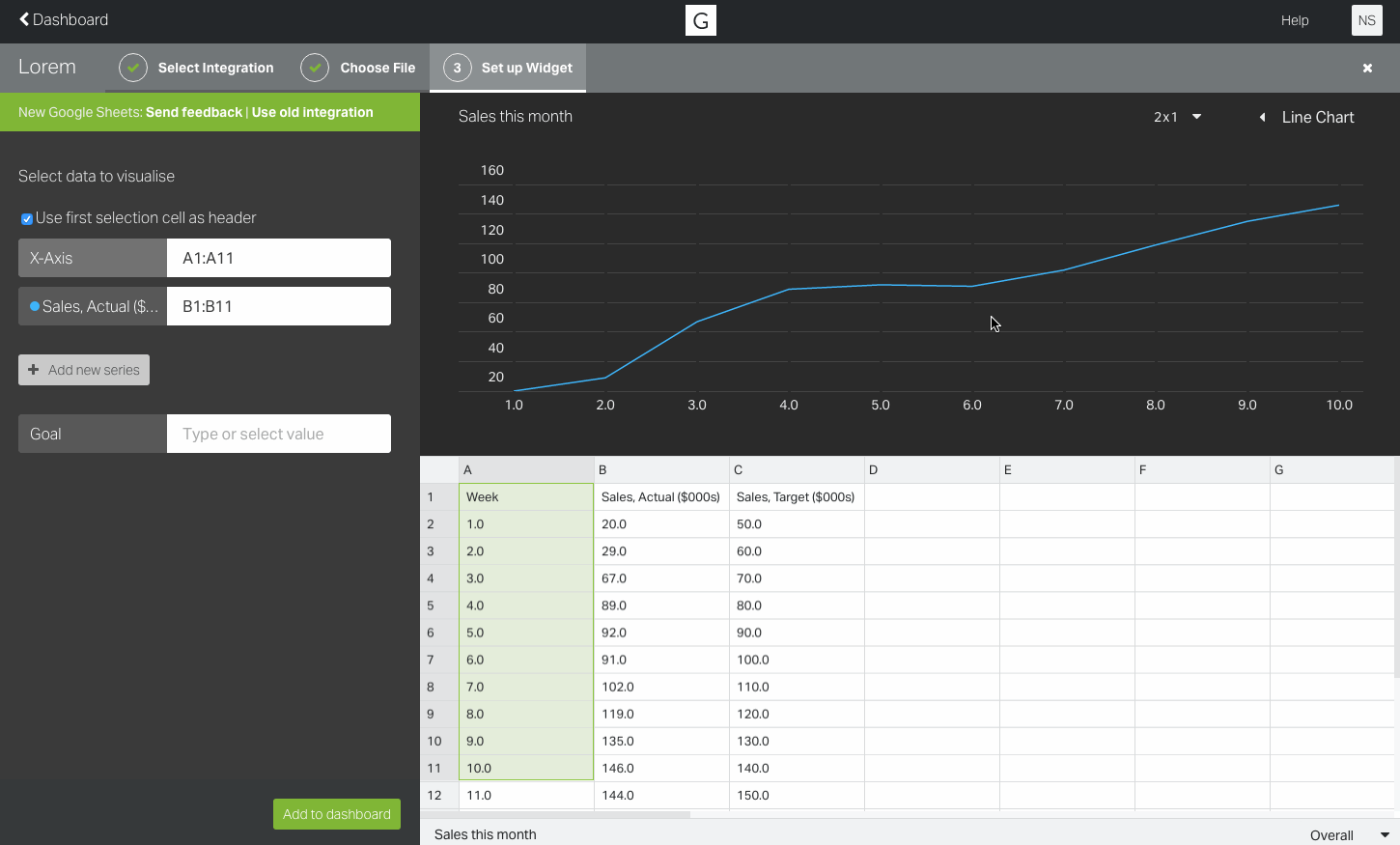 It's now much easier to experiment with how your data is presented on your dashboard. Once you've selected your data series, you can also now switch between visualisations using a new option in the top right whilst setting up your widget. This enables you to experiment with how best to visualise your data, ensuring you get the widget right first time to save time.


Multi-Line Chart visualisations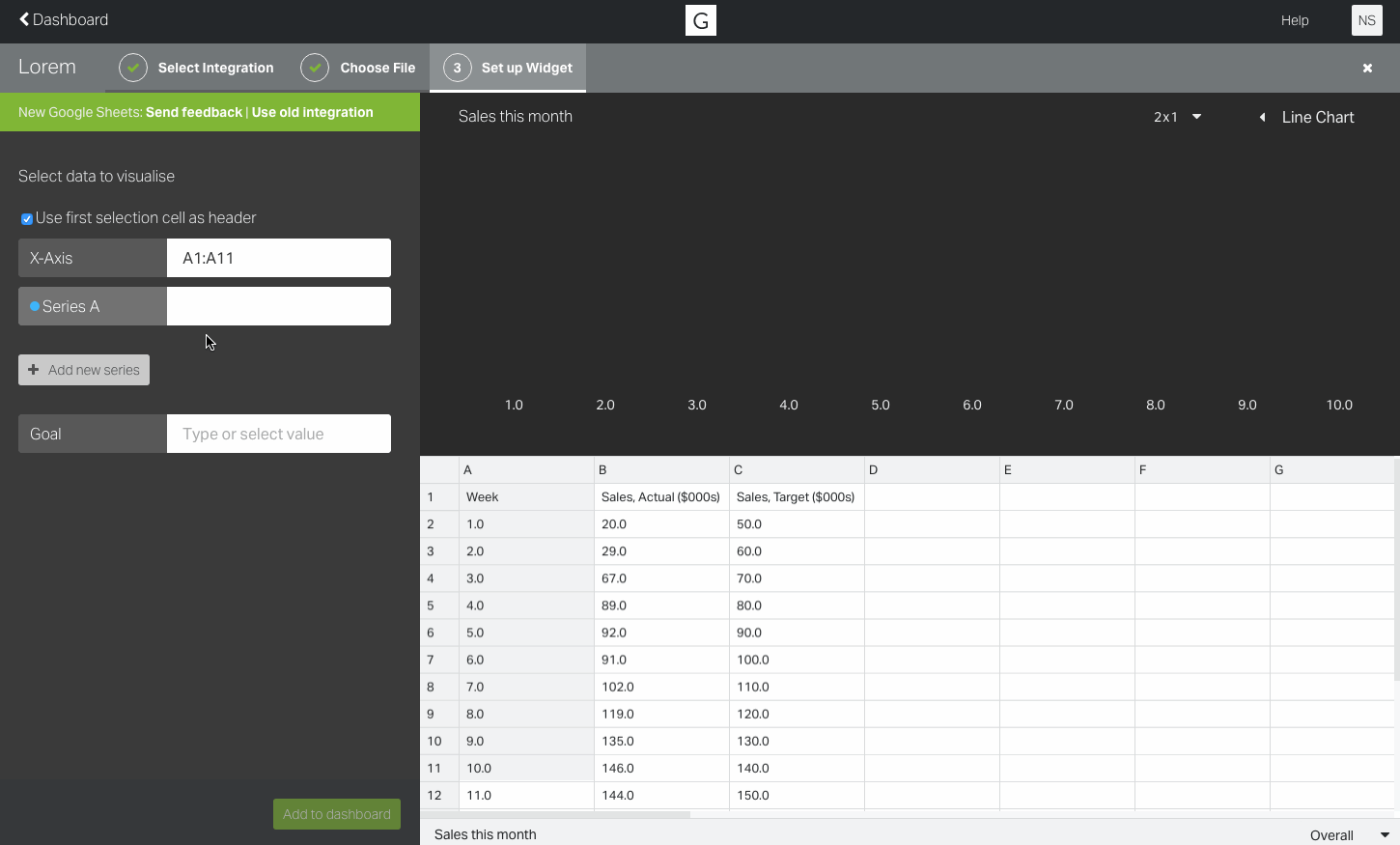 Reworked from the ground up, the new Line Chart visualisation now lets you select several series of data and plot them on the same widget. Plot additional lines by clicking 'Add new series' and selecting the series of data you want to display. This presents greater flexibility and time savings when it comes to building a Line Chart from Google Sheets data. Ideal for comparing multiple series of data.


New and improved Column Chart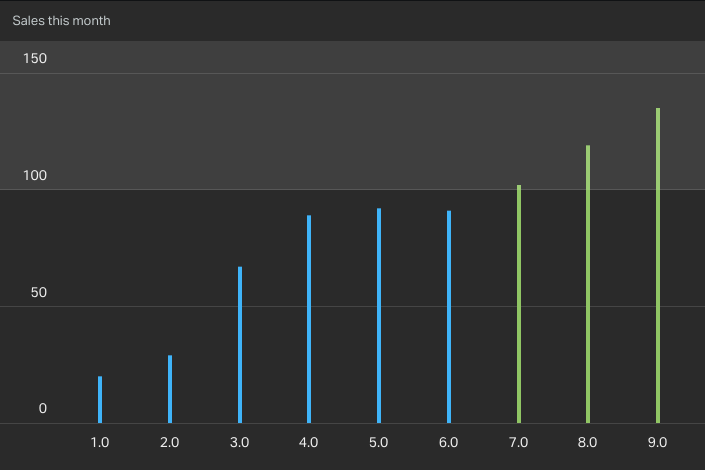 Column Charts for Google Sheets now use our new enhanced visualisation. It's cleaner, tidier, and goals are now more obvious. Together, this all makes Column Charts much more glanceable, allowing you and your team to digest the data more quickly and accurately.


Improved number widgets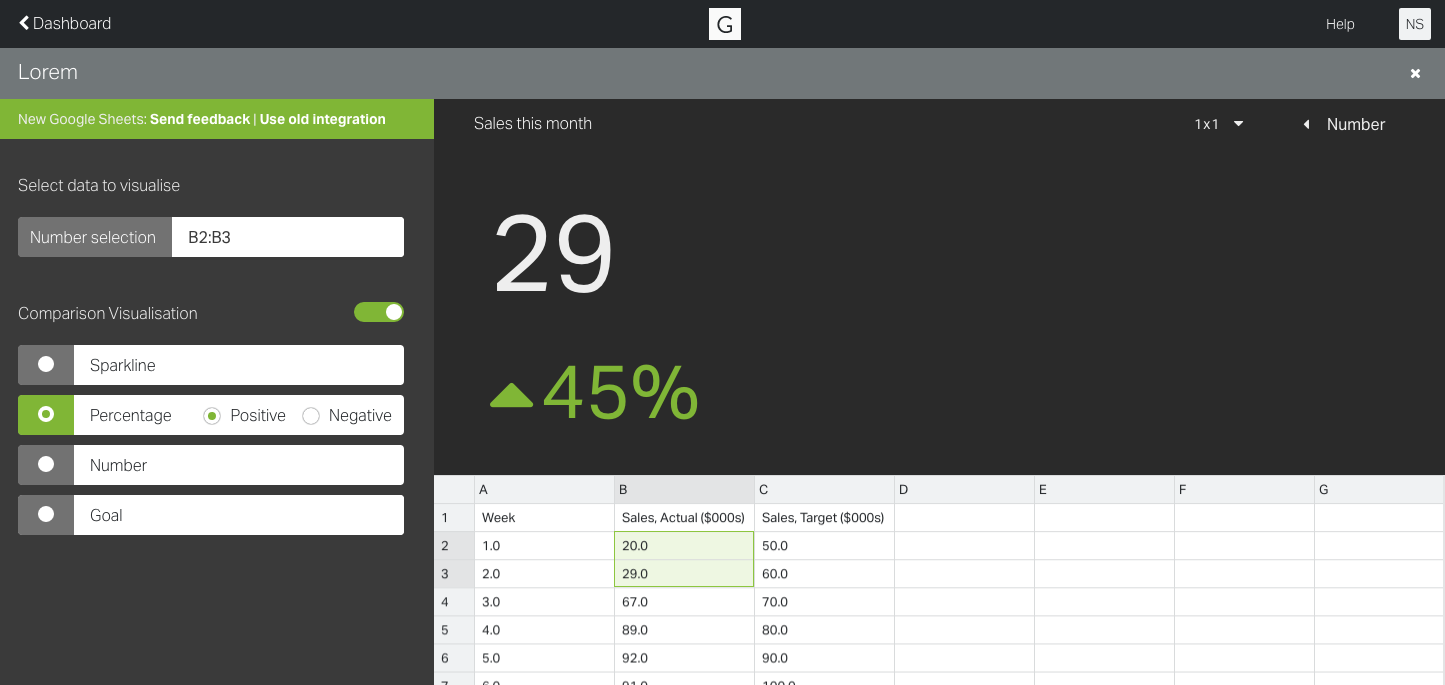 Number Widgets for Google Sheets now offer far more flexibility. Select a single number to display, or highlight a series of data to show a sparkline, comparison indicator or goal. For those occasions when a smaller number value is a good thing (for example falling costs), we've also added the ability to set whether an increase in a number value should be considered 'positive' or 'negative'. This added flexibility means you can get your dashboard behaving exactly the way you want it to.


More widget sizes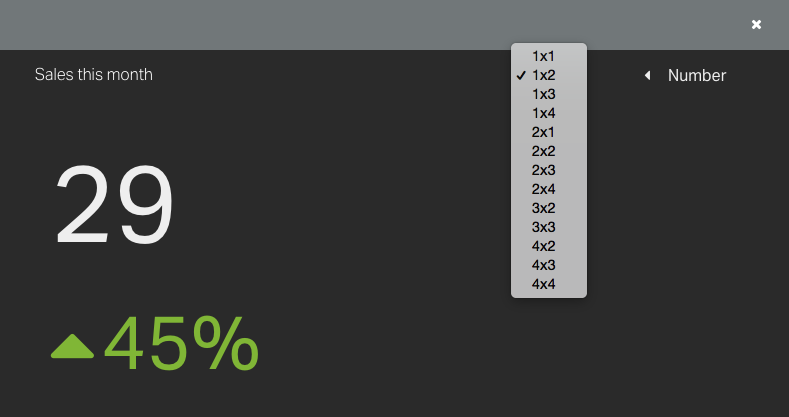 Widgets in the new Google Sheets integration now have numerous size options. Almost all widget sizes are now available, from 1x1 up to 4x4. Select the widget size you need from the top right of the setup view and click 'save' to switch size. This gives you significantly more flexibility when it comes to defining the layout of your dashboard.


...and more updates to come
We're not done yet. In the coming weeks we'll be releasing further updates to Google Sheets, that will include enhancements to our Leaderboard, Bar Chart, Text and Geck-o-Meter widgets.
And of course your feedback is appreciated. Give the new integration a try and let us know what you think by clicking 'Send feedback' within the integration.
Enjoy!
P.S. Use Google Sheets to get hard-to-reach data into your Geckoboard
There's also a whole lot more you can do with Google Sheets other than displaying a static set of data. Pulling data from 3rd party APIs we don't currently support, scraping information from websites and creating metrics from several data sources are all possible with a little know-how.
Check out some of the links below to understand how you can use Google Sheets as a bridge to easily pull hard-to-reach data into your Geckoboard: