Broadcasting your dashboard on a TV screen in your workplace is the last but most important step for using metrics to focus your team on what matters to the business.
However, until today, getting your dashboard up on a TV involved generating a secure sharing link in Geckoboard, and then typing that lengthy link into a web browser running on your TV. This was fiddly, time-consuming, and needed to be repeated constantly if the device powering your dashboard was switched off. Ugh.
Today we're launching an update that makes getting a dashboard onto a screen and in front of your team a whole lot easier.
What's New?
In this update, we're launching a simple way to pair a screen to your Geckoboard account and choose which dashboard to display without having to type anything into your TV. We're also releasing a brand new Chrome OS app that allows your screen to boot directly into your dashboard, making it incredibly easy to get your dashboard running as soon as your Chrome OS device is switched on.
Connect a screen
Instead of loading a Sharing Link on your TV's browser each time you want to display your dashboard, now you can simply pair your screen once and manage the dashboards that are displayed from within your Geckoboard account.
To pair a screen, click the new 'Screens' option you'll see the next time you log in to Geckoboard and follow the simple setup instructions. Within seconds your TV will be displaying your KPI dashboard, perfectly scaled to make use of all your screen real estate and ready for your team to start focusing on.
Managing your screens
Now you can manage which dashboard is shown on your TV without having to type anything into your TV's browser. Select which dashboard to display within the Screens menu and your TV will update in seconds!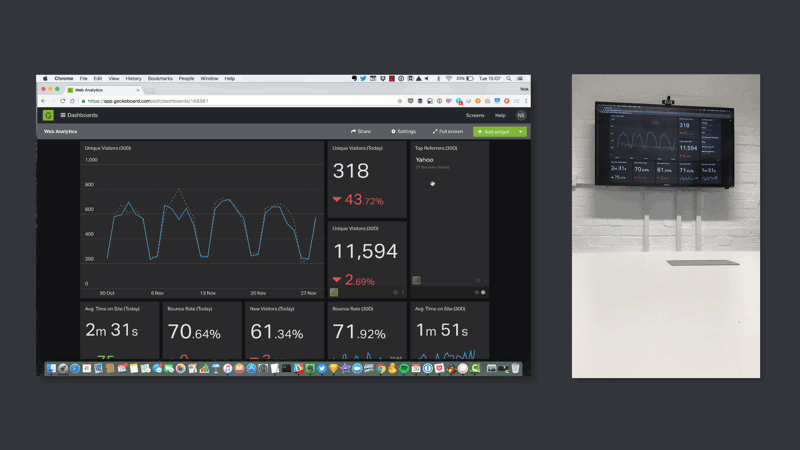 Chrome OS app
To display a dashboard on a TV you first need to get a web browser running on your TV. For this we recommend using either a Chromebox or a Chromebit - both are relatively inexpensive, easy to set up and are built around the Chrome OS.
With our Chrome OS app (available in the Chrome Web Store) we've made it possible to boot your Chrome OS device directly into your dashboard as soon as it's switched on, removing the need to reconfigure your TV each and every morning.
To get started with our Chrome OS app, install it on your Chrome OS device from the Chrome app store here and follow our setup instructions.
With the new year approaching there's never been a better time to use TV dashboards to get your team focused on hitting your 2017 goals!
Note: This update is available to all subscribers on our current Starter, Growth and Company plans. If you're on a legacy plan and want to use this feature, you'll need to switch to one of our newer plans.
Useful resources