The shareable spreadsheet dashboard
Easily transform your data in Google Sheets or an Excel spreadsheet into a streamlined, shareable dashboard anyone can understand.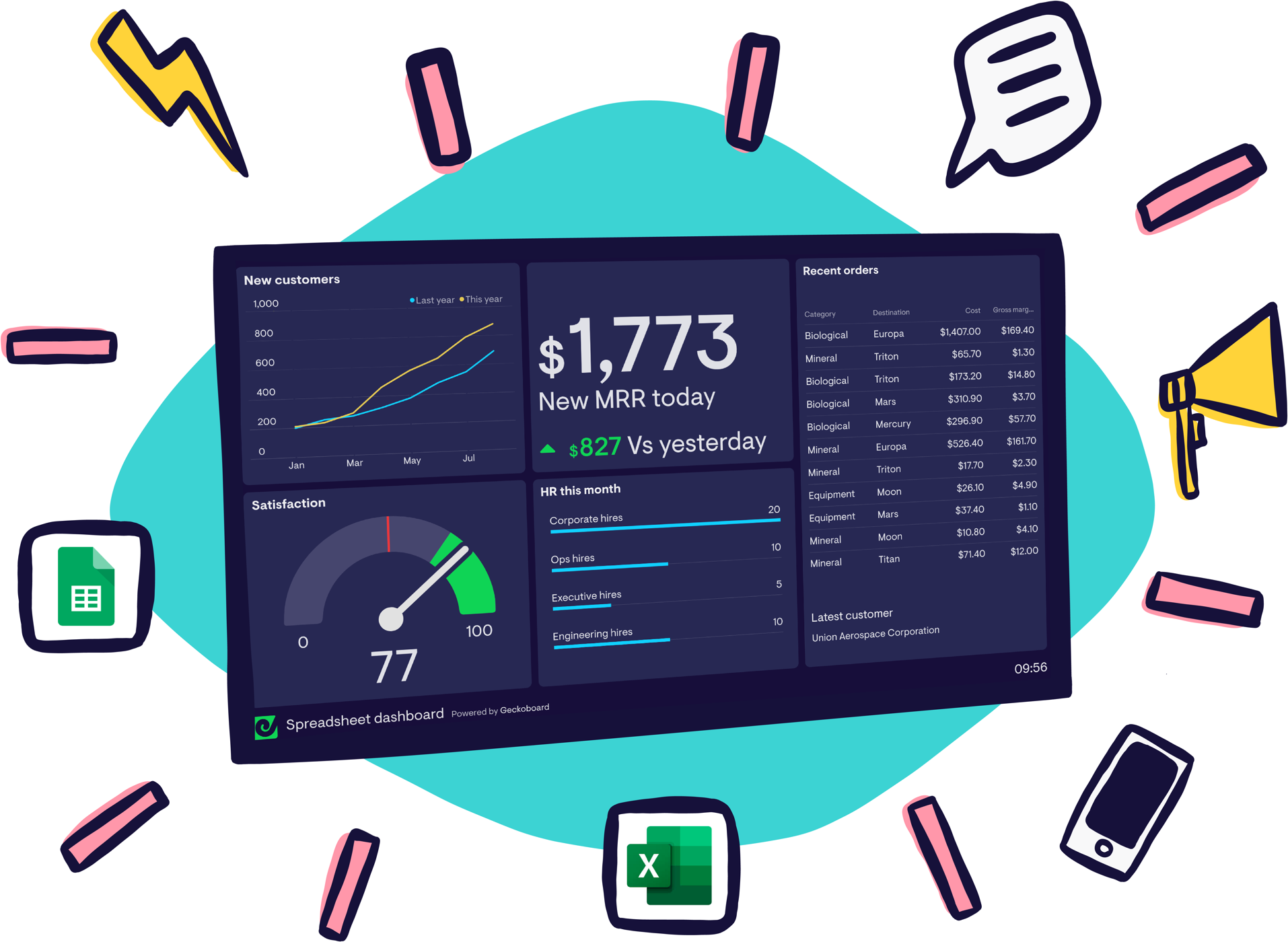 Build and share a spreadsheet dashboard in minutes
Create straightforward visualizations

Connect your spreadsheet to Geckoboard and quickly transform data, metrics and KPIs into easy-to-understand visualizations, that update automatically, in just a few clicks.

Focus attention on your numbers

Build up a tailored dashboard that shows off your most important numbers without any distractions, confusing drill downs, or giving access to your raw data.

Share your dashboard effortlessly

Get eyes on your dashboard by sharing a link, embedding it in other tools like Microsoft Teams, or scheduling snapshots to post to Slack automatically.
Use spreadsheets to create a useful dashboard for your business

Calculate and share KPIs

Calculate high-level metrics and KPIs in your spreadsheet then share them with your team or stakeholders as a single, up-to-date view.

Present data from 1000s of tools

Take advantage of 3rd party plugins for Google Sheets and Excel to pull in useful data from anywhere and visualize it on your dashboard.

Visualize information from web pages

Use a spreadsheet to scrape information or data from a website, and present it in an easy-to-understand way with Geckoboard.

Collect responses in a form and share the results

Easily visualize and share information gathered using a Google Form, from survey results to customer feedback.
We have gone from spending a lot of time and effort creating charts within PDF docs to a spreadsheet-powered dashboard that is easy to create, update and share. I'm excited to be able to share the information on our dashboard, and our board members love it!
As a scale up our team is growing and growing. For us, Geckoboard is a great way to inspire our teams and keep everyone sharp. Our marketing dashboard tracks five websites with data from a Google Sheet. It allows us to easily compare performance between the sites and see everything in one place.